MLB.com Columnist
Barry M. Bloom
Bochy once again pulling all the right strings
Decision to leave Ishikawa in Game 5 puts Giants into third World Series in five years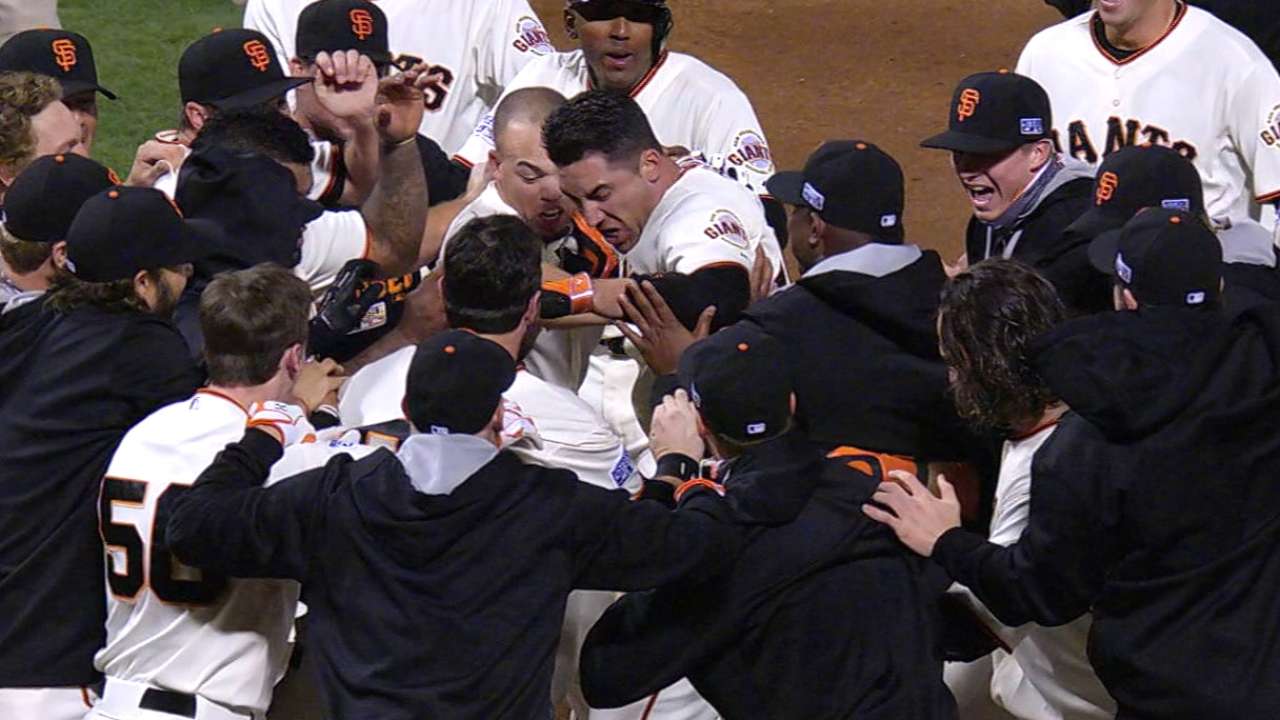 SAN FRANCISCO -- Jake Peavy has witnessed Bruce Bochy manage since he was a 20-year-old pitcher just emerging with the Padres. Needless to say, Peavy has grown in awe of Bochy's ability to use players and his feel for the game. Bochy is in his 20th season managing, 12 with the Padres and eight in San Francisco.
Peavy is back in the World Series for the second year in a row after 11 seasons in the wilderness, winning it last year with the Red Sox. When Travis Ishikawa hit the walk-off, three-run homer on Thursday night at AT&T Park to defeat the Cardinals in the National League Championship Series, it took Bochy and the Giants back to the World Series for the third time in five years.
The Giants already have won the Fall Classic in 2010 and '12. A third title in a best-of-seven series that opens against the Royals at Kaufman Stadium on Tuesday night would cement Bochy's credentials for the National Baseball Hall of Fame, Peavy postured. Comparatively, Bobby Cox, who was inducted this past summer along with fellow skippers Joe Torre and Tony La Russa, only won the World Series once in five tries with the Braves.
"I know it sounds like a broken record, but the man's special," Peavy said about Bochy in the midst of Thursday night's wild clinching clubhouse celebration. "I said it in the middle of the season: You can write up his Hall of Fame plaque right now, believe me. This man is such a great leader. It spills over to everyone. His coaching staff is unbelievable. Their belief system, it spills over into here."
Peavy knows from which he speaks. The two parted ways when Bochy left for the Giants in 2006 to replace Felipe Alou. By then, Peavy had matured enough as a pitcher to win the NL Cy Young Award and the pitching Triple Crown in 2007 with 19 wins, a 2.54 ERA and 240 strikeouts. Peavy went from the Padres to the White Sox to Boston, made it through experimental surgery to repair a tendon in his right shoulder, and rejoined his first big league manager this past July 26 in a trade with the Red Sox. Peavy has flourished ever since, and so have the Giants, with Bochy pushing all the right buttons through an unlikely 8-2 postseason.
"Once again, Boch seems to have the right touch in the right spot," Peavy said. "Once again, it's our manager having players in the game in the right spot and at the right time."
Bochy's most daring move was keeping the left-handed-hitting Ishikawa in the game on Thursday night. Because of a left oblique injury to Michael Morse that kept him out -- save for only two at-bats during the entire month of September -- Bochy moved Ishikawa into left field. A natural and fine defensive first baseman, Ishikawa had never played the outfield until then and came into the postseason with only eight games of experience in left.
It had been Bochy's norm to replace Ishikawa defensively late in games, usually putting in Juan Perez. But Bochy had one of those gut feelings.
"It was my first ninth inning since, gosh, the entire season," Ishikawa said.
This despite a poor route run by Ishikawa in the third inning, turning Jon Jay's catchable two-out line drive into an RBI double.
"I just wanted one more at-bat out of Ishikawa," Bochy explained. "Up to that point he was coming up the next inning and he was a perfect option. He's a power bat and I didn't know he was going to hit a home run, but he's a threat up there. If they had made a [pitching] move I had a right-handed bat to counter it. I said, 'He's done a good job. I know the one ball got over his head, but I thought the risk was worth it.' And I couldn't be happier for the guy."
This is the way it played out: Cardinals manager Mike Matheny put in right-hander Michael Wacha, making his first appearance of this postseason, to start the ninth with the score tied, 3-3. Pablo Sandoval opened with a single and Joaquin Arias went in to pinch-run. After Hunter Pence skied out to right, Brandon Belt drew a walk.
At that point, Matheny could have gone to one of his two relief left-handers against Ishikawa -- Marco Gonzales or Randy Choate. He didn't. He stayed with Wacha.
"It played right into our hands," Giants bench coach Ron Wotus said.
On the bench, as the inning unfolded, the wheels in Bochy's head were spinning -- what to do if the situation changed?
"I wasn't surprised he left in Wacha," Bochy said. "He's a power arm and has great stuff. We could've countered if he makes a move to a left-hander."
The Giants' bench in this postseason is all right-handed. The choices were Perez, Andrew Susac or Matt Duffy, all kids with far less experience than the 315 regular-season games for five teams -- and the 20 more in the 2010 and '14 postseasons with the Giants -- logged by Ishikawa. As Cards pitching coach Derek Lilliquist went to the mound to talk to Wacha, Bochy was still mulling those options.
He hadn't made the decision yet about what guy to pinch-hit if Matheny changed pitchers. "I was going to wait and see what happens," Bochy said.
And that's the way it shall be written. Matheny stayed with Wacha, and Bochy was about to see whether his "risk" of leaving Ishikawa in to bat in the ninth was the right one. On a 2-0 pitch, Ishikawa hit the ball far into the night and history was made. Bochy's gut reaction proved to be the right decision.
Now the Giants are four wins away from taking another title. Last year after the Red Sox's World Series parade, Peavy bought the green duck boat he and then teammate John Lackey rode on through the streets and waterways of Boston. If he and Bochy should win together this time, will Peavy buy the Trolley he'll ride on along the parade route through downtown San Francisco?
"You never know with this family," Peavy said. "I may buy one for me and another for Boch. He more than deserves it."
Barry M. Bloom is a national reporter for MLB.com and writes an MLBlog, Boomskie on Baseball. This story was not subject to the approval of Major League Baseball or its clubs.