Braves boast connections to both World Series teams
Beloved Hudson pitching for SF; KC GM Moore came from Atlanta's organization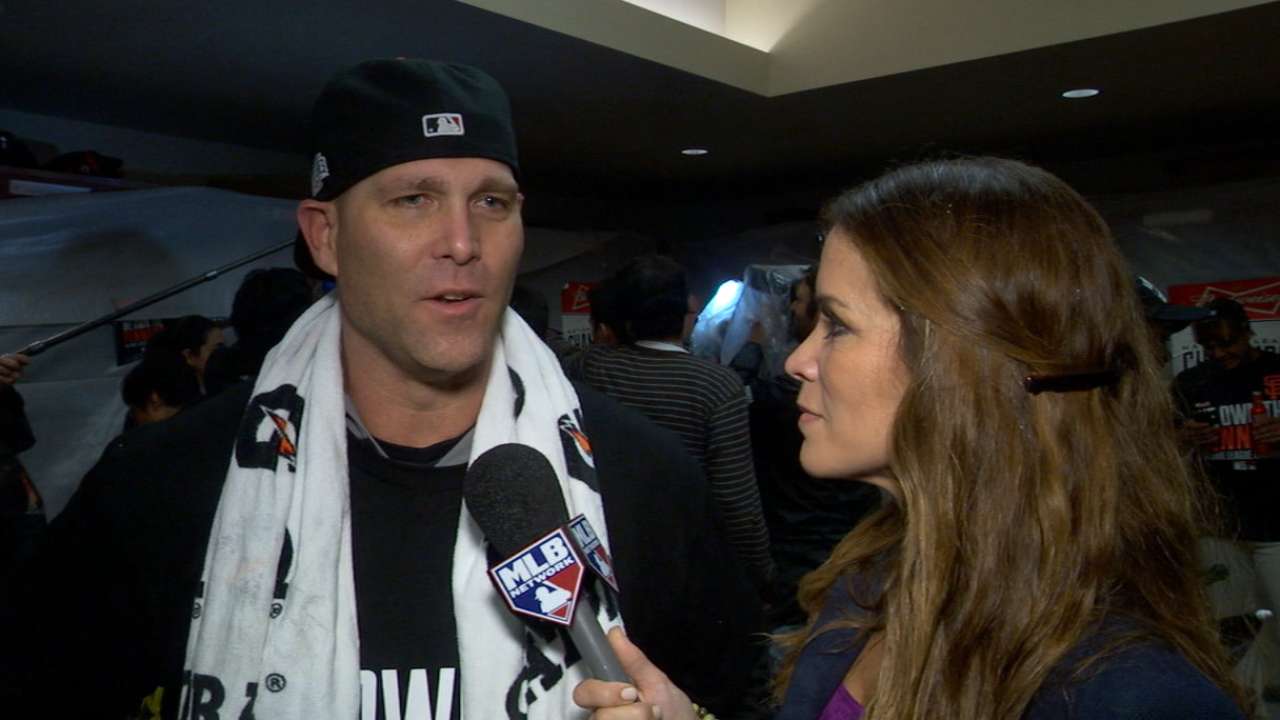 ATLANTA -- During the 15 seasons that have passed since the city of Atlanta had the pleasure of hosting World Series games for the fifth time in a span of nine years, the Braves have proven victorious in just 13 of the 26 postseason games they have played.
At some point within the next two weeks, either the Royals or Giants will clinch the World Series with what will be their 12th postseason win this year. When this happens, Braves fans will be left to choose whether to feel good or disheartened by the fact that this year's Fall Classic will provide at least one former significant member of the Braves franchise a chance to celebrate baseball's ultimate prize.
From a Braves perspective, this year's World Series pits Tim Hudson's Giants against a Royals club that was constructed by general manager Dayton Moore and the many disciples who followed him from Atlanta to Kansas City over the past eight years.
When the free-agent period began last year, the Royals were one of the first teams to contact Hudson, who ended up having lunch with Kansas City manager Ned Yost, who has lived in Atlanta dating back to glorious 1990s, when he was a member of Bobby Cox's coaching staff.
Motivated by a desire to remain in the National League and return to his roots in the Bay Area, Hudson ended up accepting San Francisco's generous two-year, $23 million offer. Approximately 11 months later, the 39-year-old veteran is preparing to compete in the World Series for the first time since he made his Major League debut with the A's in 1999.
"When you go 16 years without experiencing something like this, you wonder if it's going to happen," Hudson told reporters after the Giants clinched the National League Championship Series on Thursday night. "Coming off my injury last year, I knew that I probably didn't have a lot of years left, which is a big reason why I came here to San Francisco."
Hudson's memorable nine-season stint in Atlanta concluded when he fractured his right ankle in gruesome fashion during the second half of the 2013 season. But he remain a beloved figure among Braves players, many of whom dearly missed his clubhouse leadership this year, and Braves fans, many of whom have tweeted with the hashtag #TeamHudson while watching the Giants make their latest successful run through the postseason.
While some might remember Giants outfielder Gregor Blanco, who played parts of four seasons in Atlanta before experiencing a brief stay in Kansas City during the 2010 season, Hudson will certainly draw the most sentimental favor from Braves fans this year. But of this year's two World Series participants, the Royals easily have the most former members of the Braves family.
Moore learned his craft while working for John Schuerholz in Atlanta from 1996-2006, and he established himself as a personable leader who gained favor with Cox and countless other individuals affiliated with the organization. This bond is one of the primary reasons Moore has been considered a favorite to become the Braves' next general manager. But as the Royals have continued to advance through this postseason, there is reason to wonder if he would actually leave what he has created in Kansas City.
If Braves fans want to pull for a former member of their organization during this year's World Series, they should remember Chino Cadahia, whose wife recently lost her two-year cancer battle.
Cadahia was a valuable part of the Braves' development department before he served as Cox's bench coach in Atlanta from 2007-10. His bond with Moore led him to Kansas City, where he became Yost's bench coach in 2011 and remained in that role until the final month of the 2013 season, when he was given permission to remain in Arizona with his wife.
"I can't thank Dayton and [Royals assistant GM J.J. Picollo] enough," Cadahia said earlier this week. "There are truly some great people here."
Including Dean Taylor, who served as Schuerholz's assistant GM in Kansas City and Atlanta, each of Moore's three assistant GMs were with him during at least a portion of his time with the Braves. The others are Picollo and Rene Francisco, who has established himself as one of the game's best evaluators on the international front.
Other former Braves who have followed Moore to Kansas City include Jin Wong (director of baseball administration), Lonnie Goldberg (director of scouting), Gene Watson (director of professional scouting), Tim Conroy (special assistant to the general manager), Emily Penning (executive assistant to the general manager), Glenn Hubbard (bench coach for Class A Lexington) and Nick Leto (manager of Arizona operations).
Mark Bowman is a reporter for MLB.com. This story was not subject to the approval of Major League Baseball or its clubs.