MLB.com Columnist
Marty Noble
Getting to the biggest stage continues to elude Showalter
Skipper denied again as Orioles fall in ALCS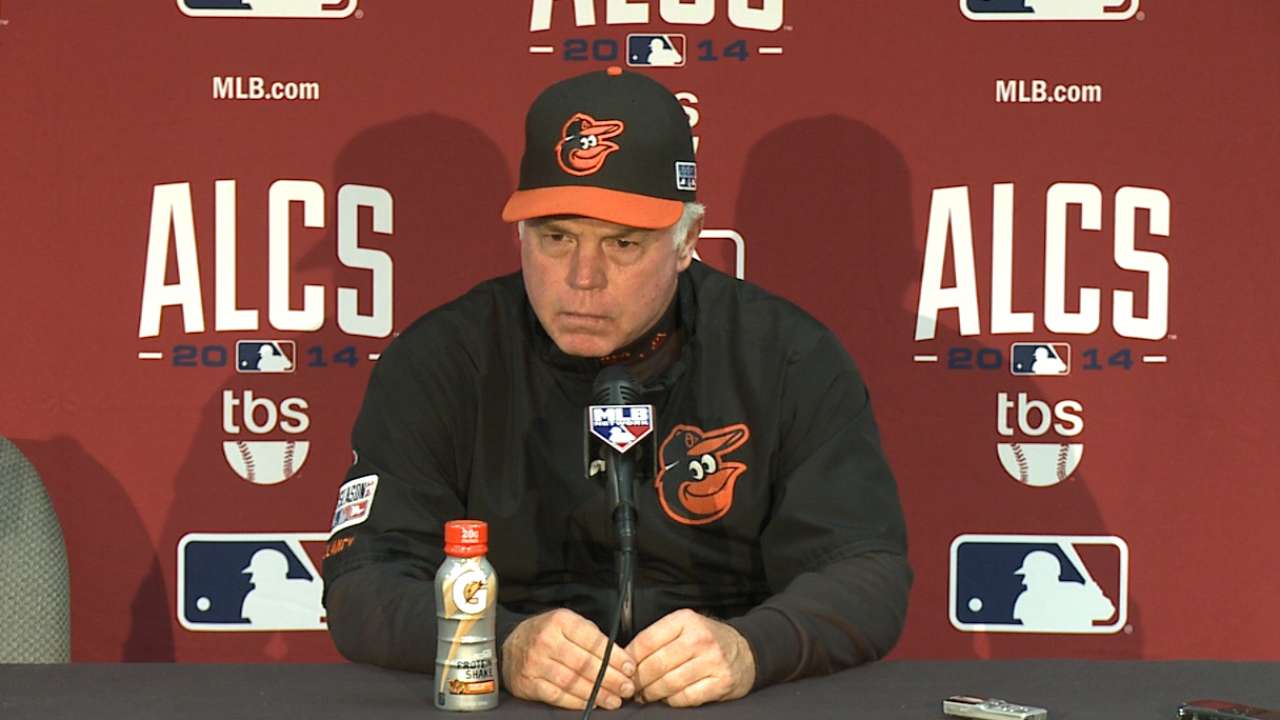 NEW YORK -- As the baseball rolled away from Orioles catcher Caleb Joseph in the first inning Wednesday, the American League championship his team had expected to win rolled further from its grasp. And as Alcides Escobar and Nori Aoki crossed the plate -- even though the Orioles had eight turns at bat remaining -- you almost could hear the Orioles cry "uncle."
The Royals were at it again in their first turn at the plate in the game that, once secured, put them in the World Series. How much more of that sleight-of-hand stuff were the tortured Orioles supposed to tolerate in a stoic manner?
After eight more innings, after Baltimore had been vanquished, my thoughts moved from the implausible success of the Royals to the profound disappointment that had to envelop Buck Showalter. The Orioles' meticulous and thorough manager prepares his team for every eventuality; has for years. But there was no way he could have prepared his players -- or himself -- for what happened in a best-of-seven series against a team that had the ball bounce in its favor in almost every instance for 37 extraordinary innings.
It has to gnaw at Showalter's insides. He brought the better team into the series and didn't win a game. He came close this time, if the games are measured only by runs. But his team was beaten as soundly as a team can be beaten while being outscored by merely six runs in four games.
And then my thoughts turned to another manager who was denied at every turn, a manager who, like Showalter, was respected for his grasp of the game and all its nuances, who was at the threshold of the World Series three times when "circumstances" blocked his path -- Gene Mauch.
The failures of Mauch's teams to reach the World Series were more spectacular and more scrutinized than those of Showalter's teams. And Mauch was held responsible far more than Showalter has been. But now, after the Royals' remarkable sweep of the O's, Showalter stands nearly shoulder to shoulder with late Little General.
The cry of "uncle" comes into play in Mauch's case as well. His nephew is Roy Smalley, the former Twins and Yankees shortstop who is quite familiar with what his uncle endured during the stunning and infamous Phold of the Phillies in 1964, and the shortfalls of the Angels in the American League Championship Series in '82 and '86. Smalley acknowledges a link between Showalter and his uncle, though he maintains that what his uncle experienced was more painful. No argument here.
"Gene was one strike away in '86, and nothing I know compares with what happened in '64," Smalley said from his office in Minneapolis on Thursday. "He was right there. To be that close and not make it ..."
The Phillies' collapse 50 years ago has been rivaled only by the Mets' seven-up-with-17-to-go collapse in 2007. Mauch's team won its last two games, but before those too-little-too-late victories, it lost 10 straight and 12 of 13. A lead that stood at 6 1/2 games with 12 remaining dissolved. The Phillies ended in a tie for second place with the Reds, one game behind the Cardinals and not far ahead of the fourth-place Giants.
Mauch had ridden his best two starting pitchers, Jim Bunning and Chris Short, relentlessly and, critics said, reached the point of diminishing returns with both. The manager was held primarily responsible for the unfathomable finish.
"I wouldn't press him on what happened in '64," Smalley said. "I was 13 and we were living in Los Angeles at the time. I listened to Dodgers games and lived and died with updates from Vin Scully. We didn't talk about it much, but I know it hurt him."
Developments that denied Mauch's Angels teams are recalled with pitch-by-pitch precision by Smalley, who defends his uncle's decisions, particularly those in 1982. "He knew his personnel well, he knew what each man could and couldn't do," Smalley said. "He had such a brilliant baseball mind. We talked about that one, and what he said, the information he based his decisions on, made sense. It just didn't work.
"It took a long time for him to get over that one. His wife died in '83, and he had a mortal sadness in his heart."
In '86, when the Angels' chances flamed out in the Donnie Moore game, Mauch managed in a more conventional manner. But "by the book" left him on the outside again when Dave Henderson hit a two-out, two-strike, two-run home run off Moore in the ninth to tie the score in Game 5. The Red Sox won Games 5, 6 and 7. Mauch managed one more season -- his Angels finished tied for sixth place in the seven-team AL West -- and, at age 62, retired. His and Smalley's final days in uniform coincided.
* * * * *
In Showalter's scenarios, he wasn't second-guessed, nor has he been painted with the same brush that tainted Mauch. He's done little wrong, and in the case of the Royals series, he got nothing for it. By the time pitchers and catchers assemble in Florida come February, the Royals' sweep no longer will interfere with his sleep. And he'll resume his almost obsessive preparations. But Buck Showalter deserves better.
This was his best shot, his best team -- 96 victories and a runaway division championship. The Yankees, Red Sox and Rays weren't formidable obstacles this year. He had his best chance. The Orioles dismantled the Tigers and had every right to expect at least a smidgeon of success against a team that won 89 games. But nothing. And so another World Series matchup has developed without the manager who is so prepared to step onto October's greatest stage.
Showalter has been denied by a players' strike (1994), the Mariners (1995), the Braves (1999), the Yankees (2012) and, this year in his first League Championship Series, by a team that seemingly was assisted by the unseen hand that often suits up with a team that reaches the World Series. He helped prepare the Yankees for their unparalleled succession of postseason successes and the Diamondbacks for their World Series championship, and he nurtured the likes of Nelson Cruz, Michael Young, Ian Kinsler and C.J. Wilson in Texas before Ron Washington took them to two World Series.
So like Mauch, the ill-fated Brooklyn Dodgers and so many others, Showalter, his jacket, blond locks and calculating eyes wait till next year. In the meantime, he prepares with no mention of anyone's uncle.
Marty Noble is a columnist for MLB.com. This story was not subject to the approval of Major League Baseball or its clubs.