Rotation a strength with young stars, vet leadership
Toronto hopes Stroman can duplicate 2014, Hutchison can find consistency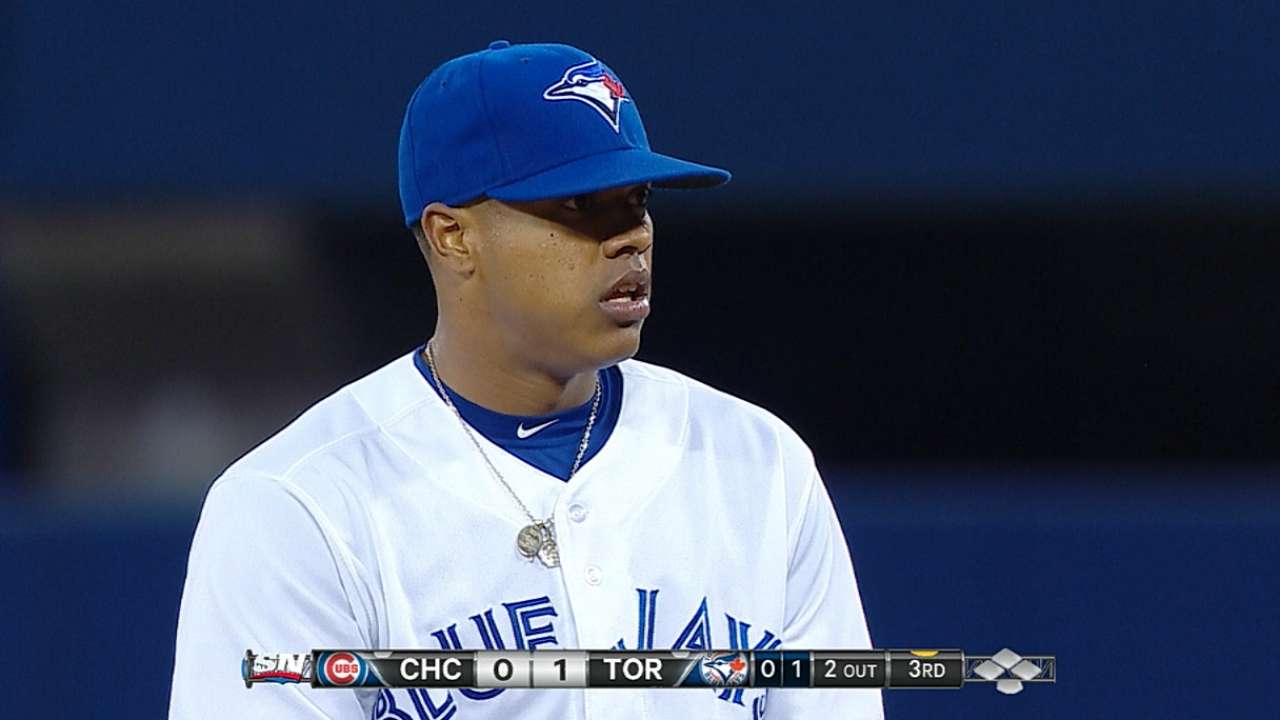 TORONTO -- The Blue Jays' starting rotation entered the 2014 season with plenty of question marks, but it actually finished up as a surprising strength.
The starting five was arguably the one area of Toronto's roster that exceeded expectations. The goal of adding two pitchers during the offseason never materialized, but the emergence of some young arms and overall health helped compensate for the lack of depth.
While we wait for the hot stove to heat up, let's take a look back at 2014. This is part one of a four-part series that examines where things went wrong and where things went right for the Blue Jays this past season.
First up is the starting rotation:
R.A. Dickey: Dickey will probably never be able to approach the numbers from his Cy Young Award-winning season in 2012, but that's okay. There is still a lot of value in a pitcher that has proven he can stay healthy and is close to a lock for 200 innings. He's coming off a strong 2014 season that saw him post a 3.71 ERA while going at least six innings in all but one of his final 20 starts. Dickey is under control for the next two seasons at a combined $24 million and provides the type of consistency that could be needed in an otherwise inexperienced staff. There has been some speculation he could be traded this winter, but unless it's for a package that is too good to pass up, it wouldn't make a lot of sense, because he's the type of veteran arm a relatively young rotation really needs.
Mark Buehrle: Buehrle's hot start to 2014 speaks for itself, and even though his numbers dipped in the second half, it was still a success. He reached 200 innings for the 14th straight year and finished with a respectable 3.39 ERA. Buehrle's someone the Blue Jays could look to move this offseason, but a $19 million salary in 2015 likely means that won't happen unless they eat a lot of money. The 35-year-old isn't the front-line starter he used to be, but he continues to be one of the most consistent pitchers in the game. The question with Buehrle is always about his continued durability, but so far he's been able to get the job done.
Marcus Stroman: It wasn't that long ago a lot of people felt Stroman didn't have what it took to be a big league starter. Those doubts have all but completely disappeared after a strong rookie season in Toronto. Stroman went 10-6 with a 3.29 ERA in 20 starts and established himself as a potential cornerstone of the staff. The addition of a sinker was one reason behind his success and allowed the 23-year-old to increase his ground-ball rate and pitch deeper into games. Earlier in his career, there was a tendency for Stroman's fastball to flatten out, but the sinker helped alleviate those concerns and it showed in the numbers. He may be hard pressed to duplicate his 2014 success, but that's exactly what Stroman will aim to do next season.
Drew Hutchison : Hutchison's 2014 season has to be considered a pleasant surprise because of how he was able to finish the year. Midway through the season, Hutchison appeared to hit a wall and there were legitimate concerns about whether he'd be able to finish the season after missing 2013 because of Tommy John surgery. Turns out the skepticism wasn't warranted, as he bounced back and posted a 3.32 ERA over his final seven starts. The workload shouldn't be as big of a concern next year, and he could be in line for 200 innings after recording 184 2/3 this season. The improvement next year will have to come in showing more consistency from start to start.
J.A. Happ: Happ's year got off to a rocky start because of a back injury and subsequent struggles during Spring Training. He began the year without a defined role, but he eventually moved into the starting rotation when Dustin McGowan was sent to the bullpen. Happ responded with a 4.12 ERA in 153 innings as a starter and likely has done enough to have his $6.7 million option picked up next year. A noticeable area of improvement was the command of his fastball down in the zone, which allowed him to become a more efficient pitcher and get deep into starts. Happ's one pitcher the Blue Jays could look to move in the offseason if the club wants to free up cash for other areas on the team, but he's also an ideal starter for the back end of a rotation.
The rest: McGowan, Brandon Morrow and Liam Hendriks combined to make 17 starts this year with rather luckluster results. The trio allowed 49 runs over 79 2/3 innings but were bailed out when Stroman and Happ proved to be long-term options. These three aren't expected to be in the mix next year -- Hendriks is already gone, while Morrow and McGowan could both follow suit -- and the depth options will instead include youngsters Aaron Sanchez, Daniel Norris, Sean Nolin and Kendall Graveman. The fact that Sanchez appears ready could mean there's a chance the Blue Jays will deal a starter to fill another area of need. That's always a risky proposition and one Toronto likely will avoid unless the right deal comes along.
Areas for improvement: The Blue Jays, along with pretty much every team in the league, could always use another front-line starting pitcher, and there are a few big names available this winter. Still, it's hard to envision the organization making a long-term commitment to a free-agent starter, which means a lot of the improvement will have to come from within. There's reason to believe Hutchison will be better in 2015 and the upside of Sanchez will have a lot of people wanting him to break camp in the starting five. Improved depth should help avoid emergency starts from a guy like Hendriks or even experiment with a pitcher like McGowan.
Gregor Chisholm is a reporter for MLB.com. Read his blog, North of the Border, and follow him on Twitter @gregorMLB. This story was not subject to the approval of Major League Baseball or its clubs.