Mets' strong crop of shortstop prospects on display at instructs
Cecchini, Ramos among those offering New York bright future in position that's plagued them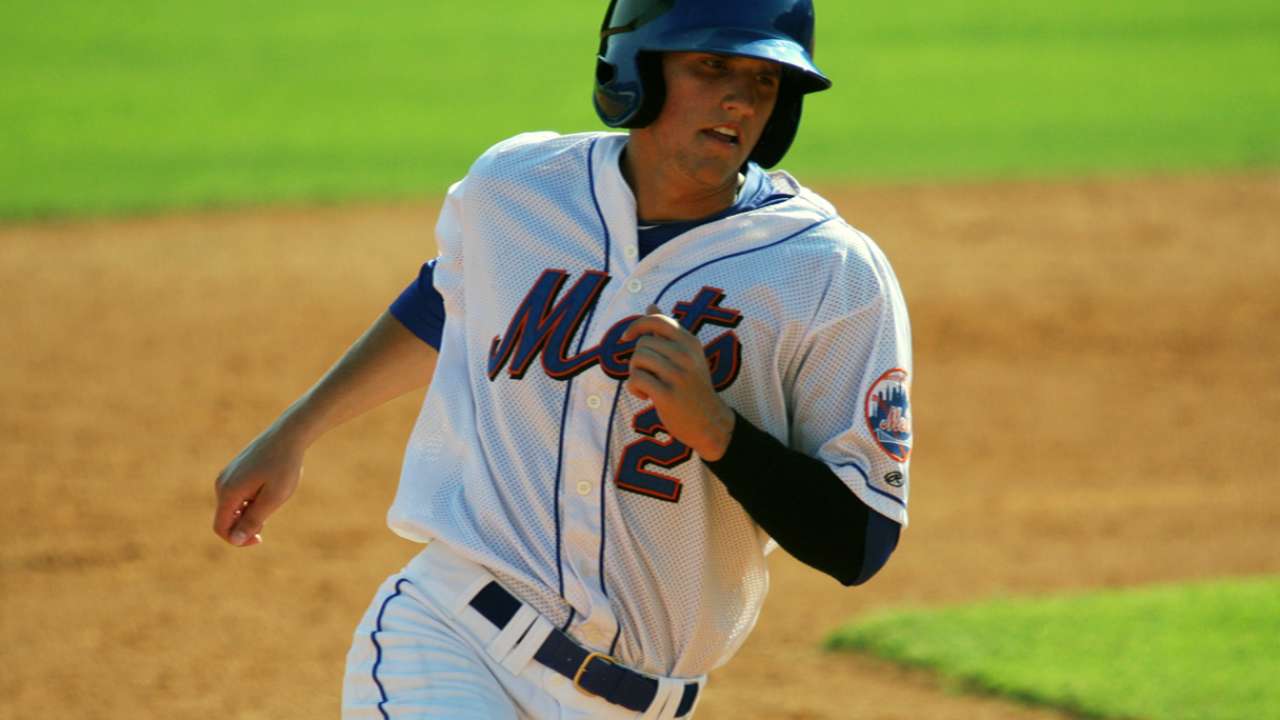 While shortstop has been an unsettled spot in the Mets' lineup in recent years, the club is amassing remarkable depth at the position in the Minor Leagues.
Some of the Mets wealth of young shortstops gathered in St. Lucie, Fla., for instructional league this fall, giving coaches and executives an extended opportunity to watch them all work. Among the group were Amed Rosario, Gavin Cecchini and Milton Ramos, the Mets' Nos. 6, 10 and 11 prospects. All three have joined the organization in the last 27 months and spent the season in the low levels of the Minor Leagues.
Even in the early stages of their development, they stood out to Paul DePodesta, the Mets vice president of player development and amateur scouting, during instructional league.
"Those are three pretty good-looking kids, all of whom are still college age," DePodesta said. "It's a pretty exciting group of shortstops."
Of the trio, Ramos joined the organization most recently. The Mets picked him in the third round of the 2014 First-Year Player Draft and he spent the season playing in the Gulf Coast League. Scouts considered Ramos to be one of the best defenders in the Draft class, but wondered how well he would be able to hit.
DePodesta said Ramos has shown he can be a complete player.
"I was very impressed with how he handled himself offensively this summer," DePodesta said. "I don't think there's ever been a question about his hands or defensive ability."
During the regular season, Ramos shared playing time at shortstop with Alfredo Reyes. They each saw action at second base, as well. The Mets have used similar arrangements in the Minor Leagues before and are likely to continue to do so with so many capable middle infielders in the system.
DePodesta said the Mets view their abundance of shortstops as a positive, but must make sure they all get enough playing time to continue their development.
"It's gotten to the point where it's something we need to manage," DePodesta said. "I don't think it's ever a problem when we have a shortstop playing both shortstop and second base. It becomes a problem if someone's not getting everyday at-bats. We don't want to get to that point.
"But we're thrilled with the depth we have at shortstop, second base and even at third base in the lower levels. It's a really good group and, at least right now, there's no end in sight."
• Across the infield from the Mets wealth of shortstops in instructional league was first baseman Dominic Smith, the club's first-round pick in 2013. He played his first full professional season with Class A Savannah, where he hit .271/.344/.338 with one home run in 126 games. His power numbers were depressed, in part, by playing his home games in Grayson Stadium, which is notoriously difficult on left-handed hitters.
DePodesta said Smith's natural hitting ability was apparent throughout the season and in instructional league, where his advanced approach at the plate stood out.
"The game's a little slower for him right now," DePodesta said. "Dom just turned 19 during the season, so it's not like he's a lot older [than other players in instructional league], but he has a little more experience at this point."
Teddy Cahill is a reporter for MLB.com. Follow him on Twitter at @tedcahill. This story was not subject to the approval of Major League Baseball or its clubs.