Friedman ready to take on high expectations in LA
Former Rays executive introduced as Dodgers' president of baseball operations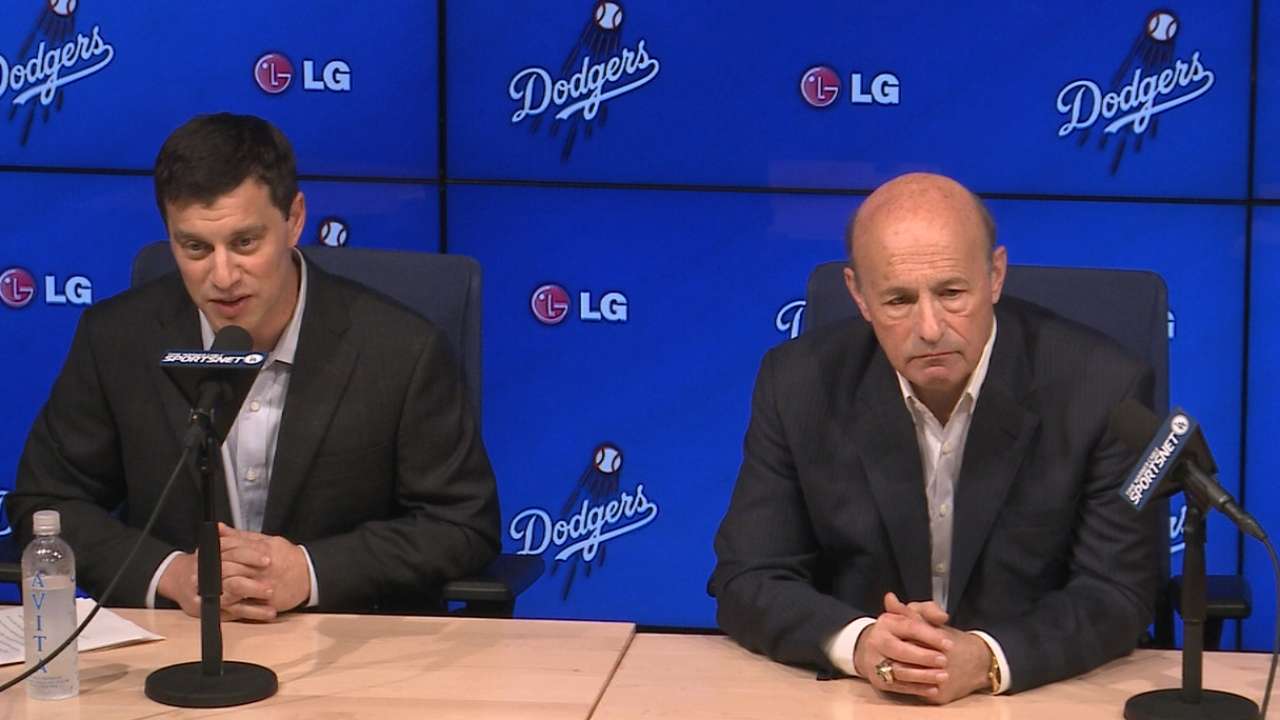 LOS ANGELES -- The title changes from general manager to president of baseball operations, but the mandate is the same: Win a World Series. Now.
It's not Andrew Friedman's fault that the Giants get there every other year, while the Dodgers haven't done it in a generation. But it's now Friedman's responsibility to change.
"I relish it ... It's a world-class organization with world-class expectations," Friedman said at his Friday Dodger Stadium press conference introducing the former Tampa Bay prodigy as the first ever president of baseball operations for the Dodgers.
"Our goal is to be as good as we can be in 2015 and play much deeper into October. We also need to be very mindful about sustaining this. If we have to go to free agents constantly to rebuild, that's not a viable business model to be competitive every year. A robust farm system is important in a lot of different ways."
Initially reading from a prepared script and sitting alongside team president Stan Kasten, then answering questions from reporters, Friedman "pledged" to "work as hard as I can" to "bring a World Series championship back to L.A." He added that fans' demand for a championship were "perfectly aligned" with his, and that his front office needs to work together as a family in a culture of trust.
Friedman said he believes he can "recreate" the Rays culture in Los Angeles, but immediately tried to quash assumptions that close friend Joe Maddon would follow him and become the Dodgers' manager, saying Don Mattingly "definitely" would manage the team next year.
"We are very aligned philosophically," Friedman said after having two phone calls with Mattingly, predicting they would work well together and complement each other. "I go into this with the intent of working with Donnie for a very long time."
Otherwise, Friedman said it was "premature" to answer questions about who would fill the roles of general manager and farm director, whether he would offer free-agent shortstop Hanley Ramirez a $15.3 million qualifying offer or the status of Mattingly's coaching staff.
Friedman said if having six outfielders is a problem, "it's a tremendous problem to have," but didn't say he wouldn't trade any of them.
The Dodgers won't discuss length or dollar amount of Friedman's contract and wouldn't respond when asked about rumors that he received a sliver of ownership. In today's world, that would be a logical inducement for leaving the comforts of a tight-knit front office in the very small market of Tampa Bay to inherit a star-stuffed roster, with egos and salaries to match.
And speaking of egos, Friedman now answers to a group of owners that includes billionaire investors, a Hall of Fame basketball icon, a Hollywood producer and a very, very hands-on CEO in Kasten. None of the other owners attended the press conference. The only player there, Adrian Gonzalez, is one of the few that makes his home in Southern California.
Friedman had great autonomy with the Rays. When asked if he was ready to work with Kasten, he said he's "a big fan of collaboration ... all I care about is getting more decisions right than wrong. Intellectual firepower is a good thing."
While navigating that flashy corporate flow chart, Friedman also inherits the double-edged sword of a 94-win season. Outgoing general manager Ned Colletti took over a 91-loss team in 2005 and had it in the playoffs the next season. A city rejoiced.
Now after reaching the playoffs five of nine seasons, including the last two, Colletti was replaced and Friedman is expected to win it all next year. By all accounts, if anybody is up to this, it's the 37-year-old former Wall Street investment banker whose clubs in St. Petersburg were essentially as successful as Colletti's with a fraction of the payroll.
As advertised, Friedman said he will blend traditional scouting with advanced analytics, although it "isn't perfectly clear to me" how far the Dodgers have come in analytics since the new ownership has embraced it.
Friedman repeatedly said "information is king" and "focus on process" as he described his approach. He downplayed the role of chemistry in building a roster.
"If you have 70 wins and great chemistry, I don't want those guys," he said. "I'd rather win with what you determine to be bad chemistry than lose with what you determine to be good chemistry."
Friedman, credited with stressing injury prevention with the Rays, said he looks forward to working with Dodgers vice president of medical services Stan Conte.
The last team to change general managers after winning at least 94 games was the Angels, who won 94 games under Bill Stoneman in 2007 and 100 games under Tony Reagins in 2008. But they didn't make the World Series. The most recent successful handoff were the Yankees, who won 96 games and a Wild Card berth in 1997 for Bob Watson, then 114 games and a World Series in 1998 for Brian Cashman.
And while Dodgers club officials insist the farm system is back on track, by their own admission, it hasn't produced an impact starting pitcher or position player in nearly a decade. Friedman said he couldn't answer how much work was in order to get the farm system where it needs to be.
Friedman will likely lean heavily on Dodgers senior advisor Gerry Hunsicker, hired two years ago by Kasten after serving as Friedman's vice president with the Rays. Friedman said he is not bringing any Rays employees with him "right now."
Ken Gurnick is a reporter for MLB.com. This story was not subject to the approval of Major League Baseball or its clubs.