MLB.com Columnist
Richard Justice
Nothing has come easy for 2014 Giants
The club's ability to overcome injuries and rough stretches makes this season more sweet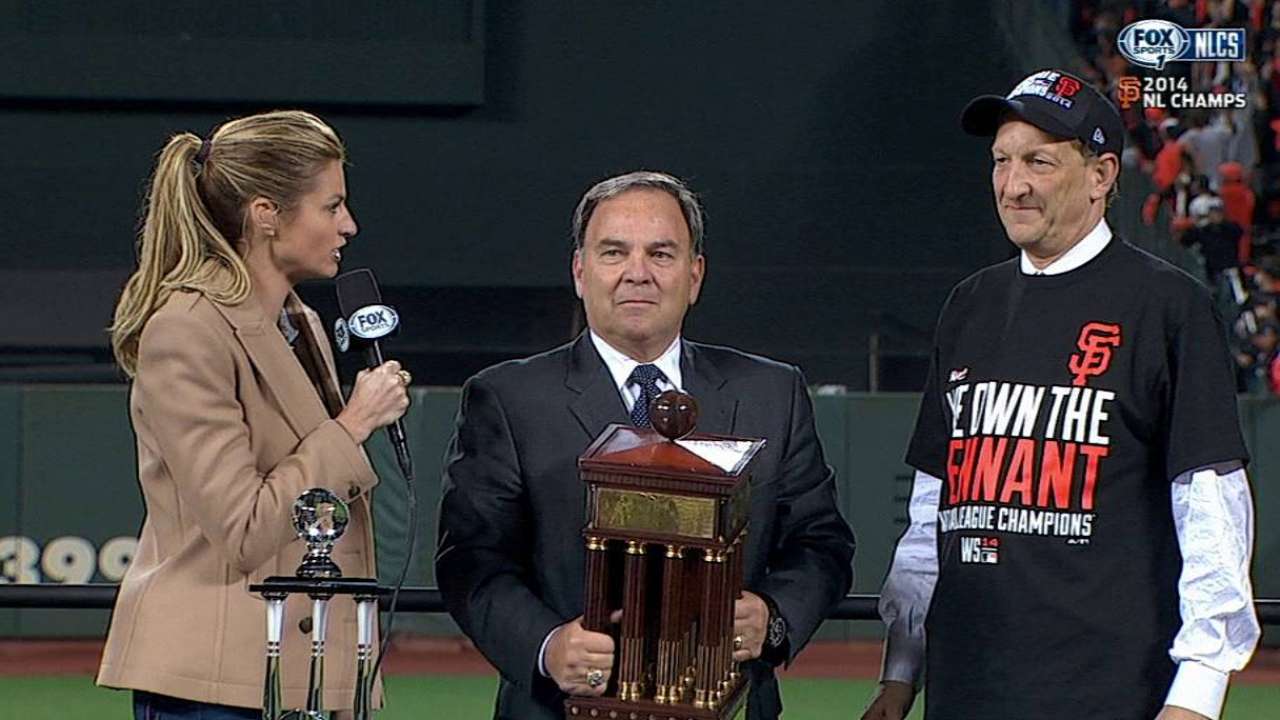 This season hasn't been an easy one for the San Francisco Giants, and that's why they may remember it as one of the most gratifying they've ever had. In the end, they are right where they hoped they'd be -- back in the World Series for the third time in five years.
Down the stretch, they didn't have right-hander Matt Cain, center fielder Angel Pagan and left fielder Michael Morse. All were cornerstone players when the Giants were 43-21 and leading the National League West by 10 games. Only Morse has returned.
First baseman Brandon Belt missed 101 games. Right-hander Tim Lincecum tossed his second career no-hitter on June 25, but eventually pitched his way right out of the rotation.
Second baseman Marco Scutaro played just five games, and manager Bruce Bochy turned the position into a tryout camp, with seven players getting starts there. Only late in the season did rookie Joe Panik take the opportunity and run with it.
The Giants bashed home runs for a couple of months. Then they stopped hitting altogether and watched the Dodgers fly past them in the standings. There were stretches when missing the postseason seemed a possibility.
And yet there's something about this team and this franchise -- perhaps the most respected in the game. This version of the Giants is an interesting mix of youth and experience, of big-salary stars and veterans thrilled simply to be in the big leagues. Still, it works.
In a season like this one, when every week seemed to present a new challenge, these few days before the start of the World Series may be a chance to reflect and to appreciate what they've accomplished.
No one will say they're baseball's most talented team. That's also a slippery slope. In Madison Bumgarner and Buster Posey, in Pablo Sandoval and Hunter Pence, the Giants have some elite players scattered around the diamond.
But the Giants have Travis Ishikawa and Gregor Blanco, two waiver-wire pickups. They have five rookies. They have solid homegrown players like Belt, Sandoval and shortstop Brandon Crawford.
They have a tremendous bullpen and a manager who might be the best in the game at orchestrating it. They have a ballpark that's packed every night and a loud, wild environment that makes every game important.
So with the Giants celebrating their 21st NL pennant and preparing to play the Kansas City Royals in the World Series, let's pause and offer a tip of the hat to the people in charge of the Giants.
That would include president and CEO Larry Baer, the man who has helped construct one of the great franchises in the sport, a franchise that struggled mightily during its years at Candlestick Park. If you'd seen the Giants then, with those small crowds and bad teams, you might have trouble comprehending the baseball town that San Francisco has become.
And there's the architect, senior VP and general manager Brian Sabean. He's a brilliant baseball man and has surrounded himself with an equally brilliant staff.
Their ability to identify talent and to envision how that talent can help build a cohesive, winning roster is a work of art. From Aubrey Huff and Cody Ross in 2010, to Scutaro and Blanco in '12, to Ishikawa and Jake Peavy this season, Sabean has made important, occasionally under-the-radar additions to all his recent playoff teams.
The Giants have kept a large chunk of their core together. Eight players have been on all three NL champions, and a ninth, Ishikawa, was a member of the 2010 team.
All of this is a tribute to a franchise that has things figured out in ways large and small. Sabean has a tight-knit group of assistants, legendary people inside the game, like pitching guru Dick Tidrow.
In the next few days, you'll probably read and hear that the Giants are a tribute to old-fashioned scouting and player development, that they don't use that new-fangled analytics stuff.
This is wrong. Way wrong. Stupidly wrong. The Giants are as progressive and innovative as any front office in baseball. The difference is, they don't advertise how they do business. So if you want to evaluate them, check the record -- three NL pennants in five years with a payroll that has averaged seventh.
So many different things go into building a pennant-winning baseball team that much of it gets overlooked. The Giants win because of Sabean and his people, and because Bochy is a brilliant manager -- brilliant in both running a game and building relationships with his players.
Their clubhouse mix runs the gamut from Pence's fire to Sandoval's enthusiasm to Posey's greatness. There are homegrown guys like Belt and Bumgarner and Crawford. There are guys like Ishikawa and Blanco, who've had their careers jump-started by the Giants. And there are the kids, especially Panik.
Because of Bochy, and because of Posey and Pence and others, there's a constant expectation that only the bottom line matters, that while players come and go, nothing really changes in the larger scheme of things.
In a season when the Giants had stretches of 43-21 and 5-18, in a season when they were only 13-12 in September, they're right back on the threshold of a dream. They've done it by clearing hurdle after hurdle, and that just has to make the whole thing sweeter. Even for a franchise that has set its own bar high, this season has to have been extraordinarily special.
Richard Justice is a columnist for MLB.com. Read his blog, Justice4U. This story was not subject to the approval of Major League Baseball or its clubs.