Banister a true baseball man
Rangers new skipper described as 'prepared, compassionate, real'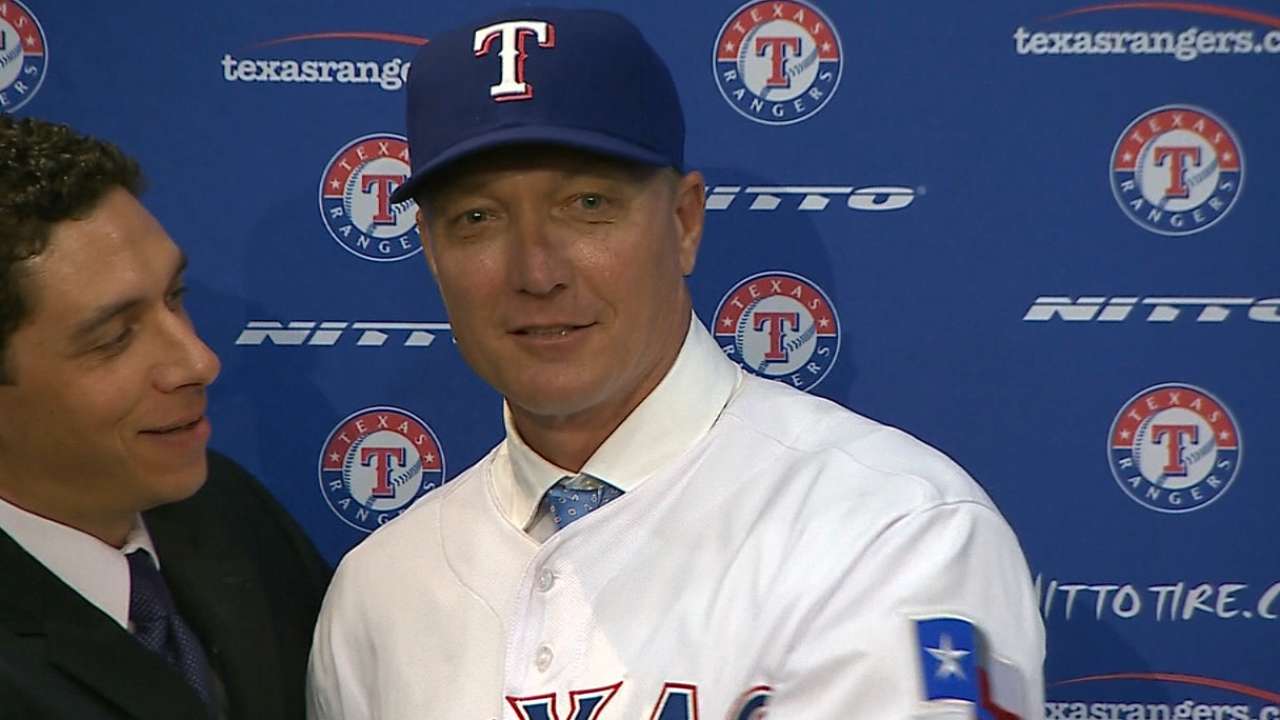 ARLINGTON -- Jeff Banister spent 29 years with the Pirates organization, the past four as bench coach, and now he is manager of the Rangers. He has a nice three-year contract plus an option for 2018 and far more responsibility than he had in Pittsburgh.
But at the core, Banister is still a baseball man, whether it is standing in the dugout at Pittsburgh's PNC Park or the back fields of Pirate City in Bradenton, Fla. As Rangers general manager Jon Daniels said, Banister was not hired to "reinvent the wheel" but to get the Rangers to play winning baseball again the way they did under Ron Washington and other managers before him.
As Banister accepted his new job at a news conference on Friday, he thanked his family, including his wife Karen, his daughter Alexandra (19), his son Jacob (12) and his parents. He thanked the Pirates for all they had done and also acknowledged those with the Rangers who had been successful before his arrival.
He also thanked the Rangers "for believing in me and giving me a chance to lead the organization and first and foremost be a partner in the organization as a guy who believes in scouting and the player-development department plus the 25 men who show up every single night and play for the fans in Arlington.
"Ultimately that's what it's all about. Showing up and playing hard; being ready to play and playing to win. Show up and play hard every night for 27 outs, hard outs. We show up to play and we show up to win."
That is why Banister is now the manager in Arlington. The Rangers believe he has a presence to lead and motivate players to play the game the right way. They believe he will be thoroughly prepared every day and he will be invested in the entire organization.
There will be things he learned in Pittsburgh that will be brought with him to Texas. There are things that the Rangers do that will continue under the new manager.
But ultimately it is about playing winning baseball and that doesn't change for Banister regardless of his title. In the end, most of what worked for the Pirates the past two seasons is pretty much the same as what took the Rangers to two World Series in 2010-11 and four straight 90-win seasons before the bottom fell out this past season.
"These men know how to win, they know what it takes to win," Banister said. "I am assuming [this past season] was an unfortunate situation, there were some guys that were hurt. Some things were out of their control. But the beauty of what happened last year, in my eyes there was also a group of young men that had an opportunity to gain some valuable experience going forward.
"My plan is I want to connect with every single player to get to know them and they get to know me so I can start building a relationship with the players. One that they know they can trust and believe in my words and my actions so that when they see me walk through the door in Spring Training, they understand what the expectations are."
Banister is the 18th full-time manager in Rangers history. A native of Oklahoma who played at LaMarque (Texas) High School, Baytown (Texas) Lee Junior College and the University of Houston, he was a player, coach and coordinator for the Pirates at both the Minor and Major League levels. He was even a pitching coach for a short period of time.
Banister has been immersed in all areas of the game and that reflects on the kind of players that he is looking for in Texas.
"I think we need players that are multifaceted and are capable of meeting the demands of the game," he said. "The game presents different situations every single night. You've got to be capable of executing, you've got to have the drive to execute. You need to be selfless. We like players that run hard -- if the game says you need to break up a double play, you need to break up a double play. Take extra base? Take an extra base. If the game says move runners, move runners."
Banister studies the statistics and appreciates all the new trends in a game invented some 150 years ago or more. The Rangers will again be employing all the drastic defensive shifts that have come into vogue over the past few years.
But, like Washington and any other successful manager, he understands the importance of simply playing good fundamental defense. Offensively, he understands there are times when a team needs to play for one run and others when it should go for a big inning. He wants batters who understand situational hitting and pitchers who work fast, throw strikes and compete on the mound.
"Being able to meet the demands of the game when the game presents itself," Banister said in a new verse on a familiar refrain heard in Arlington.
Daniels said a 12-person team of Rangers baseball-operations personnel vetted about 40 candidates over a three-week interview period.
"We continually heard the same things -- baseball man, blue collar, winner, prepared, compassionate, real," Daniels said of Banister. "This is a real guy that cares about people he works with, the players he coaches, his co-workers and obviously his family. That stood out to us."
New managers do bring some changes, especially to coaching staffs. Banister has already had conversations with pitching coach Mike Maddux, hitting coach Dave Magadan and bench coach Tim Bogar, who served as interim manager, about possibly returning. Banister said they are still involved in the "process" of forming a coaching staff.
Certainly Banister will bring his unique style of personality and leadership, which may be acceptable to some and not to others.
But above all, it is still baseball and that is what Banister has always been about.
T.R. Sullivan is a reporter for MLB.com. Read his blog, Postcards from Elysian Fields, and follow him on Twitter @Sullivan_Ranger This story was not subject to the approval of Major League Baseball or its clubs.