MLB.com Columnist
Jim Callis
Pipeline Inbox: Which positions boast the most talent?
Jim Callis responds to fans' questions about the next crop of Major League talent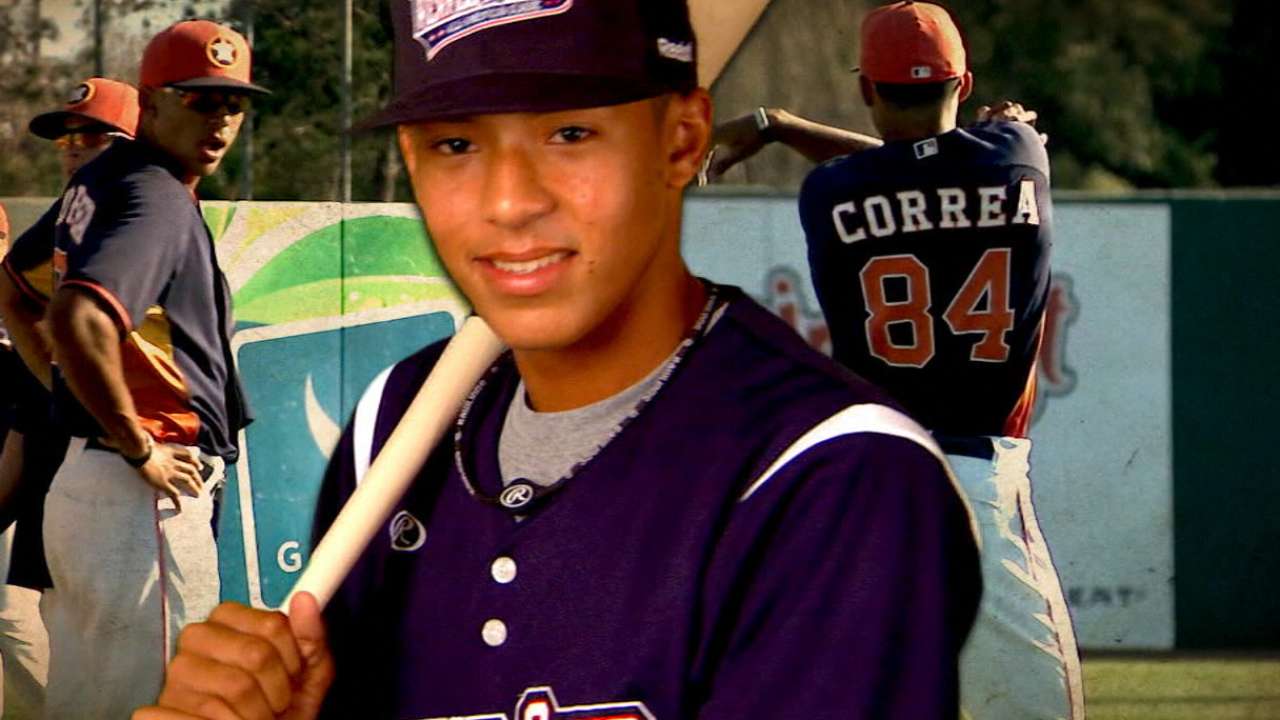 If someone had said at the beginning of the year that a product of the Giants' 2002 First-Year Player Draft would be the hero who sent San Francisco to the World Series, the only choice would have been Matt Cain. Instead it was Travis Ishikawa, whose three-run, walk-off homer against Michael Wacha on Thursday night allowed the Giants to play for their third championship in five seasons.
Ishikawa opened the season with the Pirates before getting released in late April and hooking up with his original organization. San Francisco drafted him in the 21st round, paying him $950,000 to lure him away from an Oregon State commitment. Though he never has been able to stick as a big league regular, he won a World Series ring with the Giants in 2010 and now has a chance to earn another.
Do you see more depth, Minor League wide, at any particular position? It seems like a lot of middle infielders have been promoted as of late.
-- Travis B., Hyde Park, Mass.
There always are plenty of outfield and pitching prospects, just because of the sheer number of players at those positions, but neither of those current crops is particularly outstanding. The deepest prospect position coming into the year was shortstop, and that remains true even after the graduations of Xander Bogaerts and Javier Baez to the big leagues.
Carlos Correa (Astros), Francisco Lindor (Indians) and Addison Russell (Cubs) all rank among the game's five best prospects on MLBPipeline.com's Top 100 list, and Minor League batting champ Corey Seager (Dodgers) is right on their heels. J.P. Crawford (Phillies), Nick Gordon (Twins) and Raul Adalberto Mondesi (Royals) are all teenagers with high ceilings.
After the shortstops, the prospects at third base stand out the most. Kris Bryant (Cubs) and Joey Gallo (Rangers) finished first and second in the Minors this year in home runs, a testament to their massive power. Miguel Sano (Twins), who missed the entire season following Tommy John surgery, and D.J. Peterson (Mariners) can crush balls as well.
What do you think of Steven Matz, the big left-hander who has won two championship rings in the last two seasons in the Mets' system? Could he be in the Majors next year in the back of New York's rotation?
-- Astrid E., Massapequa, N.Y.
It took Matz four years after the Mets made him their top pick (second round) in the 2009 Draft to reach full-season ball, but the wait has been worth it. He signed late for $895,000 in 2009 and then missed the next two years following Tommy John surgery. Matz had a terrific 2014 season, going 10-9, 2.24 with a 131/35 K/BB ratio in 140 2/3 innings between high Class A and Double-A.
Matz' fastball is a plus-plus pitch, thanks to its velocity (93-98 mph) and sinking action. His changeup could become a second above-average offering, and he's making strides with a three-quarter breaking ball than has some bite and can hit 83 mph. With his stuff and ability to throw strikes, Matz could develop into a No. 2 starter.
The Mets have pitching depth, so it's unlikely they'll need Matz for rotation help in 2015. Matt Harvey is coming back from Tommy John surgery to join Zack Wheeler, Jacob deGrom and Jon Niese as definite starters, with Bartolo Colon and Dillon Gee veteran options for the fifth slot. Noah Syndergaard and Rafael Montero are pushing to move up from Triple-A, where Matz likely will spend most or all of next season.
With the trade of top prospect Addison Russell, how does the Athletics system shape up heading into the offseason? Which player profiles better as a future impact player in the big leagues, first baseman Matt Olson or shortstop Daniel Robertson?
-- Steven H., Ventura, Calif.
The A's have built their three straight playoff teams primarily through trades, and they'll have to continue to utilize deals because their system is pretty thin right now, especially in terms of pitching. Most of Oakland's best prospects are infielders, led by Robertson and Olson and also including third basemen Renato Nunez and Matt Chapman and second baseman Chad Pinder.
We have Robertson (No. 85) ranked slightly ahead of Olson (No. 98) on the MLBPipeline.com Top 100, but the latter has more impact potential thanks to his above-average power. Olson ranked third in the Minors with 37 homers and first with 117 walks in 2014, and he could fit in the middle of a big league lineup one day.
Though he doesn't have a tool to rival Olson's pop, Robertson is solid across the board and has a higher floor. Even if he winds up moving to second or third base, as most scouts expect he will, Robertson still would profile as a solid regular.
What's a realistic Major League comparison for Astros outfielder Brett Phillips if he continues down his current path?
-- Jerry L., Kingwood, Texas
Signed for $300,000 as a sixth-round pick in 2012, Phillips didn't do much in his first two pro seasons before breaking out this year. He batted .310/.375/.529 with 17 homers and 23 steals between two Class A stops, leading the Midwest League in slugging and outfield assists (14).
One scout likened Phillips to Josh Reddick, and I like that comparison. Reddick put up similar numbers at the same stage of his career, and they both projected as aggressive hitters with intriguing power, solid speed and strong arms. He isn't as well known as Domingo Santana or Delino DeShields Jr., but Phillips could prove to be the best outfield prospect in a deep Astros system.
Jim Callis is a reporter for MLB.com and writes a blog, Callis' Corner. Follow @jimcallisMLB on Twitter. This story was not subject to the approval of Major League Baseball or its clubs.