After celebration, Royals now must focus on the Giants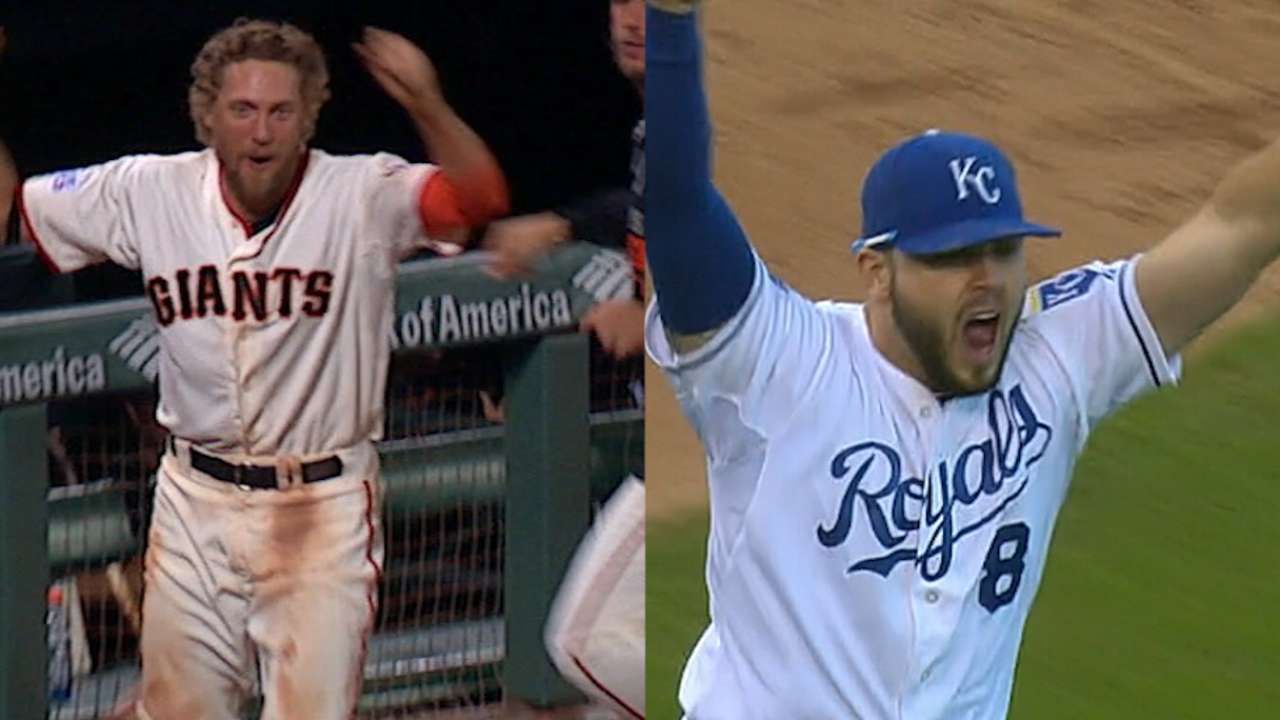 KANSAS CITY -- When the Royals clinched the American League pennant on Wednesday night, the players stressed that who their next opponent would be did not concern them at the moment; they'd rather bask in the glory of their AL Championship Series win against the Orioles.
That grace period lasted just over 24 hours as the Giants finished off the Cardinals on Thursday night in the National League Championship Series, setting up a World Series date between San Francisco and Kansas City that will begin on Tuesday at Kauffman Stadium on FOX at 7:30 p.m. ET with first pitch coming at 8:07 p.m.
Before Travis Ishikawa smashed a three-run, walk-off home run to send the Giants to a 6-3 win and their third World Series appearance in five seasons, neither Royals manager Ned Yost nor general manager Dayton Moore expressed a preference for a Fall Classic opponent in a Thursday news conference.
"The best team's going to win over there," Yost said. "And if you want to be the best, you've got to beat the best. It doesn't matter to me which team it is, I'm just excited we're going to be playing Tuesday."
"You've got to play well if you're going to win, regardless of who you line up against," Moore added.
The Giants and Royals matched up in Kansas City already this season. It was all Royals, as the Giants first trip to The K since 2008 resulted in three losses in three games in early August, including a 5-0 shutout at the hands of James Shields. They last met in the Bay Area in 2005.
Their regular-season records might jump out to you considering that neither amassed 90 wins, making this the first World Series in a non-shortened season to feature two teams with fewer than 90 wins. Nevertheless, they emerged victorious in their respective Wild Card Games.
The NL and AL pennant winners cruised in the two rounds that followed their Wild Card Game wins. The Royals are the first team in postseason history to start the playoffs 8-0. The Giants can't match this perfection, but they lost just once in each the NL Division Series and the NLCS.
Both clubs followed a familiar blueprint to success in 2014. Neither relies on home runs to produce its runs, and both lay claim to fantastic rotations and bullpens. Not surprisingly, the two lowest bullpen ERA this postseason belong to the Giants (1.78) and Royals (1.80).
Paramount to the Royals' success will be their ability to run rampant on the basepaths in the World Series. Giants catcher Buster Posey threw out runners at a 29.8 percent clip this season, fifth in MLB among 15 qualified MLB catchers. For comparison's sake, Kansas City already faced catchers Derek Norris (16.7 percent), Chris Iannetta (30 percent), Caleb Joseph (40.4 percent) and Nick Hundley (13.8 percent) in previous series. The Royals swiped 13 bags off these backstops and were caught three times.
San Francisco has allowed just three steals in 10 playoff games, but it's worth noting that teams were not afraid to test the Giants this year. San Francisco's pitchers surrendered 107 stolen bases this regular season, tied for the seventh most in MLB. But as a club, the Giants threw out 31 percent of attempted basestealers, which ranked 10th in MLB.
One factor that plays to the Royals' advantage is the spacious outfield at AT&T Park. The stellar outfield play of Alex Gordon and Lorenzo Cain has been on display all October, and the Giants' ballpark had the lowest home run factor in baseball this year, meaning it was the toughest place to hit one out. That plays right into the hands of a team that can keep the ball in the park -- Kansas City pitchers were 22nd in MLB in home runs allowed -- and chase down fly balls.
If the ball stays in play, the Royals are tough to beat. The Giants managed to win three NLCS games without going deep, but they'll have a hard time toppling Kansas City if they have a similar power outage in the World Series. The Orioles -- who managed just two homers in the ALCS after leading the Majors in that category -- can attest to that.
Jackson Alexander is an associate reporter for MLB.com. This story was not subject to the approval of Major League Baseball or its clubs.