Statcast: Deflected grounder propels Giants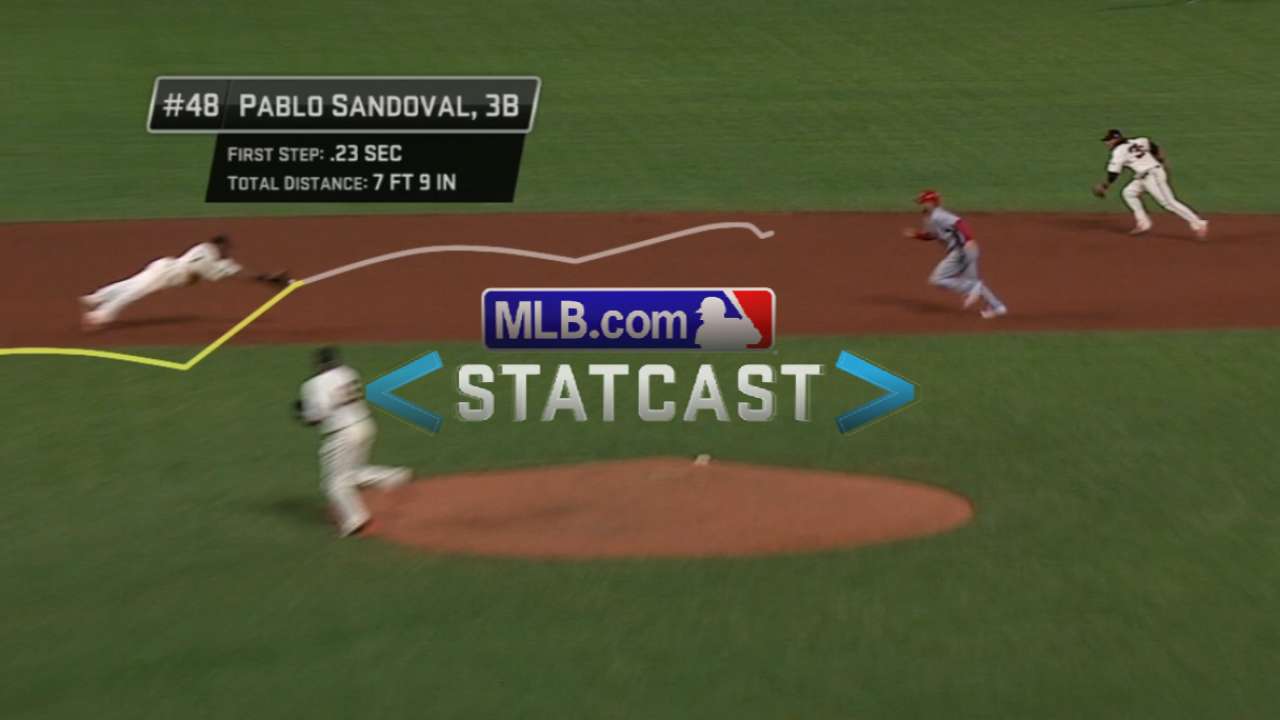 Travis Ishikawa's walk-off home run in the bottom of the ninth on Thursday night to clinch the National League pennant for the Giants will be the play everyone is talking about, but a defensive play in the top half of the inning might just be what made it all possible.
After a one-out walk to the Cardinals' Matt Adams was followed by a Randal Grichuk single, Kolten Wong hit a smash to the left side of the infield. It looked like the ball would get through and score pinch-runner Daniel Descalso from second, but third baseman Pablo Sandoval managed to get the tip of his glove on the ball. It took a favorable Giants hop, though, as shortstop Brandon Crawford raced over to backhand it and quickly flipped to second base for a crucial out.
Statcast tracking technology shows that Crawford traveled 24.7 feet on the play, ultimately being in the exact right place at the right time.
Crawford's quick reactions helped him narrowly throw out Grichuk, despite Grichuk having expanded his secondary lead to 13 feet off first base prior to the hit and reaching a maximum speed of 19.1 mph during it.
Crawford's play prevented the Cardinals from loading the bases with only one out. The next batter, Tony Cruz, worked a walk before pinch-hitter Oscar Taveras grounded out to strand the bases loaded.
That proved to be the final opportunity for the Cardinals in 2014, with Ishikawa delivering the decisive blow in the bottom of the inning.
LCS STATCAST HIGHLIGHTS
NLCS Game 5: Morse's clutch home run
Michael Morse made the most of his lone at-bat in Game 5 of the NLCS, coming off the bench in the eighth inning to tie the game with a home run. Morse's leadoff shot traveled exactly 369.9 feet, according to Statcast tracking technology. It was Morse's first home run since Aug. 15, and his second career postseason homer. Morse also became just the eighth pinch-hitter in postseason history to hit a game-tying home run in the eighth inning or later. He was the first NL player to do so since another Giant, J.T. Snow, hit a game-tying, three-run homer in Game 2 of the 2000 NL Division Series against the Mets.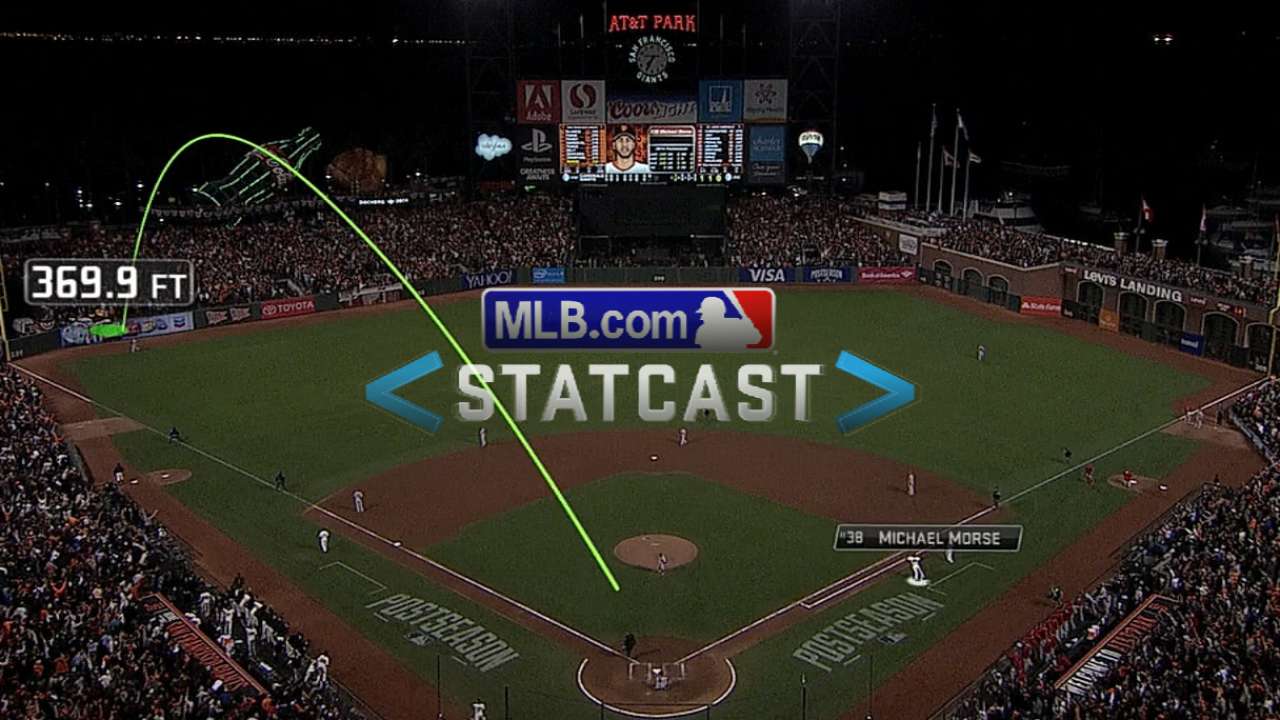 NLCS Game 5: Panda gets doubled off
One of the toughest parts of baserunning has always been reading and properly reacting to line drives. Sandoval was the victim of such a situation in the fourth inning. With two on and nobody out, and the Giants trailing by one, Brandon Belt stepped in and ripped a shot toward Cardinals second baseman Wong. Sandoval was just 11 feet off the bag at the time Adam Wainwright delivered the pitch, but he nearly doubled that distance (20 feet) with his secondary lead. Wong made the catch then quickly flipped to shortstop Jhonny Peralta to complete the double play, despite Sandoval's valiant effort to dive back into the bag.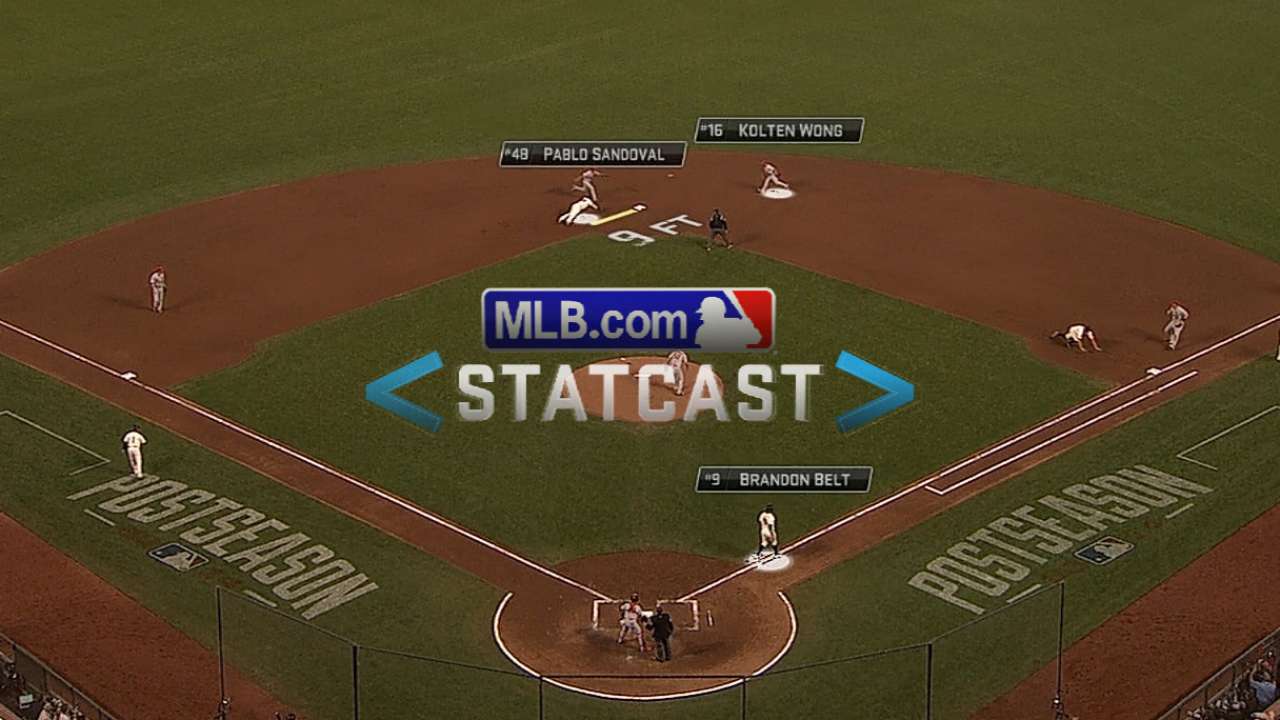 NLCS Game 5: Jay's RBI double
Cardinals outfielder Jon Jay got the scoring started with a third-inning RBI double. With two on and one out, Jay hit a ball that just narrowly escaped the reach of Giants left fielder Ishikawa. Statcast gives us a detailed look at how baserunners Cruz and Matt Carpenter handled the potentially catchable fly ball. Cruz had extended his lead off second base to 12 feet at the time of Giants starter Madison Bumgarner's delivery. Carpenter had crept 14 feet off of first base at the time of the pitch.
On contact, both players broke into a jog, with Cruz freezing halfway to third base and Carpenter stopping approximately three-fourths of the way to second. As the ball escaped Ishikawa's leaping attempt, Cruz and Carpenter entered into full sprints. Cruz scored easily from second, reaching a maximum speed of 18.7 mph, before cruising the last 20 feet into home plate. As for Carpenter, he went from a full stop just shy of second base to a maximum speed of 19.5 mph as he slowed up into third base. Jay reached a maximum speed of 18.3 mph on the double.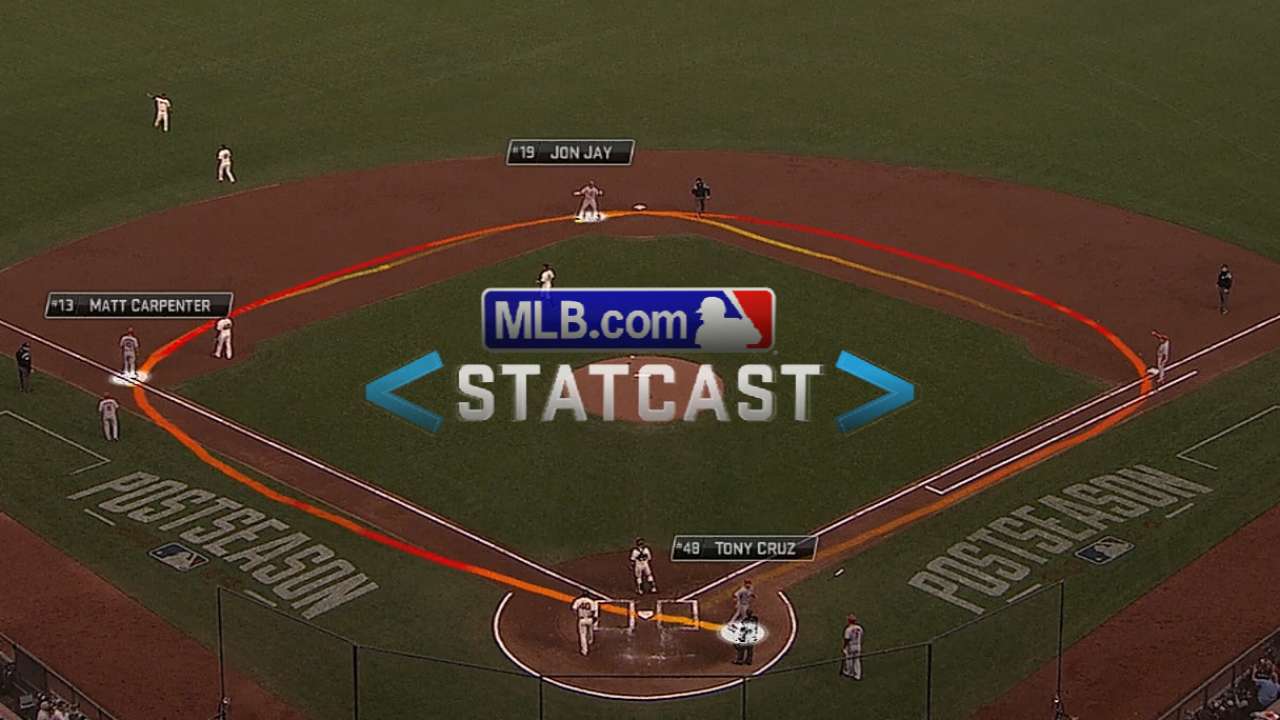 NLCS Game 5: Cruz's surprising blast
Cardinals catcher Cruz made his first postseason hit a big one, connecting for a solo home run. Filling in for Yadier Molina, Cruz crushed a go-ahead home run in the fourth inning that traveled exactly 411.2 feet. Cruz was 0-for-4 in his postseason career entering Game 5 of the NLCS. He had hit just three home runs in his big league career, one each in 2012, '13 and '14.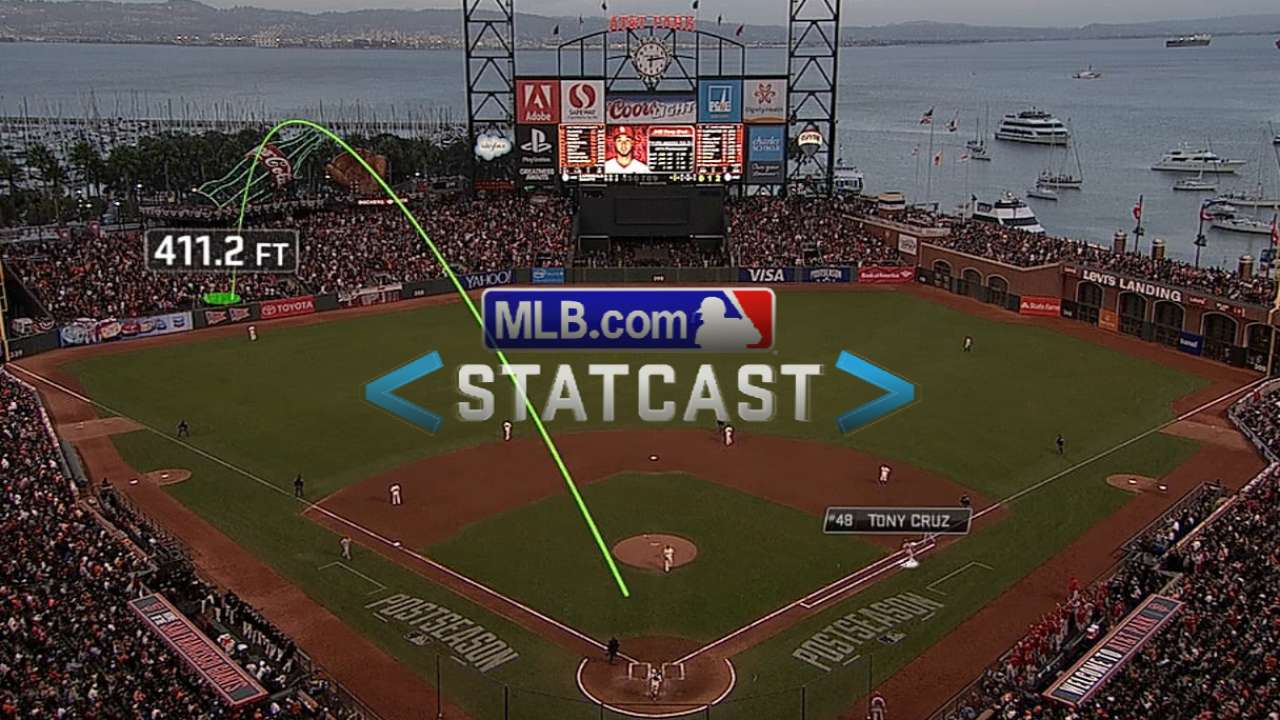 NLCS Game 5: Blanco's great grab
Giants outfielder Gregor Blanco showed off his range in the fifth inning, robbing Matt Holliday with a sliding catch. One could tell it was a great defensive effort by watching, but Statcast tracking technology quantifies just how impressive the catch actually was. Blanco reached a maximum speed of 19.7 mph before entering his slide, and by the time he had completed the catch, Blanco had covered approximately 105 feet in the vast AT&T Park outfield.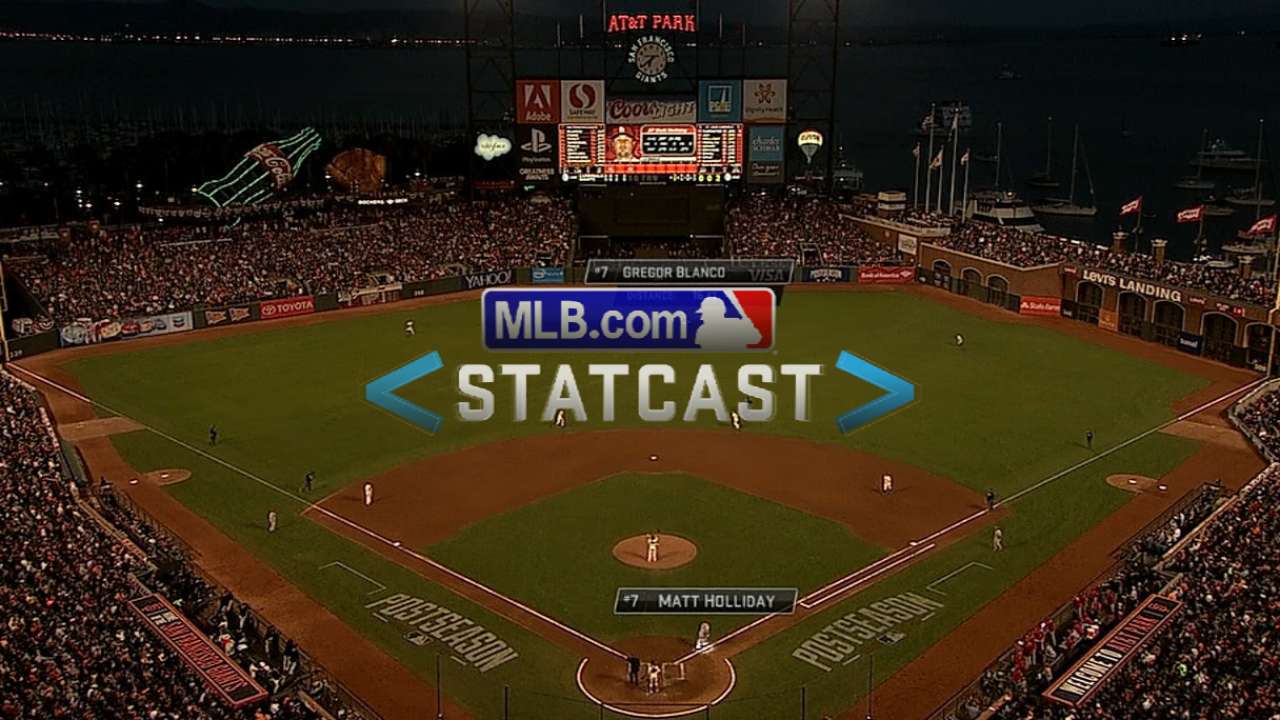 NLC Game 4: Perez's sprint home sparks SF comeback
With one out in the sixth inning, Giants outfielder Juan Perez stood at third base, representing the potential tying run in Game 4. Blanco stepped into the box against Cardinals reliever Marco Gonzales and chopped a pitch toward the right side of the infield. Perez used a sizable lead, perfect jump and superb angle to the plate to just narrowly beat the tag. He never wavered from his direct line, reaching a maximum speed of 19.5 mph just before diving in safely behind catcher A.J. Pierzynski, avoiding the tag and slapping the plate with his left hand.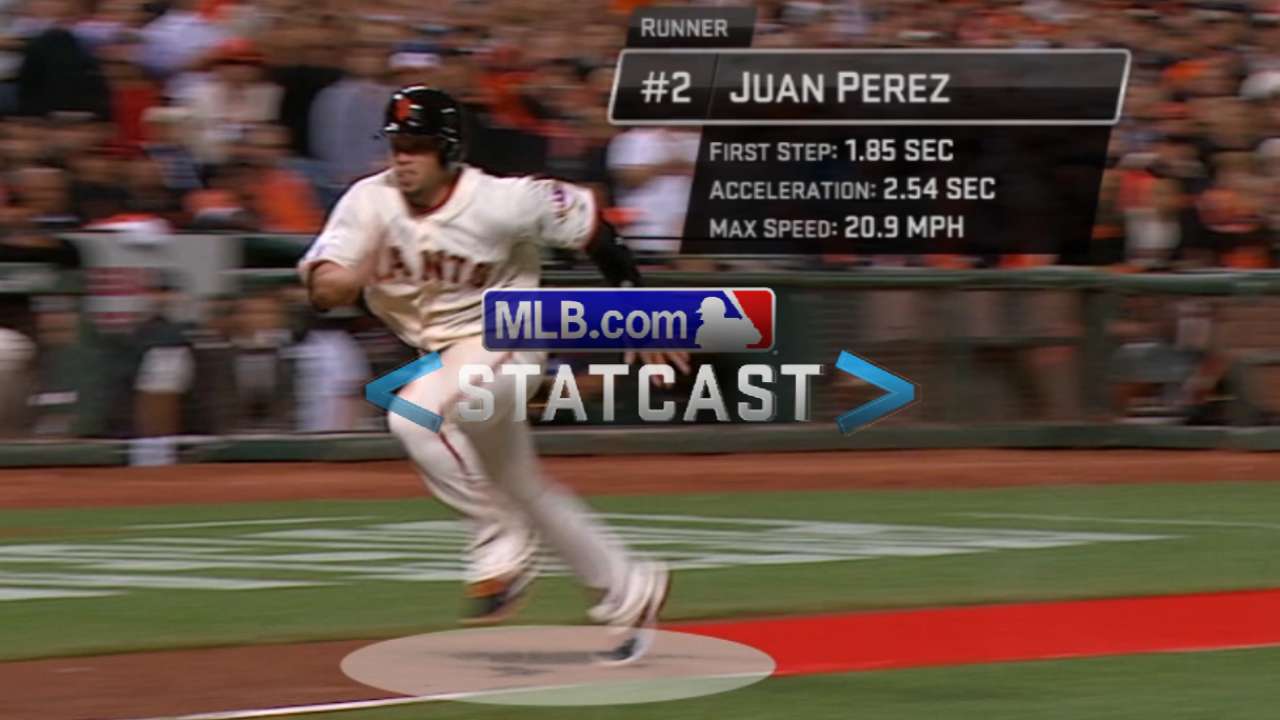 ALCS Game 4: Gordon goes off the wall
With the Royals holding a one-run lead in the fifth inning of Game 4 of the ALCS, the Orioles' J.J. Hardy turned on an inside pitch from Jason Vargas and walloped it to left field. Kauffman Stadium held its collective breath as the ball sailed, according to the Statcast tracking technology, precisely 374.4 feet. That wasn't enough to clear Alex Gordon, who raced back to the wall, reaching a top speed of 16.7 mph. The ball smacked into Gordon's glove just before he smacked into the screen-covered scoreboard, and he held on as he fell backward to the dirt, holding his glove aloft.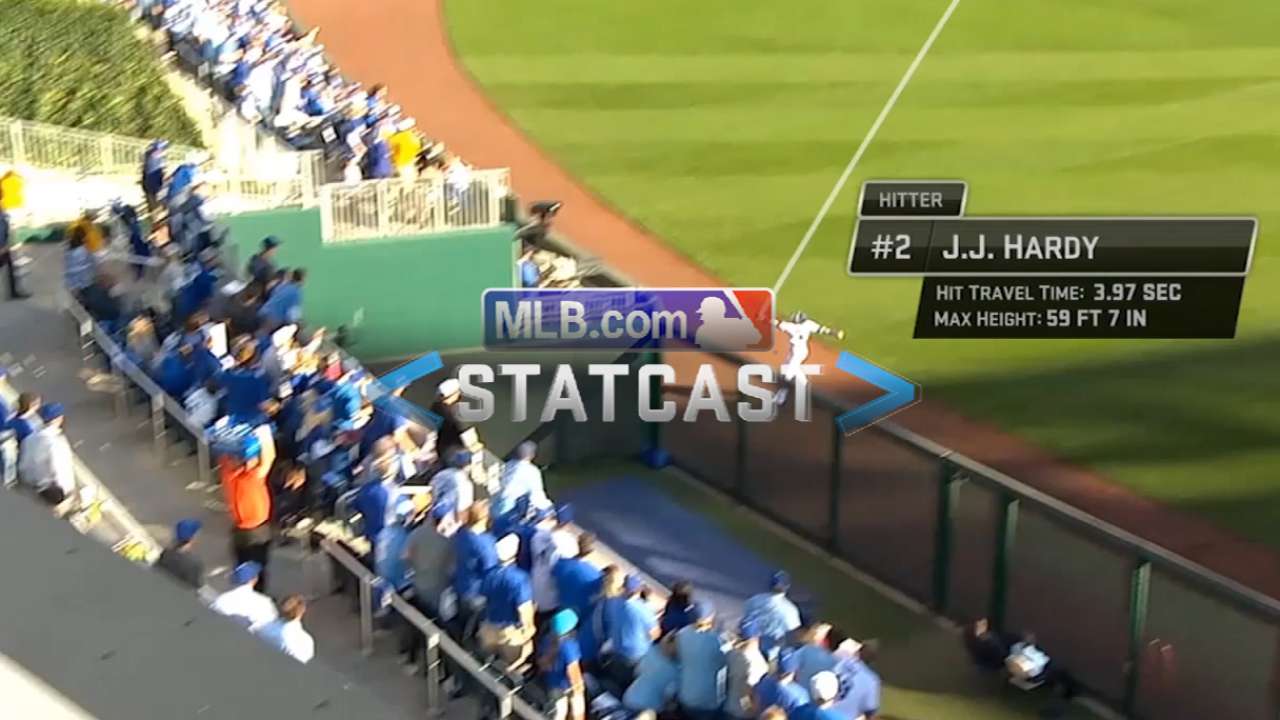 NLCS Game 3: Panda saves a double and the game
With Jay on first and two outs in the top of the 10th, Giants third baseman Sandoval made a diving stop toward the line then fired a throw to first base, robbing Holliday of a hit -- and possibly an RBI. Sandoval's stop proved to be critical, as Statcast shows us that Jay got a great jump toward second, accelerating to full speed in just 1.20 seconds and reaching a maximum speed of 17.6 mph as he prepared to round second base. Had Sandoval not made the play, Jay would have likely achieved a higher maximum speed during his full sprint between second and third base and scored. The play not only frustrated Holliday, who slammed his helmet down behind first base, but it set the table for the Giants' walk-off victory.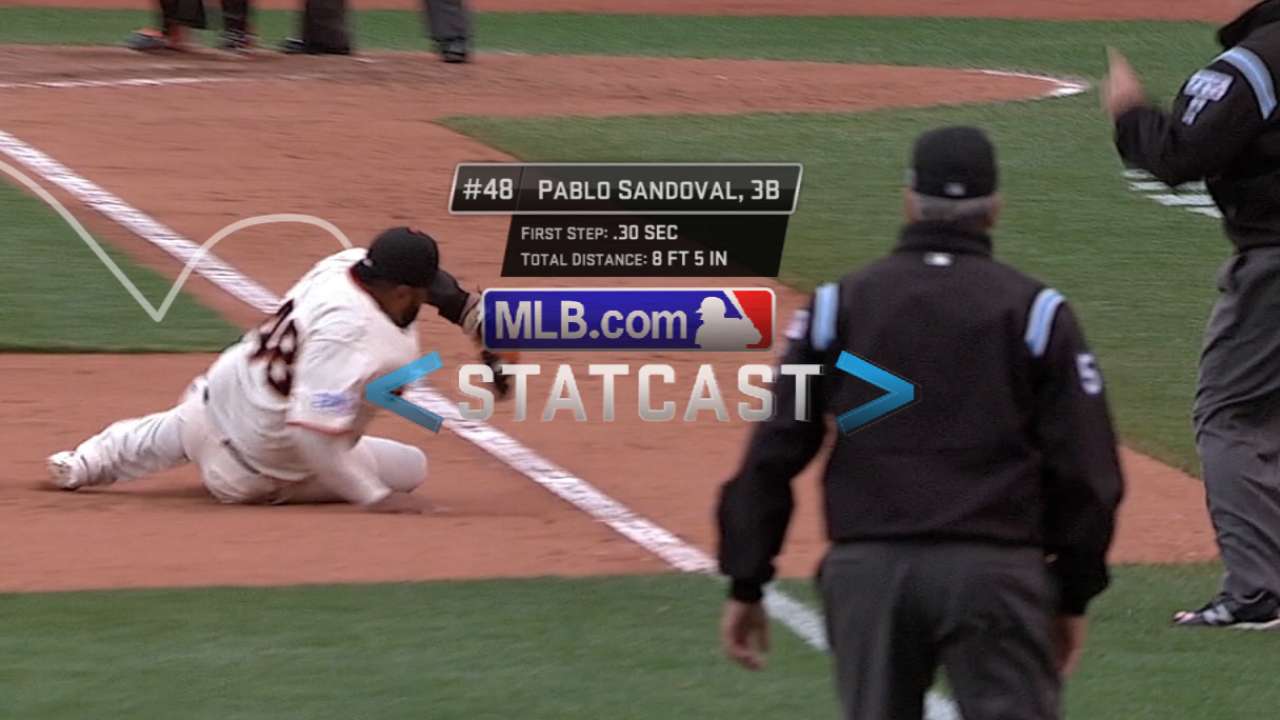 ALCS Game 1 and 2: Dyson gets caught ... twice
Counting the postseason, Jarrod Dyson entered this series 121-for-141 (85.8 percent) as a basestealer in his career, including 71-for-84 (84.5 percent) over the past two seasons. Yet he is now 0-for-2 against Baltimore, marking only the second time he's been caught in consecutive games. In Game 1, Dyson took his first step in 0.27 seconds and accelerated to a top speed of 20.1 mph in 2.2 seconds. He slid in ahead of a 70.1 mph throw from catcher Nick Hundley, but second baseman Jonathan Schoop kept his tag on Dyson's left leg as he appeared to push it off the base. Dyson was called out.
No such tactics were necessary in Game 2 with Caleb Joseph catching lefty Andrew Miller. This time, Dyson reached a higher top speed (22.3 mph), but the pitch was high, giving Joseph a good opportunity to throw. Joseph, who threw out 40 percent of attempted basestealers this year, threw a laser strike that hit shortstop Hardy perfectly, on the first-base side of the bag. Hardy put the tag down on Dyson's left shoulder just before he reached the base.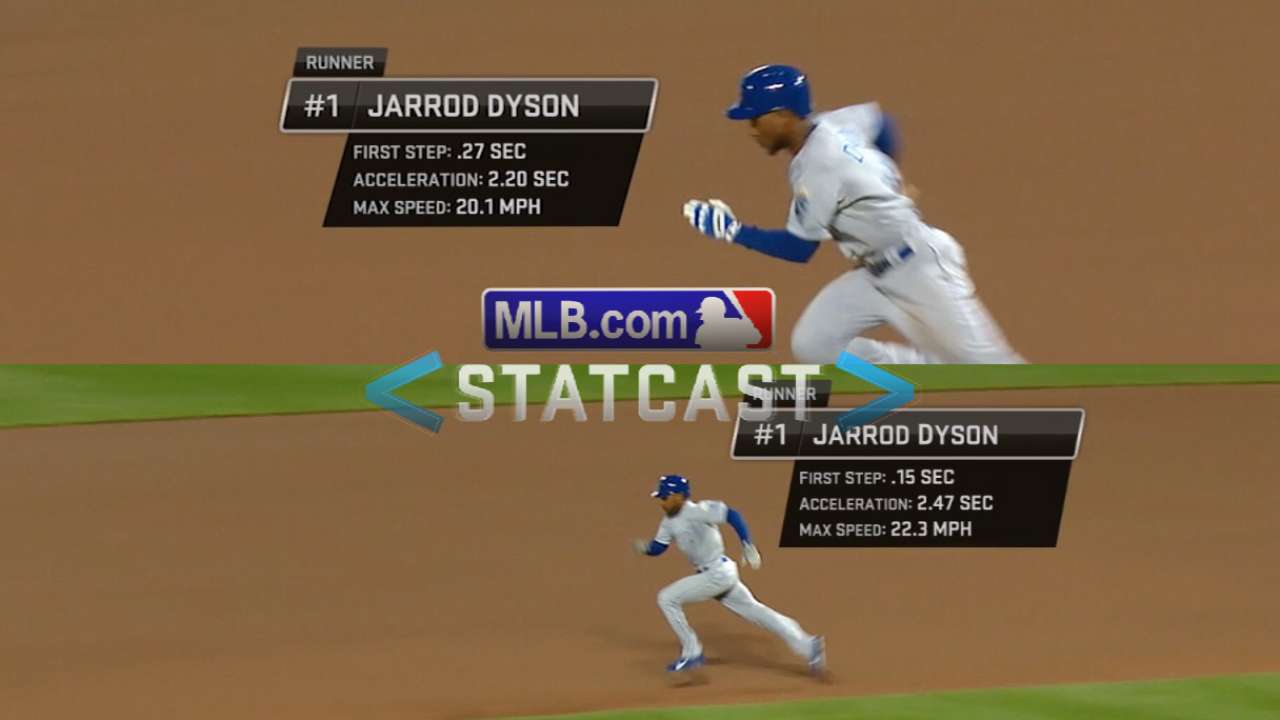 ALCS Game 2: Cain sprints, lays out to rob Hardy
Lorenzo Cain tormented the Orioles defensively. Hardy led off the sixth inning with a drive that traveled about 350 feet into the right-center-field gap off Yordano Ventura. It looked like an extra-base hit off the bat, but Cain had other ideas. From his position in center, he took his first step toward the ball in less than a quarter of a second, accelerating to a maximum speed of 21.2 mph in 3.74 seconds. But to make the play, Cain needed more than pure speed. Statcast measured his route efficiency at 99.7 percent, meaning he traversed a nearly optimal path from his original location to the spot where he dove to snag Hardy's shot. That allowed his long strides to cover 82 feet of outfield in only 3.65 seconds.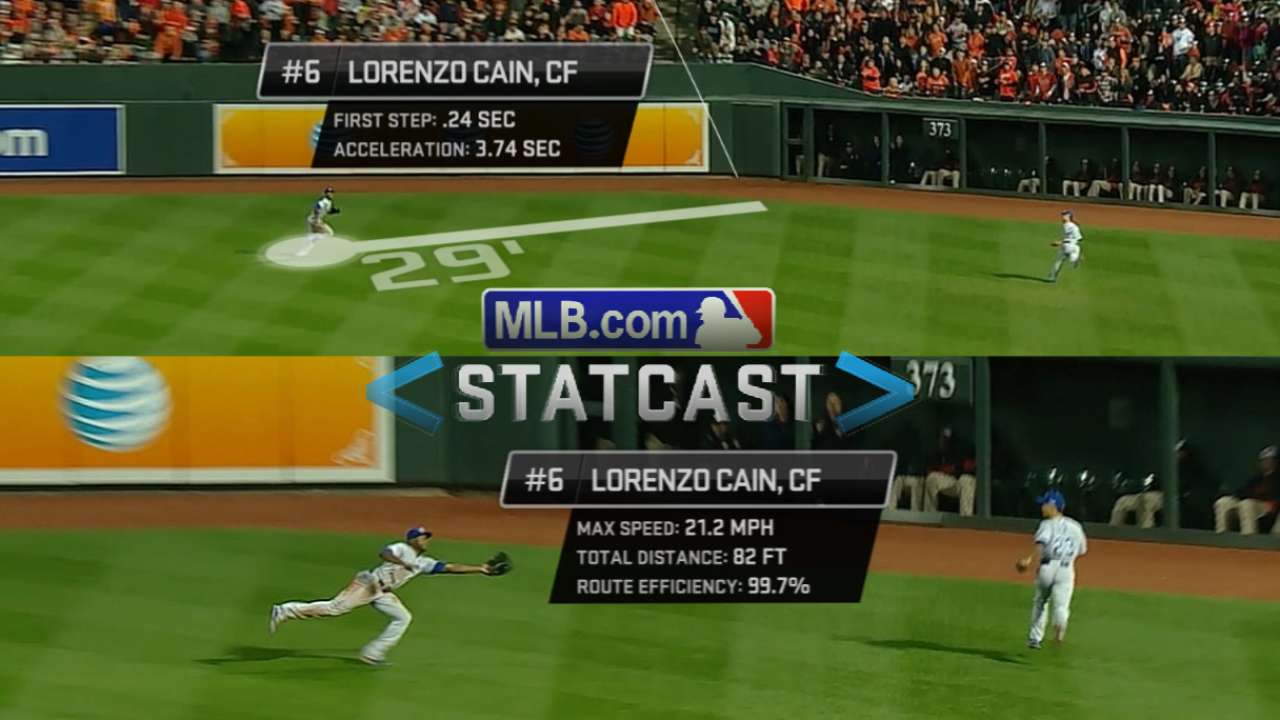 ALCS Game 1: Hundley's crazy scoop
With the game tied at 5 in top of the ninth, Orioles reliever Zach Britton walked the first three batters he faced, but then got bailed out when Eric Hosmer hit a weak grounder to first base. Alcides Escobar, the runner on third, had a secondary lead of 13 feet, 9 inches, but got an understandably slow start, as he wanted to be conservative with no one out. (He ultimately reached a top speed of 20.3 mph, which is impressive.) First baseman Steve Pearce charged Hosmer's grounder and made a clean scoop, but his throw came in low, and it took an incredible scoop by catcher Hundley to record the out, with the ball beating Escobar by just .17 seconds.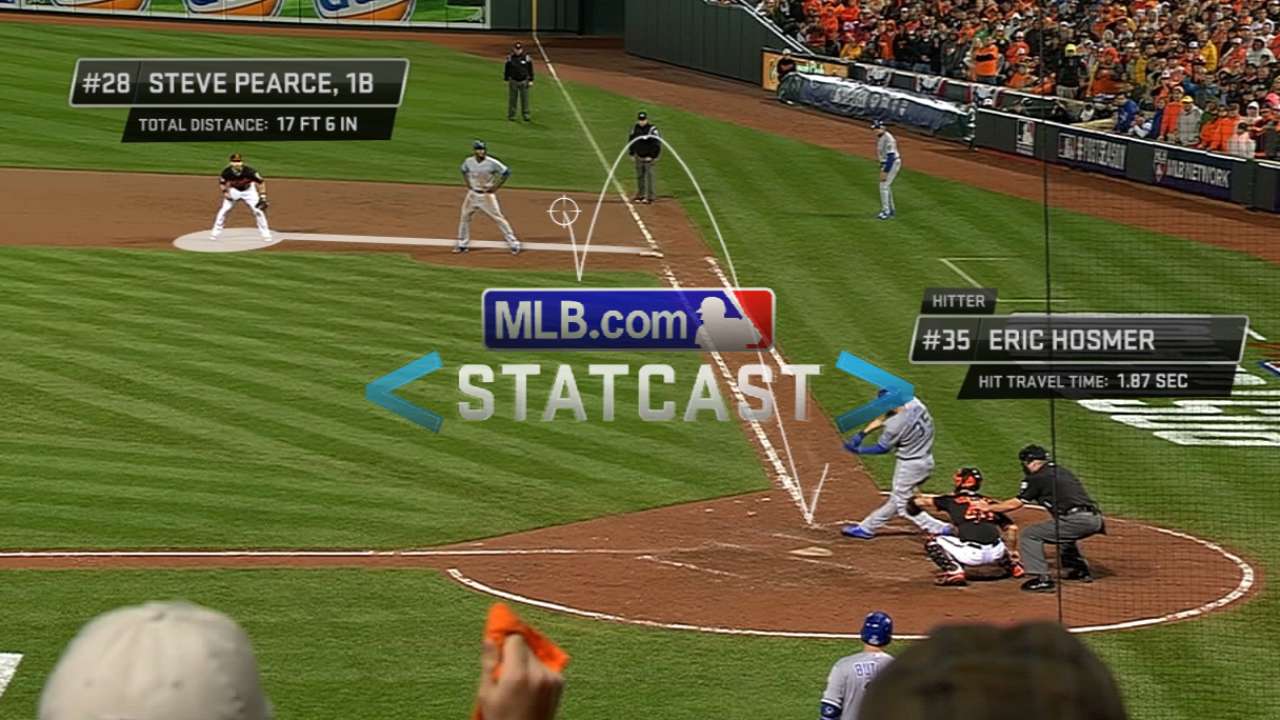 Paul Casella is a reporter for MLB.com. This story was not subject to the approval of Major League Baseball or its clubs.