Dance card complete: Giants to meet Royals in World Series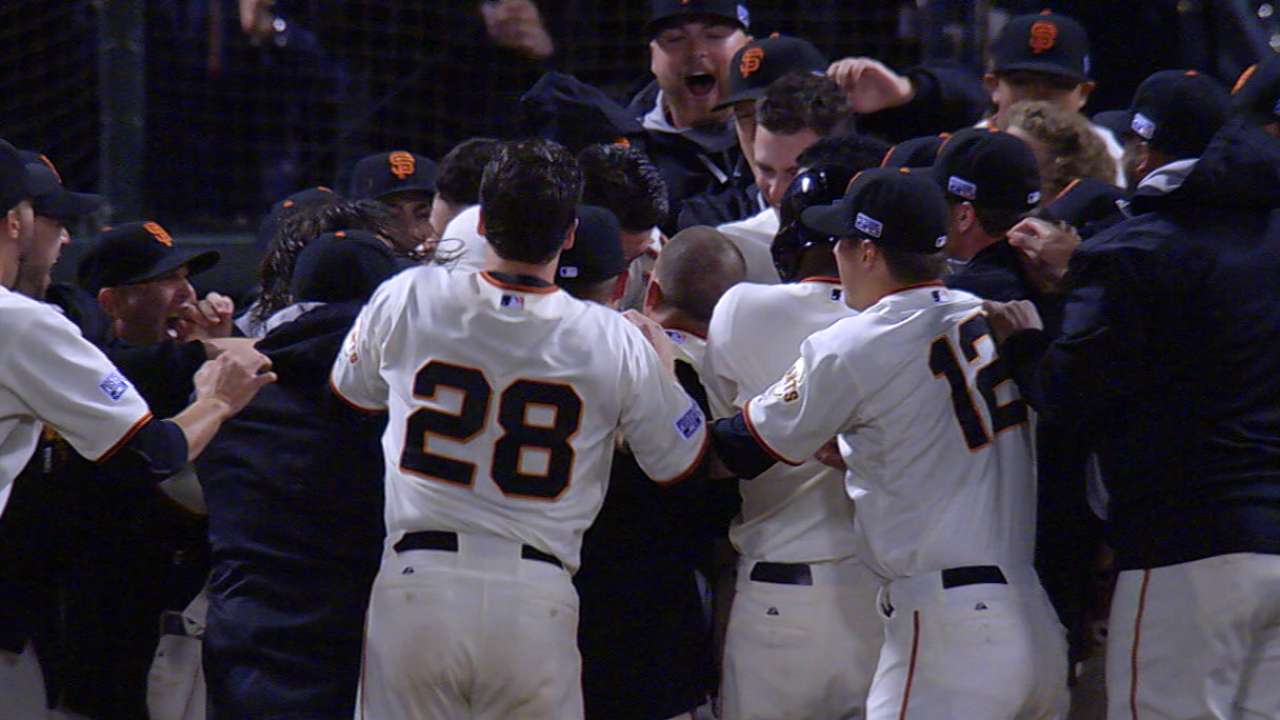 A team and a city that waited the better part of three decades for a return to the World Series didn't have to wait long before finding out who will join them on baseball's ultimate stage. It will be a team and a city that has been there three of the past five seasons, having earned this ticket with a flourish that fits right in with the joyride the 2014 postseason has been since it began.
The Kansas City Royals will host Game 1 of the World Series on Tuesday on FOX as they continue their remarkable first postseason run since 1985, and it will be the San Francisco Giants on the field with them, looking to capitalize on an opportunity to make National League history by claiming the game's greatest prize for a third time in five seasons.
The way the Giants got there in a Game 5 thriller to clinch the NL Championship Series over the Cardinals on Thursday night was a true classic, another spectacular display in a sky full of fireworks this October. Travis Ishikawa delivered the ninth series-ending homer in postseason history for a 6-3 win over the Cards, setting up a pairing of Wild Card teams for that coveted World Series trophy circled by pennants.
It was the first walk-off homer to earn the Giants a spot in the World Series since Bobby Thomson hit the Shot Heard 'Round the World in 1951. This time, the Giants' players mobbed the field at AT&T Park, and the scene was just about as crazy -- only this was in color, not black and white.
"I think a lot of us forgot that we had to let him touch home plate. We wanted to run and tackle him around second base. We were excited," said NLCS MVP Madison Bumgarner, the starting pitcher who, along with catcher Buster Posey, is headed for a third World Series in his first five seasons in the big leagues.
With that wild finish in San Francisco, you can print the invitations now, and the whole world is on the guest list:
2014 WORLD SERIES
GAME 1
San Francisco Giants vs. Kansas City Royals
Tuesday, Oct. 21
Kauffman Stadium
Air time: 7:30 p.m. ET on FOX
First pitch: 8:07 p.m. ET on FOX
As anyone and everyone who has taken in this October party knows, this has been a non-stop showcase of games being played close and going late, and Thursday's NLCS clincher was just the next chapter. Of the first 25 games, all but two of them were hanging in the balance going into the bottom of the eighth inning. There have been 22 outcomes among these 25 postseason contests decided by three runs or fewer, and that includes an all-time record of 14 one-run games set after both ends of Wednesday's LCS double dip were decided by the slimmest of margins.
No surprise, the teams that have thrived most when things got hairy late are the last teams standing. Kansas City began an unprecedented eight-game run to begin a postseason with a 12-inning shocker against Oakland in the American League Wild Card Game. San Francisco took control of its NL Division Series with a record-tying 18-inning victory in Washington. The Royals have played four one-run games this postseason, winning all four. The Giants have played in five, winning four, and they're showing their postseason chops once again.
"These guys have been through it," Giants manager Bruce Bochy said. "They have been battle-tested, and they know how to handle themselves on this type of stage."
Royals vs. Giants sets up polar opposites when it comes to recent postseason experience, but mirror images when it comes to the key to reaching the pinnacle in October: You find a way to win, you can find yourself in the Fall Classic. That's certainly what Kansas City has done.
Aside from being a day when their NL counterpart would emerge, Thursday was a rare day this October in the AL -- a day the Royals didn't win a baseball game. Of course, it's because they didn't play, and they won't for a span of five days before Tuesday's Game 1. So on the day after the Royals swept the Orioles, it was time for some rest for the players and some reflection for the architect of the return to greatness for a proud Kansas City franchise.
"That's what it's all about, really, to be able to breathe life, from a baseball standpoint, back into your fan base and the energy that's been created," said Dayton Moore, the club's general manager since 2006.
They'd entered this fray having ended baseball's longest stretch without reaching the postseason, and the Royals responded by running the table through the AL for eight games and extending their franchise winning streak to 11 games, including the last three games of that 1985 World Series. That's just one off the all-time mark of 12 straight set by Yankees teams in 1927-32 and 1998-99.
On a pretty good roll themselves, the Giants have won 16 of their past 18 postseason games, dating back to their seven-game run to the 2012 World Series title. Now they're looking to become the first NL team to win three World Series titles in a five-year span since the Cardinals did it in 1942, '44 and '46.
Once again, they found a way to win in October. After going 242 plate appearances without a homer, the Giants scored all six runs via the long ball in the Game 5 clincher. In the end, Ishikawa put another exclamation point on a postseason that has been shouting at the top of its lungs from the very outset, having to fight his way through teammates to even get to home plate -- and then it got crazy.
"Next thing I remember was being thrown down with my jersey ripped off, and then finally I was just so out of breath from yelling and screaming, and I had to have guys help me stand back up to finish celebrating," Ishikawa said.
Anyone watching this October epic unfold can relate. Head's spinning a little bit? Out of breath? Welcome to the 2014 postseason, now headed for the climax of the World Series.
John Schlegel is a national reporter for MLB.com. You can follow him on Twitter @JohnSchlegelMLB. This story was not subject to the approval of Major League Baseball or its clubs.