Cruz fills in admirably for ailing Molina in Game 5
Backup catcher hits go-ahead homer before Giants rally to eliminate Cards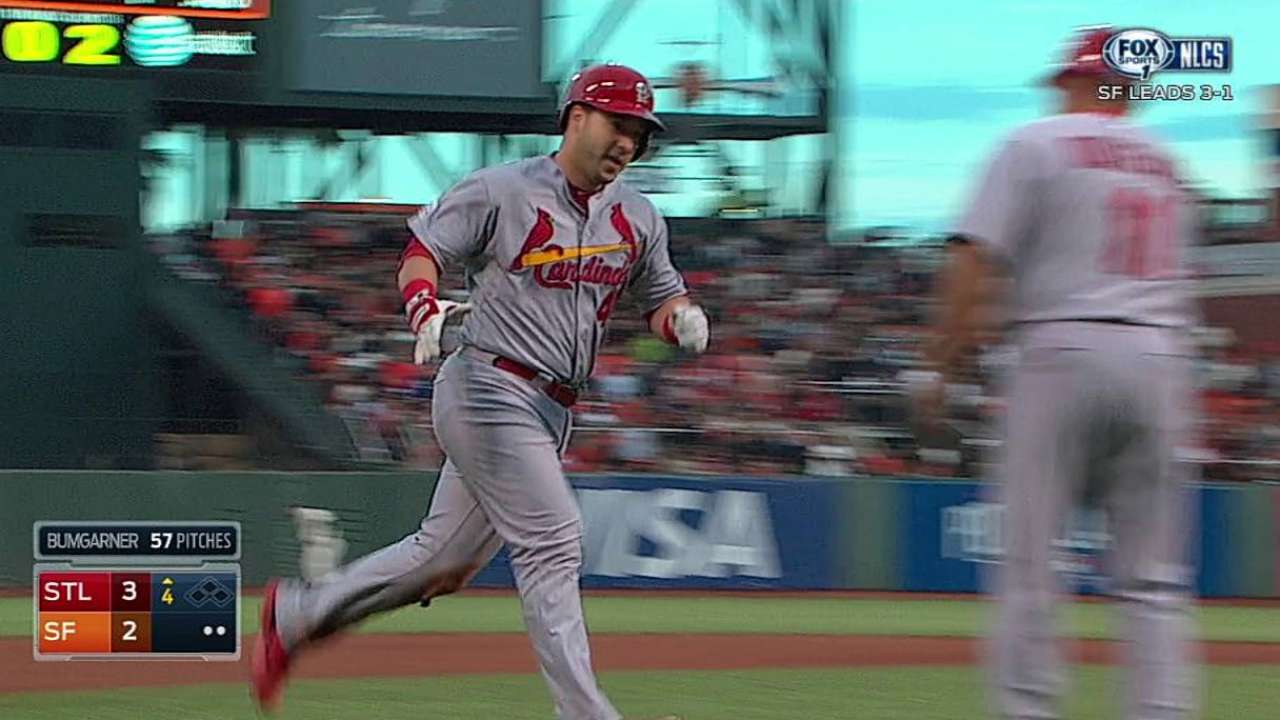 SAN FRANCISCO -- Without a doubt, losing Yadier Molina to an oblique injury hurt the Cardinals during the National League Championship Series. The veteran catcher sat out the final three contests -- three losses on the road to the Giants.
But Tony Cruz, a backup catcher who has soaked up plenty from Molina in four years, did all he could in Thursday's 6-3 loss in Game 5 to make the Cards forget what they were missing.
In 453 career at-bats entering the night, Cruz had hit three home runs, including just one in 2014. Then, with the score tied in the fourth inning of a win-or-go-home contest, Cruz did the unthinkable: he took Giants ace Madison Bumgarner deep.
The blast to left field gave the Cardinals a 3-2 lead that stuck until the eighth, when the Giants scored once to set the stage for a walk-off series-clinching victory in the ninth. For a while, it appeared that Cruz might lift his team to Game 6 back in St. Louis.
"It was a slider," Cruz said of the homer pitch. "I was looking for something out over the middle and I tried to put a good swing on it. Thankfully, I did."
It was Cruz's first career playoff hit as well as his first career hit off Bumgarner. He was 0-for-6 with three strikeouts against the southpaw.
After A.J. Pierzynski started Games 3 and 4 behind the dish, Cruz was not only tasked with facing one of baseball's toughest lefties, but also with flashing the signs for ace Adam Wainwright. All Wainwright did was twirl seven innings of four-hit ball.
"He was nasty. He was a warrior out there," Cruz said. "I could tell from behind the plate that he was giving it all he had. Those aces like that can do that. Those big-time pitchers, they really bear down and come at you with everything they have."
While the Cards' pitching staff is certainly most comfortable with Molina calling the shots, Cruz was the next best thing.
"We [did] a nice job without him," manager Mike Matheny said of Molina. "We want him every day. We lost him. It is all about the next man."
"We lost our catcher, somebody that's really hard to replace," Matt Carpenter added. "We lost him twice, once in the season and once during the postseason, and we were still able to get to this point."
Aaron Leibowitz is an associate reporter for MLB.com. This story was not subject to the approval of Major League Baseball or its clubs.