Oct. 16 Ishikawa, Morse postgame interviews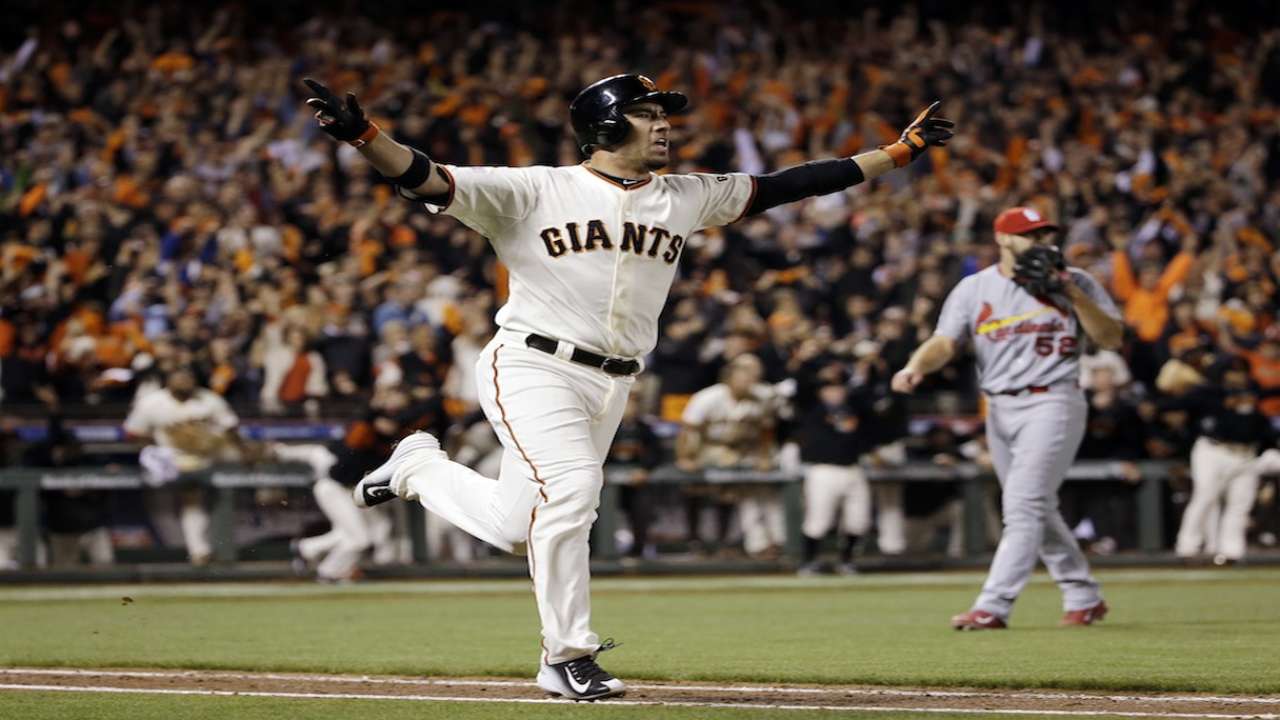 Q. To have originally come up in this organization, to leave and to come back and install yourself, all‑time history of the organization that you started with now, what does that mean?
TRAVIS ISHIKAWA: It's gratifying. If there's an organization I'd want to do it for, it would be this one. You know, just obviously drafting me and sticking with me for so many years and giving me the opportunity to be a part of the 2010 World Series, and obviously having left for a couple years.
But to bring me back for that second opportunity, and not only to bring me back, but to call me up, just give me this opportunity, it's so gratifying and I'm so happy I was able to do it for this city and this team.
Q. That at‑bat was as good as you figured it could get and then you followed it up tonight.
TRAVIS ISHIKAWA: I'm glad I was able to top myself. It was just so ‑‑ it was just nice. As soon as I hit that ball, knowing that was going to end the game, I think just the home run was just icing on the cake.
Q. You jumped ahead 2‑0, obviously looking fastball, got the fastball, everything in slow motion at that point. Take us through that pitch.
TRAVIS ISHIKAWA: Like you said, I was 2‑0. I was looking fastball. I knew that he didn't want to get behind 3‑0, chance of walking the bases loaded. So, you know, I was just trying to be aggressive. I know that they have been pounding me in a lot, so I was just trying to stay short to the ball. Just try to put the barrel on the ball and put a good swing on it.
Obviously got a good pitch. When I first hit it, again, I just thought it was going to be a walk‑off hit, so I was throwing my hands up in the air, and then I just heard. I remember hearing the crowd just going crazy, and so my thought was, Okay, if this gets out, it's going to be fantastic.
And I saw it get out and I remember high‑fiving Roberto, I don't remember going from first to second. Later I found out it was Peavy that was jumping at me between second and third. I didn't know who it was. I just knew it was somebody. I didn't know what the rules were.
I know the base coaches are not allowed to touch runners when they are trying to score, so I didn't know if touching him was going to cost me the home run or something. I was just trying to push him out of the way.
And I don't remember touching third. I don't remember touching home. The last thing I remember ‑‑ the next thing I remember was being thrown down with my jersey ripped off and then finally I was just so out of breath from yelling and screaming, and I had to have guys help me stand back up to finish celebrating.
Q. Boch was saying earlier that you came close a couple of times, thinking maybe it was over, but you decided to stay. What happened?
TRAVIS ISHIKAWA: You know, when you get to a certain age, I've been 30 all year, and you get to a point where you're still in the Minor Leagues, and not only you're in the Minor Leagues, but you're struggling in the Minor Leagues. Definitely there's times where it crosses your mind that you wonder if God is continuing to put me through this trial or if it's him telling me that it's time to hang 'em up and do something else.
You know, so I just remember calling a buddy of mine, halfway through the year this year, crying in Texas, we were in Texas, not knowing, because I was putting every effort I possibly could into the hitting and just no matter what, I was 0‑for‑4 and just didn't look like I could hit a ball on a tee if you put it there.
He continued to encourage me and just told me that he loved me. I just was able to take hope in that and just continued to try to persevere through.
And obviously after the All‑Star Break, was able to do just enough to allow the Giants to bring me up, which I wasn't even expecting.
I just thank them, first‑class organization, for this second opportunity and bringing me up and I wasn't even planning on it. And I came up, just thinking I was just going to be a pinch‑hitter off the bench, and obviously Boch with his mastermind of intuition, just throwing me out in the outfield and giving me this opportunity, it's unbelievable.
Q. Just wanted to ask you, it's hard to come off the bench, right, and you had to psych yourself up for that at‑bat. How did you prepare before you came out of the dugout for that moment?
MICHAEL MORSE: You know, before anything happens, you've got to kind of like micromanage, kind of watch, see how the game is going on, see how our pitchers, see how many pitches Bum had and where in the lineup he was coming and see, you know, what was going on on their side, too.
And you know, once I saw that Neshek was warming up, I figured it was either going to be him or they weren't going to take their starter out.
So I went into the cage and stuff, like what we normally do. I had our BP guys throwing a little side arm, a little side arm, kind of like what he does, to simulate it. That guy, he's incredible, man. He's such a good pitcher. If there's one guy in that bullpen I didn't want to face this whole series, it was him.
But you know, I just went up there and tried not to do too much. And you know, just tried to focus and tried not to do too much and just tried to touch the ball. I wasn't trying to hit a home run, that's for sure. I was just trying to get a base hit to get us going.
But for Bochy in that moment, to trust in me to go out there and take our ace out of the game, I told myself, you know, You can't waste this at‑bat. This has got to be a good one.
Q. Everybody's been writing all week about how you guys are scoring runs on everything but hits and certainly not home runs. All your runs tonight on home runs. All of a sudden, does this feel like April and May again?
MICHAEL MORSE: You know what, it tells you what kind of team we have. It's just another thing that we can do. Everybody in our lineup, especially in a game like today, is capable of driving the ball out of the park.
To see the bat slide up like this in a big game is awesome. And you know, for Ishy to do what he did to end the game is incredible. You know, I'm the guy's biggest fan right now for what he's done in left field, it's incredible. We call it quality starts, QS, when whoever is playing left, you get a couple knocks, you get a couple RBIs and you get a defensive replacement.
As long as you get a couple hits and a couple RBIs, it's a QS. I'm sure he got a QS today and he played all nine.
Q. To have such a great start this year and then have a nagging problem with an injury that sometimes doesn't take that long, and to come back even in a pinch‑hit role and have an at‑bat like tonight, how big has this whole season been for you?
MICHAEL MORSE: You know what, one thing about me, I've never let injury keep me down. It was tough. It was tough getting hurt, especially in September and missing the whole month of it. You know, to come back and get situations like this and the results I got, it's hard work and determination pays off. And, you know, it paid off for me today.
Q. Being left off the game against Pittsburgh and not on the roster in the Division Series, were you surprised at all to be on the LCS or were you pretty sure you would be there?
MICHAEL MORSE: You know what, I was pretty sure I was going to be on it. Me and Bruce, we talked about it, the Division Series. We talked about why I wouldn't be on it and you know, it just makes sense. I didn't have enough at‑bats. For me, I wouldn't feel comfortable at the plate, and I definitely wouldn't feel comfortable in the outfield.
So I knew, I kind of had an idea I wouldn't be on it. So with that in mind, I knew that I was going to have time to get ready for this round, and I did. I went down to Arizona. I got a lot of at‑bats down there, really fine‑tuned myself, and just here every day, just with the mentality of I feel great and I'm ready.
Q. How much did Ishikawa, the way he's played, make it easier for you to know you couldn't play?
MICHAEL MORSE: Yeah, you know what, man, I wouldn't want anybody else to fill in. I tell you what, man, this guy, he's been incredible since the day he's got here. His attitude, he's really helped us out.
And earlier in this season, he's been pinch‑hitting and he's had some great at‑bats. And, man, he's just a great, great guy in the clubhouse. You know, his story, it just keeps getting better and better.
Q. Were you tempted not to swing? He's having a hard time finding the zone? He's kind of walking guys. Walk us through that final swing for you.
TRAVIS ISHIKAWA: No, I was looking to swing from the first pitch on. In that situation, he's too good. You just don't want to give him a strike. I know he was a little wild with Brandon, walked him on four pitches. The runner in scoring position, I didn't want to just take a fastball or take a strike that was very hittable.
So obviously when I got to 2‑0, my mindset was, I know he didn't want to walk me. He's going to try to come in with a fastball and try to get ahead and try to get a strike on me. So I just was ready for it.