Cardinals proud of fourth straight NLCS appearance
Club overcame multiple injuries, lack of power to reach familiar spot in October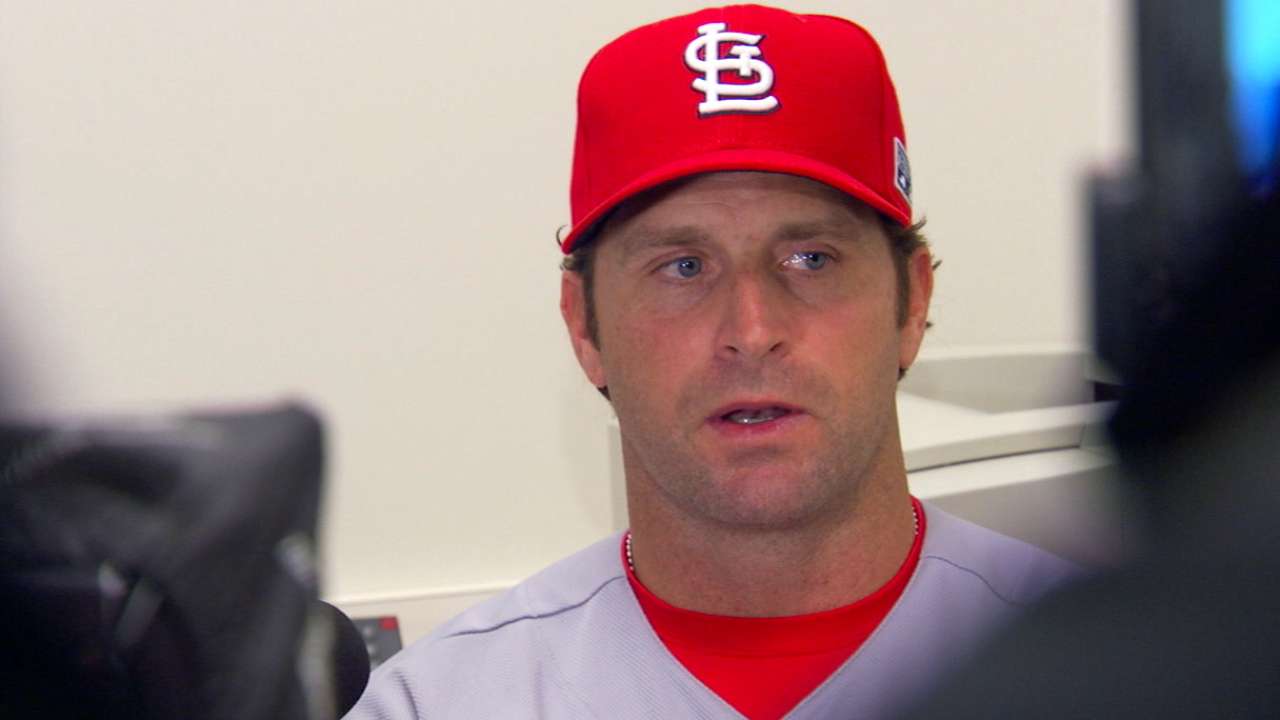 SAN FRANCISCO -- By their nature, long baseball seasons always end abruptly for the good teams that play their way into October, and for more than 100 years, when the final pitch has been thrown and the clubhouse disappointment is heavy, the manager gathers his players to tell them to walk away proud. That is precisely the message Mike Matheny delivered to the final gathering of the 2014 St. Louis Cardinals late Thursday, after Travis Ishikawa's ninth-inning home run had found the seats, the Giants had danced their way into the World Series and the Cardinals' season had come to a sudden end.
Yet this brief address, Matheny said, felt a little different.
"I can't think about a group I have been more proud of, just how they go about their business, how they fought, just the resiliency, how they went about fighting in the game, picking each other up, new guys stepping up, not falling into excuses," said Matheny. "It was the way you were supposed to go about it, and they should be proud because we're proud of them."
It was the Cardinals' fourth consecutive trip to the National League Championship Series, and arguably their most unlikely. They missed their captain, catcher Yadier Molina, for seven weeks of the regular season, and nearly all of the NLCS after he strained a rib-cage muscle in Game 2. Starters Michael Wacha and Jaime Garcia were compromised by injuries, and ace Adam Wainwright fought a dead arm in August and struggled in two postseason starts before finding top form Thursday. The Cardinals hit the National League's fewest regular-season home runs, while at the same time experiencing a sharp drop in hitting with runners in scoring position. A July trade that sent Allen Craig and Joe Kelly to Boston came off like a gut-punch to clubhouse chemistry. Can't-miss prospect Oscar Taveras proved a complicated fit. The Brewers pulled away with a 20-7 April, and the Pirates played tough down the stretch.
And yet, the Cardinals found themselves where they always seem to be. The team won 90 regular-season games and finished first in the NL Central, topped Clayton Kershaw and the Dodgers in the NL Division Series and reached a fourth consecutive NLCS for the first time in franchise history.
"When we lost Molina [in the regular season], we basically played a game or two over .500. When we lost him the other day, I was sort of saying, 'If we could do that the rest of the way, we'd be OK,'" general manager John Mozeliak said. "Unfortunately, we didn't."
After the Cardinals evened the NLCS with a win in Game 2, the Giants swept all three games in San Francisco to take the series. They will meet the Royals in the World Series, denying Missourians a rematch of the 1985 Fall Classic.
There are reasons to believe the Cardinals could be back in contention in 2015, beginning with the fact that the team's most notable free agent is setup man Pat Neshek. Taveras and other young players like second baseman Kolten Wong and outfielder Randal Grichuk will be a year more seasoned. Wacha will get a second shot at his first full season.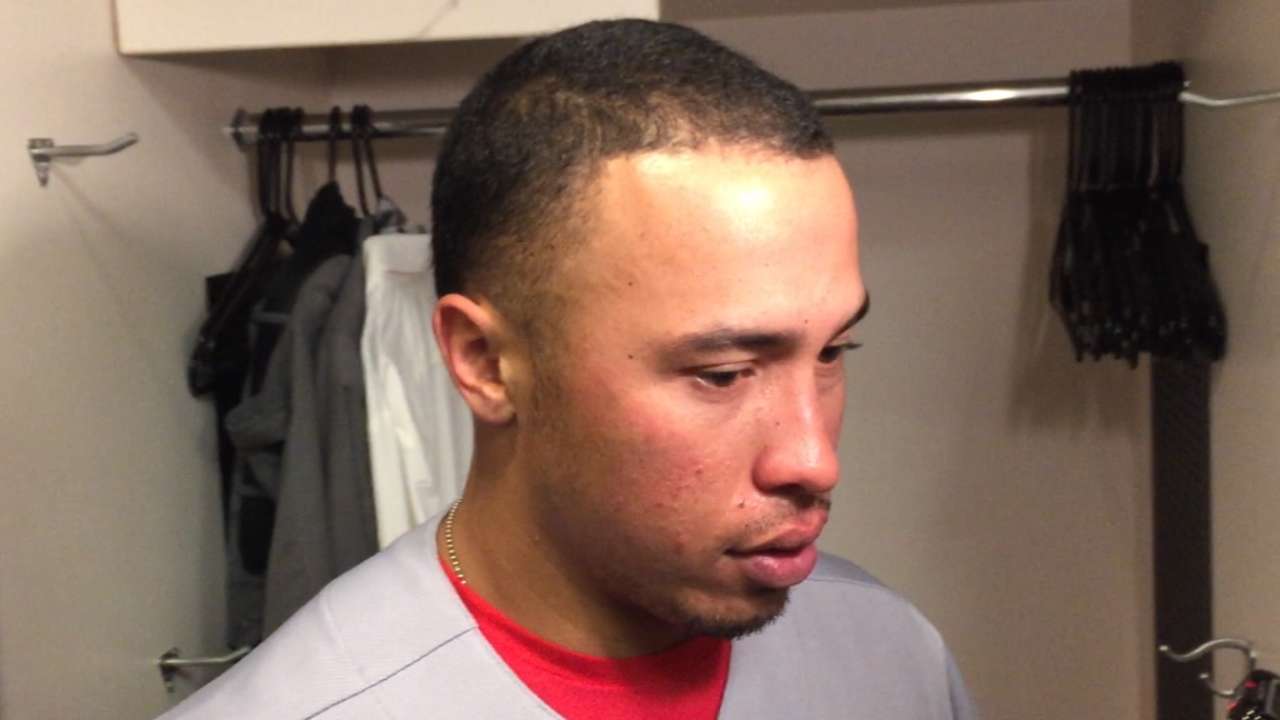 • Video: Wong on NLCS loss to the Giants
"I feel like the great news for us is we have a lot of young talent on this team," Mozeliak said. "Our goal is to try to build within, and I feel like we have the parts to continue to do so."
Mozeliak expected to meet with Matheny and Cardinals coaches over the weekend before beginning 2015 planning on Monday or Tuesday. So much for an offseason.
For Cardinals players, it may take longer to move on.
"It was a tough year with big-time guys going down, Yadi going down, and guys filling in those positions and battling throughout the whole year," said Wacha. "We ended up winning the division and making a pretty good run in the playoffs. I couldn't say enough about the group of guys in this clubhouse. Unbelievable players, unbelievable competitors and great teammates."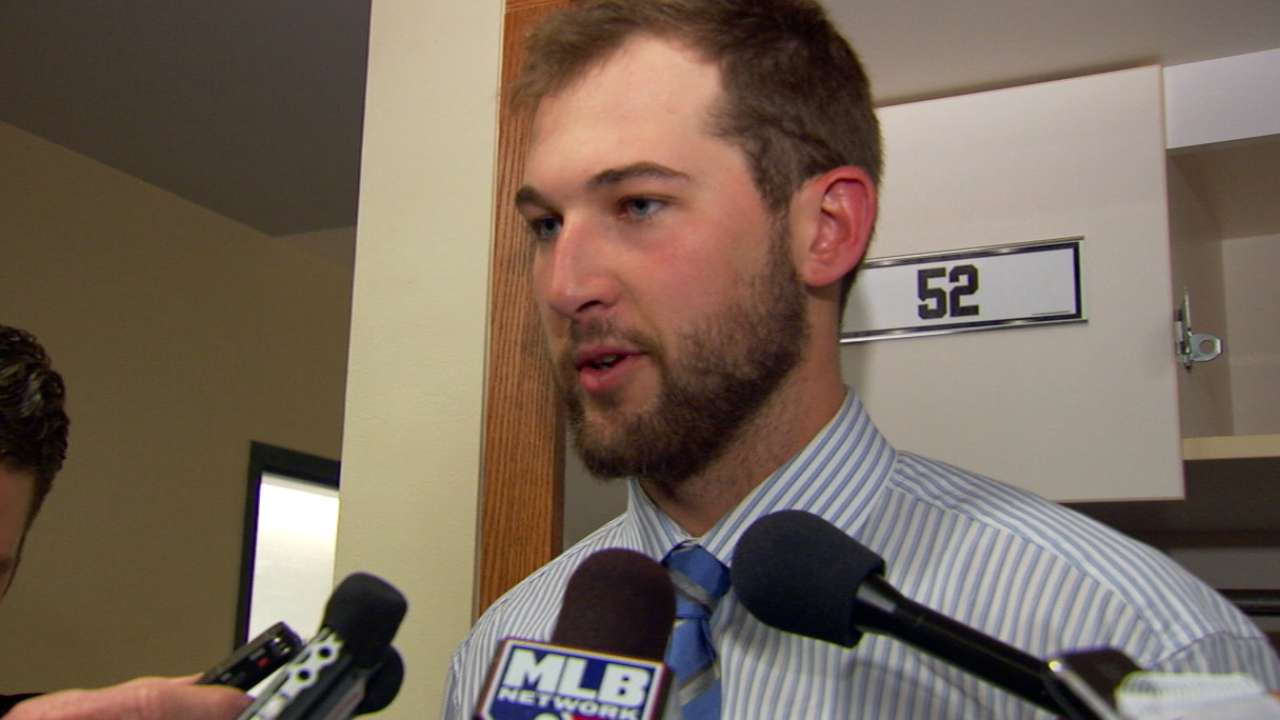 • Video: Wacha on walk-off homer, loss
That message was echoed around the clubhouse.
"There's no question that everybody in this room is hurting right now," third baseman Matt Carpenter said. "But at the end of the day, when you look at what we were able to accomplish with the adversity that we had, some of the injuries, battling all the way to win the division and get us to this point, there's a lot to be proud of.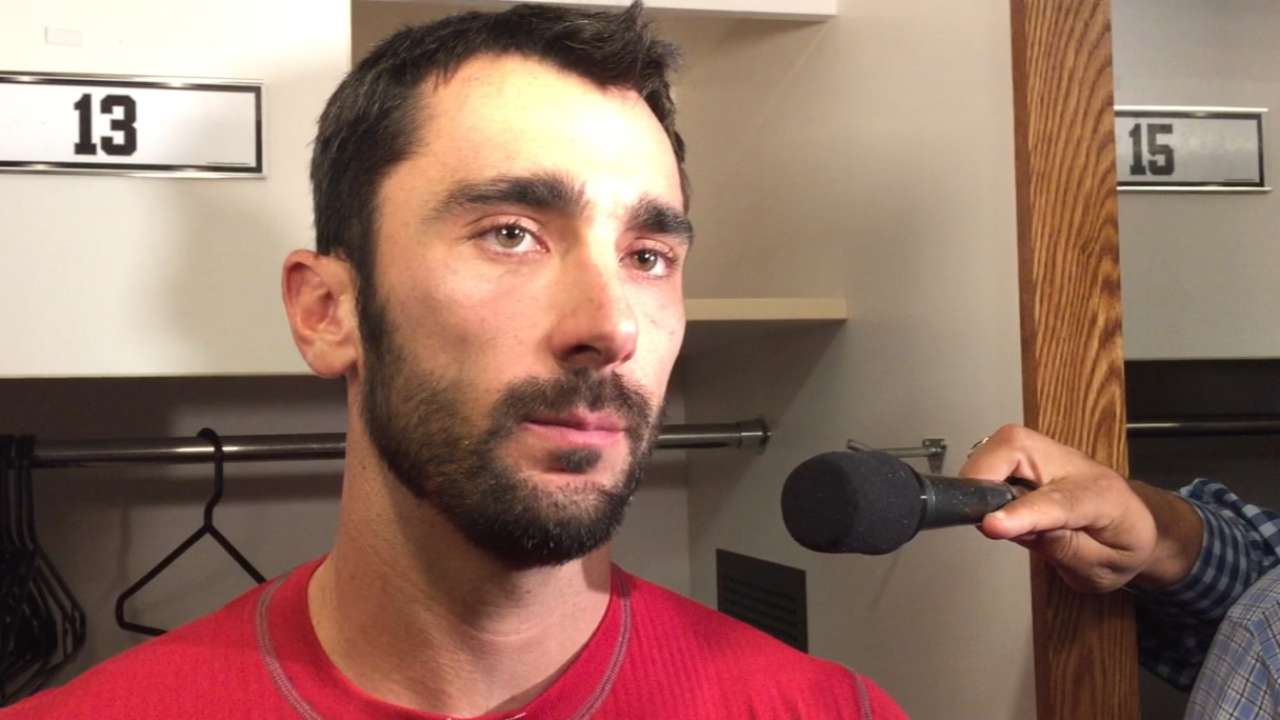 • Video: Carpenter on Cardinals' NLCS loss
"Every year, there's only one team that's going to win the World Series. It's a really hard thing to do. Obviously, everybody in this room had visions of us accomplishing that and we fell a little short. But it's so hard to get to this point. There's a lot of teams that aren't here. We were the only two teams in baseball playing today, so it's really tough to make it to this point, and for us to do it in four straight seasons is quite an accomplishment."
Adam McCalvy is a reporter for MLB.com. Read his blog, Brew Beat, and follow him on Twitter at @AdamMcCalvy. This story was not subject to the approval of Major League Baseball or its clubs.