Put in 'tough spot,' Wacha allows series-ending homer
Cardinals manager Matheny says he wasn't afraid to send righty to mound in ninth inning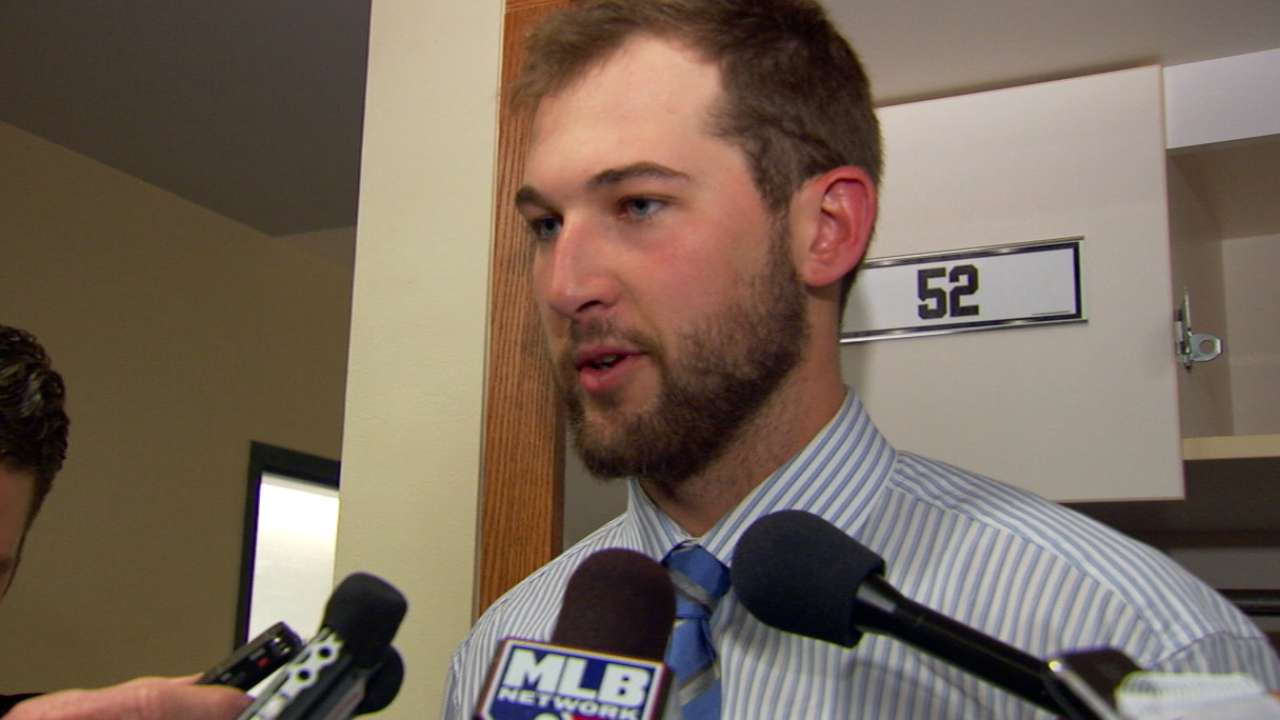 SAN FRANCISCO -- Nineteen days had come and gone without Michael Wacha throwing a meaningful pitch before he stepped into the center of the baseball universe on Thursday to throw the most important pitches of the Cardinals' season. One hundred and seventy-one more days will pass before Opening Day 2015, leaving plenty of time to dissect whether the Cardinals made the right choice.
"I can imagine a lot of people are going to second-guess how he was used and why," general manager John Mozeliak said after Wacha and the Cardinals were eliminated with a 6-3 loss to the Giants in Game 5 of the National League Championship Series on Travis Ishikawa's walk-off home run. "But this guy, what he's shown and what he's done in the past, he wanted this opportunity. Unfortunately, it just didn't work out for him.
"We expect a lot of big things from him. It just didn't work tonight."
The fact it did not work will remain a matter of much debate, but here are the facts: Wacha, pitching for the first time since Sept. 26 at the end of a season marred by shoulder woes, was called upon to preserve a 3-3 tie in the bottom of the ninth inning at AT&T Park, the place still buzzing from Michael Morse's electrifying home run in the eighth inning, and by the Giants' bases-loaded escape in the top of the ninth.
Wacha faced four batters and retired only one. Pablo Sandoval singled. Hunter Pence flew out. Brandon Belt walked on four pitches. Wacha fell behind on Ishikawa as well, then finally found the strike zone with a 96-mph fastball that Ishikawa didn't miss.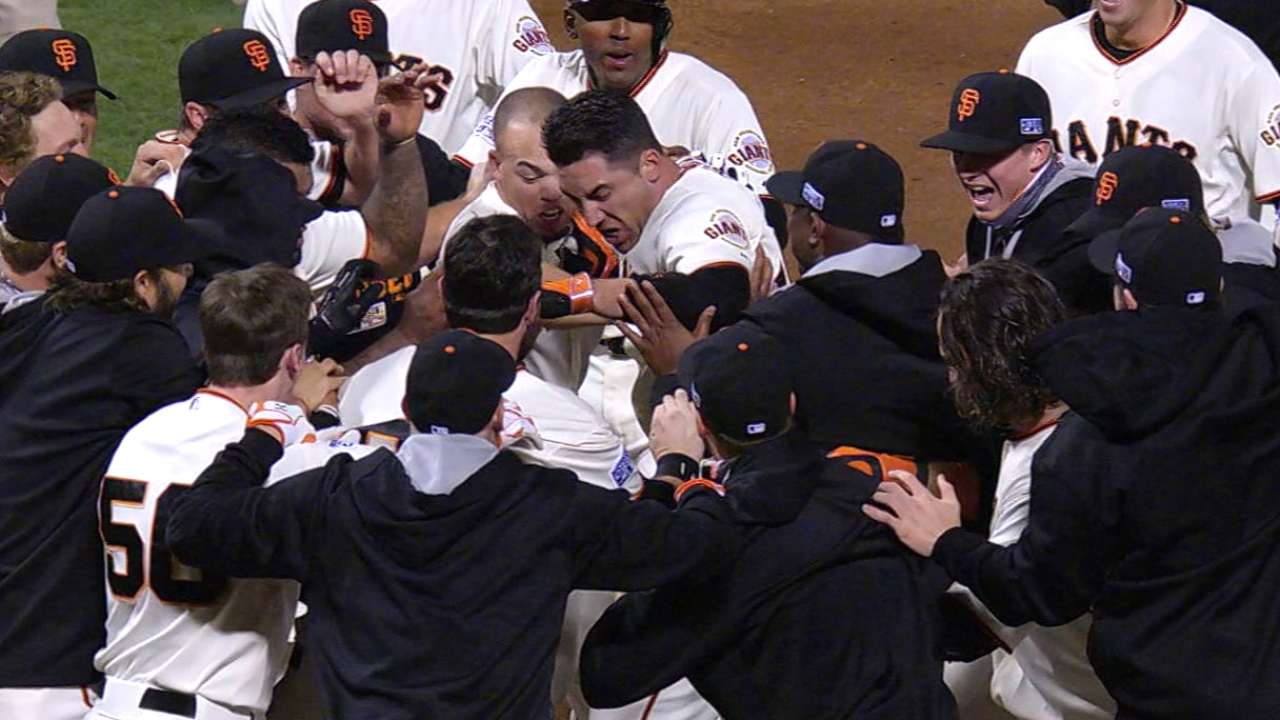 • Video: Ishikawa's walk-off homer
The winning home run was launched into the seats above right field, and the Giants were headed to the World Series.
"I put him in a tough place without giving him much work lately. That's on me," Cardinals manager Mike Matheny said. "He's a star. I can't wait to watch him pitch again when he's healthy and watch over a full season what he's going to do. I like having him out there. I'm not ever afraid to get him on the mound."
Matheny shared the same sentiment with Wacha after the game.
Asked about that exchange, and his manager acknowledging the "tough spot," Wacha said, "You know, I've pitched in the postseason before. I've pitched in some tough innings, in some hostile environments. I was ready for it. I just wasn't able to throw strikes. Walks and then falling behind to Ishikawa there -- I got myself in trouble."
But those tough innings in hostile environments last season were much different. Wacha, a first-round Draft pick of the Cardinals in 2012, was a late-season star in the starting rotation, winning NLCS MVP honors before making a pair of World Series starts.
This year, Wacha was limited to 19 starts in the regular season because of a stress reaction in his right shoulder that sidelined him from the middle of June through early September. When he rejoined the active roster, it was in a diminished capacity. Wacha was 0-1 with a 5.40 ERA in four September starts, only one of which lasted five innings.
He had been idle in the Cardinals' bullpen during the postseason -- reserved, Matheny had said in recent days, for extra-innings situations. But with the Cardinals' bullpen depleted by usage in Games 3 and 4, that plan quietly changed entering Game 5.
"I knew it would be a little bit different than what it had been," Wacha said. "Today it was more, 'Hey, you're going to get thrown in there and you're going to get some important outs.'"
Using Wacha was not Matheny's only controversial decision in the inning. In the top of the ninth, the slow-footed Matt Adams drew a one-out walk. Matheny did not pinch-run for Adams at first, which backfired when Randal Grichuk singled down the left field line and Adams only managed to get to second base when a faster runner would have had a shot at reaching third. It was only then that Daniel Descalso was sent in to run for Adams, but it was too late for St. Louis, as the Cards did not get another hit.
When the bottom of the ninth inning came along, Matheny's other options were right-handed closer Trevor Rosenthal, setup man Carlos Martinez, ground-ball machine Seth Maness and left-hander Randy Choate.
• Video: Cardinals exit NLCS in five games
Young left-hander Marco Gonzales, a starter who had worked his way into a prominent relief role this postseason, was not available after pitching in back-to-back games, Matheny indicated. Maness would have been a curious choice because the Giants were in a part of the lineup with a series of left-handed hitters. After Wacha walked Belt on four straight pitches, Matheny didn't go to Choate because the Giants would have countered with a right-handed hitter. The Cardinals preferred Wacha's power stuff against Ishikawa.
Matheny also ruled out Rosenthal, saying, "We can't bring him in in a tie-game situation when we're on the road.
"It comes down to whether we want to go to Randy in that situation with Maness behind him, or we trust Michael's stuff. And every single guy in that room will tell you we trust Michael and what he's got right now."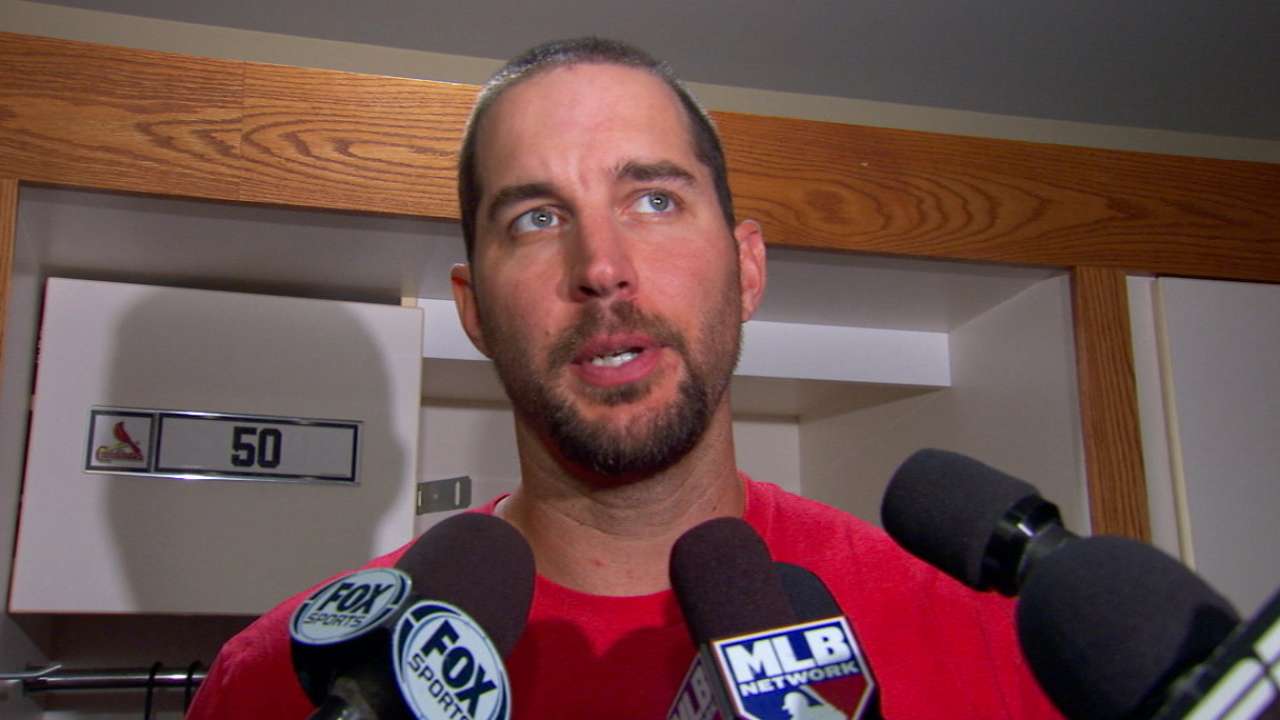 • Video: Cards on being eliminated
"I had total faith in [Wacha] in that situation," said Cardinals third baseman Matt Carpenter. "He has nothing to be ashamed of. He's a guy that's played a big part in this team for the last couple years, and he's gonna play a huge part for years to come. I'm sure he's upset, and we're upset for him. I hate that that happened. But he's got nothing to hang his head about."
Wacha insisted he had his good stuff.
"I felt just as strong as I did last season," he said. "Coming back from that injury, they gave me plenty of time, and I came back and my arm's been feeling great and my body's been feeling great. I was ready to pitch."
But was he rusty?
"I don't know," Wacha said. "I don't know if I was jumpy a little bit, just missing down a little bit on the fastball. I wasn't able to throw strikes there."
Wacha will still be just 23 years old on Opening Day. He will spend the offseason getting back to full health before returning to the Cardinals' starting rotation.
"I'll say that I'm always hurting with these guys, and he's hurting," Matheny said. "That's not what he wants to have happen in that situation. He's feeling like he let our team down. And my response is, 'We put you in a real tough spot, but that's the faith we have in you. I think we're going to see you in spots like this, maybe not necessarily coming out of the 'pen, but we're going to see you a lot.'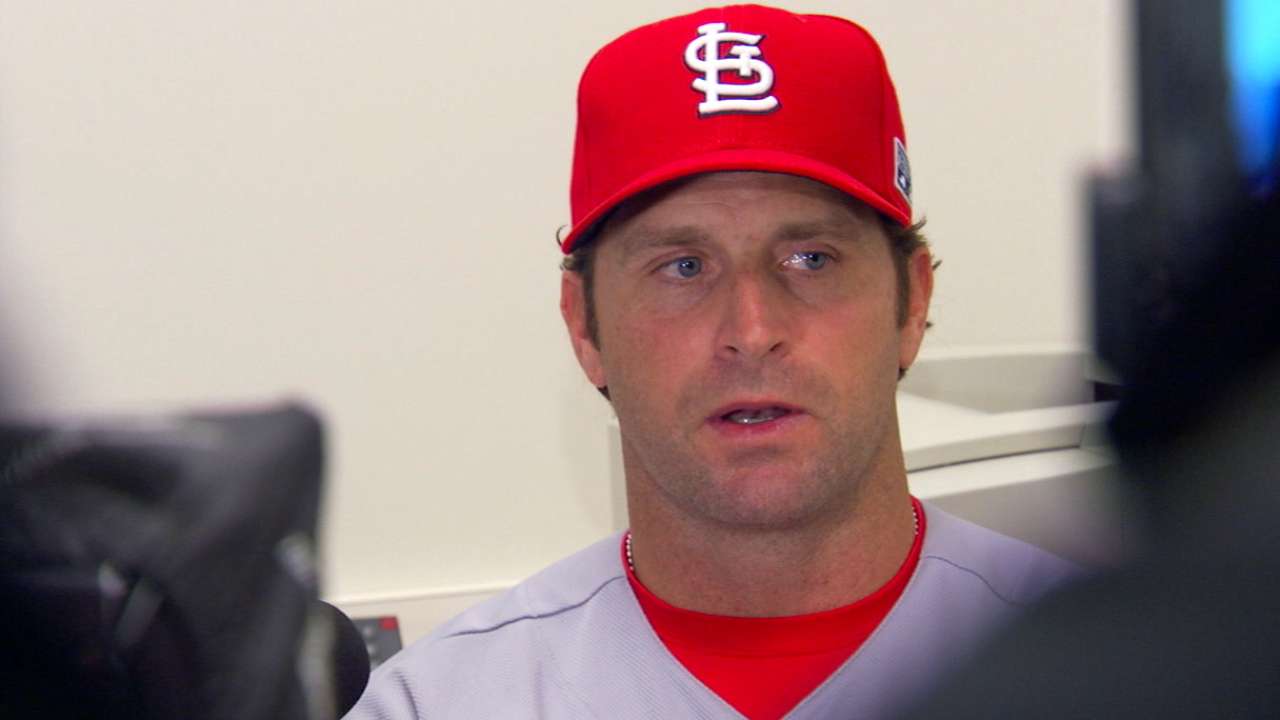 • Video: Matheny on Cardinals' NLCS loss
"He's got a bright, bright future. Once again, I wouldn't hesitate again to throw him in there. His stuff looked terrific."
Adam McCalvy is a reporter for MLB.com. Read his blog, Brew Beat, and follow him on Twitter at @AdamMcCalvy. This story was not subject to the approval of Major League Baseball or its clubs.