Adams takes another ace lefty deep in the postseason
After homering off Kershaw in the NLDS, Cards slugger belts one off Bumgarner in NLCS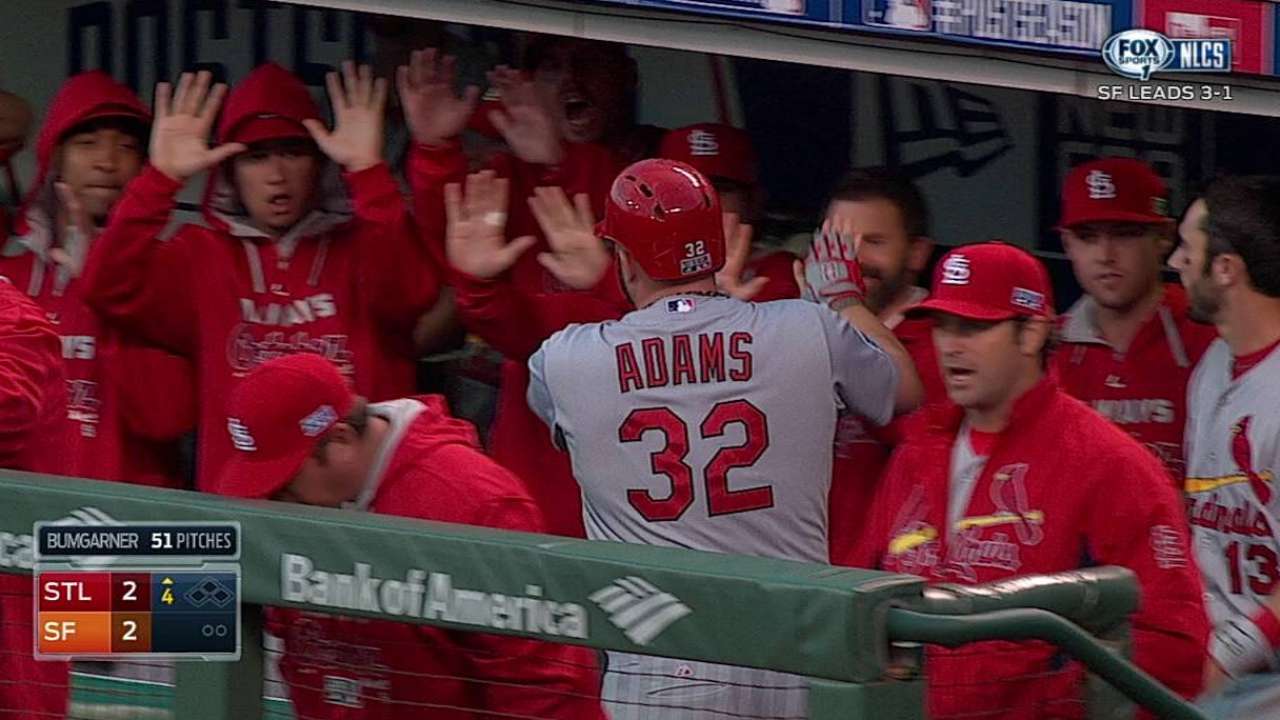 SAN FRANCISCO -- The sold-out crowd at AT&T Park was still abuzz on Thursday after Joe Panik gave the Giants a lead in the bottom of the third inning in Game 5 of the National League Championship Series with a two-run home run.
A lead with Madison Bumgarner on the mound in a clinch game at home? It all seemed like a smooth path to a World Series date with the Royals, didn't it?
Matt Adams, a big factor in the Cardinals' Game 4 loss because of his two fielding gaffes that led to runs, sucked the air out of the place with one mighty swing just a half-inning later.
"Being leadoff and we're down by one, I was just trying to get a pitch to get on base for the next guy," Adams said. "[Bumgarner] left a curveball over the plate, and I was able to stay through it and get the barrel to it."
Adams' home run to right field tied the game and gave the Cardinals hope. Later in the inning, Tony Cruz also homered to give St. Louis a 3-2 advantage.
That lead disappeared as the Cardinals' bullpen coughed it up late. A three-run walk-off home run by Travis Ishikawa off Michael Wacha in the ninth inning secured a 6-3 win for the Giants to end the NLCS.
But for a moment Thursday, Adams had certainly redeemed himself with one mighty swing of the bat -- and against one the premier left-handed pitchers in baseball.
Sound familiar?
Adams, who had three postseason home runs, also hit a home run off the Dodgers' Clayton Kershaw in the decisive Game 4 of the NL Division Series, which propelled the Cardinals into this series against the Giants.
The home run Bumgarner allowed to Adams was just the second home run he gave up to a left-handed batter this season. Carlos Gonzalez of the Rockies hit one off Bumgarner back on April 11.
"That was huge. That was a moment in the game where things could have taken a turn for the worse, but we kept fighting," said Cardinals third baseman Matt Carpenter. "We kept pushing and we had a lead all the way into the eighth inning, and we put the pressure on them again in the ninth.
"It just didn't work out. You have got to give credit to those guys. They did a good job, and like I said, we weren't able to catch any breaks."
Adams said the timing of the home runs in that fourth inning essentially followed a pattern that started in the regular season.
"That's what we did all year. When the opposing team would take the lead, it seemed like we'd answer right back," he said. "After that, it was a new ballgame. [Adam Wainwright] did a great job out there tonight. It was a great team effort."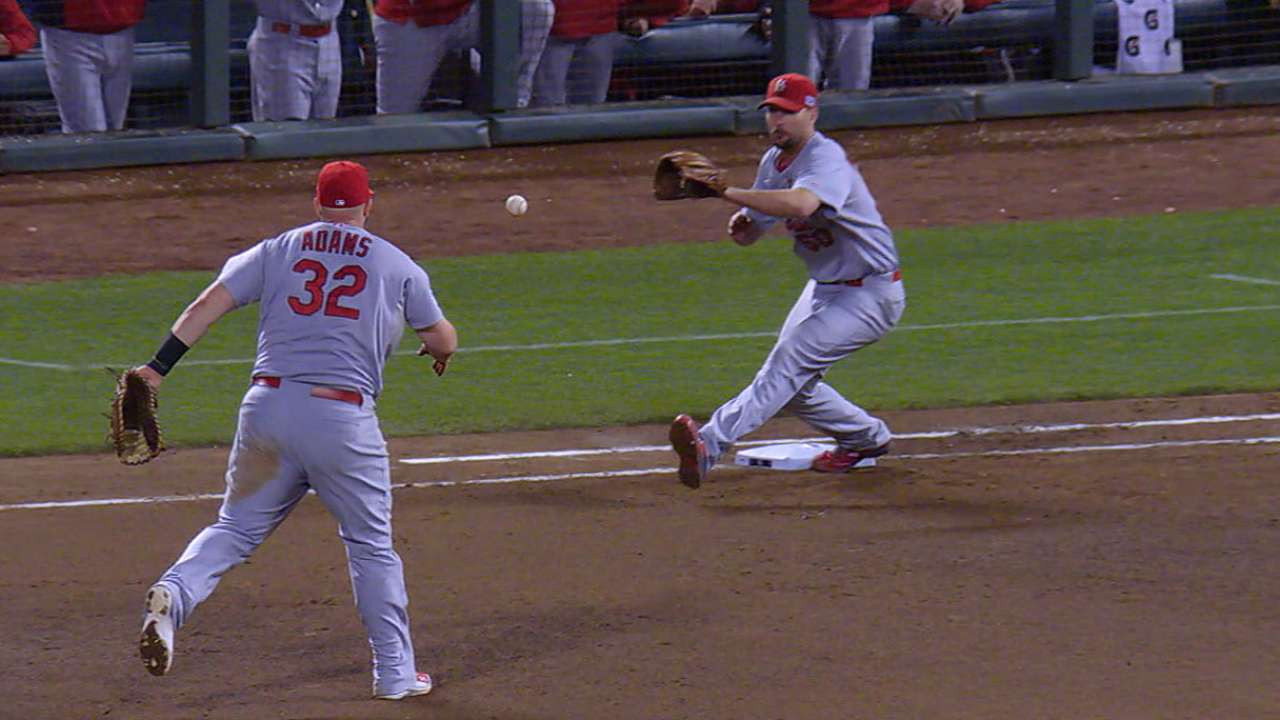 • Video: Adams, Waino combine on defense
Wainwright allowed two runs over seven innings, both coming on Panik's home run in the third inning. But Wainwright got on a roll thereafter, thanks in part to the rediscovery of his curveball.
The Cardinals' lead evaporated when Pat Neshek allowed a game-tying pinch-hit home run to Michael Morse in the eighth inning. Wacha, summoned from the bullpen in the ninth by Cardinals manager Mike Matheny, was unable to send the game into extra innings.
Suddenly, what once appeared to be a trip back to St. Louis for Game 6 on Saturday just simply became a trip home to end the season.
"I really wish we were going to continue to play," Adams said. "Everybody in here had a great season, and it was just a continuous team effort all year long. It's pretty cool to be a part of this club and see how guys never give up.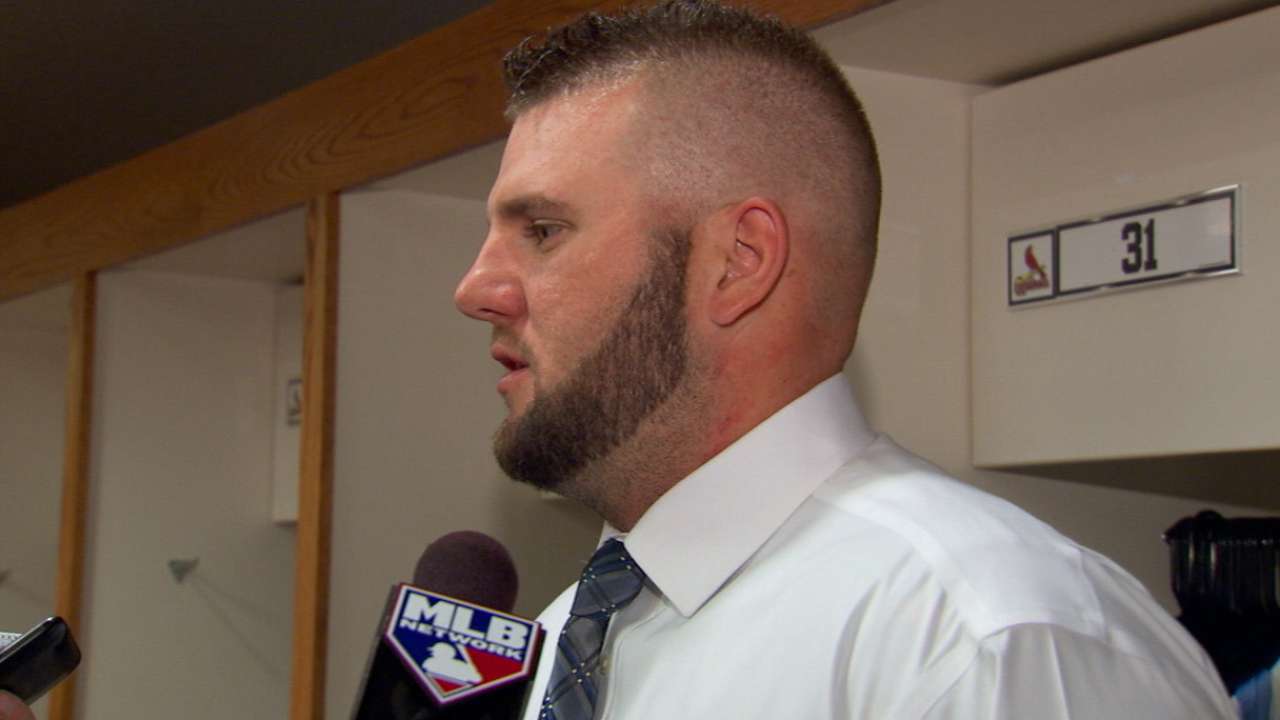 • Video: Adams on homer, loss in NLCS
"[Matheny] told us how proud he was of us for battling all year. That's exactly what we did. A couple of guys get injured and we needed some replacements, and they stepped right in. We just kept grinding."
Corey Brock is a reporter for MLB.com. Keep track of @FollowThePadres on Twitter. This story was not subject to the approval of Major League Baseball or its clubs.