Blanco 'really stepped up big' for Giants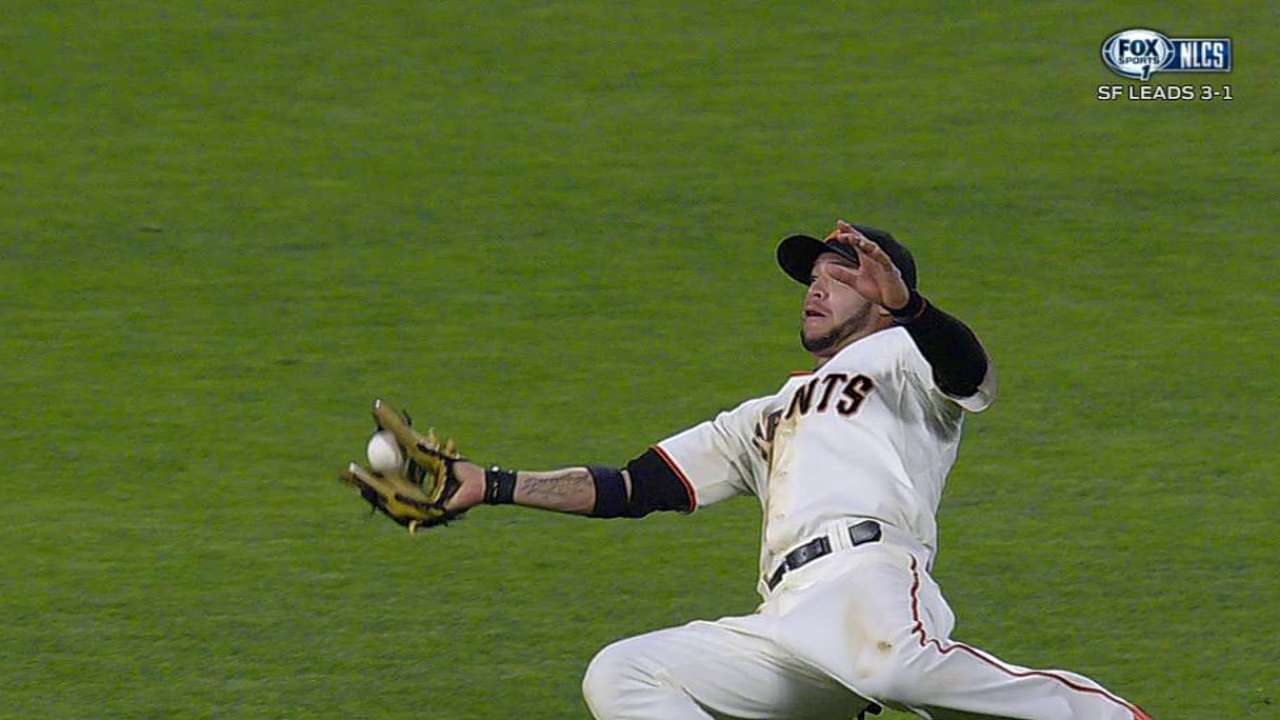 SAN FRANCISCO -- Once upon a time, in mid-September, Angel Pagan's surgery for a bulging disk in his back was supposed to be the death knell for the 2014 San Francisco Giants.
No way was the team that blew a 9 1/2-game lead in the National League West and was barely clinging to a NL Wild Card berth going to make another run in October. After all, this was the same team that, at the time, was 56-35 when Pagan started and just 29-37 when he didn't.
So much for all that.
Here are the Giants, going to the World Series for the third time in five seasons.
No Pagan. No Matt Cain. No Marco Scutaro. Throw in Tim Lincecum, who has yet to appear in the postseason, and San Francisco has advanced to the World Series without four key veteran players playing at all in October. How is that even possible?
"With heart. We believe in each other," said Gregor Blanco after the Giants' pennant-clinching 6-3 victory against the Cardinals in Game 5 of the National League Championship Series on Thursday night. "I know we had some rough times, but at the same time, we've got pride, we've got heart, and we believe in each other."
Regaining faith in himself after a rough personal start to the postseason allowed Blanco to play pivotal roles late in San Francisco's Game 3 and 4 victories, which supplied personal momentum he carried into Thursday night, when he went 2-for-4 at the plate and made a couple of nice grabs in center field.
"The last few games, I said to myself, 'You're the leadoff hitter of this team right now. Don't worry about it; you're going to be the leadoff hitter no matter what. Go out there, be on base'," Blanco said. "All of a sudden, I started having better at-bats and trusting myself again, and to be able to do what I did the last couple nights."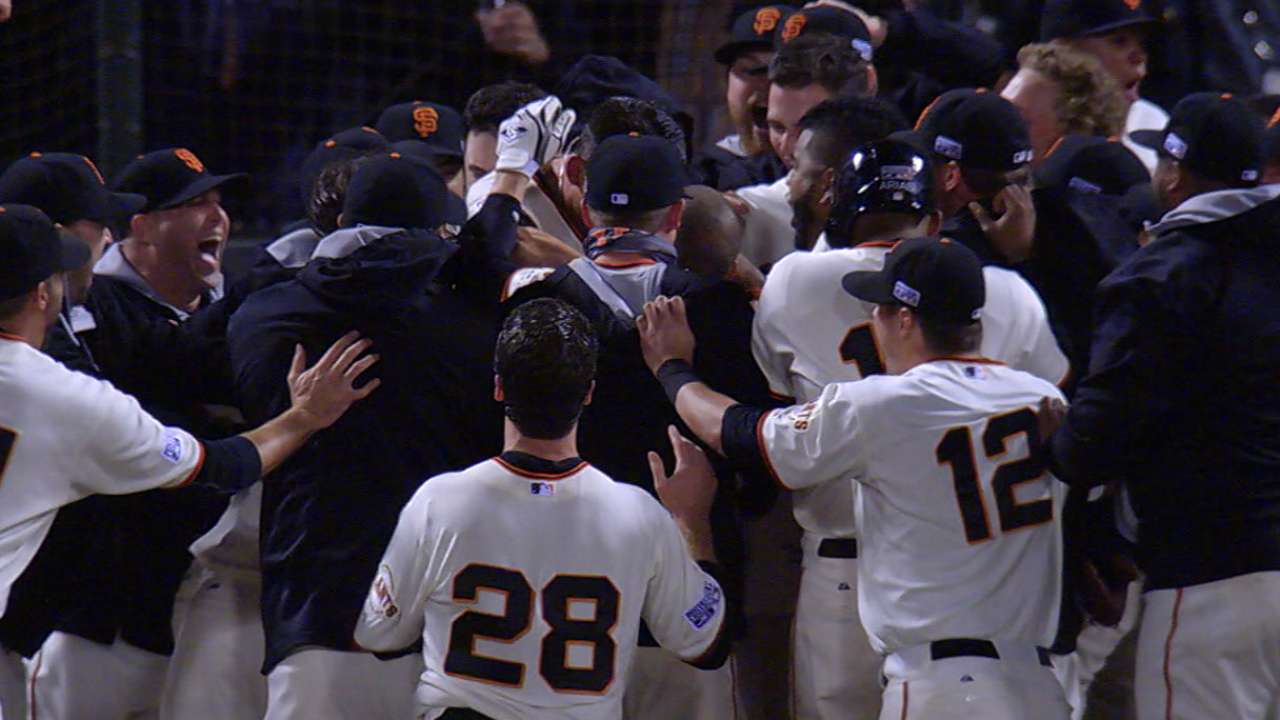 Given Michael Morse's eighth-inning pinch-hit home run to tie the game, and Travis Ishikawa's three-run walk-off blast an inning later that catapulted the Giants to the team's third World Series in five seasons, it's easy to overlook Blanco's night.
The same shouldn't apply to his role in making the Pagan-less struggles an even bigger afterthought.
"You can't ask for more than what he's done," starter Ryan Vogelsong said. "As a pitcher, you want your guys to make the plays they're supposed to make, and if they make the great ones, that's an added bonus. He's [made the routine plays], and made the great ones, too.
"Angel's not replaceable. He brings a lot to this team, but you have to tip your hat to Gregor for stepping in. That's what teams that get where we're going do -- someone gets hurt, the guy behind him steps in and plays great. Gregor's done that."
It's a similar role to the one Blanco played in 2012, when San Francisco tabbed him as Melky Cabrera's replacement in the outfield. He did a superb job in that role, and he was an unsung hero of that championship run.
Finally having a defined role with this season's Giants allowed Blanco to flourish, as his average rose 44 points to its season-ending .260 mark once he was regularly starting. Blanco struggled to adjust to bouncing between the leadoff spot and the seven-hole for much of the season. After Pagan's injury, Blanco's spot atop the order was cemented. His comfort level rose, and his confidence has followed suit.
Blanco hit .257 with one home run and four RBIs in eight regular-season games after Pagan's season was officially pronounced over, and he has hit just .159 through 10 postseason games. But Blanco has done the little things right -- his bunts are successful, his baserunning is heads-up and his defense superb.
"I know Angel's so proud of me," Blanco said. "He always tells me I'm a great ballplayer, so I know he's really happy right now, and I bet jumping around."
"Stats may not say everything, but him playing center field the way he has, and being the leadoff guy for us working counts [has been big]," said second baseman Joe Panik. "Everybody knows how much Angel meant to this team, but Gregor really stepped up big for us.
"He knows he's the leadoff guy. He knows that he's the table setter. He knows that as he goes, we go."
Ryan Hood is an associate reporter for MLB.com. This story was not subject to the approval of Major League Baseball or its clubs.