Giants' celebration extra special for first-timers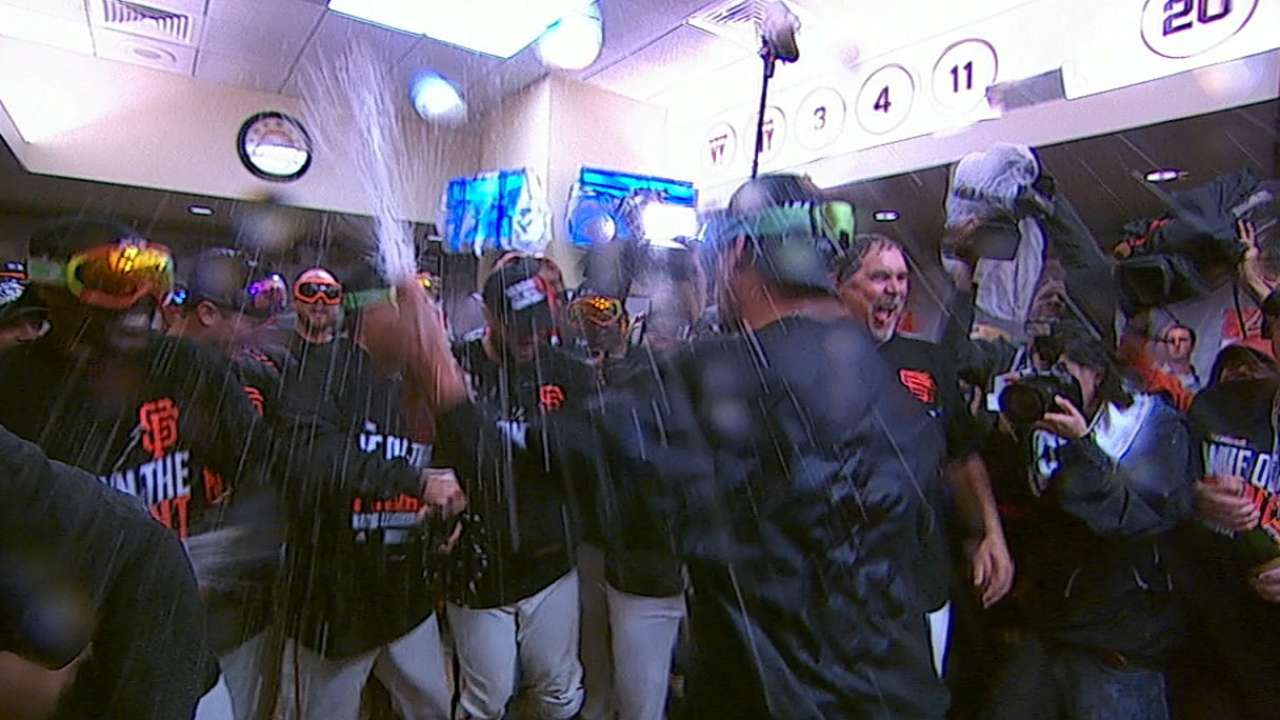 SAN FRANCISCO -- After about five minutes of raucous celebration, the Giants' clubhouse fell silent.
Off went the music. The victorious screams stopped. So did the jumping up and down. The beer and champagne remained bottled.
Hunter Pence gave the floor to Tim Hudson for a moment 16 years in the making.
Hudson didn't have much to say -- "I'm not much of a talker, so it kind of put me on the spot," he joked afterward -- but that didn't matter. At long last, Hudson, at 39, was going to the World Series.
"When you go 16 years without experiencing something like this, you wonder if it's going to happen," Hudson said of the Giants' National League Championship Series-clinching 6-3 victory against the Cardinals on Thursday night. "Coming off my injury last year, I knew that I probably didn't have a lot of years left, which is a big reason why I came here to San Francisco."
So, how's it stack up to 39 years' worth of dreams?
"That moment right there … you couldn't write a better script for it," Hudson said of the Giants' late comeback and walk-off win. "Michael [Morse] hitting that homer to tie it up, and then [Travis Ishikawa] hitting that homer right there to win it. It's a storybook ending."
And what about scurrying around the backstop area while Ishikawa rounded the bases?
"It's … it's hard to put into words," Hudson said. "It almost feels surreal, like I'm in a dream. Very rarely are you able to have those kinds of emotions with anything in life. It's an amazing thing to be able to experience it. I can't believe it, and I'm so glad it happened."
This being the team's third NL pennant in five seasons, champagne celebrations are becoming old hat for some of the longest-tenured Giants. For the Hudsons, the Morses, the guys who have waited a long time for Thursday night, it's a celebration they questioned if it would ever come.
"They've had long careers, and they haven't been able to get to the World Series, so I'm happy to be a part of it with them," Brandon Crawford said. "I'm getting a little spoiled, I guess. For them to get there, finally, it's great for them."
This season's outlook had turned bleak, too, after a 9 1/2-game lead on the Dodgers in the NL West disappeared. A two-month malaise forced the Giants to squeak into the postseason as the NL's second Wild Card, which they had to accomplish with three key players [Matt Cain, Angel Pagan and Marco Scutaro] shelved for the season with injuries.
"There's a reason we're all here, and it's a culture that gets created," team CEO Larry Baer said after the game. "Everybody cares about each other in this organization. The lows were so low -- the way everybody was able to mix and match around Matt Cain, and Angel Pagan and Marco Scutaro and Michael Morse -- everybody has injuries, but the way we were able to put pieces in and be seamless, that meant a lot."
One reason for the turnaround was the emergence of Joe Panik.
Panik finally solved the Giants' second-base problem in early August, which provided a much-needed boost to what was a scuffling lineup. He introduced himself to the national audience with a two-run home run on Thursday night.
"This is a lot better," the 23-year-old Panik said of the celebration. "As a kid watching postseason baseball, you always want to be in this situation. To actually have it happen, and in a situation like this? Couldn't draw it up any better.
"When Ishy hit that ball, it was such a clean sound. We knew Oscar [Taveras] had no chance at it. Right when he hit it, it was like 'Oh my, God, we're going to the World Series.' Just … geez. Unbelievable."
Ryan Hood is an associate reporter for MLB.com. This story was not subject to the approval of Major League Baseball or its clubs.