Oct. 16 Bochy postgame interview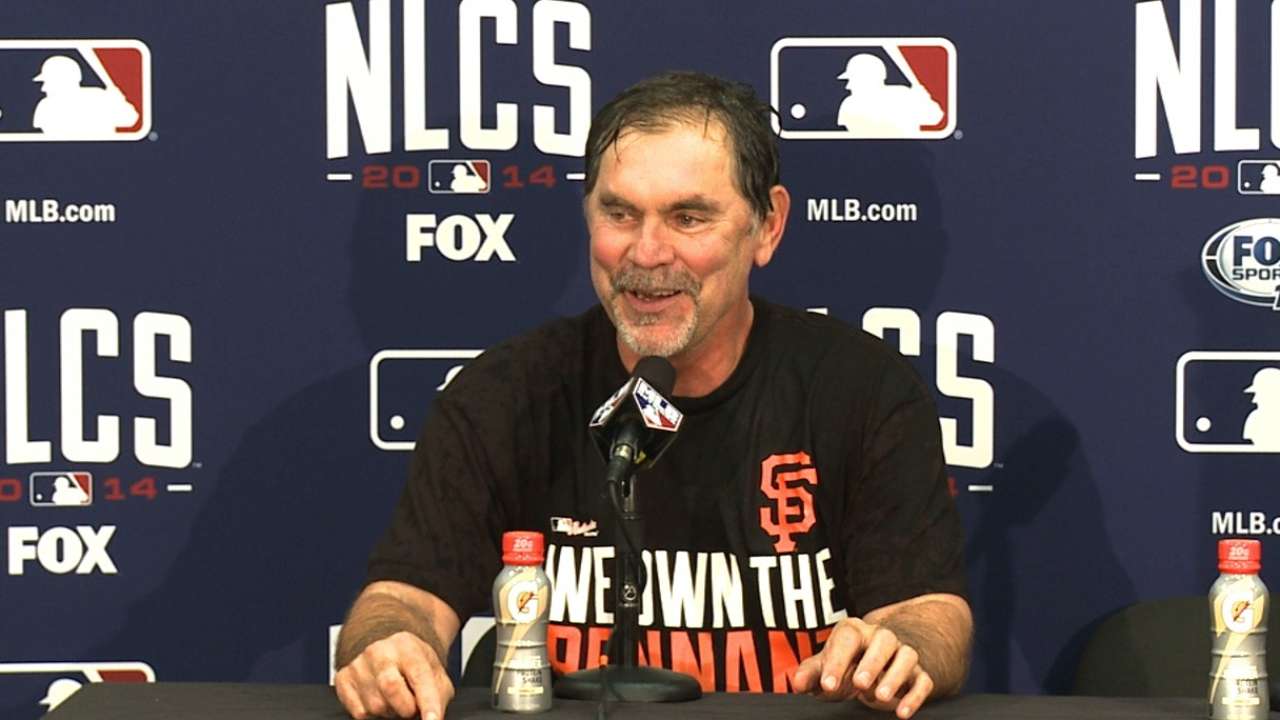 Q. The continuity in the last five years with your roster, how much do you think that plays into it?
BRUCE BOCHY: Oh, it played ‑‑ I mean, it played such a huge role in this run that we've had, and I mean, these guys have been through it. They have been battle‑tested and they know how to handle themselves on this type of stage, and then add to that the kids that we brought up, and then Ishikawa.
I mean, what a great story. Here he gets released and we sign him, he goes to Fresno, comes up, he's our everyday left fielder and ends up getting the home run to get us to the World Series.
I couldn't be happier for him, everybody. I mean, just a gutty effort through all this and I couldn't be prouder of these guys. They just don't stop fighting.
We know we have a lot of work ahead of us and we're playing a great team. But to get to this point, it's time to celebrate.
Q. Travis's story, obviously he was an up‑and‑comer in this organization, leaves, and we'll ask him, too, when he comes up. Can you fathom how sweet this moment is to win it for the organization he first signed with?
BRUCE BOCHY: Yeah, I'm sure he's going to wake up and realize what just happened. He's such a great kid. I mean, for him to go out and play left field when he hasn't been out there a lot, and not just play, but do a good job.
I know the one ball today, but this guy's been a big part of our offense since he's been out there in left field.
You know, it's all about perseverance, and he didn't give up. He said there's a time or two when he thought about it, and I'm sure it's all worthwhile now. He's in his second World Series.
Q. For the type of season Morse had, to come up in the situation he had tonight and deliver, such a big factor early and then kind of disappeared.
BRUCE BOCHY: Yeah, he did. He's a big reason why we're here. He carried us at times earlier in the season. He had a nice year for us. Of course, the injury that he had, the oblique, that set him back, and now his role changed.
But it's a good roll, because he's a threat off the bench and it's the perfect time to put him up there, a one‑run game and he's a threat, off a tough right‑hander.
This guy has not had but a few at‑bats in the last month, and for him to do what he did, it doesn't get any more clutch than that.
When he came in high‑fiving everybody, I thought he was going to break some hands. He plays with a lot of fire, a lot of emotion and he saved us.