Cardinals-Giants, NLCS Game 5: Did you know?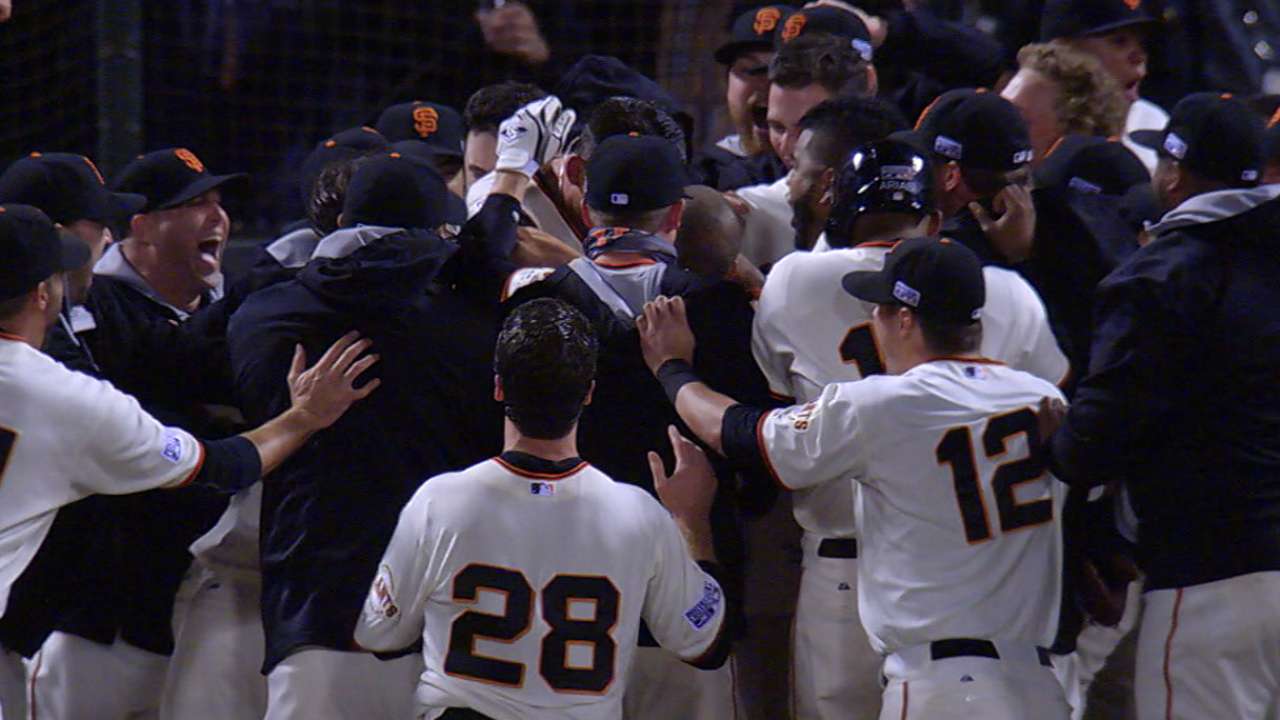 For the second time in three games in the National League Championship Series, San Francisco walked off with a win over St. Louis. This time, Travis Ishikawa's three-run home run in the ninth inning propelled the Giants to a 6-3 win in Game 5 on Thursday night and a World Series matchup against the Royals.
Here's what you need to know about the Giants' win:
• The Giants improved to 7-0 in series when they hold a 3-1 advantage. They have closed out the series in five games on six occasions.
• For the fifth time in franchise history, St. Louis didn't come back from a 3-1 hole. The Cards have been ousted in Game 5 four times.
• The Giants have won three of the last five NL titles. Each of the last two times, they won the World Series.
• Ishikawa's walk-off home run in the bottom of the ninth inning was the first one to end an NLCS and the fourth one to send a team to the World Series.
It was the ninth walk-off homer to finish any playoff series and the first of its kind since 2006.
• Before Ishikawa's hit, the last NLCS to end with a walk-off was in 2002, when the Giants beat St. Louis -- also in Game 5. That night, it was Kenny Lofton's single to right field that lifted San Francisco into the World Series.
• Cardinals right-hander Michael Wacha hadn't pitched since Sept. 26 before serving up Ishikawa's walk-off homer. He became the first pitcher since Jose Mijares in the 2009 American League Division Series to give up a walk-off homer after having at least 20 days of rest.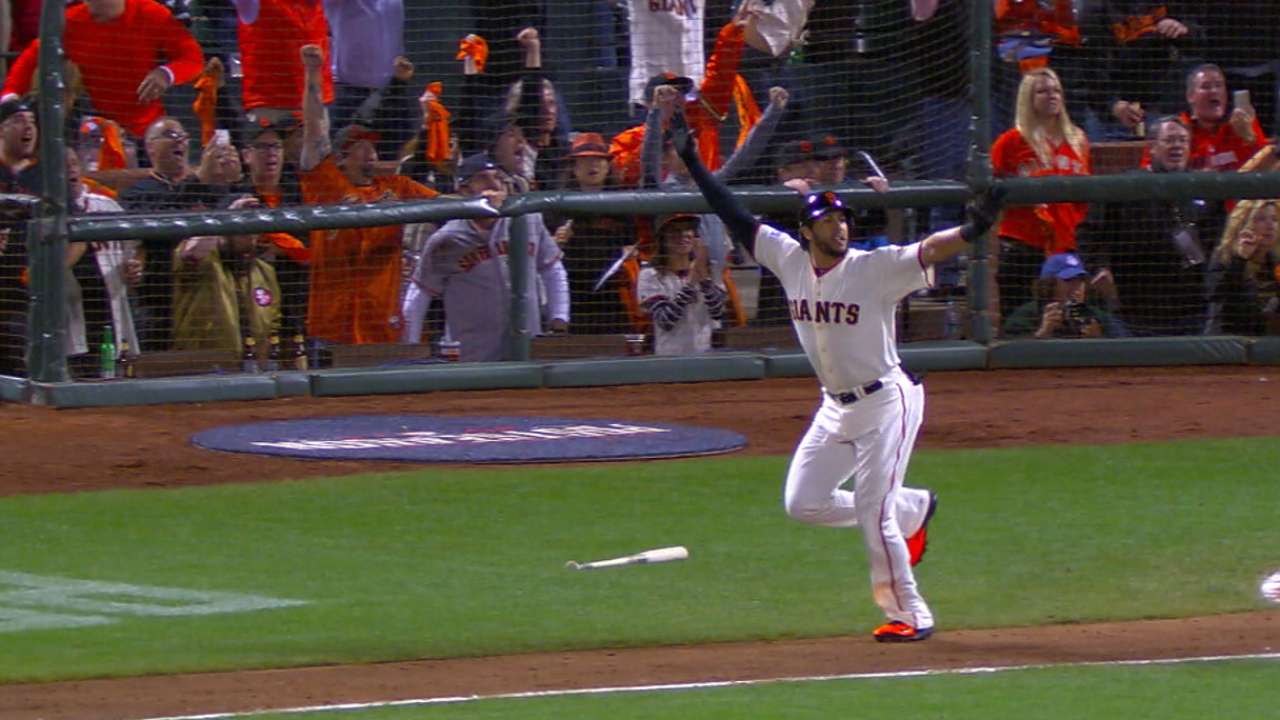 • Michael Morse's eighth-inning pinch-hit home run was the fifth one in Giants postseason history. It was the first one since J.T. Snow's ninth-inning shot off Armando Benitez in the 2000 NL Division Series.
• Morse's home run was the 11th pinch-hit home run all time that tied a playoff game. St. Louis' Oscar Taveras did it against the Giants during Sunday's Game 2.
• Cardinals right-hander Pat Neshek had served up just two home runs to right-handed-hitters in the regular season, spanning 156 plate appearances. In the postseason, he gave up two (Morse and the Dodgers' Matt Kemp) in just 27 plate appearances.
• The Giants went 242 plate appearances without a home run before launching three homers during Game 5. Joe Panik hit a two-run homer in the third.
• Madison Bumgarner's eight-inning, three-run performance in Game 5 marked his fifth straight postseason start with at least seven innings pitched and three or fewer earned runs allowed. Bumgarner, who was named the NLCS MVP, is the first pitcher since Randy Johnson in 2001 with such a streak.
• Video: Bumgarner on becoming NLCS MVP
• Giants reliever Jeremy Affeldt earned the Game 5 win despite recording just one out and throwing only three pitches. Only five other pitchers have won a postseason game while throwing fewer pitches.
• With his fourth-inning double to left field, the Giants' Pablo Sandoval reached base for his 23rd consecutive postseason game. That tied Lance Berkman for the sixth-longest streak all time.
• Likewise, Jon Jay set the Cardinals' postseason record by reaching in 16 straight games after singling in the first inning.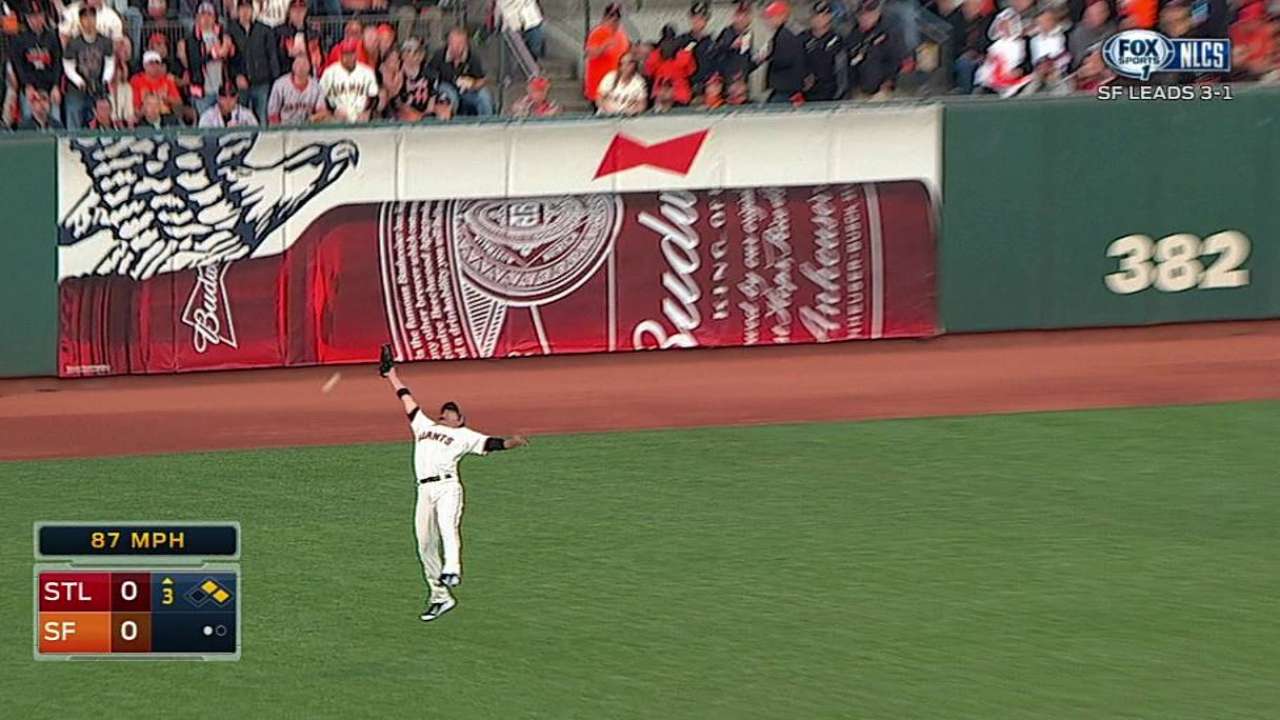 Jay had set a Major League record by going 92 consecutive postseason at-bats without an extra-base hit. That streak ended with Jay's third-inning double.
• Giants closer Santiago Casilla's two-thirds of an inning was his shortest outing since Aug. 15, when he gave up a run in the 10th inning to Philadelphia.
Matthew DeFranks is an associate reporter for MLB.com. This story was not subject to the approval of Major League Baseball or its clubs.