With trip to World Series, Yost proves detractors wrong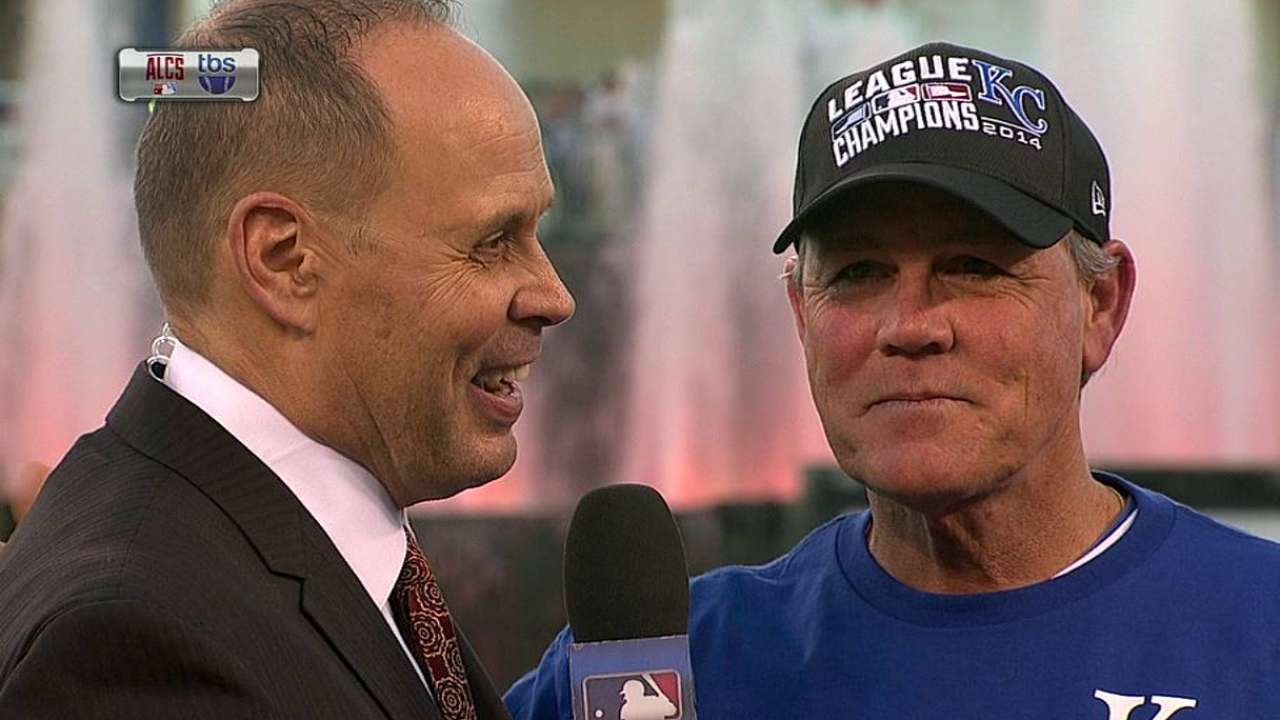 KANSAS CITY -- Ned Yost slipped through a set of doors and stepped onto the tile floor in front of the hostesses' mahogany desk, waiting to be seated for dinner with his family. But before Yost could be ushered through the bar, those dining at one of the Country Club Plaza's most popular restaurants gave a massive thank you to the Royals' manager.
"The whole place went nuts," said Yost, a day after his team beat the Orioles, 2-1, to claim the American League pennant. "Everybody came out of the bar, everybody came out of their seat in the dining area, and we just couldn't get past that desk there. We were high-fiving, hugging and taking pictures. It was a tremendous experience, something I've never experienced before in my life."
Earlier Wednesday evening, Yost and his Royals completed a sweep of Baltimore in the American League Championship Series to advance to the World Series for the third time in franchise history. The hearty round of applause at the restaurant was representative of the way Yost's image has improved this postseason, and particularly in the ALCS.
Yost, often questioned for the rigidity of his bullpen usage and affinity for the bunt, made tactical adjustments in Kansas City's latest series.
Yost pulled the plug on Jeremy Guthrie after just five innings in a 2-1, Game 3 win, opting to turn the ball over to his fantastic bullpen. Jason Frasor handled the sixth, while Kelvin Herrera, Wade Davis and Greg Holland capped off the final three innings.
In the same game, Yost made an equally aggressive move on the offensive side. After Nori Aoki led off the bottom of the sixth with a single, Yost replaced him with pinch-runner Jarrod Dyson, a switch he regularly waits to make until the final inning or two. Dyson went from first to third on an Eric Hosmer single, then scored the winning run on a sacrifice fly.
The next afternoon, Yost let Jason Vargas pitch into the sixth inning, nursing a 2-1 lead. And even after a leadoff walk to Jonathan Schoop, Yost wisely stuck with the lefty-lefty platoon, letting Vargas face Nick Markakis, who struck out.
Yost did not test his luck any further, as Herrera, usually reserved for the seventh inning, finished the sixth and then came out for a scoreless seventh, as well. Davis and Holland did their jobs again and Kansas City locked up the pennant.
"Ned's a very thick-skinned person," said general manager Dayton Moore on Wednesday. "I've said it many times, he's an incredible leader. He's very passionate. He's the most competitive person I know. He's very positive, always optimistic."
Yost faced harsh criticism, even as he led Kansas City to its first postseason since 1985. In a headline in the Wall Street Journal, the newspaper pitted the managerial battle between Yost and the Orioles' Buck Showalter as "The Dunce and the Chessmaster". The Orange County Register called the Royals "in some ways the laughingstock of the sport, mostly because of their manager."
As he celebrated on the field Wednesday, Yost made it clear that he is not seeking anyone's approval.
"I don't need validation, man," Yost said. "You people ask me about it, I don't need it. I'm real comfortable with myself. I get criticized all the time. [I get called] the dumbest manager in baseball, I'm OK with that, because I've got really smart coaches."
Regardless of how one views Yost's tactical decisions, the most important character in this whole plot stands in his corner.
Over the course of Moore's nine seasons as Kansas City's general manager, he's engineered a long list of successful moves to get Kansas City to where it is today. For example, building up his scouting in Latin America to allow the signings of current foreign stars like Yordano Ventura, Salvador Perez and Herrera. Or hitting on a key trade with the Brewers in 2010 that made Lorenzo Cain and Alcides Escobar Royals. Or some savvy free-agent acquisitions like starting pitchers Vargas and Guthrie, who followed up solid 2014 regular seasons to help close out the ALCS.
But when asked Thursday to identify his most significant move as GM, Moore looked back to May 13, 2010.
"Hiring Ned," Moore said. "Without a doubt."
Jackson Alexander is an associate reporter for MLB.com. This story was not subject to the approval of Major League Baseball or its clubs.