Mariners' Kivlehan homers, doubles in Fall League
Seattle's No. 6 prospect rakes, leads Surprise to victory in AFL action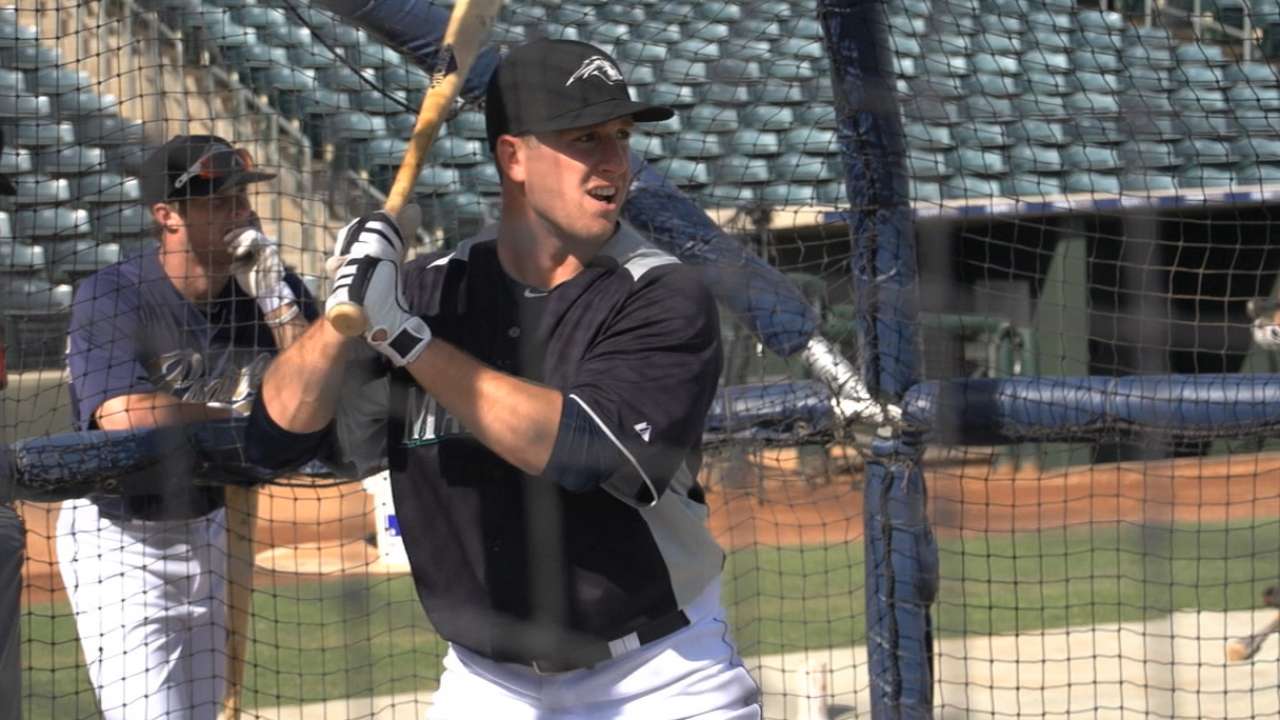 Patrick Kivlehan hit 20 home runs and posted a .507 slugging percentage in 138 games between Class A Advanced High Desert and Double-A Jackson this season. But he said he doesn't see himself as a power hitter.
"I just want to be one of those guys where they put the barrel on the ball and see where it goes," Kivlehan said.
In the Arizona Fall League on Thursday, Kivlehan drove the balls he barreled up far. He homered and doubled, helping Surprise defeat Scottsdale, 7-3.
Kivlehan, the Mariners' No. 6 prospect, finished the game 2-for-3 with a walk, two runs and an RBI. He is hitting .292/.414/.750 in six games and is in a four-way tie atop the AFL leaderboard with three home runs.
Kivlehan said he feels comfortable at the plate now, but it took a few games to get to that point after the month-long break between the end of the season at Jackson and the start of the AFL last week.
"After about a month off and not playing every day, it takes a couple at bats to get back in the swing of things," Kivlehan said. "I think me and the rest of the team are starting to lock in."
Second baseman Sean Coyle, the Red Sox No. 13 prospect, went 2-for-4 with a double and a run. Outfielder Nick Williams, the Rangers' No. 5 prospect, added two hits and an RBI.
The Saguaros have the AFL's highest-scoring offense, averaging seven runs a game. Thursday, they also got a solid performance from their pitching staff.
Right-hander Nick Howard, the Reds' No. 5 prospect and the 19th overall pick of the 2014 First-Year Player Draft, started for Surprise and earned his first win of the fall. He struck out one batter and allowed two runs on two hits and two walks in four innings.
After Howard was relieved to start the fifth inning, four relievers combined to hold Scottsdale to one run on four hits and two walks in five innings to close out the victory.
First baseman Greg Bird drove in all of the Scorpions runs with a pair of home runs. He hit a two-run blast in the fourth inning off Howard and added a solo shot in the sixth to join Mesa first baseman Matt Olson as the only players to hit multiple home runs in a game this fall.
Bird, the Yankees' No. 11 prospect, finished the day 2-for-4. In eight games, he is hitting .394/.444/.758 and is one of the players tied with Kivlehan for the AFL's home run lead.
Thursday's victory was Surprise's second straight against Scottsdale. The Saguaros outslugged the Scorpions, 13-11, in a wild game Wednesday night in Scottsdale. Catcher John Hicks, the Mariners' No. 19 prospect and Kivlehan's teammate in Jackson, drove in the winning runs with a two-out single in the eighth inning.
Kivlehan said the Saguaros were able to capitalize on their momentum from Wednesday night.
"Last night was a big win for us, especially in that type of game," he said. "It carried over into today and made today a lot easier."
Kivlehan played first base Thursday and will see most of his time in the AFL at that position after moving around the diamond during the regular season. He was named to the Southern League's postseason All-Star team as a utility player after playing third base, first base and all three outfield positions for Jackson.
Kivlehan exclusively played third base in his first two professional seasons. But he said he has quickly adapted to first base and now feels comfortable at the position.
In addition to his defensive work, Kivlehan said he hopes to use the fall to improve in all facets of the game.
"I'm at a point where I'm getting better at things, but I need to improve everything overall," Kivlehan said. "I just want to improve my game a little bit here and a little bit there."
Teddy Cahill is a reporter for MLB.com. Follow him on Twitter at @tedcahill. This story was not subject to the approval of Major League Baseball or its clubs.