Wild Card Game comeback spurred Royals' run
GM Moore, manager Yost believe rally vs. A's set tone for rest of postseason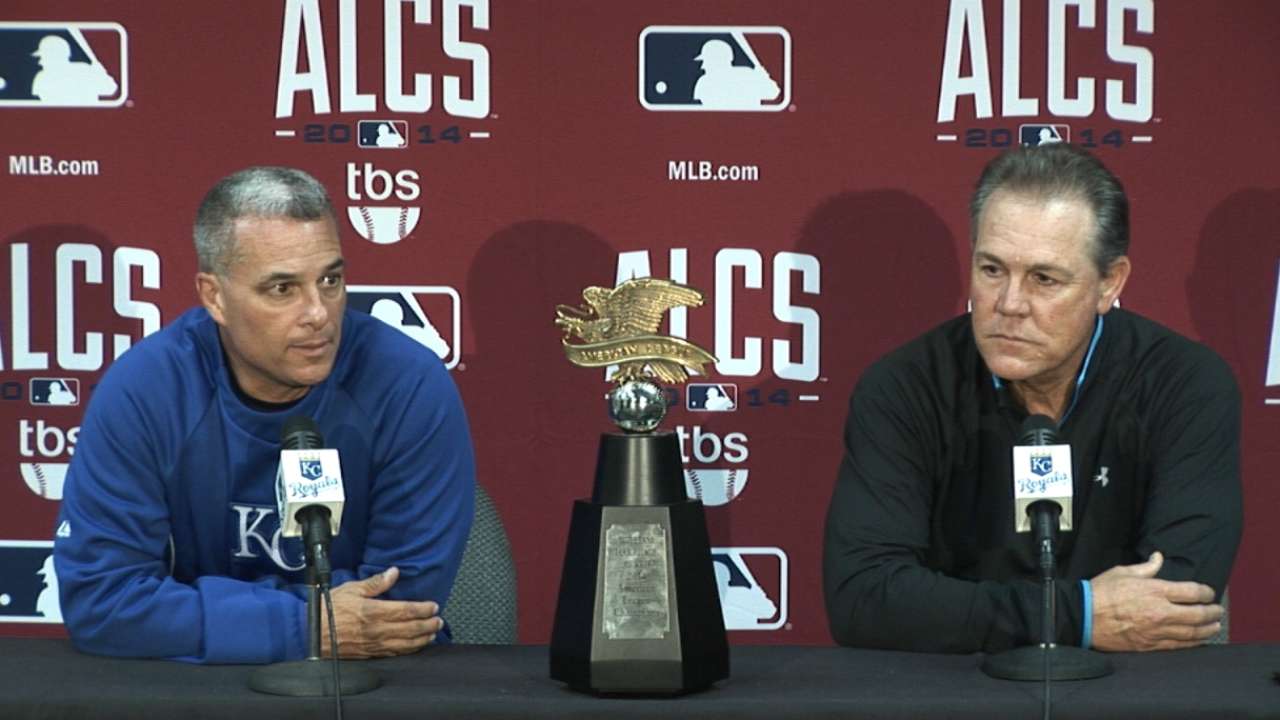 KANSAS CITY -- The catalyst for the Royals' magnificent run to the World Series is lodged in that epic comeback victory in the American League Wild Card Game in the eyes of general manager Dayton Moore and manager Ned Yost.
In fact, Yost agreed that perhaps falling behind the Athletics by four runs on the Sept. 30 night at Kauffman Stadium might have been just what the Royals needed. The A's were up 7-3 after seven innings.
"We could have been better off falling back four runs in that ballgame because it's hard to explain exactly what happened in that seventh and eighth inning," Yost recalled.
"When our guys came into that dugout, the determination in their voice was adamant. Guys were coming in and screaming in the dugout: 'We are not losing this game, we are winning this game! Let's go, let's get on base. This is not going to happen, not tonight, this is not happening. Let's go, boys.'"
So they picked up three runs in the eighth, tied it 7-7 in the ninth and, after the A's went ahead by one in the 12th, the Royals came back with two runs to win, 9-8. That rally began with Eric Hosmer's triple to left center.
"I think that that at-bat that Hoz put up there was probably one of the best ABs that I've seen in a long time by our players," Moore said. "I'm sure there had not been a more significant point in the game and I think it set the tone for the remaining at-bats -- up until now."
Hosmer, facing right-hander Dan Otero, took a ball, fouled off two sinkers, took another ball, fouled off another sinker and then connected. He scored on Christian Colon's infield hit, and Colon later scored on Salvador Perez's single. The Royals haven't lost since.
"I really wish I could've planned it that way but, as we all know, I'm not quite that smart," Yost said.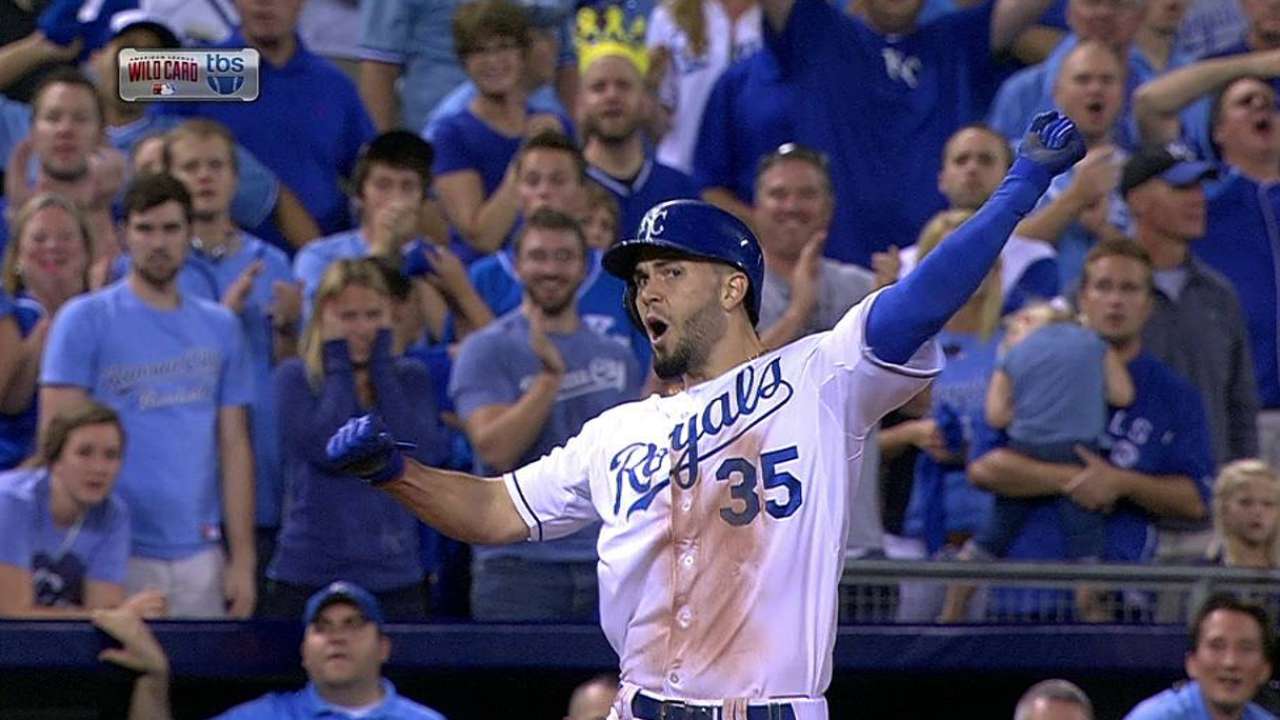 Moore and Yost had a good time talking to reporters on Thursday, the day after the Royals clinched their first World Series visit since 1985.
Moore mentioned what an impact the AL pennant has brought to the community.
"That's what it's all about, really, to be able to breathe life, from a baseball standpoint, back into your fan base and the energy that's been created," he said. "I was just talking to Ned about some of the things that happened around the city and just the joy that it's brought to people's lives. That's special. That's what athletics is all about. That's why we do what we do."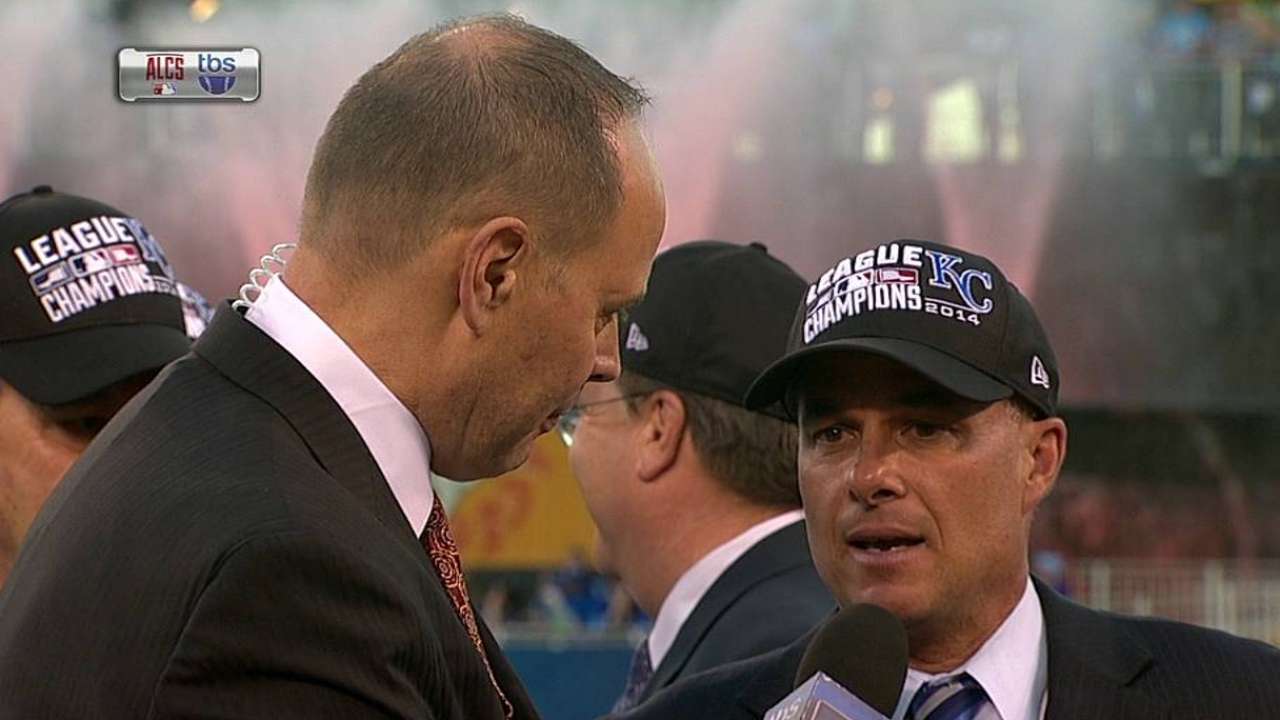 • Moore on going to the World Series
Yost noted that it appeared that other teams are taking note of the Royals' way of building a winner.
"You look at some of the changes Detroit made this year, and I think they looked at us last year with our speed and athleticism and durability on the field. This year they wanted guys that were both athletic and could move around better, and they made some of those changes and were a different type team than they were last year," Yost said. "But I definitely think teams will look at our model and try to duplicate it. Speed is hard to come by, athleticism is hard to come by. Dayton and our staff have done a great job of getting guys by trade, by drafting and free agents that fit that mold."
Yost admitted his knee was shaking nervously as the Royals recorded the last three outs of Wednesday's Game 4 victory over the Orioles to complete the sweep of the AL Championship Series. On Thursday his pal, comedian Jeff Foxworthy, told him he was a bit unnerved himself as he watched third baseman Mike Moustakas throw for the last out.
"He said if that would've been him, knowing that somebody hit him a ball and he had to make a throw across the diamond to get our team in the World Series, he would have hit a lady about nine rows up in the stands," Yost said.
Yost also recalled owner David Glass' reaction after receiving the AL champions trophy.
"It's a beautiful trophy," Yost said. "When they presented it to Mr. Glass yesterday, he looked at it and said, 'This is awesome. This is a beautiful trophy. But I'd sure like to get the one that's round with all the flags on it.' I said, 'Just hang on -- hold on.'"
Dick Kaegel is a reporter for MLB.com. This story was not subject to the approval of Major League Baseball or its clubs.