Unable to swing, Yadi available as defensive option
Determined catcher trying to find ways to help Cards while nursing oblique strain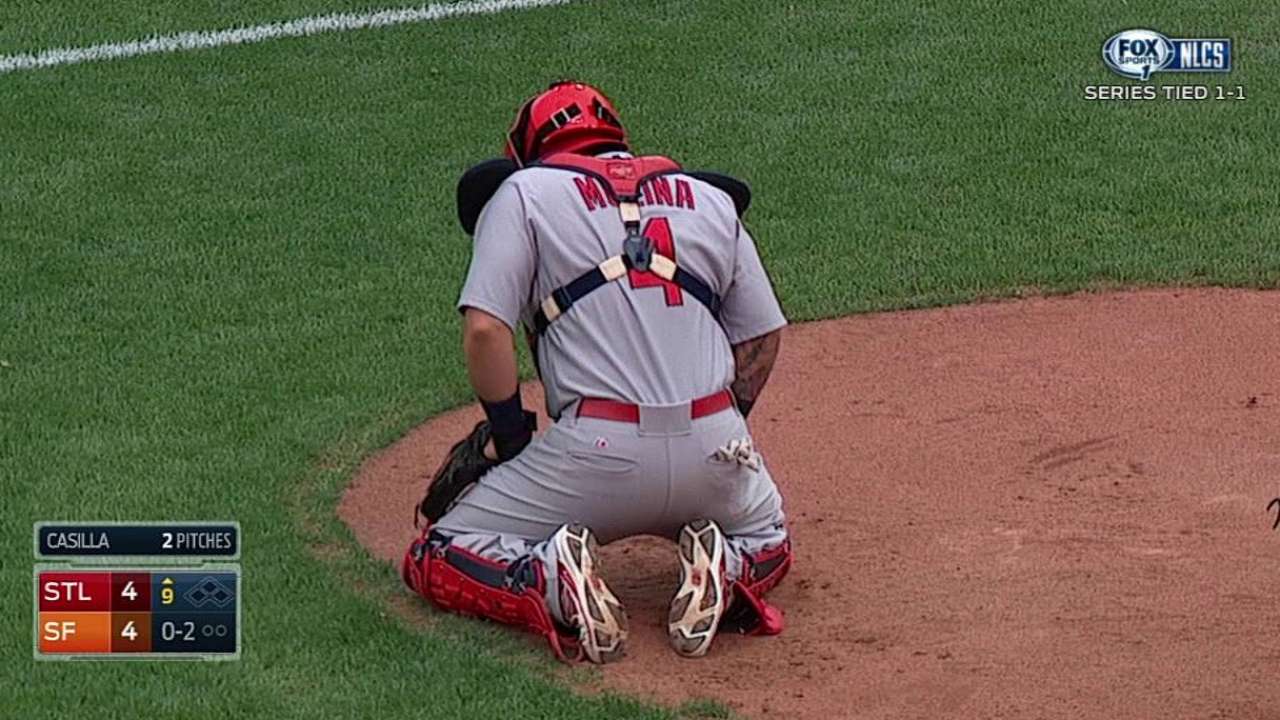 SAN FRANCISCO -- Despite his attempts to talk himself into the lineup, catcher Yadier Molina remained on the bench for Game 5 of the National League Championship Series as he continues to nurse a left oblique strain.
"We didn't really know where to go with the conversation because he still knows that the swinging isn't an option," manager Mike Matheny said. "But it was a pretty valiant effort that he gave to try to convince, somehow figure it out. I told a couple of the groups earlier, I looked for one of those leagues for a long time where you didn't have to hit. [I] haven't been able to find it."
While his inability to swing a bat may preclude Molina from being a starting option, he continues to be very much available as a late-game defensive replacement. Had the Cardinals taken a lead into the bottom of the ninth in Game 3, Molina was set to enter with closer Trevor Rosenthal. If the team had pushed Game 4 into extra innings, Molina was also coming in to catch.
The Cardinals are not concerned about the oblique injury compromising Molina's ability to receive pitches or throw out runners. Because of how much discomfort he felt when trying to swing a bat on Wednesday, Molina would be instructed either to take pitches or lay down a bunt if he does enter the game for defensive purposes and then is forced to hit.
For the second straight day, Molina did not join his teammates on the field for pregame work or batting practice.
"This guy, he's a warrior as much as anybody can be on a baseball field," Matheny said. "It's killing him right now to be on the sidelines and not able to do what he wants to do and what he can do to help our club. But he also has faith that these other guys can get the job done. We are going to try and use him as a weapon because he can be used as such. But it does complicate things for us for sure."
Worth noting
• Matheny acknowledged that Game 5 will be an all-hands-on-deck affair, in which both Lance Lynn and John Lackey could be used in a tight spot. Matheny said he would be more inclined to go to Lynn, the team's Game 6 probable starter, before Lackey. Lynn last pitched on Sunday.
• After starting A.J. Pierzynski behind the plate in Games 3 and 4, the Cardinals opted to go with Tony Cruz on Thursday, both because of his familiarity with Adam Wainwright and also because he presents the better matchup against the left-handed-throwing Madison Bumgarner. This marked Cruz's first career playoff start.
Jenifer Langosch is a reporter for MLB.com. Read her blog, By Gosh, It's Langosch, and follow her on Twitter @LangoschMLB. This story was not subject to the approval of Major League Baseball or its clubs.