Cardinals' season ends in heartbreak by the Bay
Wacha allows walk-off homer to Ishikawa in Game 5 loss to Giants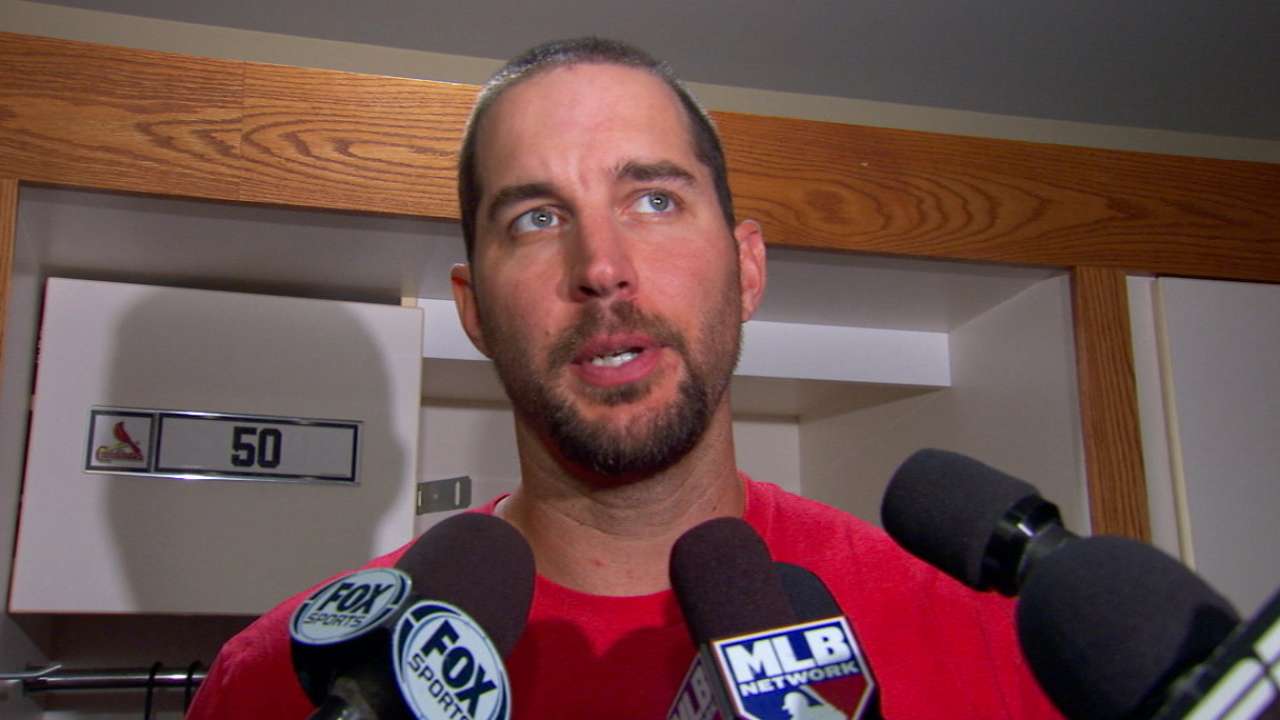 SAN FRANCISCO -- It took nine postseason games for the Cardinals to carry a lead into the seventh inning, a feat finally accomplished on Thursday. But their inability to make it hold for another nine outs cost them the chance to take this National League Championship Series home and left them to again watch the Giants hoist the NL pennant.
For the second time in three Octobers, the Cardinals' quest for a World Series championship stalled at AT&T Park, a venue where the Cardinals have now lost six straight playoff games. Their 90-win season -- one in which they secured a second straight NL Central title by overcoming several key injuries and an inconsistent offense -- ended with a 6-3 walk-off loss in Game 5, as Travis Ishikawa's three-run homer into Levi's Landing off reliever Michael Wacha sent the sellout crowd into a frenzy and the Giants back to the World Series for the third time in five seasons.
"There's no question that everybody in this room is hurting right now," Matt Carpenter said. "But at the end of the day, when you look at what we were able to accomplish with the adversity that we had, some of the injuries, battling all the way to win the division and get us to this point, there's a lot to be proud of. It's going to probably take a while to let that sink in and appreciate what we were able to accomplish. Right now it does hurt."
It was the second last-at-bat win in the series for San Francisco, which won four of five games despite outscoring the Cardinals by only eight runs. The Giants got their final tallies off the Cardinals' bullpen, with Pat Neshek serving up a game-tying homer to Michael Morse in the eighth and Wacha, pitching for the first time since Sept. 26, allowing Ishikawa's blast, the third homer of the night for San Francisco, which hadn't hit one in any of the series' first four games.
With it, the Giants, winners in each of their last nine postseason series, foiled a potential all-Missouri matchup in the Fall Classic and halted the Cardinals' pursuit of a fifth NL pennant since 2004.
"It felt like a dogfight," said manager Mike Matheny. "I think the Giants, even though we only snuck out one, I think they knew we were in for the fight. We punched hard."
WHAT WENT WRONG
Cardinals starter Adam Wainwright did all he could to will his team home with at least one game left on the schedule. His only big mistake was serving up a two-run homer to Joe Panik in the third, though the Cardinals answered back with solo blasts from Matt Adams and Tony Cruz a half-inning later to scoot back in front against Madison Bumgarner.
The Cardinals had already scored once off Bumgarner in the third, when Ishikawa misplayed Jon Jay's fly ball to left field. The Cards' inability to get anything more in the inning -- Matt Holliday and Jhonny Peralta went down with two runners in scoring position -- loomed large later.
Wainwright carried the one-run lead through the seventh, at which time Matheny, in a decision he later called a no-brainer given how hard his ace had fought through 97 pitches, asked his 'pen to get the final six outs. But before he could get the first, Neshek allowed the fifth pinch-hit home run in Giants postseason history.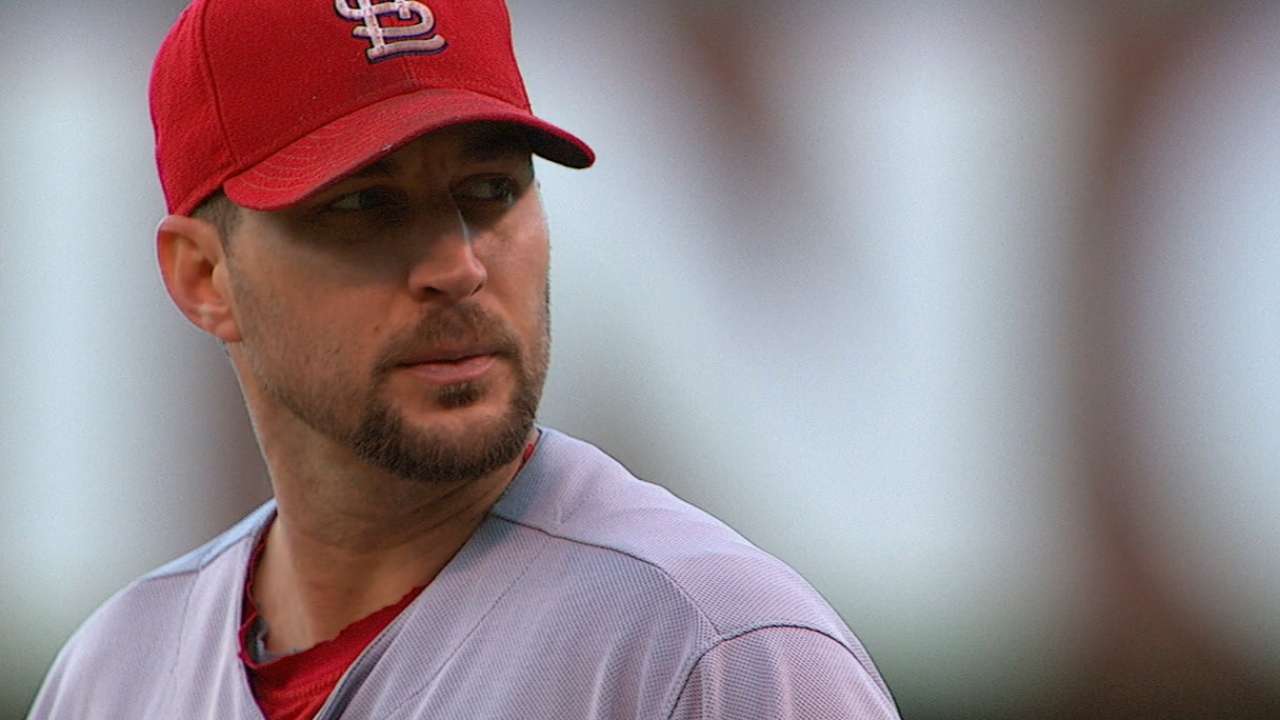 "Once I saw that Neshek was warming up ... I went into the cage [and] had our BP guys throwing a little sidearm, kind of like what he does, to simulate it," Morse said. "He's such a good pitcher. If there's one guy in that bullpen I didn't want to face this whole series, it was him."
Previously designated as the Cardinals' extra-inning long reliever, Wacha was thrust into the ninth-inning spot largely because of Marco Gonzales' unavailability. Trouble started quickly, with Pablo Sandoval singling and Brandon Belt drawing a one-out walk off a pitcher who had made just four appearances since a stress reaction injury in his right shoulder shut him down in June.
Swinging at a 2-0 fastball, Ishikawa ended the game, leaving Wacha to take the loss in the team's final game for the second straight year.
"I felt just as strong as I did last season," Wacha said. "Coming back from that injury, they gave me plenty of time, and I came back and my arm's been feeling great and my body's been feeling great. I was ready to pitch."
THE MOMENTS THAT MATTERED
Panik at the Frisco: Panik took Wainwright's 1-0 cutter and deposited it over the right-field wall to give the Giants a brief third-inning lead. The rookie second baseman had gone deep just once in his first 332 Major League plate appearances, and San Francisco had gone 243 plate appearances since its last home run. In seven previous starts at AT&T Park, Wainwright had allowed one home run.
"The Panik pitch he hit out, it was really a pretty good pitch," Wainwright said. "It was in off the plate, and he made a very good swing. Baseball players occasionally will make good swings on balls. Aside from the pitch he hit out, I was sharp most of the day."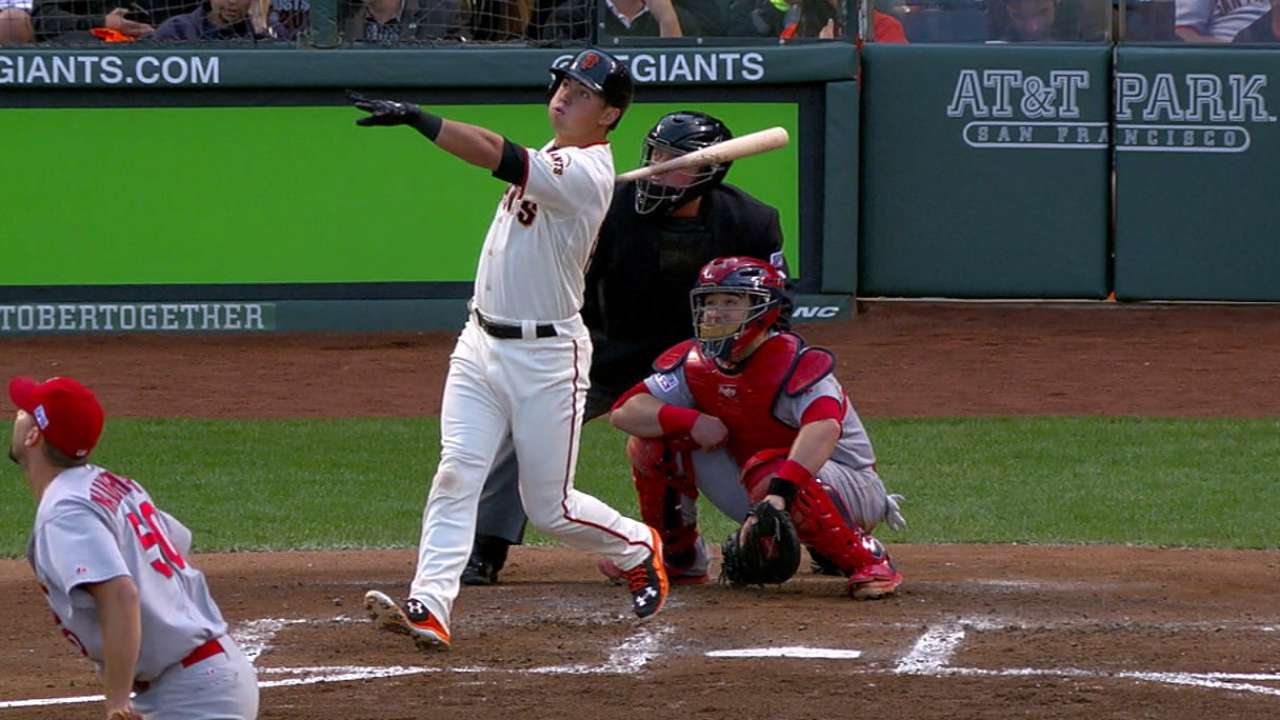 Fourth-inning power display: The Cardinals, last in the NL in homers during the regular season, once again rode the long ball to a lead in Game 5. Solo homers by Adams and Cruz bumped the club's postseason total to 15; those accounted for 21 of the team's 34 runs.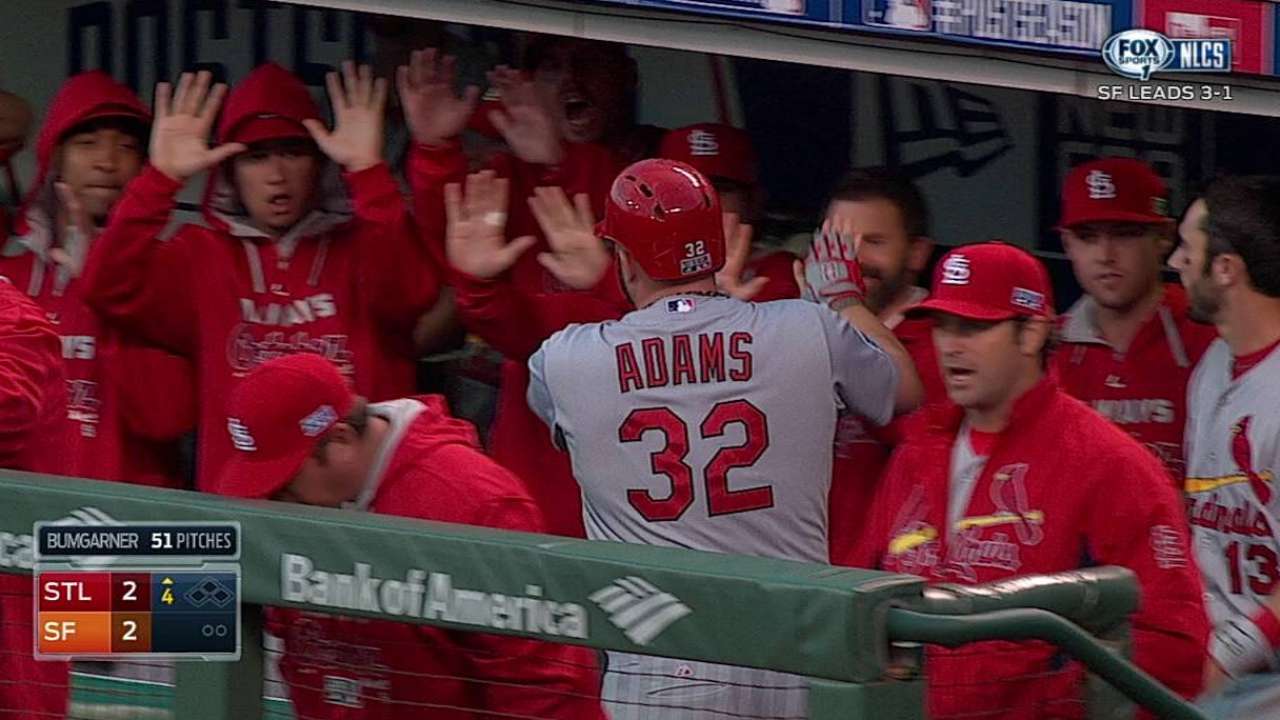 Both of Thursday's homers were pretty improbable, too. After hitting three against left-handed pitching (121 at-bats) this season, Adams tagged Bumgarner for one, just as he had Clayton Kershaw in the NL Division Series. Cruz, making his first postseason start, had hit one home run all year. His gave the Cardinals a 3-2 lead.
"It was a slider," Cruz said. "I was looking for something out over the middle, and I tried to put a good swing on it. Thankfully, I did."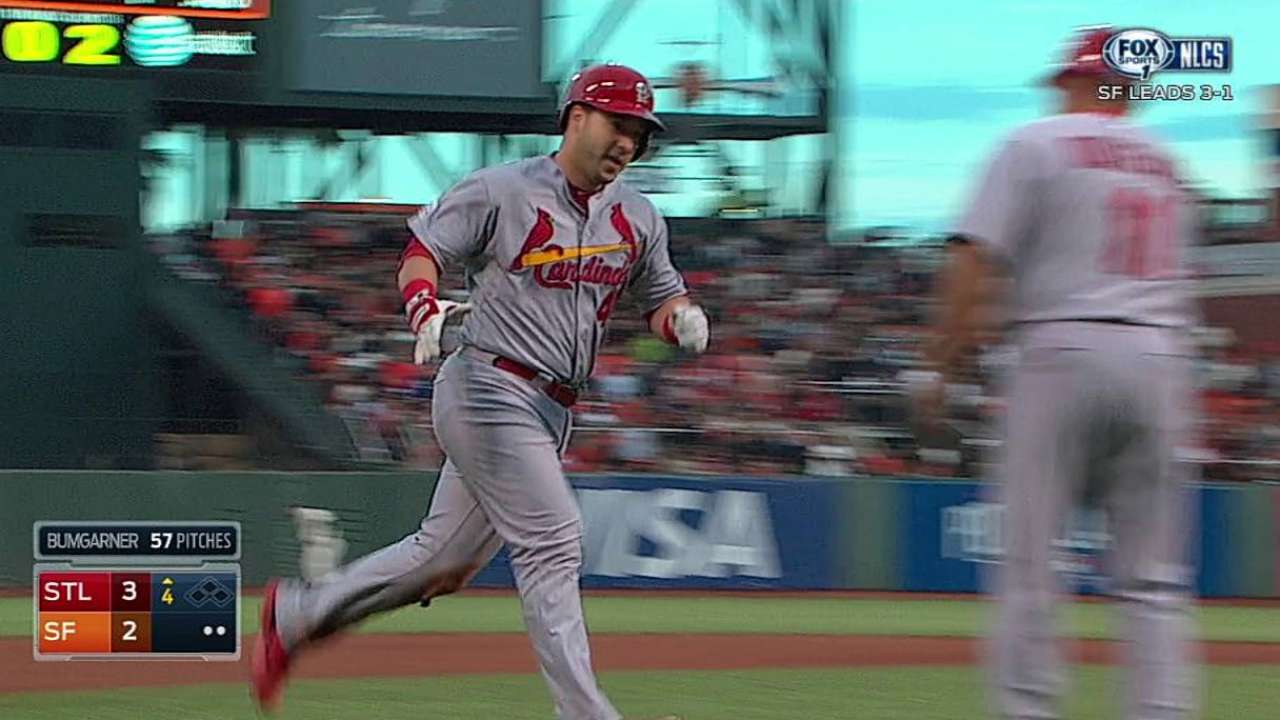 Hanging slider: Tasked with bridging the game from Wainwright to closer Trevor Rosenthal, Neshek lost the one-run lead three pitches into his night. Morse, whose only previous pinch-hit homer came in 2009, dropped Neshek's slider just over the wall in the left-field corner. Neshek had retired 18 straight this postseason before the hit.
"I didn't get the snap, but I didn't think he would keep it fair," Neshek said. "He did. It was a terrible pitch. I think a lot of guys would have done that, but it was hard to keep that fair. Usually when I throw those, I'll make a mistake and it will go 100 feet foul. He's a big guy, and that's what he does. He hits home runs."
Neshek, who gave up two home runs to right-handed batters during the regular season, allowed two this postseason. The other was Matt Kemp's go-ahead homer in Game 2 of the NLDS.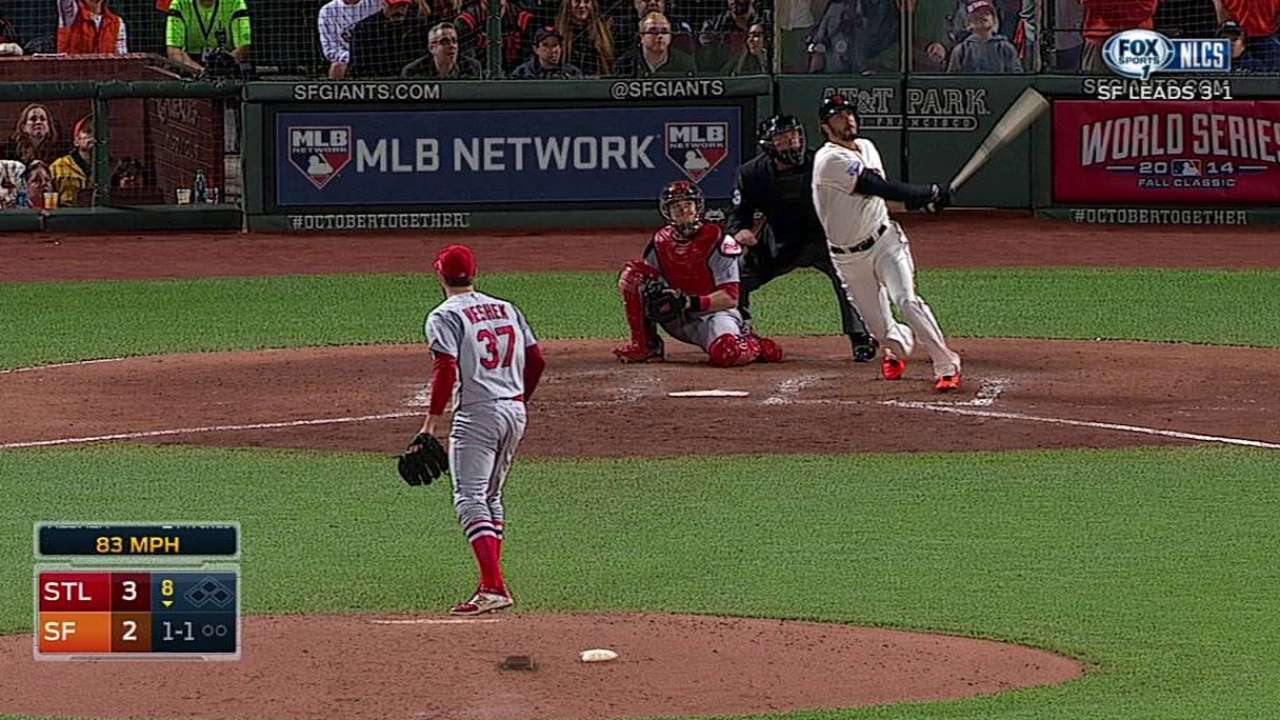 Panda-like reflexes: Despite losing their lead in the eighth, the Cardinals stirred immediately against Santiago Casilla in the ninth, with two of the first three reaching. Kolten Wong, who had seven extra-base hits this postseason, lined Casilla's pitch toward left, thinking he had another run-scoring knock.
But third baseman Sandoval got his glove on the ball while diving, and the ball kicked straight to shortstop Brandon Crawford, who threw to second for a forceout. The inning later ended with pinch-hitter Oscar Taveras grounding out with the bases full.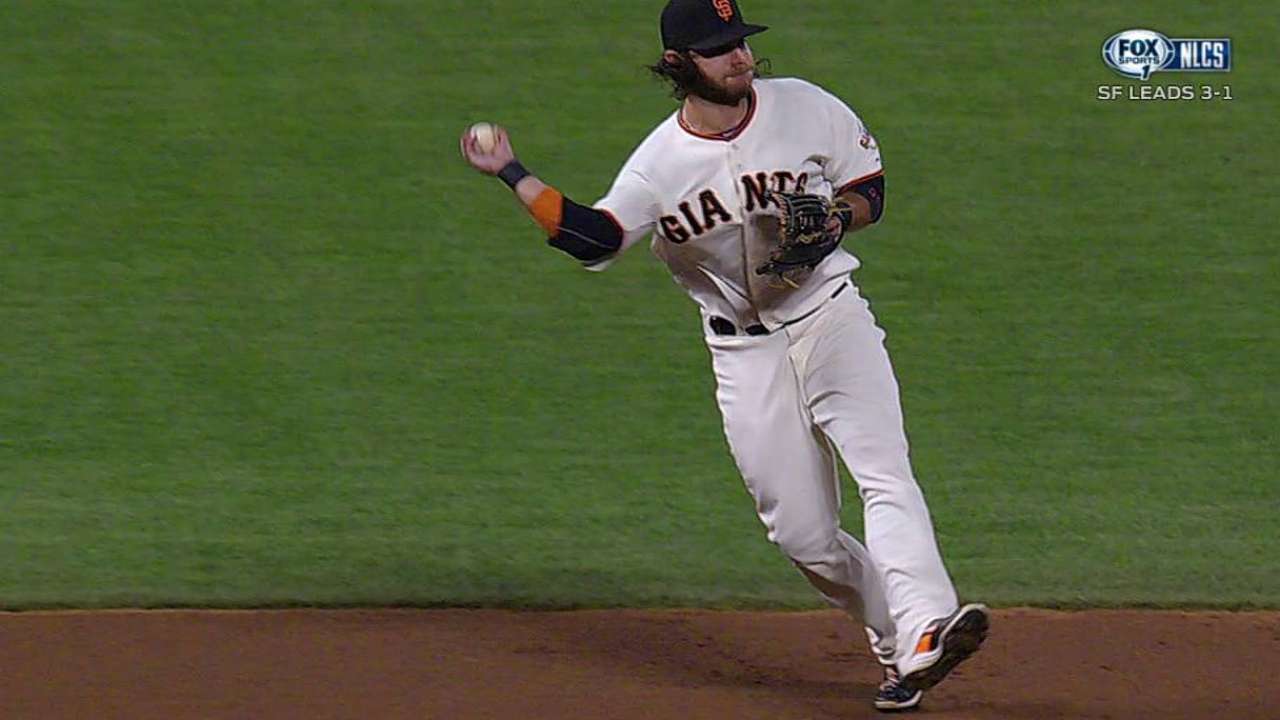 "We thought things were finally going to turn our way," Wong said. "That play Panda made on the ball I hit, if that ball gets through, that's a run and it changes the whole thing. Just little things like that that happened just really didn't go our way at all."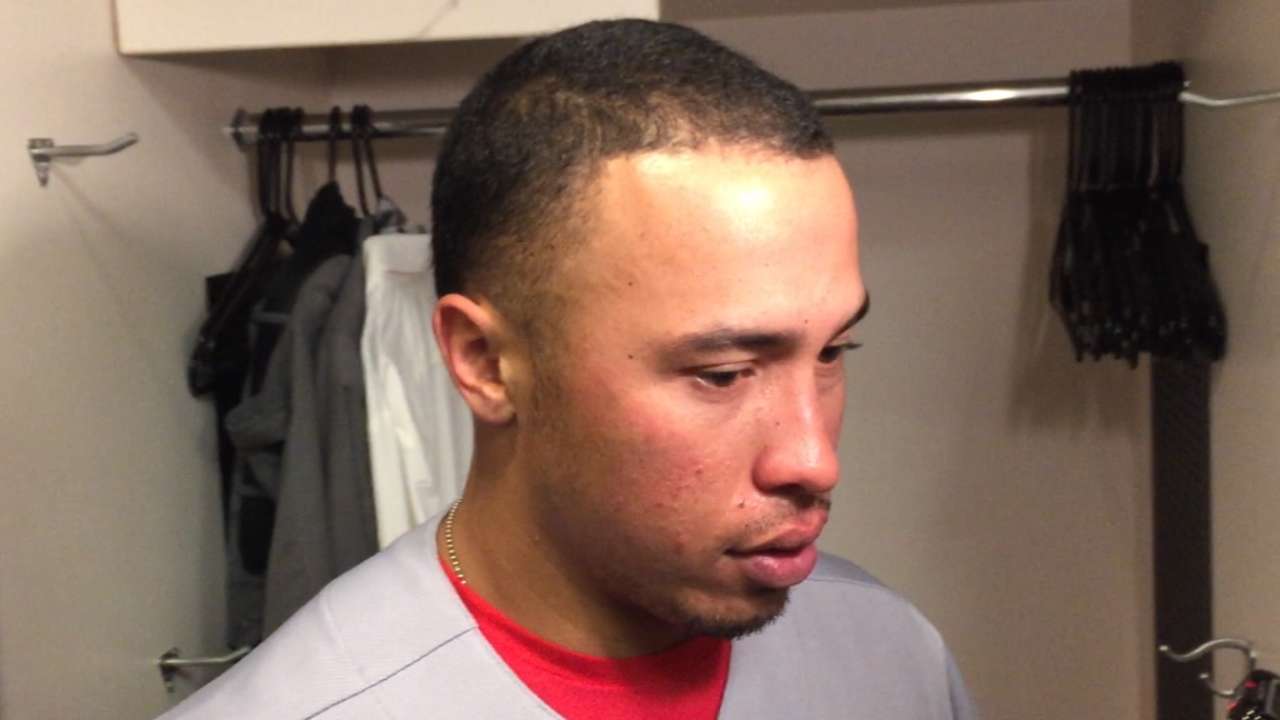 Walk-off stinger: Ishikawa, who started the year in Pittsburgh before joining the Giants on a Minor League deal, became the fourth player in Major League history (first in the NL) to clinch a berth in the World Series with a walk-off home run. The Giants set up the inning for him with a leadoff single and one-out walk off a rusty Wacha.
"I was looking fastball," Ishikawa said. "I knew that he didn't want to get behind 3-0, [with the] chance of walking the bases loaded. I was just trying to be aggressive."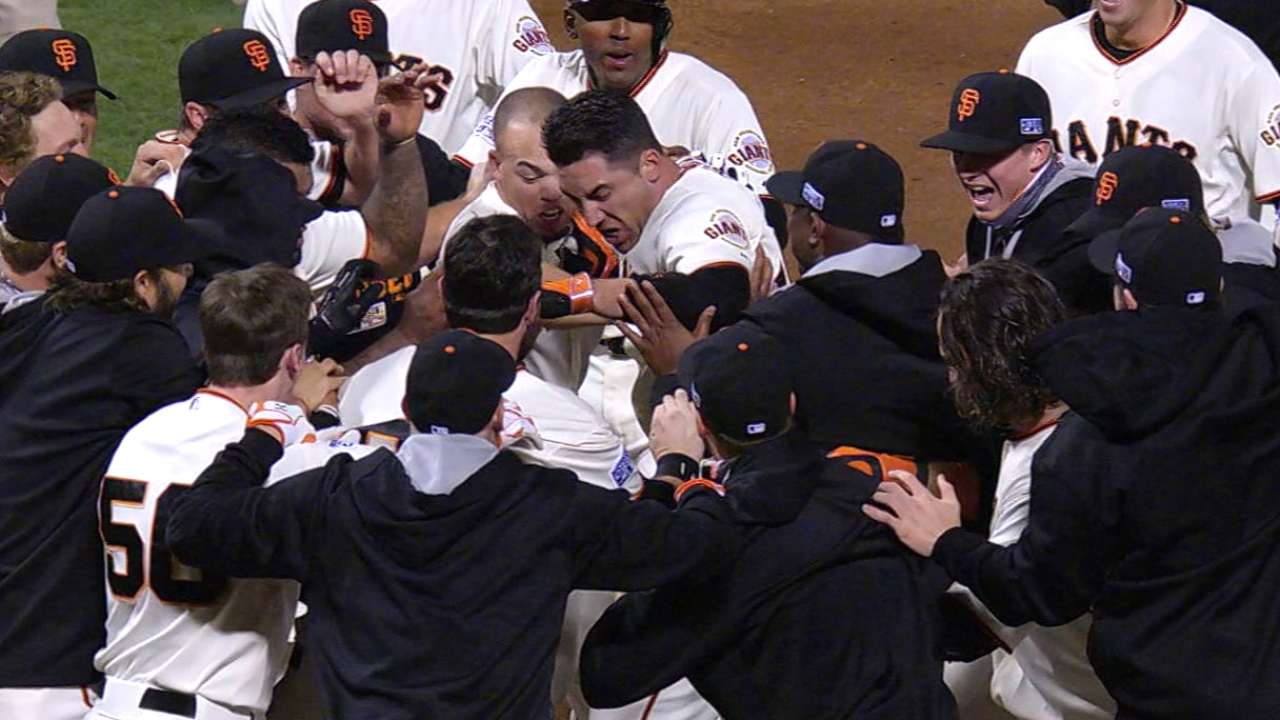 KEY MANAGERIAL DECISION
Why Wacha? That was the question Matheny was left to answer several times in the aftermath of the season-ending loss, as he had abstained from using Wacha for eight postseason games only to throw the right-hander into the ninth inning of an elimination game. Wacha had been earmarked as the team's extra-inning guy, but the absence of Gonzales (usage concerns) left the Cardinals short in the 'pen.
Holding Rosenthal out for a potential save situation, Matheny had four ninth-inning choices: Carlos Martinez, Randy Choate, Wacha or Seth Maness. He did not like how Martinez matched up with the lefties coming up and preferred Wacha over Choate, given Choate's troubles in that part of the lineup the other day. Wacha had been forewarned pregame that his role could change on Thursday, and Wacha said afterward he was not in any way physically limited.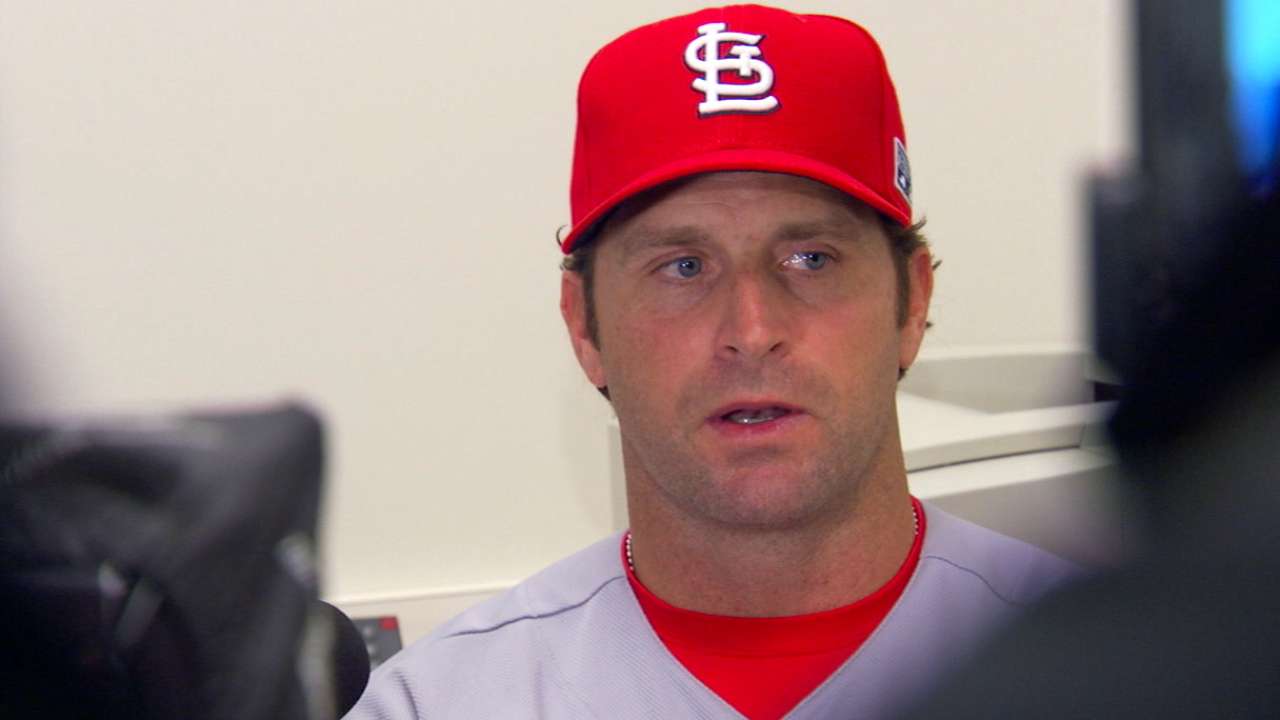 "I put a lot on him. I put him in a tough spot," Matheny acknowledged. "He was going to have to come in and fill in for what Marco would have done today. It comes down to whether we want to go to Randy in that situation with Maness behind him, or we trust Michael's stuff. And every single guy in that room will tell you we trust Michael and what he's got right now."
Matheny added that he stuck with Wacha against Ishikawa believing that the Giants would have hit for the left-handed outfielder had he summoned the lefty Choate.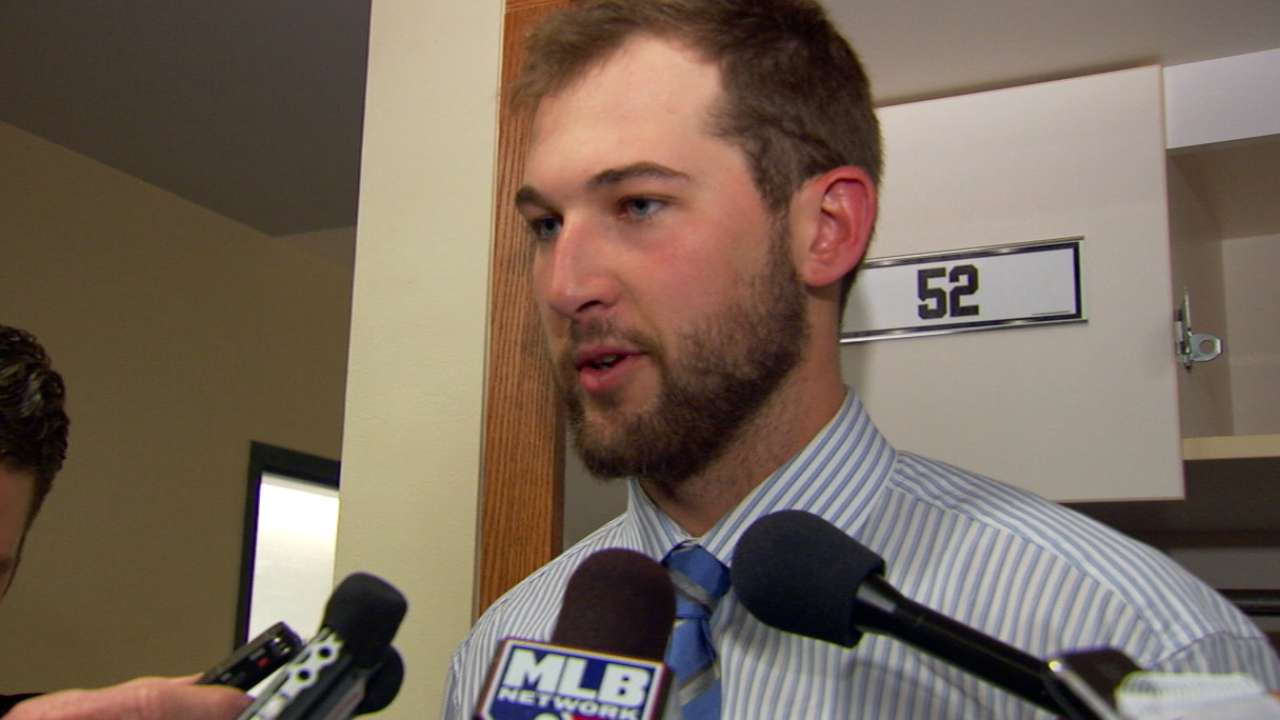 SOUND SMART WITH YOUR FRIENDS
• The previous three players to win an LCS with a walk-off homer were Detroit's Magglio Ordonez (2006), the Yankees' Aaron Boone (2003) and the Yanks' Chris Chambliss (1976).
• Ishikawa's homer was the second walk-off hit to win an NLCS in Giants history, and the Cardinals have now been on the wrong end of both. The other came in Game 7 of the 2002 NLCS, when Steve Kline allowed a game-winning single to Kenny Lofton. The runner who scored on that hit? David Bell, now the Cardinals' assistant hitting coach.
• Before the fourth-inning homers from Cruz and Adams, the Cardinals have never hit two home runs in one inning of a postseason road game. It had happened four times previously at home.
ONE FOR THE HISTORY BOOKS
Jay collected the Cardinals' first hit off Bumgarner with a first-inning single, one that also put the center fielder in the franchise record books for reaching base in the most consecutive postseason games. Jay has reached safely in 16 straight, dating back to Game 3 of the 2013 NLCS. Pete Kozma, Yadier Molina and Jim Edmonds each had 15-game streaks.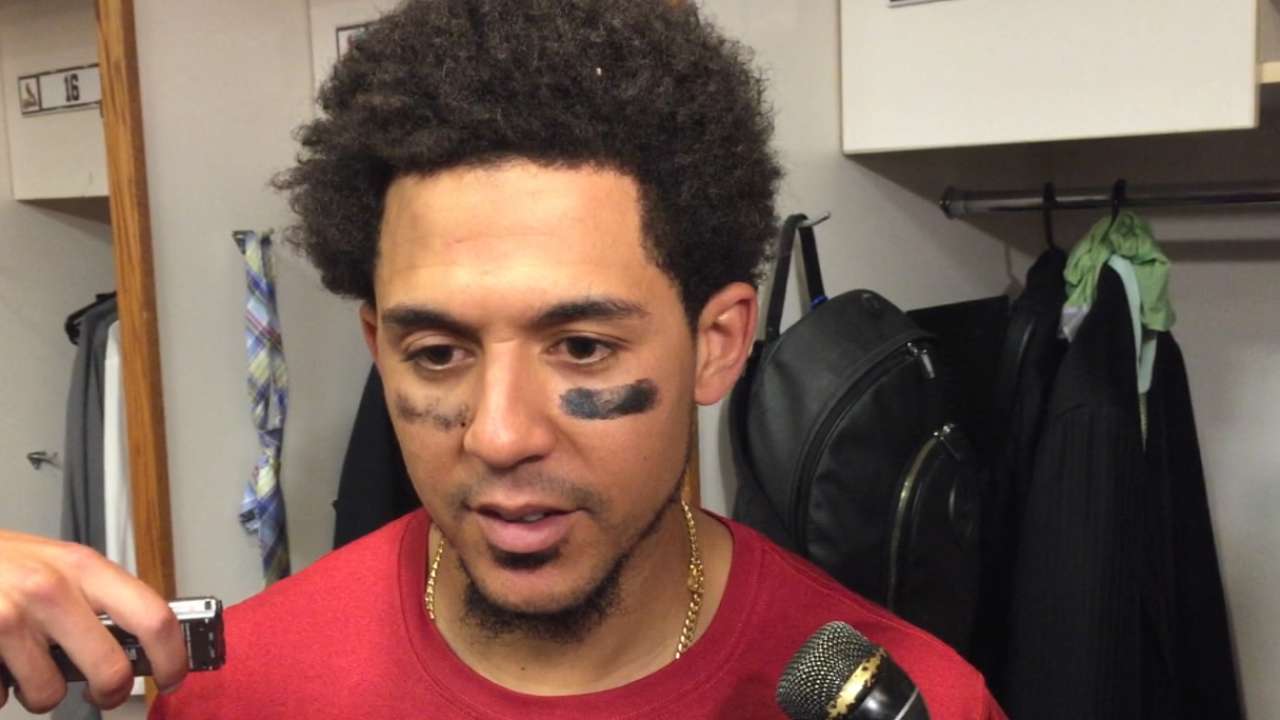 Oddly enough, though, Jay also set a Major League record for the most postseason at-bats without an extra-base hit. That string was at 92 when he snapped it with a third-inning RBI double.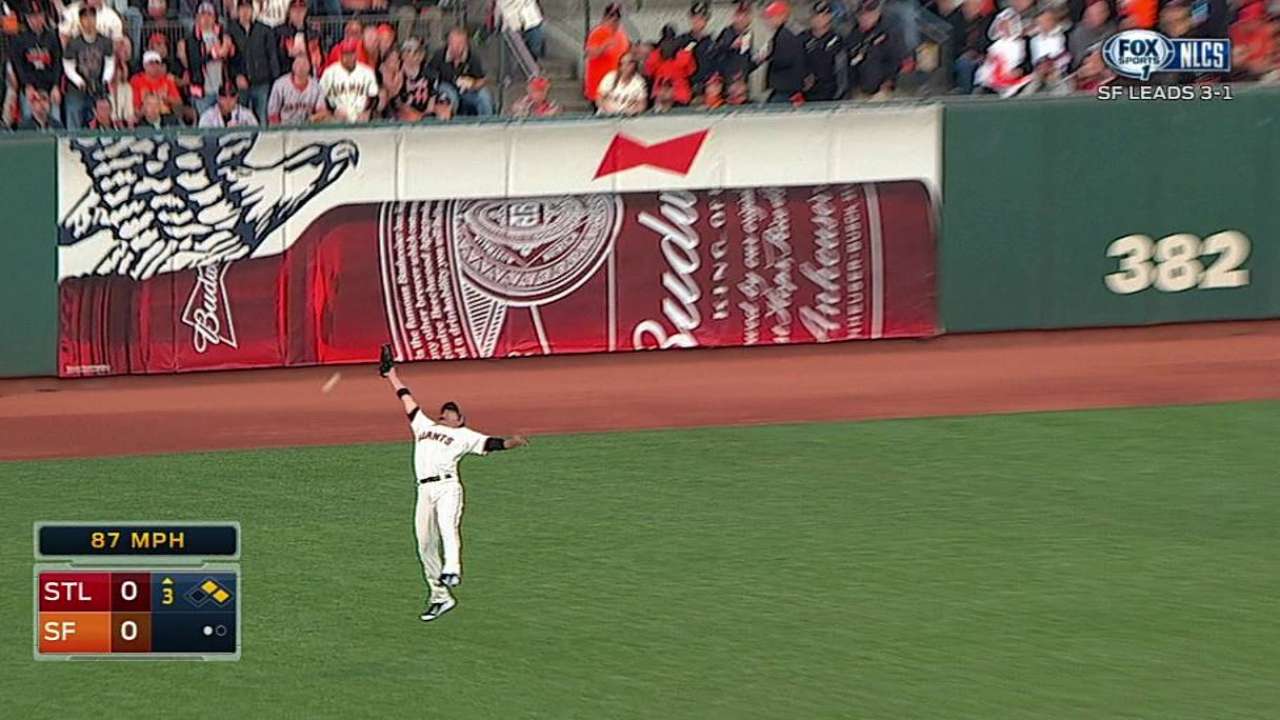 Jenifer Langosch is a reporter for MLB.com. Read her blog, By Gosh, It's Langosch, and follow her on Twitter @LangoschMLB. This story was not subject to the approval of Major League Baseball or its clubs.