Brothers striving for greater consistency in 2015
Lefty reliever will be counted on to help improve Rockies' bullpen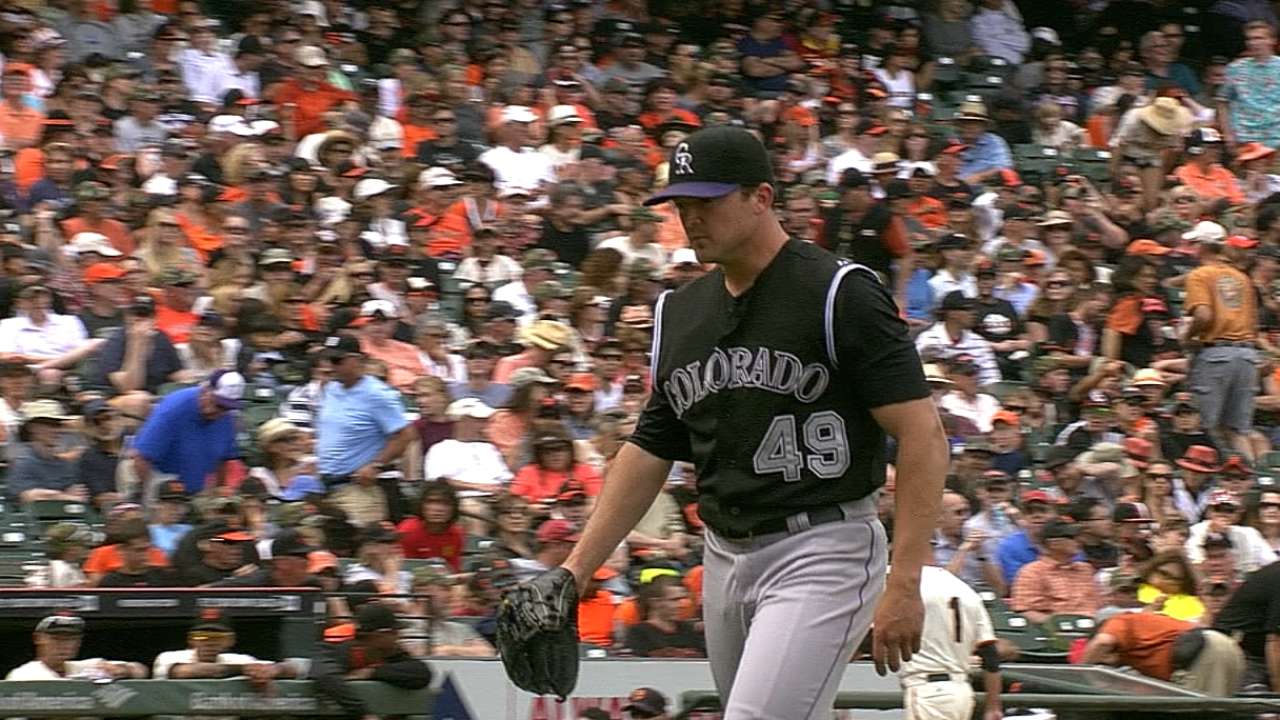 DENVER -- Rockies left-handed reliever Rex Brothers' control deserted him -- in the form of three walks and a wild pitch -- during the ugly eighth inning of a 5-4 loss to the Padres at Petco Park on April 14. But the aftermath was even more damaging.
"Did I necessarily leave it alone and move on?" Brothers said. "No, I didn't. That one stuck with me longer than it should have. You look up and you've had a three-week or a month bad stretch instead of a day or two bad stretch. You have to truly get it behind you and move on."
The Rockies must pitch better as starters and relievers in 2015, and the club is expected to try to add impact performers for both. But part of the equation is improvement, or bounce-back years, from players in tow. It will help if Brothers, who turns 27 on Dec. 18 and is in his first offseason of arbitration eligibility, rebounds with greater consistency, and greater resiliency after inevitable bad games.
Brothers' 2014 began to unravel that night in San Diego. His bases-loaded wild pitch let in one run and the losing run scored on catcher Wilin Rosario's wild throw with Brothers covering the plate.
Brothers then allowed that night to become a defining moment in his season.
In 2013, Brothers posted 10.2 strikeouts, 4.8 walks and 6.8 hits per nine innings. Much of that production came in the closer role, as he filled in for the injured Rafael Betancourt. In 2014, strikeouts per nine dipped to 8.8, and walks and hits went up to 6.2 and 10.4, respectively. The homer rate per nine also increased, from 0.7 to 1.1.
Brothers established the lowest ERA for a reliever in club history in 2013, at 1.74 in 72 games. The ERA swelled to 5.59 in 74 games in '14, and the preseason notion of Brothers moving into the closer role became a dropped subject.
Brothers' appearance log doesn't clearly show that the Padres game spoiled his season. He threw scoreless ball in 14 of his following 16 outings. However, included in that period were three blown saves. Only Brothers could measure the true damage of the San Diego mess.
"It's the easiest and most cliché thing to say, to leave it behind you," Brothers said. "At the same time it's the hardest thing to do. Ultimately, when you don't just enjoy going out there competing with your teammates behind you, that's when those stumbling blocks eat you up.
"When you get back out there, you may give up a simple two-strike hit or something as small as that. You've got to be able to immediately wash it off, pick back up the target, pitch and carry on one pitch at a time. I think at times, I tried too hard to make it right."
If it was a mental break that Brothers needed, manager Walt Weiss could not provide it. Franklin Morales could have taken some of the left-handed relief opportunities, but injuries forced him into the starting rotation. Fellow lefty Boone Logan went to the disabled list three times with elbow injuries and once with a digestive ailment.
"Rex was the one lefty out there that I went to a lot," Weiss said. "It was tough to give him a breather during the season. He'll welcome this break and he'll be able to relax a little bit. But I don't doubt he's going to be an elite reliever next year."
Brothers insisted throughout the year that he didn't make an intentional mechanical change. But he wasn't right. He experienced the galling syndrome of throwing electric pitches warming up, then being flat and easy to hit once he entered the game. First batters burned him to the tune of a .365 on-base percentage, three doubles, three home runs and eight walks -- not numbers the Rockies need in a tight game.
"I have to stay athletic and fluid in my arm action and competing to the glove," Brothers said. "I've talked to other pitchers as well. Sometimes I've fallen into patterns of trying to be too fine or too cute, as I say. So I need to stay as athletic as I possibly can and fluid at the same time -- just compete to the strike zone.
"And at some point I've got to start having good results again."
Brothers received advice from teammates and coaches, but determined it was upon him to erase the San Diego game.
"These guys gave me what they had to make me better, and I appreciate it," he said. "But if I don't take it upon myself, nothing's ever going to change."
Brothers said he was in a good mental place before the season ended, even though consistency remained elusive. He has returned to Tennessee, will get married on Nov. 8, then return to the offseason program he used before the 2011-13 seasons -- a period that saw him post a 2.82 ERA to become a building block in the bullpen.
"This year has come and gone," he said. "I can tell you it's been a most trying season to me, but I've come out of it a better person and a better pitcher at the end."
Thomas Harding is a reporter for MLB.com. Read his blog, Hardball in the Rockies, follow him on Twitter @harding_at_mlb, and like his Facebook page, Thomas Harding and Friends at www.Rockies.com. This story was not subject to the approval of Major League Baseball or its clubs.