Ross among elite NL pitchers in 2014
Padres righty posted 14 straight quality starts at one point, smashing club record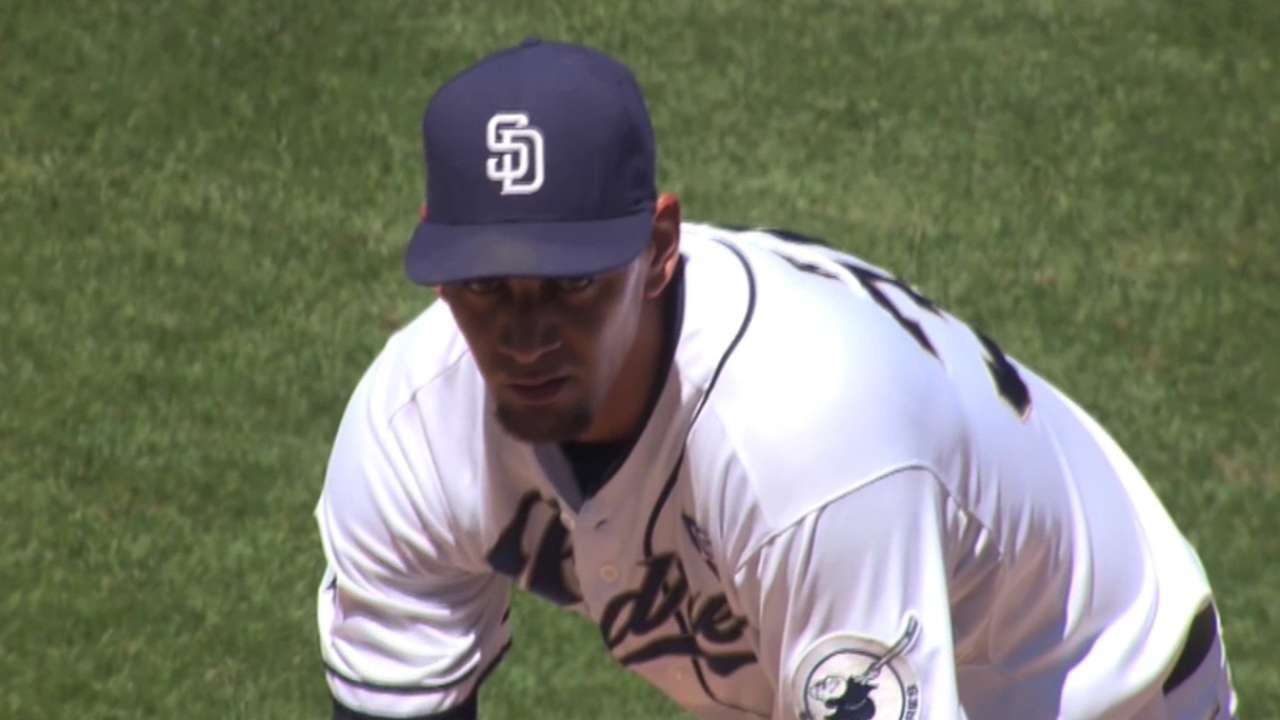 The acclaimed aces of the National League this season were Dodgers left-hander Clayton Kershaw and Cardinals right-hander Adam Wainwright.
Right there with that duo in several key statistical categories was the Padres' Tyson Ross. Forget Ross's 13-14 record. Win-loss records are the most overrated statistic in baseball when it comes to measuring a pitcher's performance.
It is other areas where the Padres' 27-year-old right-hander stood out during a breakout season and ranked among the best in the Major Leagues. For example, 22 times during the 2014 season, Ross pitched six or more innings in a game while allowing three or fewer earned runs, just behind Kershaw (24 quality starts) and Wainwright (25).
Ross missed his last three starts due to soreness in his right forearm. When he went down, he ranked among the top five starters in most positive National League pitching categories.
Ross finished with the 11th-best ERA (2.81) and opponents' batting average (.230) in Padres history, while his 195 strikeouts ranked seventh on San Diego's all-time list.
"I'm happy with what I accomplished this season, but there's room for improvement," the 6-foot-5, 220-pound Ross said near the end of the 2014 season. "I really wanted to finish what I started."
Ross, of course, was on pace to reach the 200-inning, 200-strikeout milestone ahead of right-handed teammate Ian Kennedy when he made what turned out to be his last start on Sept. 13.
"Had the season lasted another week, I would have pitched again in 2014," Ross said during the final week of the season. "It was sort of disappointing the way it ended. I wanted to pitch again. But it didn't make any sense with the way my forearm felt."
Ross finished with 195 2/3 innings, and his 8.97 strikeouts-per-nine-innings rate was the ninth-best mark in the National League.
At the time of his injury, he was tied for the National League lead in games started and had posted 14 straight quality starts from June 21 through Sept. 1 -- easily smashing the Padres record for consecutive quality starts by three.
During that 14-start run, Ross allowed six or fewer hits in each of those games, and it was the second-longest such streak in Major League history dating back to 1914.
"What we saw from Tyson this season is what baseball has seen from great starting pitchers over the year," said Padres pitching coach Darren Balsley, "a confidence that comes to match his stuff and command."
Ross was unanimously voted the Padres' Pitcher of the Year -- an award named after Clyde McCullough -- for the 2014 season by writers covering the team. It could be argued that he was the Padres' Most Valuable Player, too.
He was also named to the National League All-Star team for the first time in 2014.
Ross got better as the season progressed until his injury. That was particularly true at Petco Park. Ross loves pitching in the Padres' downtown home. Ross owns a 1.93 ERA at Petco Park in 30 games (21 starts). That is the second-lowest ERA in Petco Park history.
Ross was 8-5 with a 1.88 ERA in 15 home starts this season and was 5-2 with a 1.49 ERA in eight starts at Petco Park from June 2 through the end of the season.
"I think it's only natural that you pitch better at home than on the road," Ross said.
He might be right, but his home ERA was the fourth-lowest in the Major Leagues this season, as was his 1.81 ERA in day games.
"I think it's been special for all of us to see the way Tyson has developed as a Padre," manager Bud Black said late in the season.
The acquisition of Ross on Nov. 16, 2012, represents one of the better trades in recent Padres history. Ross was acquired from Oakland in exchange for infielder Andy Parrino and left-handed starter Andrew Werner.
Born in Berkeley, raised in the East Bay Area and a product of the University of California, Ross was a popular second-round pick of the hometown Oakland A's in the 2008 Draft. But he struggled with the A's, going 6-18 in parts of three seasons, while shuttling between Oakland and Triple-A Sacramento -- with a 5.33 ERA in 53 games (21 starts).
Some believed the combination of Ross's height and short stride would prohibit him from developing the consistency to be a quality Major League starter unless he made major changes to his delivery. The Padres, however, believed Ross needed a minor tweak and not an overhaul.
"I love working with Balsley," said Ross, who was also reunited with younger brother Joe -- the Padres' first-round pick (25th overall) in the 2011 Draft -- when he joined the Padres.
"Bals sees the smallest of details that can be the difference."