After disappointment, Villarreal works way back to bigs
Righty played in three games before '14, but excelled after switch to 'pen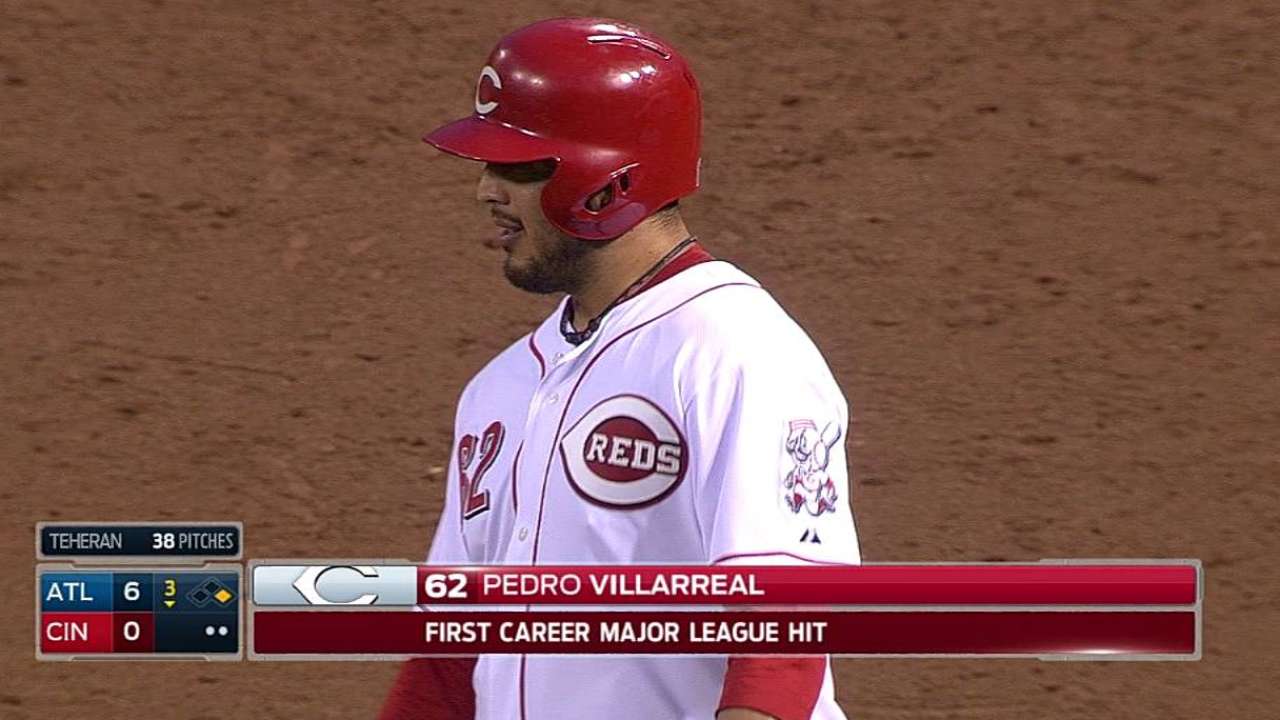 CINCINNATI -- With only three Major League games behind him in 2013, Reds pitcher Pedro Villarreal didn't know if he would ever get another chance. As September callups were being summoned that season, it sure didn't look good for Villarreal when he was instead outrighted off of the 40-man roster.
Villarreal, who had been in big league camp at Spring Training in previous years and debuted with one Major League appearance in 2012, wasn't even invited this past spring after remaining in the organization. He stayed on the Minor League side, but more importantly, never gave up on himself while pitching at Triple-A Louisville.
"It was a big disappointment to me, personally, getting taken off of the roster," Villarreal said recently. "Reality set in. I had to earn it back. That's what I focused on this year -- going out there, having a good year and let the cards fall where they fall and see what happens.
"Luckily, I got another opportunity to come back up here and help the team."
During a stretch run that saw the Reds nosedive out of contention, the right-handed Villarreal was a positive development for the club. With the bullpen struggling this season and a question mark for 2015, his performance has put him in the mix to compete for a role at camp next spring.
In 12 relief appearances after his Aug. 21 callup, Villarreal was 0-2 with a 4.30 ERA and 12 strikeouts, allowing 11 hits and seven walks over 14 2/3 innings. He left all 11 inherited base runners stranded and retired 11 of 12 first batters he faced.
A seventh-round pick by the Reds in the 2008 Draft, Villarreal posted a 12.71 ERA in two games in 2013. His line included being roughed up by the Rockies for six earned runs and 10 hits in 3 2/3 innings in an emergency spot start on June 5, 2013. As he also struggled to start for Louisville, the organization switched him to the bullpen midway through that season.
"Just the amount of time you have to get ready is the biggest change I had to get used to," Villarreal said of the adjustment to being a reliever. "I talked to a lot of guys, to be honest. They said you had to be into the game all the time, mentally ready for than anything. It's easy that when they call your number, the adrenaline kicks in and you get loose and your body gets going. You stay ready because you never know."
This season, working almost entirely as a reliever, Villarreal was 6-2 with a 3.20 ERA in 42 games (two starts) for Louisville. Over 56 1/3 innings, he allowed 57 hits and 13 walks while striking out 50.
"When you're off the roster, you kind of have to find ways to stand out," Villarreal said. "You can't just be the average bullpen guy. Make somebody notice you down there."
Villarreal, who turns 27 in December, will keep working out at home in Texas to prepare himself for whatever comes his way in the spring.
"I'm going to do the exact same as last year," he said. "Hopefully I give myself a good opportunity."
Mark Sheldon is a reporter for MLB.com. Read his blog, Mark My Word, and follow him on Twitter @m_sheldon. This story was not subject to the approval of Major League Baseball or its clubs.