Lineup breakdown: Cardinals vs. Giants, Game 5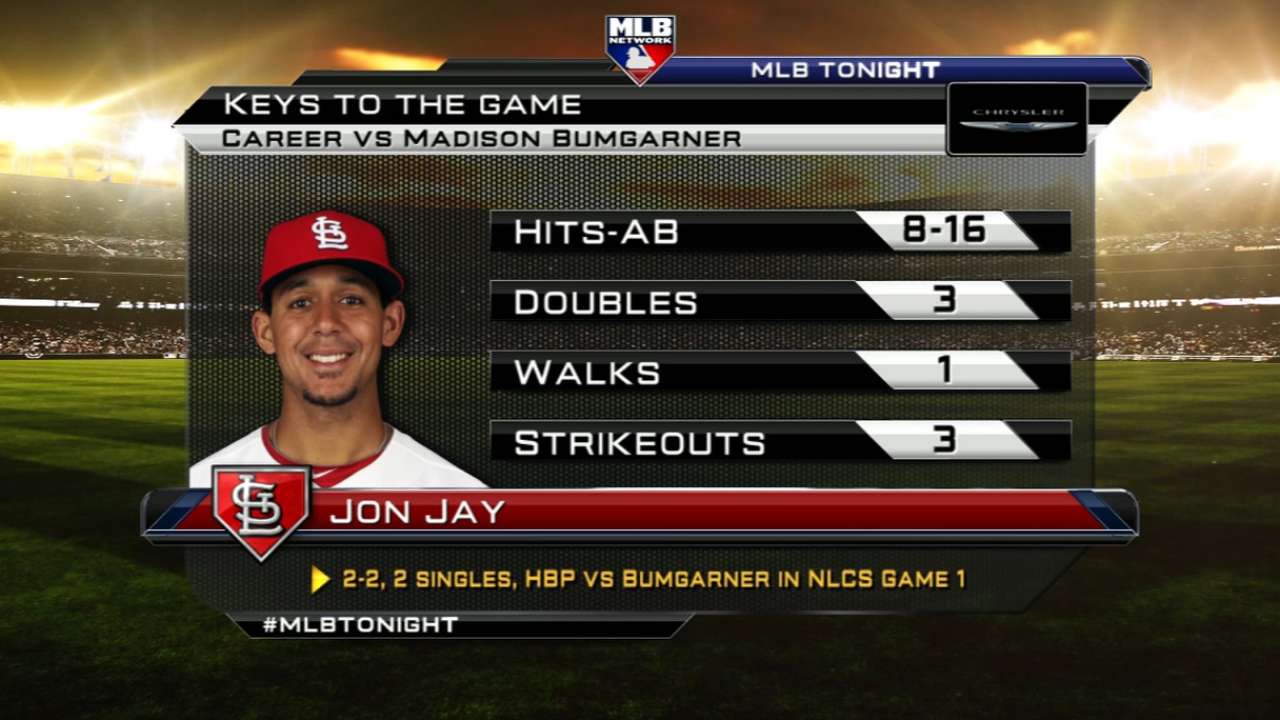 The Cardinals face the Giants' ace in a win-or-go-home situation tonight in Game 5 of the National League Championship Series, as left-hander Madison Bumgarner tries to pitch San Francisco to its third World Series appearance in five years.
St. Louis counters with its own ace in Adam Wainwright, despite his postseason struggles, when the two teams square off at 8 p.m. ET at AT&T Park. The game will be televised on FOX Sports 1.
Here's a breakdown of the lineups:
CARDINALS
Tony Cruz gets the start behind the dish with the left-handed Bumgarner on the mound, while manager Mike Matheny also shifted around his lineup to spread out his left-handed batters.
Bumgarner blanked the Cards over 7 2/3 innings in the series opener, scattering four hits and striking out seven. He faced St. Louis twice in the regular season, going 1-1 with a 3.00 ERA.
Jon Jay has been scorching this series -- entering with a .500/.588/.500 slash line -- and has owned Bumgarner to the tune of a .455 average (5-for-11) with three doubles. Matt Holliday, coming off a 3-for-5 effort in Game 4, has just two hits in 16 career at-bats against Bumgarner.
Jhonny Peralta is 1-for-9 against the lefty, with the lone knock a home run.
1. Matt Carpenter, 3B
2. Jon Jay, CF
3. Matt Holliday, LF
4. Jhonny Peralta, SS
5. Matt Adams, 1B
6. Randal Grichuk, RF
7. Kolten Wong, 2B
8. Tony Cruz, C
9. Adam Wainwright, RHP
GIANTS
Usually Wainwright would be a road block for a team looking to advance to the World Series, but the right-hander has been anything but his vintage self this postseason. He's twice been unable to make it out of the fifth inning, including in Game 1, when the Giants touched him for three runs (two earned) en route to a victory.
Wainwright is 5-5 in 12 career appearances (10 starts) against the Giants with a solid 3.11 ERA. Hunter Pence is a .275 career hitter (14-for-51) with two homers against Wainwright, while Pablo Sandoval has batted .333 (6-for-18) against the righty.
Buster Posey is just 2-for-11 against Wainwright, while rookie Joe Panik is 2-for-3.
1. Gregor Blanco, CF
2. Joe Panik, 2B
3. Buster Posey, C
4. Pablo Sandoval, 3B
5. Hunter Pence, RF
6. Brandon Belt, 1B
7. Travis Ishikawa, LF
8. Brandon Crawford, SS
9. Madison Bumgarner, LHP
Cash Kruth is a reporter for MLB.com. Follow him on Twitter at @cashkruth. This story was not subject to the approval of Major League Baseball or its clubs.