Sox coaches get to know young players in Glendale
Chicago looks to create sense of continuity in organization with visits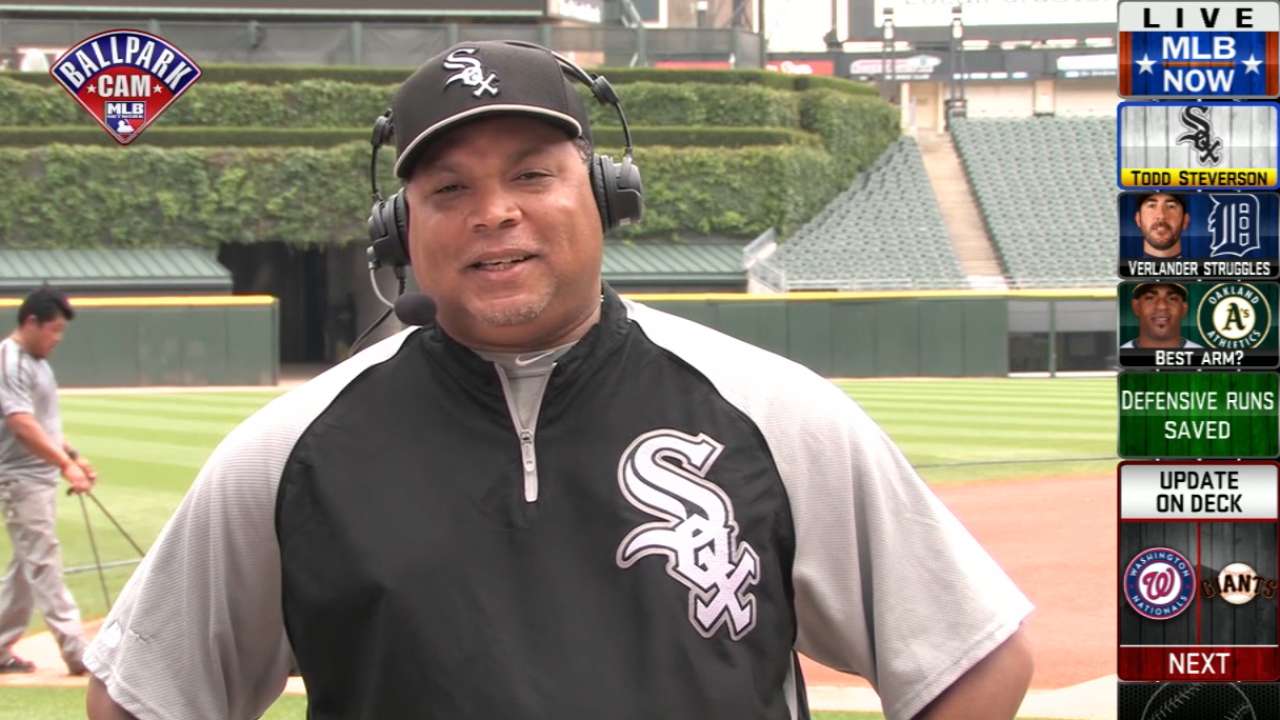 GLENDALE, Ariz. -- White Sox pitching coach Don Cooper came from Nashville, joined by bullpen coach Bobby Thigpen last week at the team's Camelback Ranch complex in Arizona. Hitting coach Todd Steverson made the drive from Ahwatukee, Ariz., which, despite being 23.4 miles from Glendale, can seem as long as that flight from Tennessee depending on Phoenix Valley traffic.
Instructional league action, and the start of the Arizona Fall League, for that matter, doesn't usually feature the White Sox Major League coaches in attendance. But this rebuilding stretch is a different feel for the organization as it moves toward what it hopes is a '15 playoff berth, with important contributions figuring to come from younger players.
"The goal is not to get everyone on the same page, because everyone is on the same page," Cooper said late last week. "I'm out here to enjoy the guys and just kind of watch. We watch guys throw and then we come up with a plan for each guy, and we don't care whether it's a first-round pick or 101st round pick. When you get with the White Sox, we are going to give you the best we got."
"We want to be a strong organization, top to bottom, and have everybody understand what our philosophy is going forward from [Class] A ball all the way up to the big leagues," Steverson said. "And the continuity in which we put the players in -- and you learn the same things that the big league guys are and it's no different. It's understanding the process in which it takes to go from the Minors to the big leagues. Just reinforce the program of what we are trying to do."
Steverson, Cooper and Thigpen were joined by general manager Rick Hahn, executive vice president Ken Williams, assistant general manager Buddy Bell and assistant to the general manager Jeremy Haber for the final week of instructional league action. Some of the team's exceptional Minor League staff, led by director of player development Nick Capra, Minor League field coordinator Kirk Champion and assistant director of player development and scouting Del Matthews, had been in Glendale since the Sept. 18 start of instructs.
Spring Training allows the Major League side to get a look at some of the young players, whether it's through non-roster invitees, Cactus League game callups or Minor League side sessions. But the Major League staff being in Arizona for a short time presents a sense of synergy for the players as well as the coaches.
"As much as it's a long season for those Major League guys, I know that Steverson is out here, Coop and Thiggy both being out here, and players feel energy they bring being at the Major League level and coming out and spending some time in instructional league," Champion said. "That helps our players understand that we are all tied together and they get a chance to get an edge. They get a better feel for what some of these guys are and put a face to a name."
"When you are at this level and instructional league is 90 some degrees and you got your big league pitching coach and your big league hitting coach to come out here and say, 'We care about everybody. You are not alone on an island. You won't meet me just when you get to big league camp,'" Steverson said. "Building relationships is part of this game. The more I see, the better I know you and understand who you are going forward in your career."
Major League coaches such as Cooper, Steverson and Thigpen receive in-season reports about countless Minor League individual players. But as Champion pointed out, "they can tighten that up by seeing them in person," with Cooper and Steverson holding meetings with the pitchers and hitters, respectively, during their Arizona stretch.
A pitcher such as David Trexler, selected in the 17th round of the 2014 First-Year Player Draft, or a hitter such as infielder Jake Peter, taken in the seventh round of that same Draft, won't be helping the White Sox in '15. A pitcher such as Frank Montas, working in this year's AFL, could be there sooner than later. Regardless of the respective timetables, getting a direct look, albeit a short one, can help the organization as a whole most accurately lay out players' potential big league paths.
"I want to see [Andrew] Mitchell. I want to see [Brandon] Brennan. I want to see [Braulio] Ortiz. I want to see all those guys. We have a lot of really good arms. I want to get to know them more and put names with the faces," Cooper said. "I want to let them know we are watching everything you do, we care about everything you do. We are watching it from a positive eye, not a negative eye.
"Listen, I don't have that answer yet with these guys down here. They have just started the process. At some point in time, we are looking for a lot of these guys to put themselves in a position to help us in Chicago.
"What I'm saying is out there, some of you guys might be here the next year or the year after. I don't know who it is," Cooper said. "But you'll show us who is ready to handle that job description by what you do. That's what the Minor Leagues are about -- develop and get ready, and be as prepared as you can be when you enter the doors in Chicago."
Scott Merkin is a reporter for MLB.com. Read his blog, Merk's Works, and follow him on Twitter @scottmerkin. This story was not subject to the approval of Major League Baseball or its clubs.