MLB.com Columnist
Bill Ladson
Williams talks NLDS decisions, Nats' season in Q&A
Washington manager explains reasons behind pitching changes in playoffs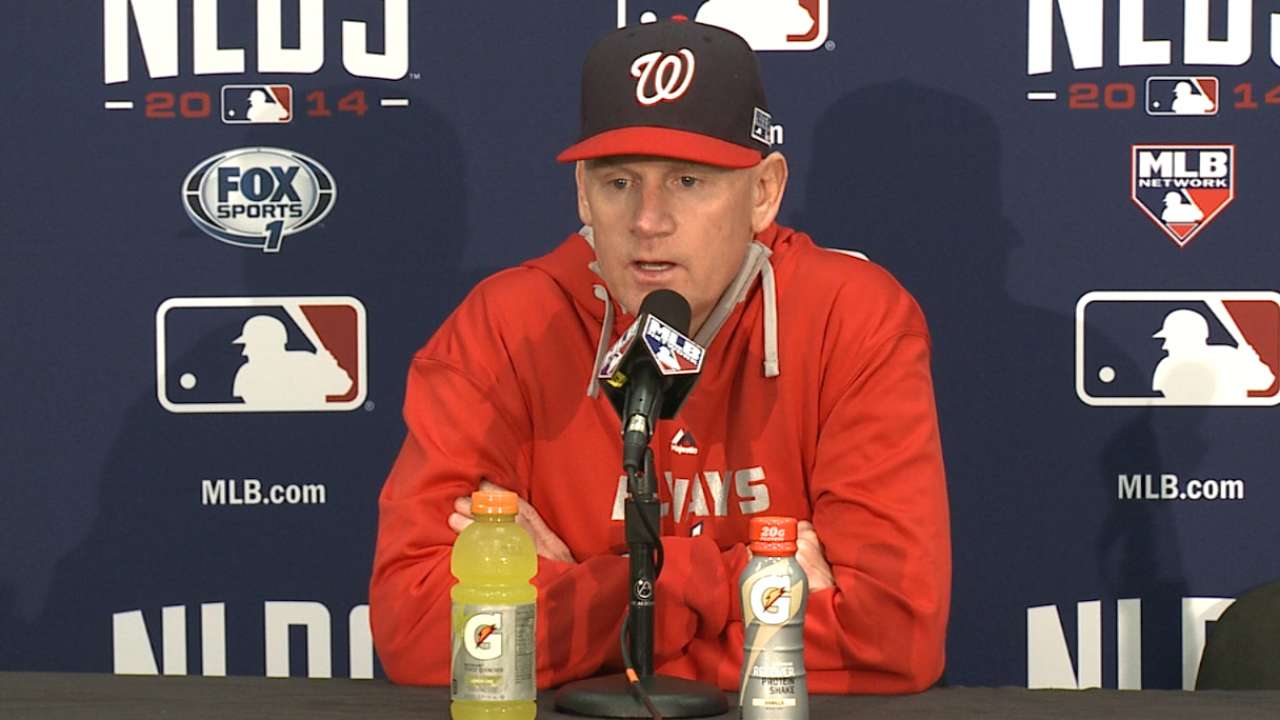 The Nationals had a great year under first-year manager Matt Williams, going 96-66. However, they fell to the Giants in the National League Division Series.
MLB.com caught up with Matt Williams recently to talk about the 2014 season, including the moves he made during the NLDS that had people scratching their heads.
MLB.com: How are you doing since the postseason ended for the Nationals?
Matt Williams: I'm doing well. I think everybody that I've spoken to regarding the team is doing well, reflecting on the year and talking about how special it was. It was also disappointing at the same time. I've been watching a little bit of the playoffs, spending time with the family, which is good because we don't get a chance to do it that much during the season. It's been good.
MLB.com: What did you learn about the season -- good and bad?
Williams: I think we had some special things happen. I look at Denard [Span's] season, which was really special. It's not often that you get the franchise record in hits. I look at Anthony [Rendon's] season, and that was a major step forward for him. I love how our pitching staff went about it this year and the work Cat [pitching coach Steve McCatty] did with them. That was special. That doesn't happen all the time, either.
Overall, I look at how the team decide to go about doing it. The first week of Spring Training, we talked about what our strengths and weaknesses were and how we wanted to play the game. They fulfilled all of that. I look back on things and say we accomplished the goals that we set from spring with regards to how we went about it every day.
MLB.com: Anything you would take back?
Williams: I wouldn't think so. I don't look at anything during the season I would take back. You make decisions, sometimes they work, sometimes they don't. I don't take it back. We try to do the best job every single day to help us win. We did a lot of that this year. Those are the things I look at. We had a great season. But it was not fulfilling by any stretch, because we didn't get to where we wanted get to. It was a great season nonetheless.
MLB.com: The offense was consistent during the regular season. Were you shocked that it died during the postseason?
Williams: It happens. … It's magnified because it's a short series. I don't think it was the [four-day] layoff. We did everything we could to stay as sharp as we could. We played a game and we worked every day. We did everything that we normally do on an everyday basis. It's not like we took four days off and did nothing. We made sure we got into the ballpark and did everything we needed to do -- taking infield to pitcher's PFPs to bunt plays to actually playing a real game. We did everything we could do. It just didn't happen in the postseason. So to put a finger on it, to say why or how or any of that, you just can't. You just don't know. That's the way baseball goes sometimes.
MLB.com: During postseason, you took a beating from the media for some of the decisions you made in the National League Division Series. Do you have any regrets? Is there anything you would do over again?
Williams: No. I'm assuming you are talking about the pitching decisions.
MLB.com: Correct.
Williams: If you look at the Zim [Jordan Zimmermann] game in Game 2, there are many reasons that goes into the decision. Some are documented, some aren't. But it's not without thought. If it doesn't work, people are going to have questions about it. Can I take it back? No. Do I want to take it back? No. There was thought behind it. There was a reason for it, but it didn't work. I don't know how to think about it other than: Would I do it again? I would. If it goes the other way, there is nothing written about it. If Drew Storen gets Buster Posey out, nothing is written. But it didn't happen that way. That's why it's written. Taking a beating for it or having it written about, it's part of the job. I understand that. To think about it at this point, I'm not doing it. I'm looking forward to next year and seeing if we could make another run at this thing.
MLB.com: In Game 4 of the NLDS, a lot of people thought you should have brought in Tyler Clippard and Drew Storen instead of Matt Thornton and Aaron Barrett. Were you surprised people questioned your decision?
Williams: Again, it doesn't go the way you want it to go, then people question it. I feel for Aaron. He had a full count to [Hunter] Pence, and if he makes one pitch right there ... he can get you through that inning. It didn't happen. He ended up walking him. Of course the wild pitch happened, and that's the game. I feel for him, because he did a fantastic job for us. All year long, he was a guy we would bring in to face [Giancarlo] Stanton, [Justin] Upton, or the heavy right-handed hitters in a lineup. I'm not going to put guys in bad situations, but that is a spot he is used to doing this year.
Furthermore, if I bring in Clippard and Storen in those two innings, we are not into the ninth inning yet. It's written because it didn't work. You have to look no further than the stat sheet to find out why I do what I do. It didn't happen for us. That's all. If it happened and the offense was a little bit better, who knows? I can't worry about it now. All I can do is say: Let's move forward. We have to move forward now and start building this team for next year. Let's see if we can do this again.
MLB.com: What improvements would you like to see for next year?
Williams: I think we could play a little better defense. We started off rough. That kind of put us in a hole to start with -- defensively. We can start of a little bit better than that. I think given his postseason, I think Bryce [Harper] is at the point now where he is ready to take that next step. He had a great postseason. I think that will give him loads of confidence. Certainly, he is going to be healthy and ready to go on Opening Day. During the postseason, we really didn't have Zim [Ryan Zimmerman] fully. So, he'll help.
Improvements, I think we can improve in all aspects of the game. I think we can be more efficient defensively and not give away as many runs. There were times we were really good defensively and times when we weren't. We need to be more consistent in that regard.
Geez, we were the best team going from first to third, and we want to continue that. We didn't lead the league in stolen bases, but our percentage was phenomenal. We will continue to concentrate on that. The pitching is great. I think we can work hard to be as consistent as possible with guys in scoring position. That's important. There is always room for improvement. There are always things we could do better. We'll concentrate on all those things to get there.
Bill Ladson is a reporter for MLB.com and writes an MLBlog, All Nats All the time. He can also be found on Twitter @WashingNats. This story was not subject to the approval of Major League Baseball or its clubs.