Grace joins coaching staff; Sherlock moves to bench
Former Major League player, broadcaster hired to assist Ward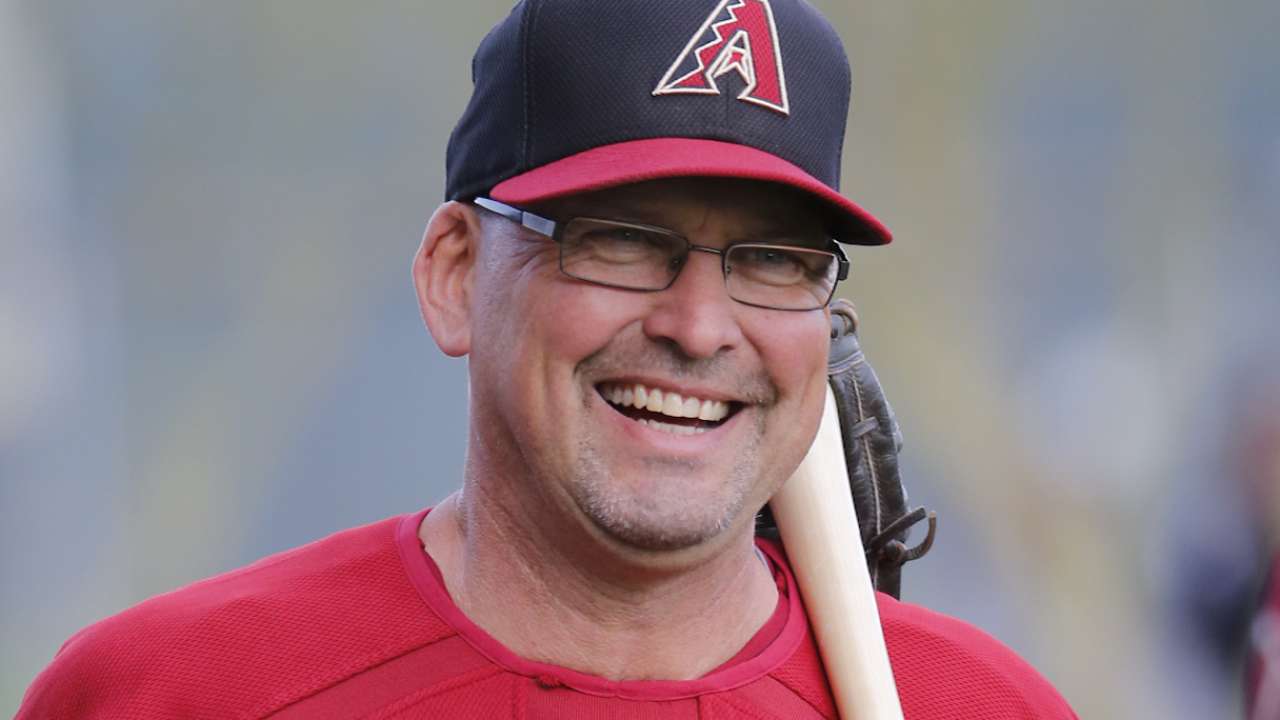 PHOENIX -- Former Major Leaguer and broadcaster Mark Grace joined the D-backs on Thursday to be assistant hitting coach, while Glenn Sherlock was moved from third-base to bench coach and Andy Green was named third-base coach.
In addition, Mike Harkey (pitching), Dave McKay (first base), Mel Stottlemyre Jr. (bullpen) and Turner Ward (hitting) will return to the coaching positions they held this past season, and Henry Blanco was reassigned from assistant hitting coach to bullpen catcher.
Blanco will be also be responsible for coaching the team's catchers, Grace the first basemen, Green the infielders and McKay the outfielders along with all baserunning instruction.
New D-backs manager Chip Hale said deciding on the staff was a collaborative effort with the front office.

"We all sat, we came up with a lot of different names and scenarios," Hale said. "What we needed. My biggest deal was I wanted all the boxes checked -- I wanted a guy to handle the infield, a guy to handle outfield, baserunning, catching. All those different aspects."
Sherlock shifts to replace Alan Trammell, who was dismissed with manager Kirk Gibson. Sherlock has been a member of the coaching staff since the team's 1998 inaugural season, and before that, he worked for two years in the team's Minor League system.
"Part of the reason we selected Glenn to be the bench coach is his familiarity with me on a personal level and also his familiarity with the division and the league," Hale said. "I'm excited and going to lean on him a lot. Some people thought we were going to bring an ex-manager in, but we felt the knowledge of the league was more important with that. So I'm really comfortable with the selection."
By pairing Grace with Ward and putting Sherlock in the dugout, Hale believes he's also balancing out personalities.

Whereas Grace is more outgoing, Ward is more reserved and intense. Hale is known for his intensity, while Sherlock for his calm demeanor. Grace and Ward worked together this past spring and seemed to mesh well.

"All these guys complement each other in different ways but even more importantly, once again, for our clubhouse and the way that our team is made up you have to have different personalities to draw from," D-backs GM Dave Stewart said. "Chip can be a little intense and into the game, and you've got Grace, who can be a little more lighthearted, a prankster and a jokester, you've got different balances and different type of personalities. But more importantly, all of the guys that are now a part of our coaching staff will have a good rapport and get different things from the kids that are in the clubhouse."
Grace played for the Cubs for 13 years and compiled more hits than any player in the Major Leagues during the 1990s. Signed as a free agent following the 2000 season by the D-backs, Grace played for three seasons in Arizona, winning the World Series in 2001.
Following his retirement, Grace joined the club's broadcast team as the lead analyst, a role he filled until 2012.
Grace was the hitting coach for the D-backs' Arizona League rookie team in 2013 and would have been their assistant hitting coach in 2014 had Blanco made the roster. But when Tuffy Gosewisch made the team as backup catcher, Blanco became the assistant hitting coach, and Grace was assigned to be the hitting coach for the D-backs' Northwest League team, the Hillsboro Hops.
The organization is convinced that Grace has put his off-field issues behind him.

"Very confident," Hale said. "And the organization was. He's done everything he needed to. Everybody, you know, we make mistakes. We've given him a second shot here and he's taken it and ran with it. He worked his tail off in the Minor Leagues. It's not easy, especially for a guy who has done things like he has. And obviously being an announcer like he was and traveling like he was and now you're riding buses again. He didn't have to do that. He did. He wants this. I can tell you from talking on the phone with him, he's as excited as anybody is. He's ready to get this thing turned this around -- he wants the Diamondbacks to be successful. We're going to draw on him a lot this year."
Steve Gilbert is a reporter for MLB.com. Read his blog, Inside the D-backs, and follow him on Twitter @SteveGilbertMLB. This story was not subject to the approval of Major League Baseball or its clubs.