MLB.com Columnist
Jonathan Mayo
Pipeline Perspectives: Big ceiling for Tigers' Moya
Head to head with fellow outfielder Judge, prospect has more raw power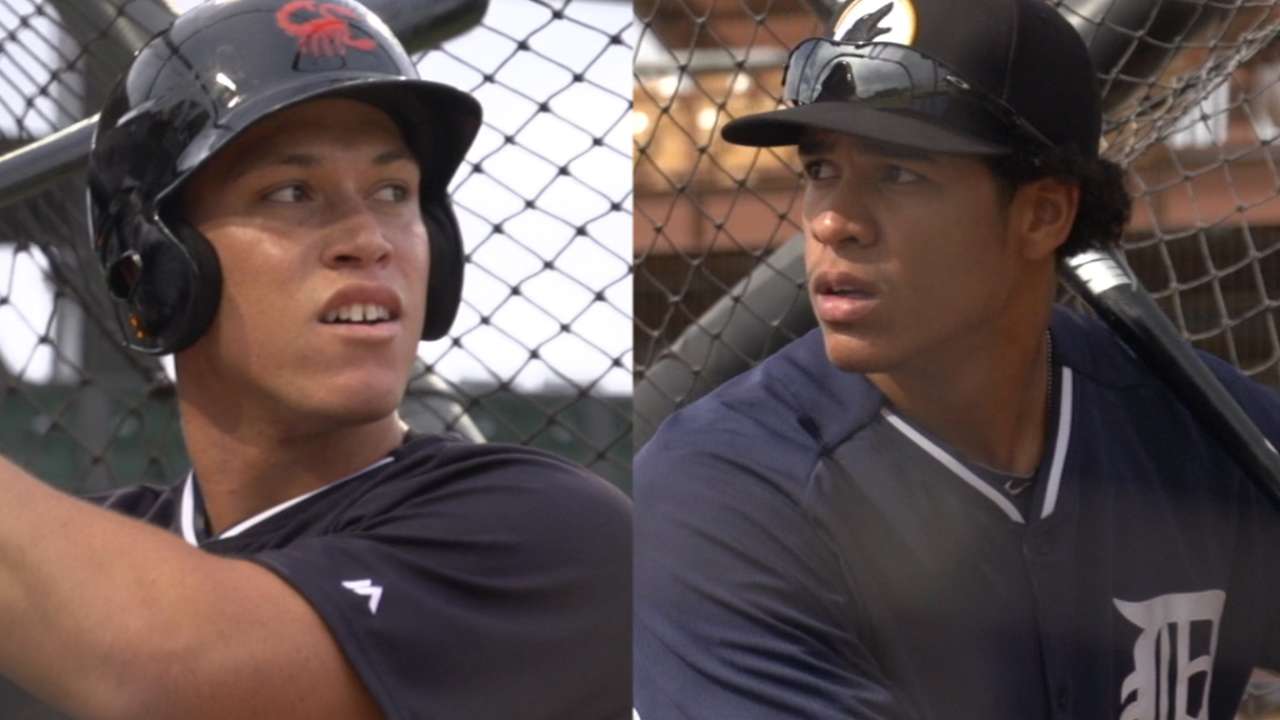 There's a good amount of subjectivity regarding baseball prospects. With the evaluation of talent being in the eye of the beholder, finding consensus is often difficult. Even Jim Callis and Jonathan Mayo of MLBPipeline.com don't always see eye to eye. They discuss their viewpoints regularly in a feature called Pipeline Perspectives. Submit a topic for them to debate.
We're into the second week of Arizona Fall League action, so the sample sizes are slowly starting to grow. I was lucky enough to be out in the desert for the season's opening week and got to see some big AFL debuts.
Speaking of big -- and of weak segues -- that's what Jim Callis and I are discussing in this week's Pipeline Perspectives. We wanted to keep things AFL-focused, as we have the previous two weeks. So we're having a giant prospect showdown.
And when we say giant, we mean it. This week's debate: Which big outfielder in the AFL, Aaron Judge of the Yankees or Steven Moya of the Tigers, do you prefer? Jim is in Judge's corner while I'm advocating for Moya.
This clearly isn't a "long and short of it" debate. Both are gigantic young men, with the 6-foot-6 Moya edged slighty by the 6-foot-7 Judge. Really, this is about high ceiling vs. high floor.
In no way am I questioning Judge's stock as a prospect. I like the former first-round pick quite a bit and think he'll be big leaguer. But Moya's raw power, albeit risky, is just too much for me to walk away from.
This isn't just batting practice power, though Moya is the type of player others stop what they're doing just to watch him take batting practice. His 2014 breakout season showed the power plays in games and at the upper levels of the Minors. Moya's 35 home runs were good for fourth in all of the Minor Leagues, trailing only Kris Bryant, Joey Gallo and Matt Olson, the last of whom is also in the AFL this season. Moya's 105 RBIs were fifth overall and he also led the Double-A Eastern League with his .555 slugging percentage. The Puerto Rican born outfielder was rewarded with a callup to the big leagues, where he went 3-for-8 in his September debut.
Moya is far from perfect, and I'm sure that's what Jim is going to point out. In 2014, he struck out 161 times and only drew 23 walks. A 7-to-1 strikeout-to-walk ratio isn't going to cut it long term at the Major League level. I get that. But so does Moya, who said that is something he's particularly trying to work on in the AFL.
Working on and improving plate discipline and pitch selection can be two different things and there's no doubt Moya has a ways to go in order to hit enough to tap into that prodigious raw power consistently in the future. But you have to keep in mind he's a little behind developmentally because of injuries. Moya had Tommy John surgery in the summer of 2012, so he played in just 59 games that season and only 93 in '13. He's still plenty young, having turned 23 in August. According to baseball-reference, he was 2.7 years younger than the average position player in the Eastern League.
I like Moya enough that I don't feel the need to disparage Judge at all. Judge had a solid first full season of pro ball, although he was 22 for the season and didn't make it out of A ball (I don't blame him for that, but I don't quite understand why the Yankees didn't start him in Tampa and get him to Double-A). He was 0.5 years above the league average in the South Atlantic League and just 0.6 years younger in the Florida State League.
Judge wins the plate discipline contest. He drew 89 walks for a .419 on-base percentage, which helped offset his K rate (25.3 in the FSL). Moya's strikeout rate was 29.3, higher, but not as alarmingly higher as perhaps you thought. Overall, the numbers look like this:
Judge: .308/.419/.486, 17 HR, 1 SB
Moya: .276/.306/.555, 35 HR, 16 SB
Judge hit .283/.411/.482 once he got promoted. Again, I think Judge is going to hit. And he's going to have some power. His floor is pretty high, meaning he's more likely to reach his potential than Moya.
But there's more ceiling to Moya. It's tougher to reach, even at his height, but if he can get there, he has the chance to make 35 homers an annual norm. Judge might be the safer bet. But you know what they say about betting on the longer odds. The payoff can be so much more substantial.
Jonathan Mayo is a reporter for MLBPipeline.com and writes a blog, B3. Follow @JonathanMayoB3 on Twitter. This story was not subject to the approval of Major League Baseball or its clubs.