MLB.com Columnist
Jim Callis
Pipeline Perspectives: Judge is best of the big men in AFL
Yanks' prospect didn't have monster season of Tigers' Moya, but future is brighter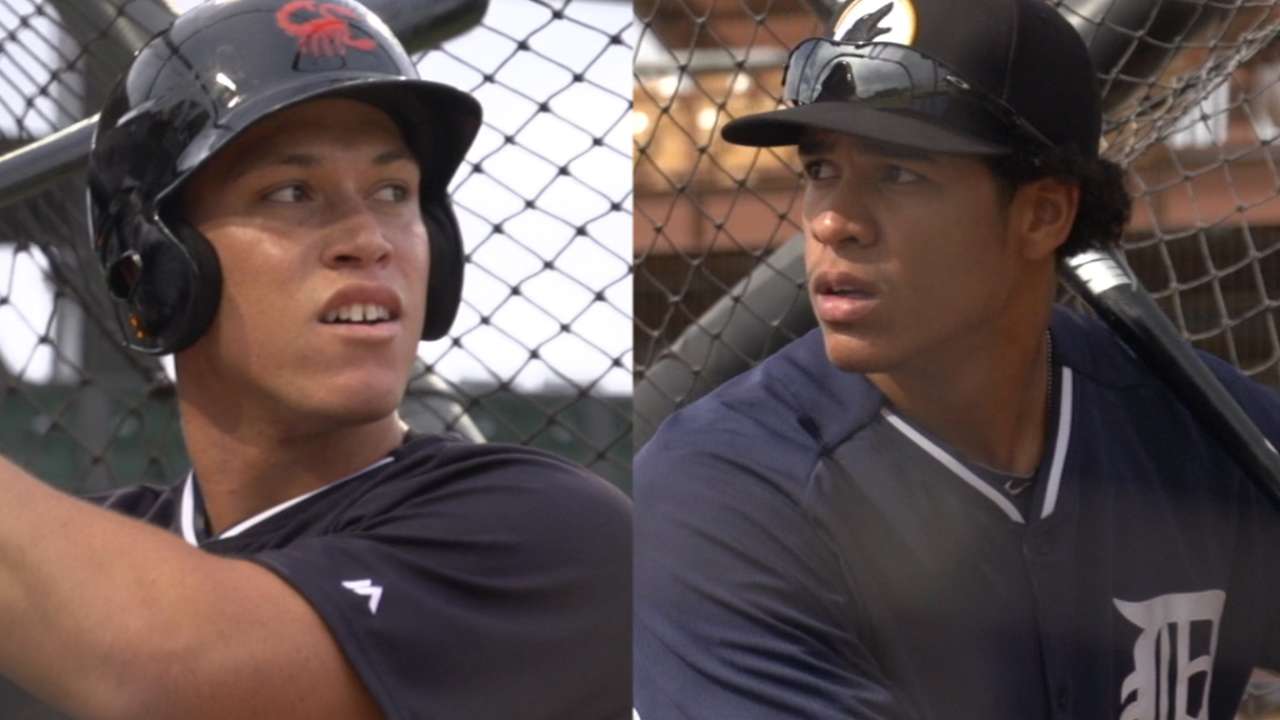 There's a good amount of subjectivity regarding baseball prospects. With the evaluation of talent being in the eye of the beholder, finding consensus is often difficult. Even Jim Callis and Jonathan Mayo of MLBPipeline.com don't always see eye to eye. They discuss their viewpoints regularly in a feature called Pipeline Perspectives. Submit a topic for them to debate.
Several of the biggest prospects in baseball are honing their tools in the Arizona Fall League. Twins outfielder Byron Buxton, No. 1 on the MLBPipeline.com Top 100 Prospects list, is on the Salt River Rafters, as is D-backs right-hander Archie Bradley (No. 9). Indians shortstop Francisco Lindor (No. 4) is playing for the Peoria Javelinas, while Addison Russell (No. 5) is back with the Mesa Solar Sox for a second straight autumn.
And some of the biggest prospects in baseball are in the AFL, too. The two most physically imposing players in the AFL are 6-foot-7, 230-pound Aaron Judge of the Yankees and Scottsdale Scorpions, and 6-foot-6, 230-pound Steven Moya of the Tigers and Glendale Desert Dogs. Their similarities extend beyond their builds to their positon (outfield) and toolsets -- which make them good fodder for our latest Perspective.
Jonathan Mayo prefers Moya as a prospect because he believes Moya has more raw power and a higher ceiling. I like Judge more, because I think he'll have more usable power and see him as having a better ceiling and floor. Both players run well for their size, have strong arms and are capable right fielders, but ultimately how they produce at the plate will determine most of their worth.
Coming out of Linden (Calif.) High in 2010, Judge drew more interest from college programs as a tight end in football than he did in baseball, though the Athletics did draft him in the 31st round. Scouts really began to take note of Judge when he ranked as the top prospect in the summer Alaska League following his freshman season at Fresno State. As a sophomore, he hit two homers in one game off Stanford's Mark Appel (who would become the No. 1 overall pick in the 2012 First-Year Player Draft), won the TD Ameritrade College Home Run Derby and starred in the Cape Cod League.
When Judge slammed 12 homers as a junior in 2012 after totaling six long balls in his first two college seasons, he cemented himself as one of the top prospects available in the 2013 First-Year Player Draft. One of three Yankees first-rounders that June, he went 32nd overall and signed for $1.8 million.
Judge missed his first pro summer with a tear in his right quadriceps, but his 2014 debut was worth the wait. Splitting his time between two Class A clubs, he batted .308/.419/.486 with 17 homers. Though he struck out 131 times in 131 games, he showed good patience at the plate by walking 89 times.
Despite his size, Judge doesn't have an excessively long swing, which bodes well for his ability to hit for average at higher levels. At the same time, his impressive strength and leverage give him huge power upside from the right side of the plate. He's content to drive balls from gap to gap for now, and he could really do a lot of damage if he starts to turn on pitches on the inner half more consistently.
Moya had an even better 2014 than Judge, winning Eastern League MVP Award honors while leading the Double-A circuit in homers (35), RBIs (105), extra-base hits (71), total bases (286) and slugging (.555). Yet the left-handed hitter showed little grasp of the strike zone, topping the EL with 161 whiffs while walking just 23 times.
Moya's breakout season was out of character considering how he performed during his first six years in pro ball, when he hit a combined .241/.290/.400. But his lack of strike-zone discipline this year was even worse than the 414/80 strikeout-to-walk ratio he compiled before 2014. It's a red flag that creates concern about how he'll fare against more advanced pitchers who can do a better job exploiting his extreme aggressiveness.
The other worry with Moya is his ability to stay on the diamond. This was the first time in his four years in full-season ball that he managed to play more than 93 games. He missed time in 2011 with hamstring problems, in '12 with an elbow injury that required Tommy John surgery, and in '13 with a sprained shoulder.
Moya entered pro ball five years before Judge, yet they have had the same number of healthy and productive full seasons: one. Judge is a much more sound hitter, which makes him a better bet to tap into his power and produce as a big league regular.
Jim Callis is a reporter for MLB.com and writes a blog, Callis' Corner. Follow @jimcallisMLB on Twitter. This story was not subject to the approval of Major League Baseball or its clubs.