Diminishing power not just an Indians issue
Club seeking deep, productive lineup with home runs down across Majors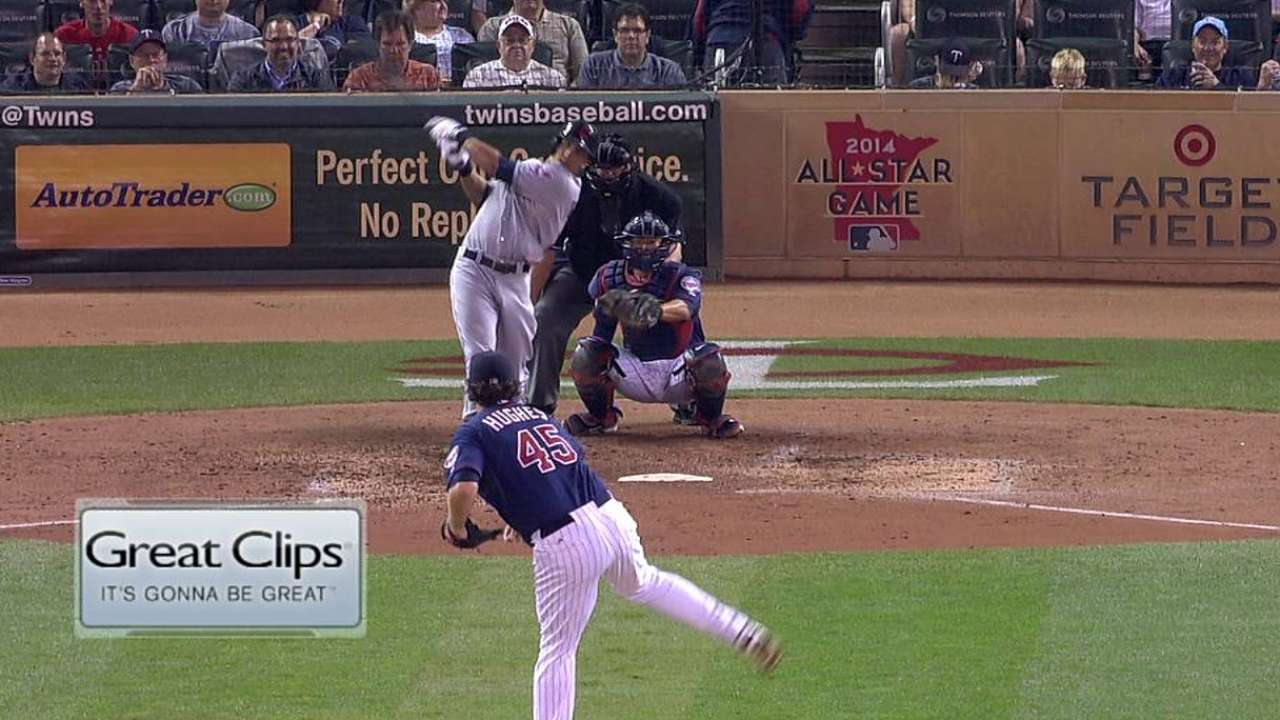 CLEVELAND -- There has been a noticeable lack of thump in the heart of the Indians' lineup over the past several seasons. There have been fewer balls sent sailing to the Home Run Porch down the left-field line or clanking off the bleacher seats at Progressive Field.
When Cleveland's offense went stagnant in the second half this year, the annual cries for an impact bat to beef up the middle of the order became louder. It sounds so simple: go get a big bat, watch the power numbers soar and climb the standings. The only problem is that obtaining power is a growing problem throughout baseball.
"It's not just the Indians. It's league-wide right now," manager Terry Francona said at the end of the regular season. "Teams are trying to figure out the adjustments that need to be made, because the power is down, but the strikeouts aren't. So, how you move forward is going to be really interesting."
There is no denying that the Indians' offense went too quiet down the stretch, hurting the team's chances to remain in the postseason hunt. There is also no getting around the fact that Cleveland did not make a serious run at slugger Nelson Cruz last winter and the club lost out on the international market in recent years in the bidding wars Jose Abreu and Yoenis Cespedes.
This offseason, Cruz, Victor Martinez and Cuban outfield prospect Yasmany Tomas project as three of the top power bats on the open market.
It is fair to point out that Cleveland had Carlos Santana (27 home runs), Yan Gomes (21) and Michael Brantley (20) -- each originally acquired via trade -- reach at least 20 long balls apiece in the 2014 season. That was tied for the second-most players on a team to have 20 or more homers in the Majors last year. The Indians were tied with the Orioles, Tigers and Nationals for the most players (three) with at least 20 homers and 70 RBIs.
What that shows is that the Indians' top three power threats were among the best trios in all of baseball this past year. Given that those three players are under control through at least 2016, and potentially longer in all three cases, Cleveland is more focused on improving the lineup as a whole. The way the Indians see things, one bat is unlikely to make a dramatic difference under baseball's current circumstances.
"Even in high-run scoring environments," Indians general manager Chris Antonetti said, "you're looking for a long, deep lineup that you get a lot of guys that are capable of [solid run production]. What we've tried to do is, we want to have as deep a lineup as possible that's capable of scoring as many runs.
"When the run-scoring environment drops, then how you run the bases, how you play defense, the importance of doing the little things right, probably gets more magnified."
Here is the reality of the Major League offensive landscape:
• Including Santana, there were only 18 players in baseball this season to have at least 27 home runs. Only 11 players in the Majors reached at least 30 long balls. The latter figure marks the fewest players to hit 30 or more homers in a non-strike season since 1992, when only 10 accomplished the feat.
• There were 27 players with at least 25 home runs and 57 with at least 20 home runs in the Major Leagues in 2014. Both figures also represent the fewest in a non-strike season since 1992, when there were 20 batters with 25 or more homers and 37 with 20 or more homers.
• Overall, Major League teams combined for 19,761 runs and a .386 slugging percentage. Once again, each of those figures mark the lowest total in baseball in a non-strike season since 1992, when 17,341 runs were scored and teams combined for a .377 slugging percentage.
Considering that environment, having a player such as Brantley is valuable for Cleveland. Beyond his 20 home runs, he churned out 45 doubles, hit for a high average (.327), featured speed (23-for-24 in stolen-base attempts) and ended the year with 200 hits. That kind of versatile offensive player is ideal for the Indians, who hope to feature a balanced and versatile lineup from top to bottom.
Take the 2013 season, for example. The Indians had just one hitter (Nick Swisher) reach at least 20 home runs, but the team led the Majors with 10 players having at least 10 home runs (one player shy of tying a Major League record). That balance of power helped push the Indians to fifth in the American League and sixth overall in the Majors in runs scored.
This past season, the Indians were roughly league average in runs scored (669), home runs (142), on-base percentage (.317), slugging percentage (.389) and OPS (.706). Much of that can be attributed to players such as Michael Bourn, Jason Kipnis, David Murphy, Ryan Raburn and Swisher enduring injury-marred, inconsistent seasons.
The Indians are counting on strong comeback campaigns from that group in 2015. Beyond trying to strike that offensive balance, the Indians also hope to continue to feature the kind of strong pitching that helped keep them afloat in the playoff race deep into September. Francona made it sound as though strengthening the pitching staff this winter is a higher priority than landing a big bat.
"I think that's the easy [answer]. It's, 'Hey, go get a power bat.' OK," Francona said. "What we're really trying to do is see how many runs our pitching staff we think is going to give up and how many runs we're going to score offensively, and then where does that fit moving forward? Do we think that makes us a team that can contend?
"I can tell you from personal experience, I'd rather win 3-1 than 8-7, because it's a hard way to win consistently."
Jordan Bastian is a reporter for MLB.com. Read his blog, Major League Bastian, and follow him on Twitter @MLBastian. This story was not subject to the approval of Major League Baseball or its clubs.