MLB.com Columnist
Billy Bean
Spirit Day signifies changing culture
MLB shows support for LGBT youth, takes stand against bullying with campaign started by teen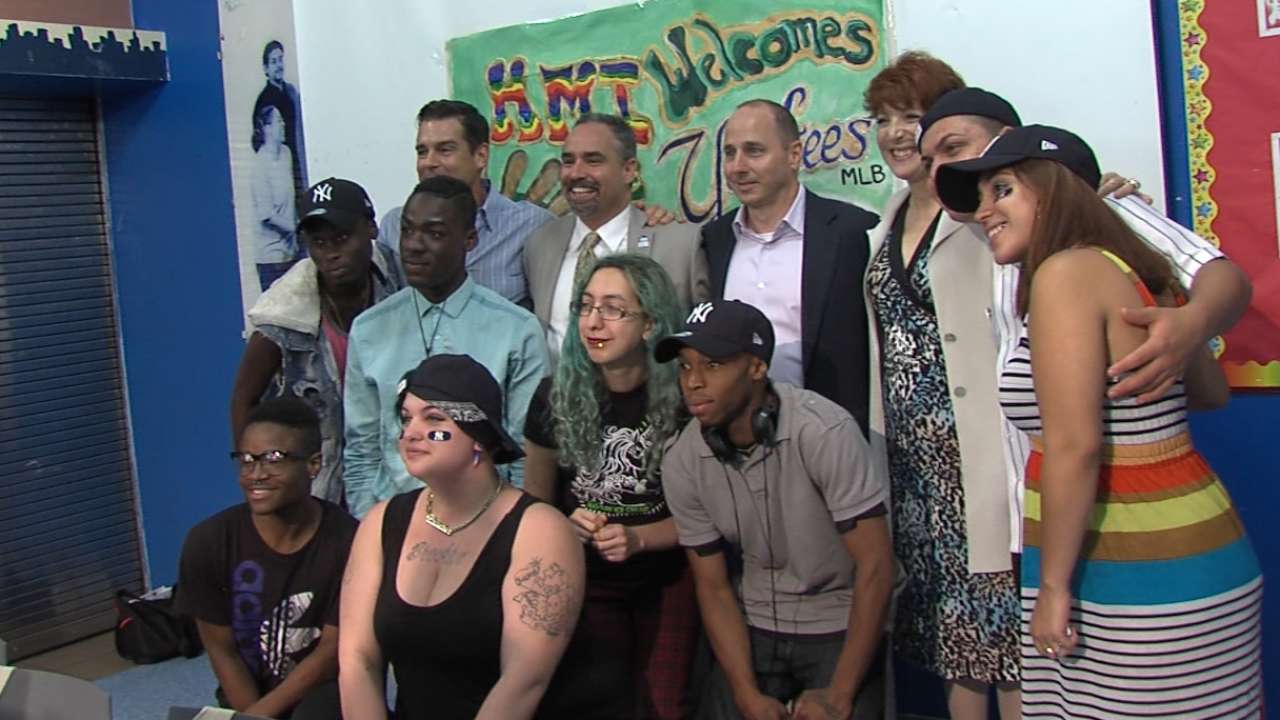 Today is Spirit Day. It originated four years ago by a frustrated 15-year old student named Brittany McMillan. It doesn't seem possible, but very few people were talking about bullying in 2010. In September of that year, after reading of multiple teenage suicides over the course of one week, Brittany decided she'd had enough.
From her laptop computer she urged her friends and family to wear purple to try and bring attention to some heartbreaking losses of lesbian, gay, bisexual and transgender (LGBT) youth. These victims of bullying, from every demographic, felt suicide was a better alternative than asking for help. With a huge assist from GLAAD (Gay & Lesbian Alliance Against Defamation), on Oct. 20, 2010, Spirit Day was unveiled. It was at that same time that Dan Savage created the first "It Gets Better" video which resulted in the It Gets Better Project.
It's been exactly three months since I returned to baseball, and over the course of those 90 days, I have been on the move. With each conversation, each meeting, my MLB colleagues and I are seeing how important and timely our message of inclusion has become. Our clubs realize their responsibility to educate their players, but also to empower them with knowledge that will make them great leaders on and off the field.
Today you will see many big leaguers putting their name and support behind the anti-bullying message of Spirit Day. Our players can stand up for every kid who has been afraid to walk home from school, play at recess, and most certainly, the paralyzing fear of telling someone about the abuse. Today's message may even find its way into the mind of a bully who uses violence as a cry for help, or simply imitating behavior they learned at home. It's amazing how a few words can alter the direction of a child, and maybe keep them out of harm's way.
Spirit Day participation is a victory for all of us, but I know that everyone is still not ready to jump on board, and it's my job to find a way to make that happen. I can't help but think about when I was playing. As a man struggling in the closet, seeing baseball supporting this initiative would have been a game changer for me.
I'm proud to say this is MLB's third year of support for Spirit Day. It's October and the postseason brings so much excitement. The Royals are making a historic run with their eight straight playoff wins, and while the Giants and Cardinals are still battling to see who will join them in the World Series, I love that every one of us can make history today ... just by wearing a purple shirt.
Billy Bean is the ambassador for inclusion for Major League Baseball. This story was not subject to the approval of Major League Baseball or its clubs.