MLB shows LGBT support, takes stand vs. bullying on Spirit Day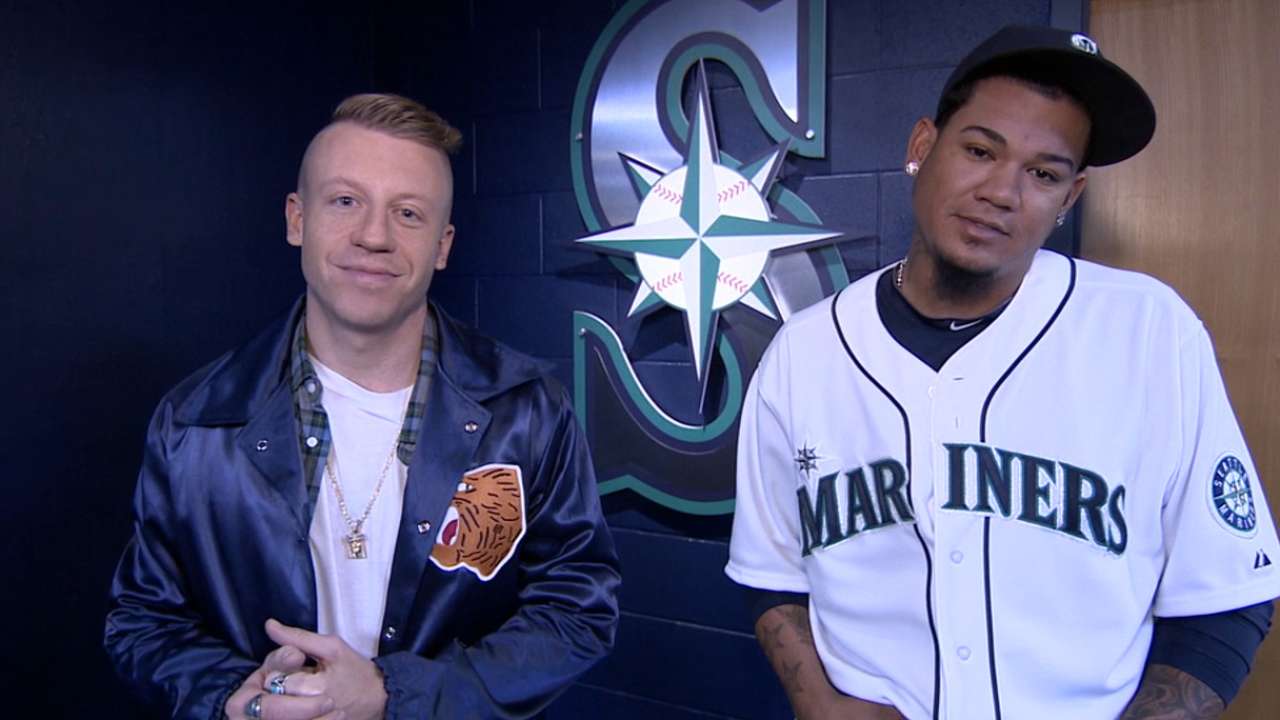 At the start of the season, Mariners ace Felix Hernandez met with a large group of kids from the Seattle area and talked to them about individual pride.
"Not everyone likes the way I dress," Hernandez said. "And I don't look like other people."
Today is Spirit Day, when you see the color purple everywhere and Major League Baseball and its 30 clubs join in a united stand against bullying and show support for lesbian, gay, bisexual and transgender youth.
King Felix's message to those kids echoes loudly all these months later.
"Everyone deserves to be respected," he said. "Everyone deserves to be safe at school. If they want to be themselves, let them be themselves."
That's what Spirit Day is all about.
It was started in 2010 by a high school student looking for a way to show support for LGBT youth and take a stand against bullying. With help from GLAAD (Gay and Lesbian Alliance Against Defamation), millions of teachers, workplaces, media personalities and students wore purple, a color that symbolizes spirit on the rainbow flag. Spirit Day now occurs every third Thursday in October.
That's right in the heart of MLB crunch time, as you might have noticed, and once again it means the national pastime can help use a powerful stage to show its support.
You will see it tonight at Game 5 of the National League Championship Series between the Cardinals and Giants at AT&T Park (8 p.m. ET, FOX), where a sellout crowd will be prompted on the scoreboard and by a public-address announcement to learn more about the day's meaning and how to be involved.
You will see the purple hue in baseball via the profile pictures of @MLB and all official team Twitter accounts, and you will see it on official MLB Facebook and Instagram pages. #Postseason and #SpiritDay go hand in hand.
This is the third consecutive year that MLB has been involved, but you can sense a deeper involvement than ever as an institution and a resolve that led out basketball player Jason Collins to say this month, "They're really trying to create the change in the culture of baseball."
The signs are becoming more common.
During this year's All-Star Week in Minnesota, Commissioner Bud Selig named former outfielder Billy Bean MLB's first ambassador for inclusion. That announcement came one year after MLB issued a policy prohibiting players from harassing and discriminating against other players based on their sexual orientation.
"Today you will see many big leaguers putting their name and support behind the anti-bullying message of Spirit Day," Bean wrote in a column that appeared on MLB.com. "Our players can stand up for every kid who has been afraid to walk home from school, play at recess, and most certainly, the paralyzing fear of telling someone about the abuse."
On Oct. 3, the great Yogi Berra received one of the first Athlete Ally Action Awards at that organization's annual fundraiser in New York, a testament to his demeanor of accepting all others. Yankees pitcher Brandon McCarthy was in attendance and became the first active Major League player (and 101st overall athlete) to declare themselves an ally to support any LGBT athlete.
"I think it just helps to have people outside of the LGBT community that are willing to say, 'We're partnering with them. We're allies. We want to make a difference, too. We support exactly with what they're doing, and we're in tune with what's being said,'" McCarthy said. "Hopefully, in many years, we'll look back at this and almost be horrified with what took place in these times."
So people around baseball are saying no to exclusion and no to bullying. There are many anti-bullying groups, but all combine for a unified message. MLB clubs are active year-round in the effort to drive that message home. A complete list of Spirit Day celebrity participants, media outlets, TV networks, organizations and corporations is available at glaad.org/spiritday.
"Bullying is widespread," Mets third baseman David Wright said. "It's a serious problem that can happen to anyone at any time at any place."
To Hernandez, it is about supporting each other. Not just on Spirit Day, but "every single day." When he did that public-service announcement with the kids, he did it alongside rapper Macklemore, who also had a pretty powerful message of support.
"Every kid should go through school, should go through life, without having to accumulate those scars," Macklemore said. "We all know what it feels like to be bullied, to be picked on, it feels horrible. No kid should have to endure that. It should be a world of positivity, a community of positivity, where kids can be who they want to be, not be judged, dress how they want to dress, love who they want to love, and just be who they are without anybody else's scrutiny."
Mark Newman is enterprise editor of MLB.com. Read and join other baseball fans on his MLB.com community blog. This story was not subject to the approval of Major League Baseball or its clubs.