Practice makes perfect for Giants' situational hitting
Players scoff at notion of luck, discuss prep work that's paying off in key runs scored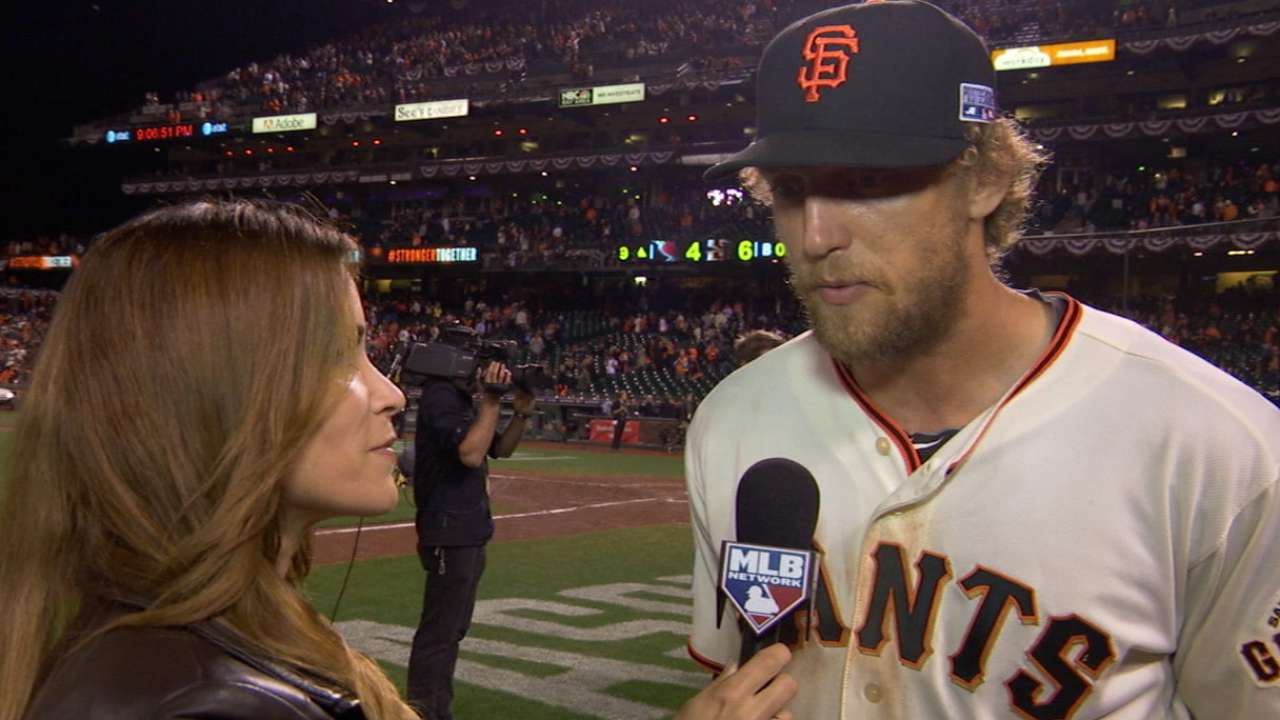 SAN FRANCISCO -- About a month ago, Giants third-base coach Tim Flannery informed Matt Duffy what his role would be down the stretch and during a potential postseason run.
"[Manager Bruce] Bochy told Flan to tell me that I'm the guy who they'll look towards to bunt," Duffy recalled after the Giants' 6-4 victory against the Cardinals in Game 4 of the National League Championship Series on Wednesday night. "The guy that if he needs it, I'm going up there."
So Flannery worked with Duffy on fine-tuning his bunting abilities, two or three times a week, roughly 30 attempts at a time off the pitching machine, with Flannery simulating different in-game situations.
"He says, 'You got first and second, nobody out, bottom of the ninth,'" Duffy said of Flannery's hypotheticals. "'This guy is struggling on the mound, don't let him off the hook. Imagine this place going nuts right now.'"
Fast forward to Wednesday night, with San Francisco trailing, 4-3. There were runners on first and second and nobody out in the bottom of the sixth. Marco Gonzales, the Cards' pitcher, had yet to retire a batter. The AT&T Park crowd was ready to burst.
Duff Time. Just like they'd prepared a month for.
Just like the Giants did so well during World Series runs in 2010 and '12, and have done so well again this postseason, Duffy did the little thing right: Pinch-hitting for Yusmeiro Petit, he placed a successful bunt out in front of home plate to advance the runners.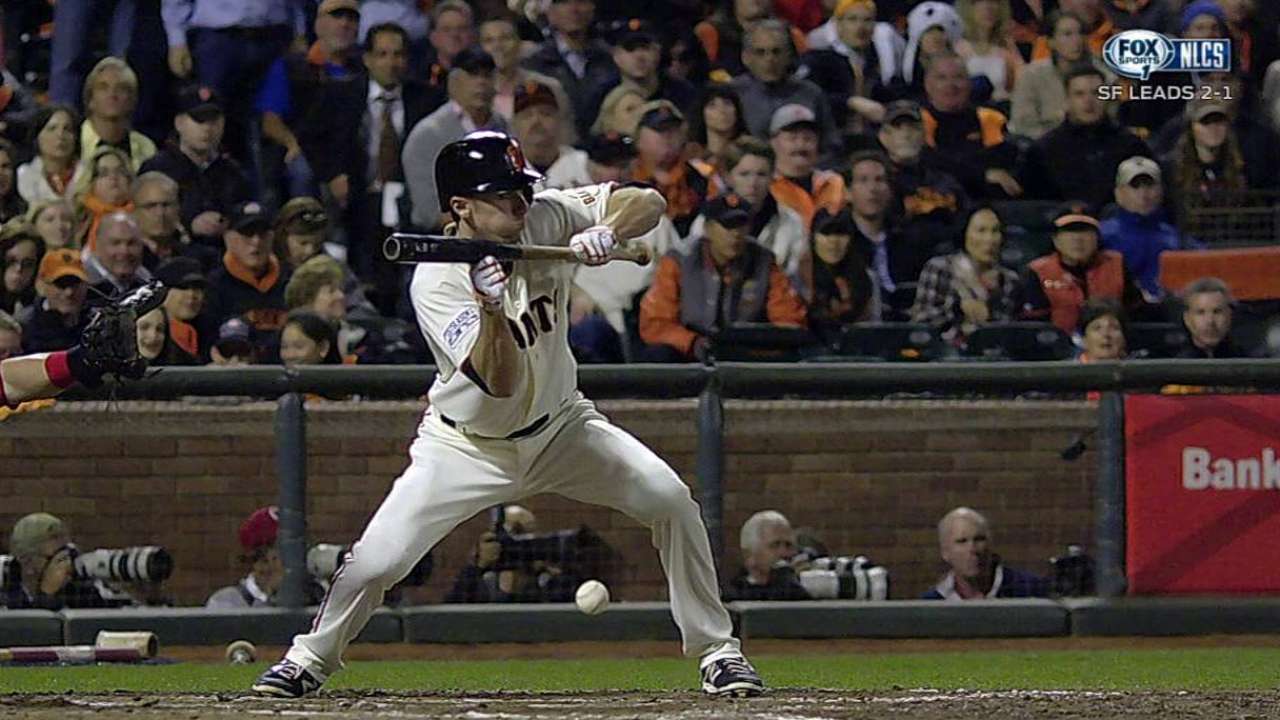 • Video: Duffy advances the runners
San Francisco tied the game one batter later, as Juan Perez got a great jump from third on a Gregor Blanco grounder to first baseman Matt Adams, who double-clutched before firing home. The Giants were doing the little things; the Cardinals were not.
The next batter, Joe Panik, hit a grounder to Adams. After stepping on the bag, Adams threw to second, without first looking Brandon Crawford back to third base. The throw to shortstop Jhonny Peralta was wide left, allowing Blanco to reach second and Crawford to score what proved to be the winning run. The Giants were doing the little things; the Cards were not.
It may be more cliché than sexy, but maybe there's some credence to the importance of the often-scoffed-at "boring" notion of "doing the little things right?"
"When you get runners on base -- and we've been doing that a lot the last two series -- you're going to kind of make your own luck," Panik said. "That's what we take pride in -- getting guys on base. [It] doesn't matter how, but things will eventually bounce your way, and so far they have been."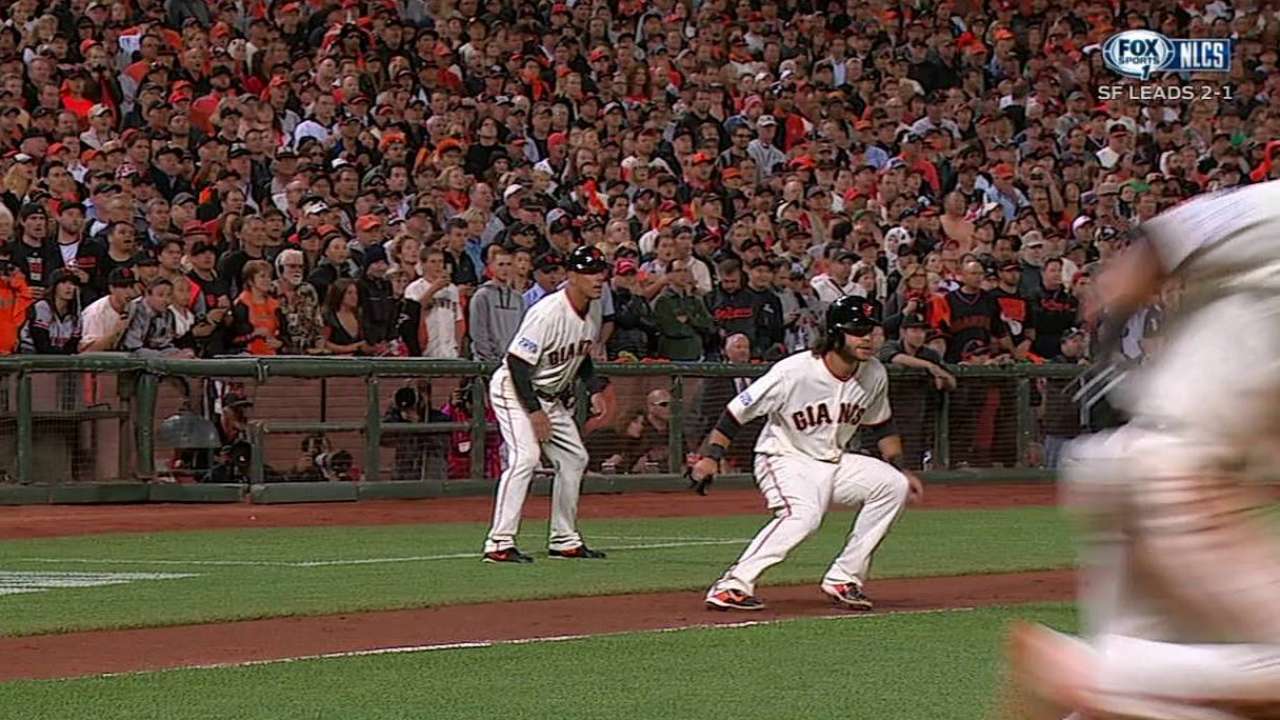 Maybe there's more to the Giants' October successes than just even-year magic?
"We've been doing a lot of the little things right. They kind of go unnoticed; people think we're getting lucky or whatever," Crawford said. "We're putting pressure on teams by doing the little things right -- by running the bases well, by getting bunts down and by playing good defense."
Preparation, though behind the scenes, has played a crucial role in San Francisco's October theater, too. Duffy had anticipated his at-bat in Wednesday night's sixth inning for a month. How Panik's at-bat unfolded two batters later made Crawford laugh while discussing it after the game.
"Flan and I had just talked about it," Crawford. "He said if the ball is hit right at Adams on the bag, to shuffle down and get a read on if he was going to second or home. If he goes home, then get back. If he goes second, then keep going."
Prescient.
The Giants haven't homered in the NLCS and have gone deep just twice in the postseason. They're averaging a ridiculous two runs per game on non-hits in their last six games. They're one win away from their third World Series appearance in five seasons.
"If you're not hitting the long ball, you have to find ways to manufacture runs, and the guys did a great job," Bochy said. "Baserunning has a lot to do with it, not striking out, putting the ball in play. You try to put pressure on the other club, and that's how it happens, by your baserunning and guys doing some little things to get those runs in.
"Granted, we didn't hit the ball hard, but we had some speed out there to find a way to get a run across the board."
Ryan Hood is an associate reporter for MLB.com. Follow him on Twitter @ryanhood19. This story was not subject to the approval of Major League Baseball or its clubs.