MLB.com Columnist
Richard Justice
Giants beating Cardinals at their own game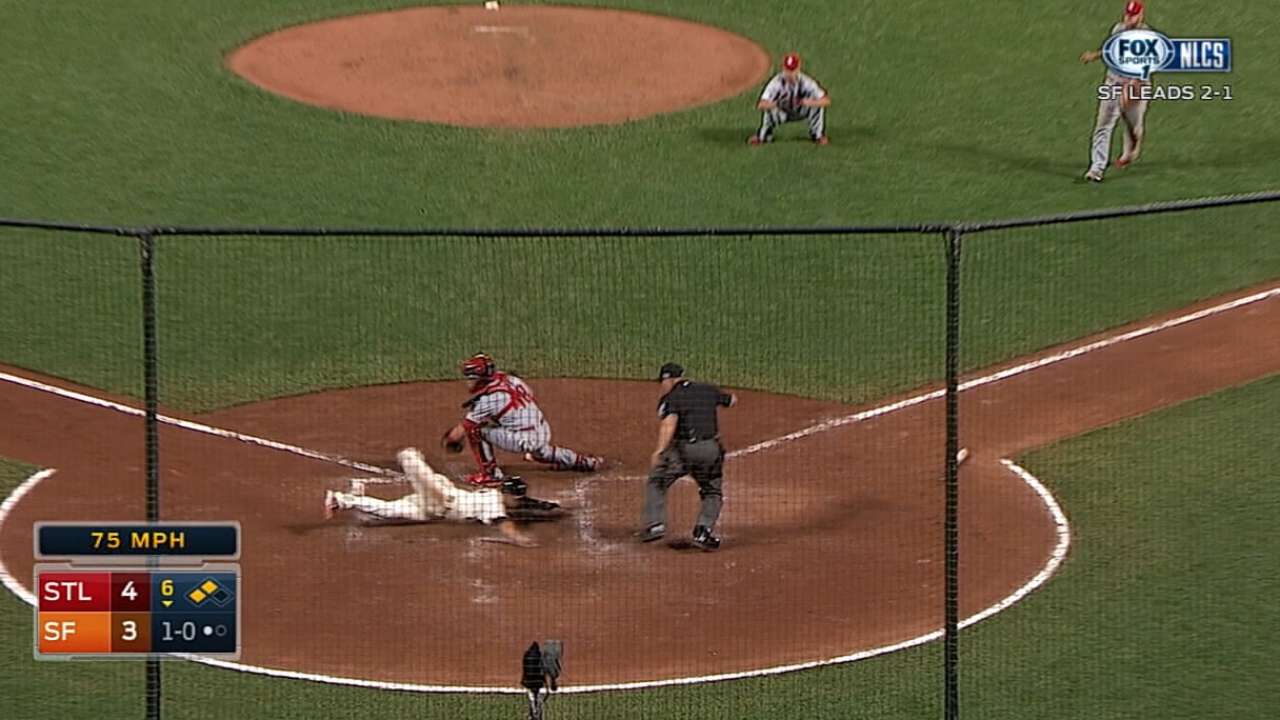 SAN FRANCISCO -- The St. Louis Cardinals look across the diamond at the San Francisco Giants and see themselves. At least, they see the team they were for most of the season.
That's the team they want to be. The team that sweats the small stuff. The team that runs the bases smartly and keeps pressure on the opposition. The team that relentlessly takes advantage of the other guy's mistakes.
These Giants are a thing of beauty in the most basic of ways, and that's why they're closing in on their third National League pennant in five years after beating the Cardinals, 6-4, on Wednesday in Game 4 of the NL Championship Series. The Giants lead 3-1 and can clinch a berth opposite the Royals in the World Series as early as Thursday night.
When this one ended, the Cards expressed some mixture of frustration in themselves and admiration for the Giants. These Giants are a tribute to all those instructors who spent hours and hours preaching that there are a bunch of different ways to win baseball games.
The Giants have just two home runs in this postseason, but who cares about that? Some have called the Giants lucky. These are the people who don't get it. These aren't the Cardinals.
"They're just a good postseason team," Cards third baseman Matt Carpenter said. "They do a good job. They don't make a lot of mistakes."
And that's the thing that has to be gnawing at the Cardinals. They're making mistakes they don't normally make. They're making physical mistakes, and they're making some mental ones, too.
This didn't happen all that much during the regular season. In fact, the Cards were a much better defensive team than the Giants.
But that was then.
These are two evenly matched teams, but with the spotlight shining brightly and the pressure on, the Giants seem about as relaxed as a baseball team can be.
"I think we're just trying to take it game by game," Giants shortstop Brandon Crawford said. "I know it's an old cliche and you guys don't like hearing it, but that's really what our attitude is."
Yeah, that quote won't grab people's attention, but it might tell you all you need to know about the Giants.
Here's how San Francisco won Game 4.
The Giants trailed, 4-1, after the top of the third inning. Their starting pitcher, Ryan Vogelsong, lasted just three innings and allowed four earned runs. That's as many earned runs as he had allowed in his five previous postseason starts combined.
When a team gets so little from its starting pitcher and when a team isn't hitting home runs, that's a prescription for defeat.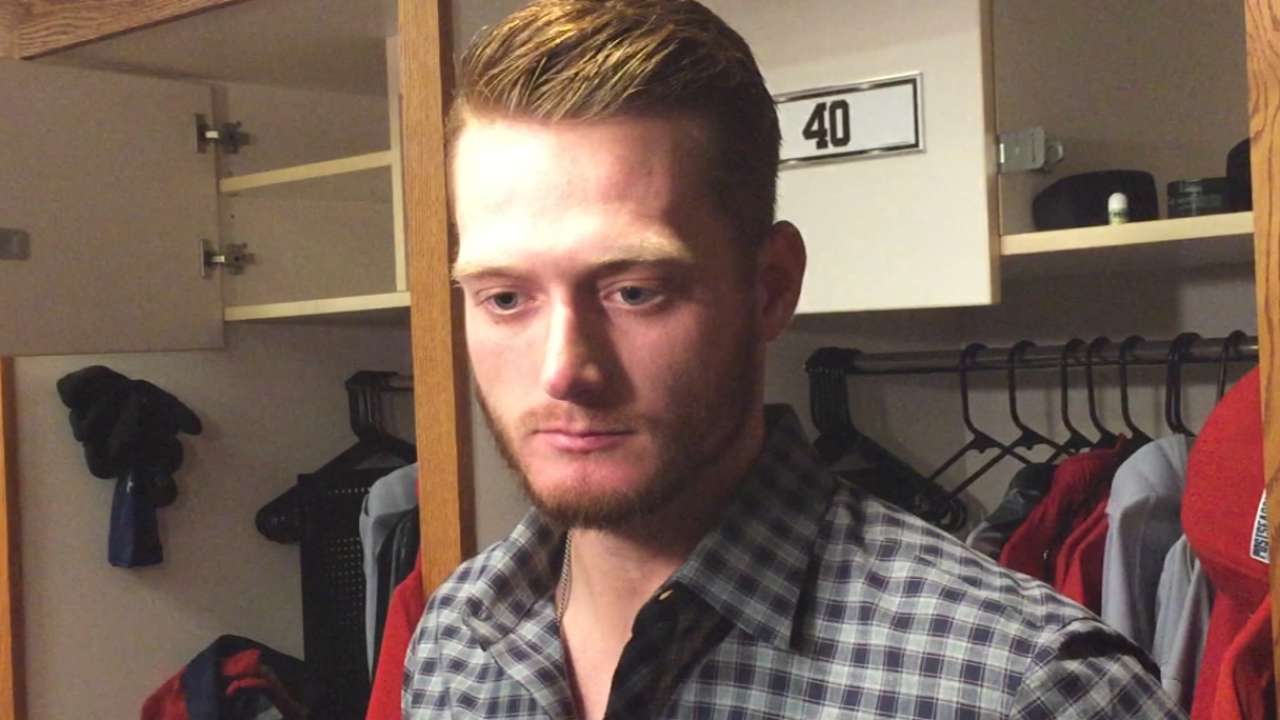 • Video: Miller on Giants' lineup
Here's what the Giants did.
They got contributions up and down their lineup, from Buster Posey to Pablo Sandoval to Hunter Pence. You've heard of those guys, right?
Perhaps only Giants fans know Joaquin Arias, Matt Duffy and Juan Perez. San Francisco got contributions from them, too.
And most impressively, they got six shutout innings from six relievers. It began with right-hander Yusmeiro Petit, who went three innings in relief of Vogelsong and helped change the entire tone of the game.
And the Giants took advantage of St. Louis' mistakes.
Twice, Cardinals first baseman Matt Adams fielded ground balls with Giants on base in the sixth inning. Once, he made a poor throw home to allow a run to score. Another time, Adams threw toward second base without checking Crawford at third base. Crawford ran home with the game-tying run.
The Giants also got their leadoff man on base in six of the first seven innings. These runners kept pressure on the Cards, and then by drawing walks and running the bases and doing all that stuff, the Giants made the game routine.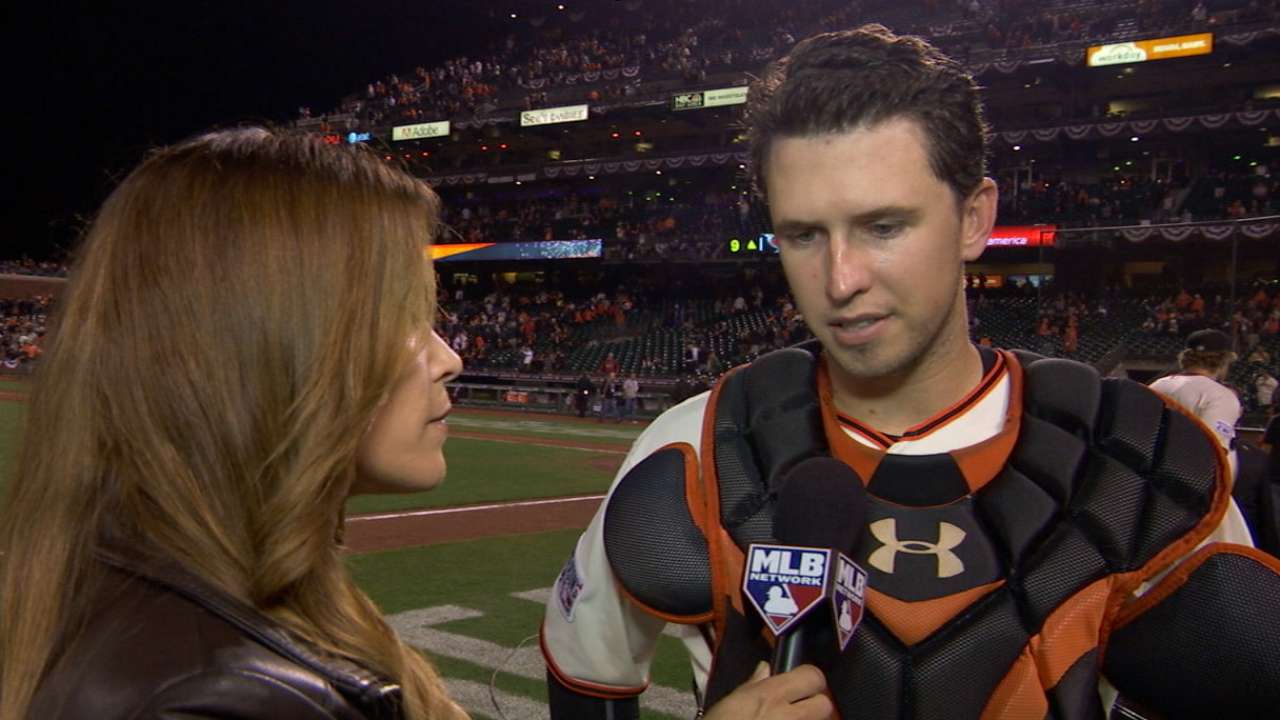 This is what they do. It's no accident that the Giants accumulate the kind of players who understand that the difference between winning and losing is minuscule. It's also no accident that their manager, Bruce Bochy, almost certainly has punched his ticket to the Hall of Fame.
Bochy puts his players in position to succeed. He makes sure they know he believes in them, which makes it easier for them to believe in themselves. In ways large and small, it works.
"If you're not hitting the long ball, you have to find ways to manufacture runs, and the guys did a great job," Bochy said. "Baserunning has a lot to do with it. Not striking out. Putting the ball in play. You try to put pressure on the other club, and that's how it happens."
Over in the other clubhouse, the Cardinals know these two teams are evenly matched, that this should be a heavyweight bout. But the beauty of the postseason is that sometimes teams do things they hadn't done for six months. And sometimes, one team thrives in the postseason.
"They're not going to beat themselves," Carpenter said. "They play the game the way it needs to be played. We take a lot of pride in that as well. We knew it was going to be a fight. We knew even getting out to an early lead they weren't going to go away. We just weren't able to hold onto it today."
So the Cards have no margin for error. They've got their big guy, Adam Wainwright, going against Giants ace Madison Bumgarner in Game 5 on Thursday on FOX Sports 1. It ain't over till it's over, etc.
"They are letting us play again tomorrow," Cardinals manager Mike Matheny said. "We can control tomorrow."
Richard Justice is a columnist for MLB.com. Read his blog, Justice4U. This story was not subject to the approval of Major League Baseball or its clubs.