Defensive lapses are holding Cardinals back in NLCS
Eight of Giants' 18 runs in series have come without a hit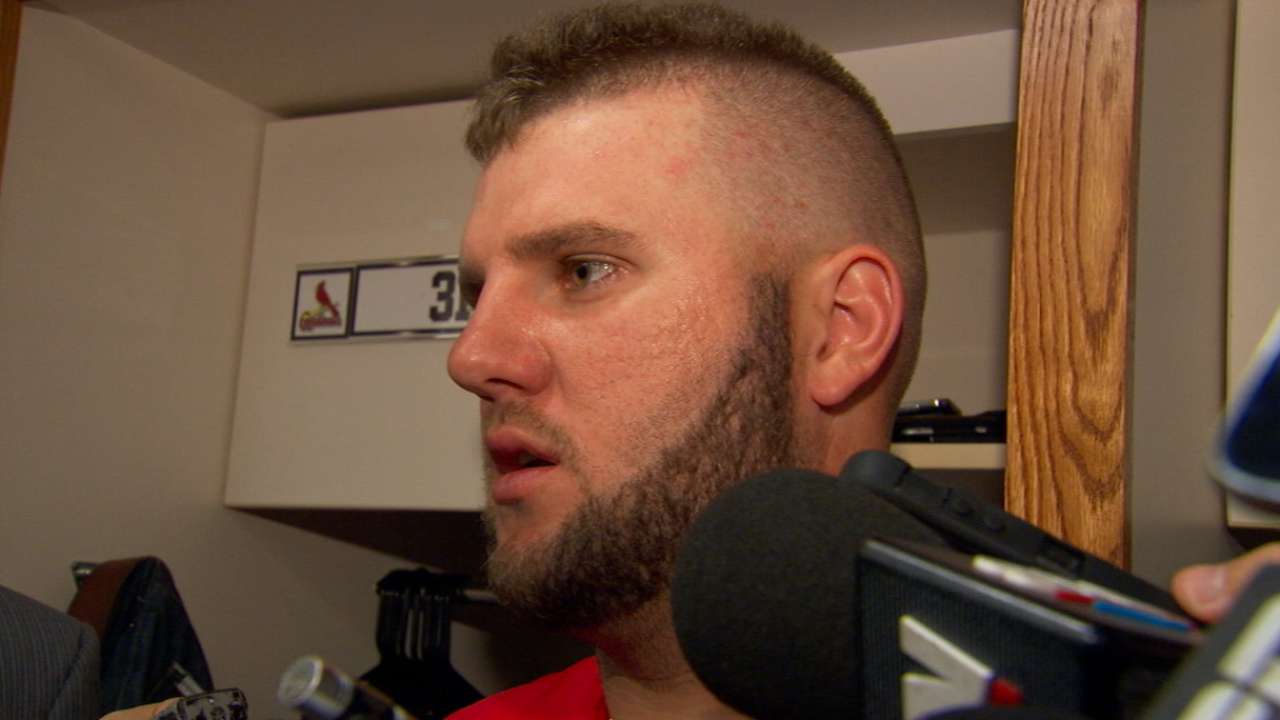 SAN FRANCISCO -- In a low voice to fit a pin-drop-quiet Cardinals clubhouse, Matt Adams made no excuses for two critical misplays. He should have made a better throw home. Adams said he should have checked a runner at third base. He should not have let Game 4 of this National League Championship Series, which is increasingly being defined by defensive lapses uncharacteristic of the Cards, slip from his grasp.
"We go out ready to play," Adams said after a 6-4 loss Wednesday night. "And things happen. You have to make the plays."
Adams had two opportunities to make a play during a sixth inning that began with the Cardinals holding a 4-3 lead, but saw rookie left-hander Marco Gonzales quickly find trouble. A walk, a hit and a sacrifice bunt gave the Giants runners at second and third with one out, setting up Adams' two critical mistakes:
1. With Juan Perez the runner at third, Giants leadoff man Gregor Blanco hit a bouncer toward Adams, who charged to field the ball before bouncing a soft throw home to catcher Tony Cruz. Perez scored the tying run.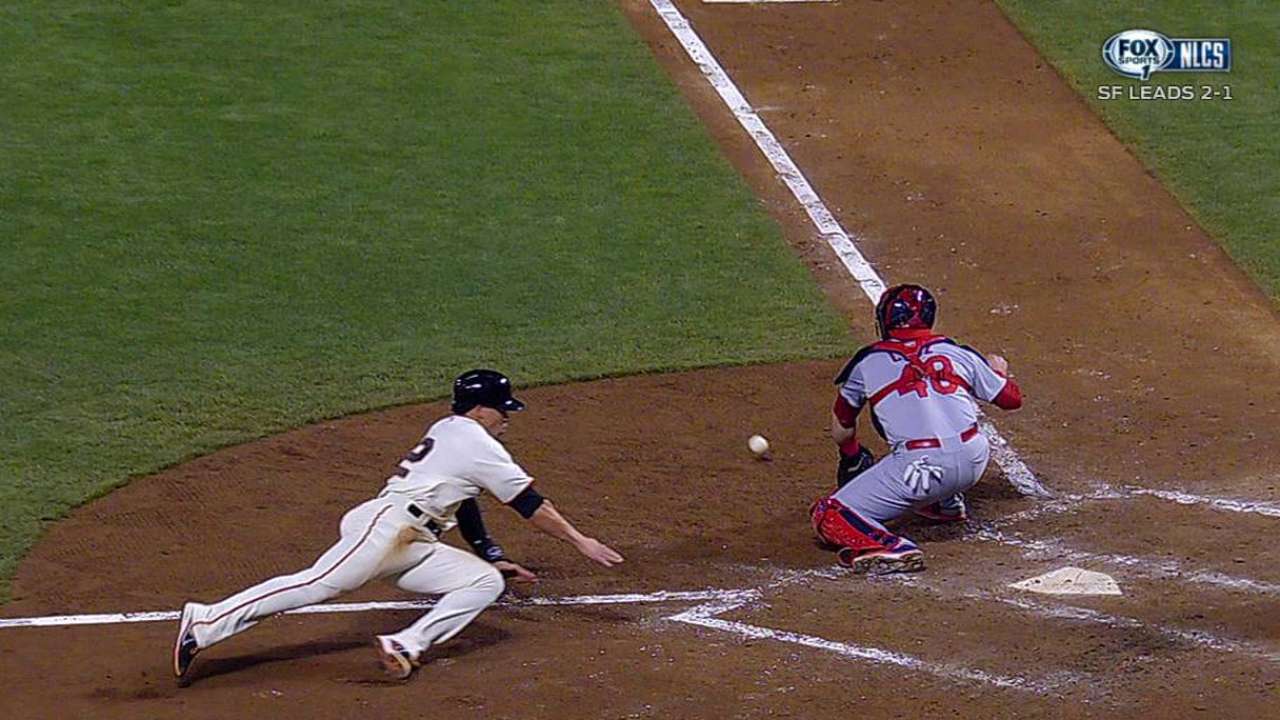 • Video: Blanco plates game-tying run
2. With Brandon Crawford now the runner at third after Blanco was safe at first, Joe Panik hit a much sharper ground ball that Adams managed to pick cleanly almost on top of first base. Crawford froze in his tracks as Adams stepped on the bag, but when Adams opted to air an immediate throw to second, Crawford broke home. The wide throw pulled shortstop Jhonny Peralta off the bag, allowing Blanco to reach safely while Crawford scored the go-ahead run.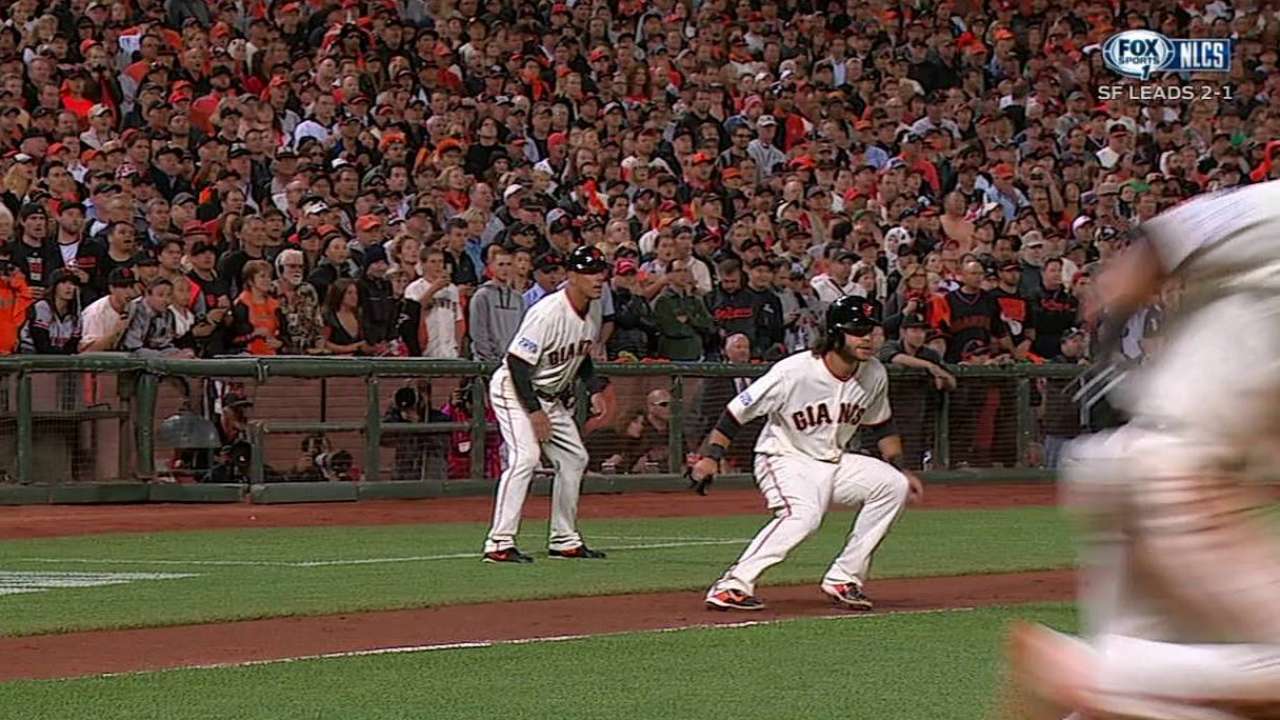 • Video: Panik's go-ahead groundout
Adams' initial explanation was brief.
"The play at home -- fast runner right there, and I was going in on the ball and threw on the run," he said. "I should have made the throw.
"The second one, I should have just touched first and checked home."
The way Cards manager Mike Matheny saw it, Adams made the right play by stepping on first base, because the grounder had taken him to that spot. The next step, Matheny said, should have been checking the runner at third.
But Adams never did so.
Asked why, Adams said, "It just didn't happen."
Further questioning followed, during which Adams insisted he was mentally prepared to be peppered with ground balls by a left-handed-heavy Giants lineup, and that he had correctly run through the various scenarios in his mind ahead of each Gonzales pitch. Adams brushed aside the notion that his errant throw on the Blanco grounder did not affect his reaction to Panik's.
Rather, Adams said he simply did not execute, and the Giants made him pay. When Buster Posey followed Panik's grounder with an RBI single, San Francisco had its winning margin.
"That's what good teams do," Adams said. "They capitalize on mistakes."
The unfortunate thing for Adams was that he was a solid defensive player during the regular season, tying for second among Major League first baseman with eight defensive runs saved, and ranking just above the median in UZR/150, a variant of ultimate zone rating that assigns value to a player's defense at his position.
"He's one of the best that I've seen," said Cardinals second baseman Kolten Wong. "For him to make a few mistakes here and there, I think it evens out the [positive] things he did for us in the season. This game is so tough to play. The ball will find you no matter what, and to be honest, it wasn't bad plays on his part. He made some amazing stops and he basically threw off-balance."
The Cardinals as a whole were reliable defensively during the regular season, trailing only the Reds in defensive runs saved. But Adams' missteps were not the first instance in Game 4, or in the series, of the Cards' typically stout defense letting them down.
In the first inning, after Adams had spotted St. Louis a 1-0 lead with an RBI single, Blanco led off with a deep drive to center field, where Jon Jay appeared to have a play. But the baseball ticked off his glove for what was ruled a double, and two batters later Posey tied the game with an RBI single.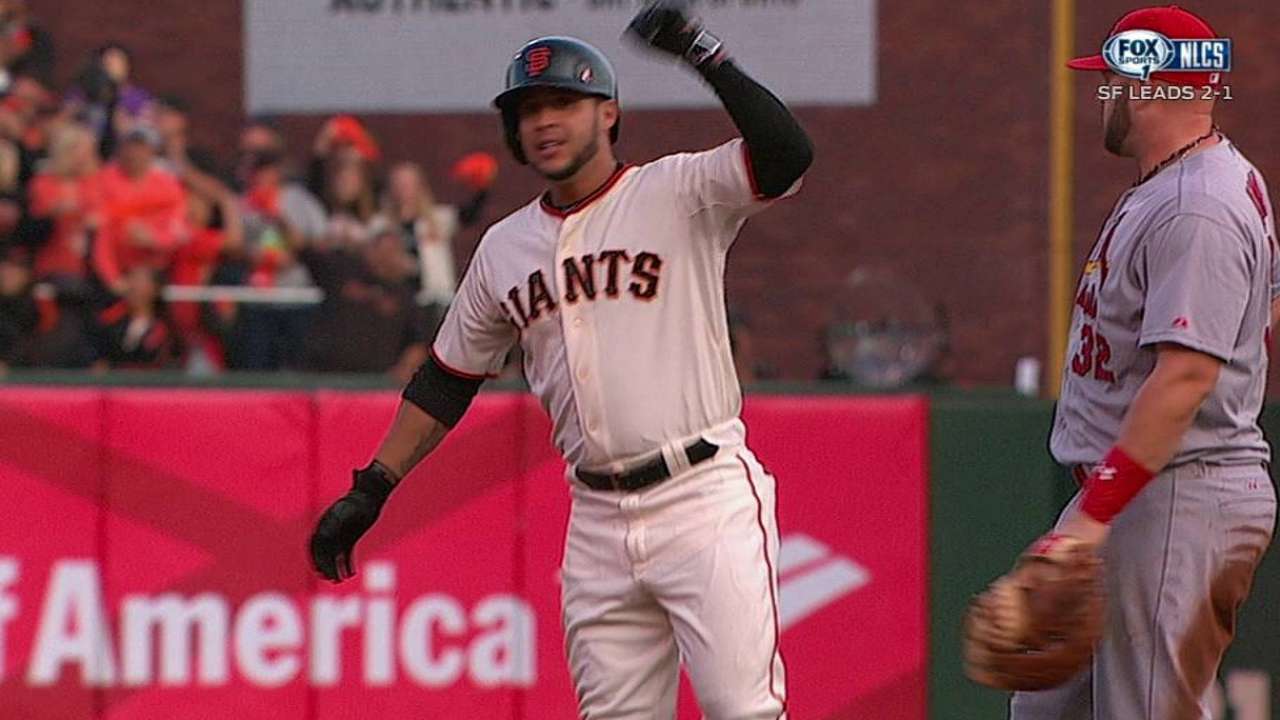 • Video: Jay can't corral fly ball
"I just wasn't able to hang on," Jay said. "If it hits off my glove, I expect to make the play."
A day earlier in Game 3, an emotional Randy Choate found himself surrounded at his locker after the reliever committed a game-ending error on a bunt play in the bottom of the 10th inning.
In Game 1 in St. Louis, a pair of lapses burned the Cardinals in a 3-0 loss to Madison Bumgarner. Third baseman Matt Carpenter's error in the first inning spotted San Francisco one run, and second baseman Kolten Wong's bobble of a would-be double play ball two innings later extended a rally for Brandon Belt's sacrifice fly.
Add up those non-plays, and the Giants are scoring enough to win in this series even when they're not hitting. Eight of San Francisco's 18 runs in the NLCS have scored without the benefit of a hit.
"Especially in the playoffs, when you make mistakes, it's going to cost you," Jay said. "We've seen that on our side when we've been able to take advantage of stuff, too. We're obviously down now, but we're still in it."
The Giants, meanwhile, are within one victory of the World Series.
"They have so many good guys defensively," said San Francisco's Perez of the Cards' lapses. "You don't expect so many mistakes. They've just happened a few times now. We aren't really expecting them."
Said Panik: "It's kind of fitting of how our postseason's been. It might not be the prettiest way of scoring runs, but it's how our postseason has been so far."
Adam McCalvy is a reporter for MLB.com. Read his blog, Brew Beat, and follow him on Twitter at @AdamMcCalvy. This story was not subject to the approval of Major League Baseball or its clubs.