Giants gladly pounce with Adams off balance in sixth
San Francisco twice puts pressure on St. Louis first baseman to make a play in key frame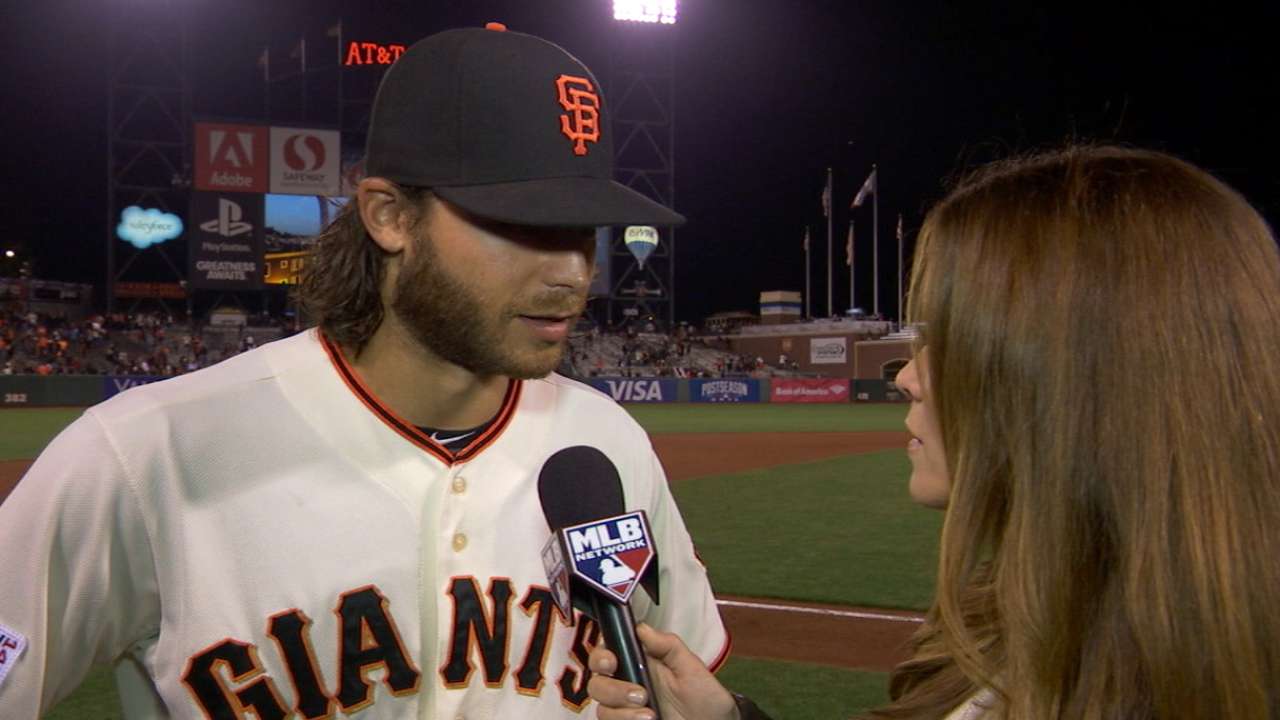 SAN FRANCISCO -- Some still insist that the Giants are lucky, and to a certain extent, they are. It takes a fair bit of luck for any baseball team to travel deep into October. Doing so thrice in a half-decade requires a wealth of it.
But manager Bruce Bochy likes to say that the Giants make their own luck, applying just enough pressure in just the right places. So it was entirely not surprising to Bochy when Gregor Blanco dribbled a ball to the right side in the sixth inning of Wednesday's Game 4 of the National League Championship Series, pressuring Cardinals first baseman Matt Adams into the poor throw that tied the game and sparked the Giants -- now one win shy of their third World Series berth in five seasons -- to a 6-4 victory at AT&T Park.
How lucky indeed.
"When you get in the postseason like this, the team that makes the fewest mistakes usually wins," San Francisco first baseman Brandon Belt said. "Honestly, being a fielder, I know this. When you get people on base, it puts a lot of pressure on the other team. It puts a lot of pressure on the opposing pitcher. That's what we've been trying to do."
The latest Bay Area highlight reel unfolded innocently enough, when the Giants, trailing by a run, received a leadoff walk from Juan Perez and a single by Brandon Crawford. After Matt Duffy sacrificed both runners into scoring position, Blanco grounded a Marco Gonzales pitch to the right side, where Adams fielded it and fired home as he half-charged, half-stumbled toward the plate.
As the speedy Perez sprinted down the line, Adams' throw bounced in front of catcher Tony Cruz, giving Perez plenty of time to slide headfirst behind him and touch home plate with the tying run.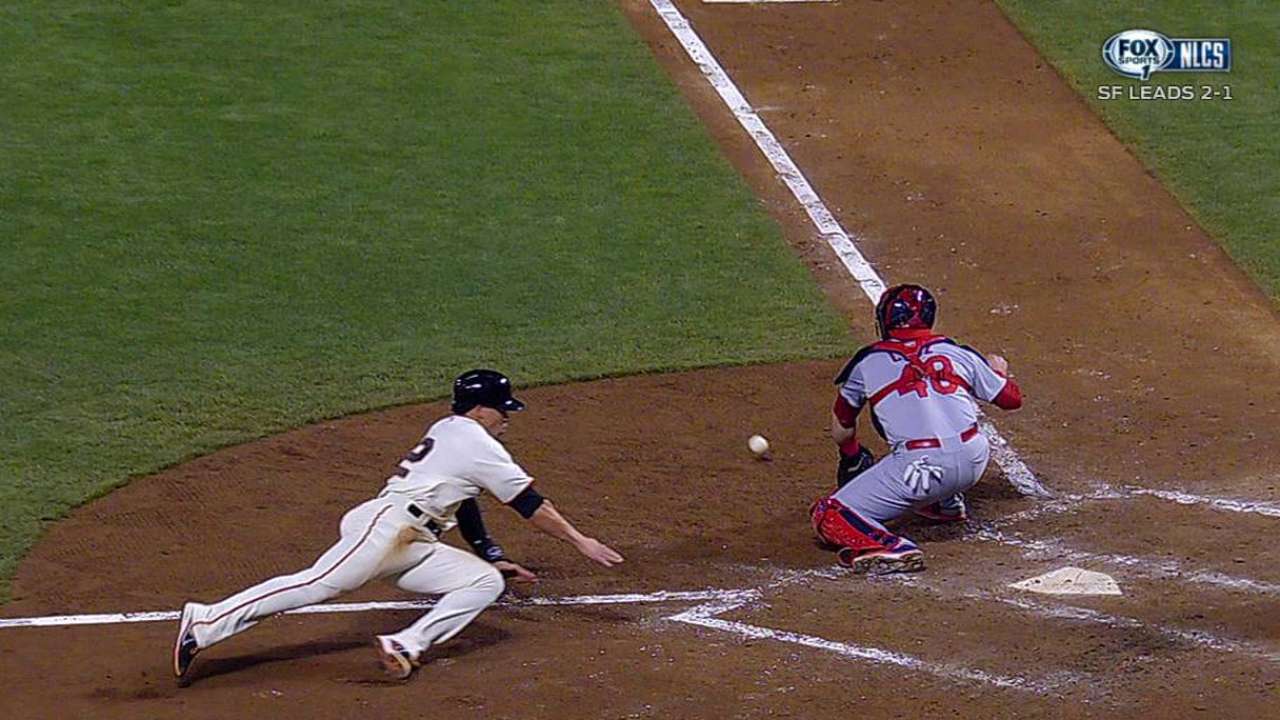 • Video: Blanco plates tying run
"I was trying to get the ball out as quickly as possible and make the throw," Adams said. "That's what good teams do. They capitalize on mistakes."
With all the momentum pouring in their direction at that moment, the Giants did not stop scratching their lottery ticket. The next batter, Joe Panik, hit a ground ball directly at the first-base bag, where Adams fielded it, touched first and never so much as glanced at home. His wide throw to second did not give shortstop Jhonny Peralta nearly enough time to apply a tag on Blanco, allowing Crawford to race home uncontested with the go-ahead run.
"It's the right play by touching the base," Cards manager Mike Matheny said. "He's just got to check home at that point."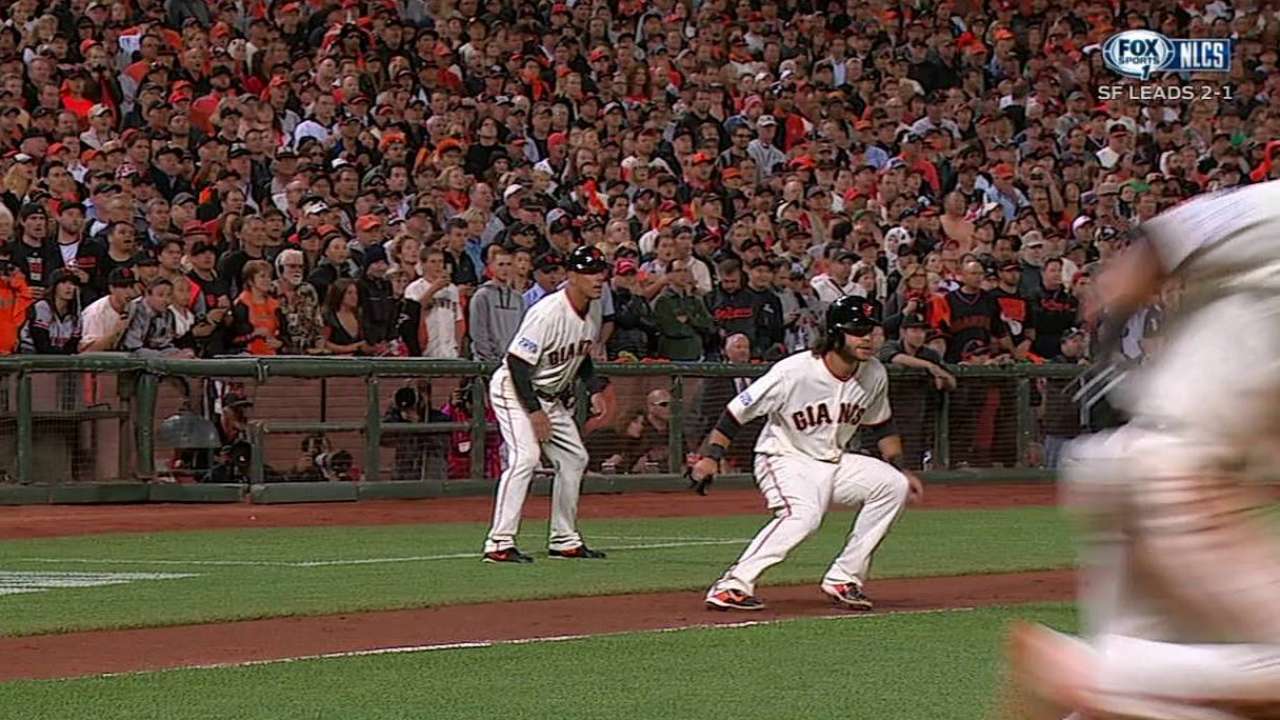 Added Cardinals second baseman Kolten Wong: "This game is so tough to play. The ball will find you no matter what, and to be honest, it wasn't bad plays on his part. He made some amazing stops and he basically threw off balance."
All too happy to take advantage, the Giants accepted their runs and never looked back. Buster Posey followed with a single, doubling San Francisco's margin. Within an hour or so, the Giants had locked down the victory and a 3-1 series lead.
"They're making a lot of mistakes," Perez said. "We've been making them pay for it. It's been huge for us."
How the Giants came to win Game 4 was indicative of how they have won so many times this postseason -- a collaboration of timely hitting and smart baserunning, which so many have mistaken for a pull of the slot machine. Over the club's past six postseason games, San Francisco has scored 12 of its 22 runs without the benefit of a hit, instead relying on a potpourri of RBI groundouts, sacrifice flies, defensive errors and wild pitches.
Some of that has indeed been rooted in luck, but the Giants have also spent this series constantly applying pressure, calculating and recalculating their odds. Consider Crawford, for example. By the time Panik hit his grounder to first, Crawford had already huddled with third-base coach Tim Flannery, discussing his options should that exact scenario unfold. When it did, he knew what to do, edging down the line before breaking home when Adams turned toward second base.
"It's a tough play for sure," Crawford said. "If he started aiming toward home, I was going to get back. I was confident with where I was at."
Now the Giants are confident with where they're at, one win away from the World Series. Classifying that as luck would be selling them short.
"I always say when you put runners on base -- we've done that a lot the past couple series, we've put a lot of guys on base -- you kind of make your own luck," Panik said. "Things will eventually bounce your way, and so far they have been."
Anthony DiComo is a reporter for MLB.com. Follow him on Twitter @AnthonyDicomo. This story was not subject to the approval of Major League Baseball or its clubs.