KC's win streak highlights record-setting postseason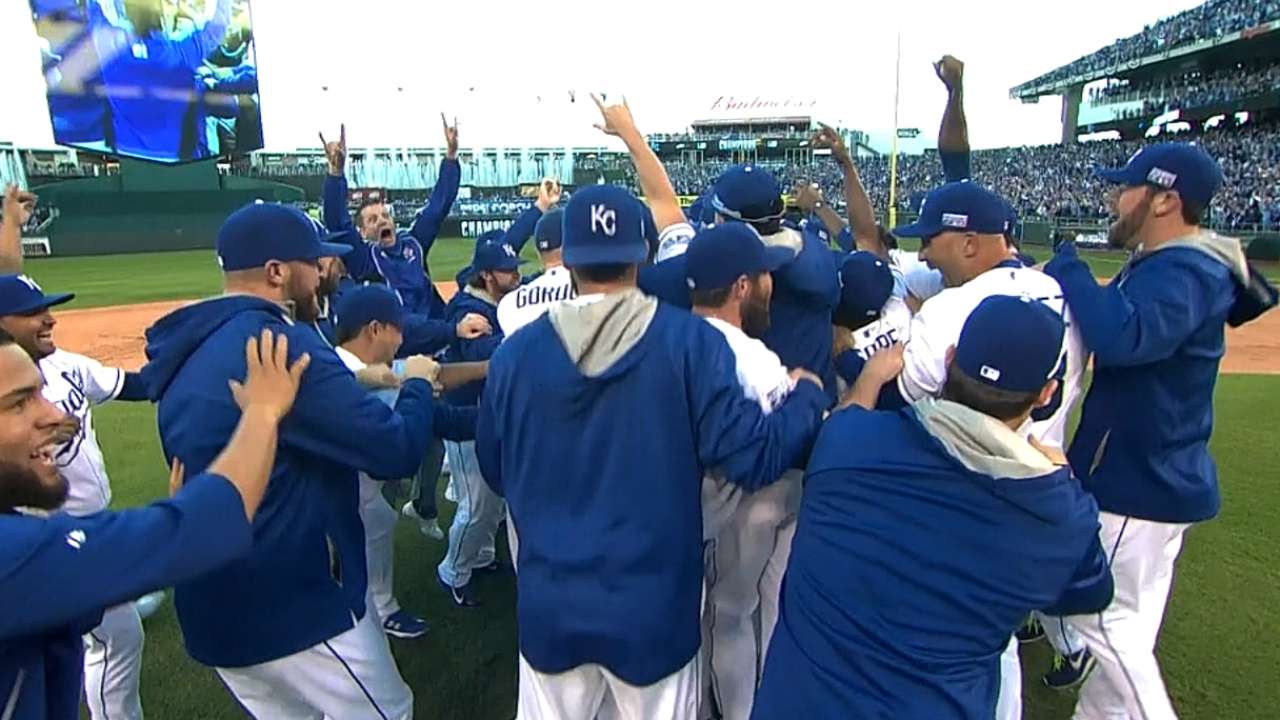 The 2014 postseason has been one for the record books, and the Royals' remarkable run to the World Series for the first time in almost three decades is just one of the many high notes for a postseason like none other. If that sounds like a broken record, it's because this has become a non-stop barrage of accomplishments not written in baseball's October annals before, or at least not in a very long time.
At the top of that list, Kansas City clinched a World Series berth Wednesday in its first postseason since winning it all in 1985, and the Royals did it by setting an all-time mark with their eighth consecutive victory to start a postseason run -- truly a road to the Fall Classic never traveled before. A 2-1 thriller at Kauffman Stadium for a sweep of the Orioles in the American League Championship Series became the record 14th one-run game of this remarkable postseason, and now the Royals await their Fall Classic date.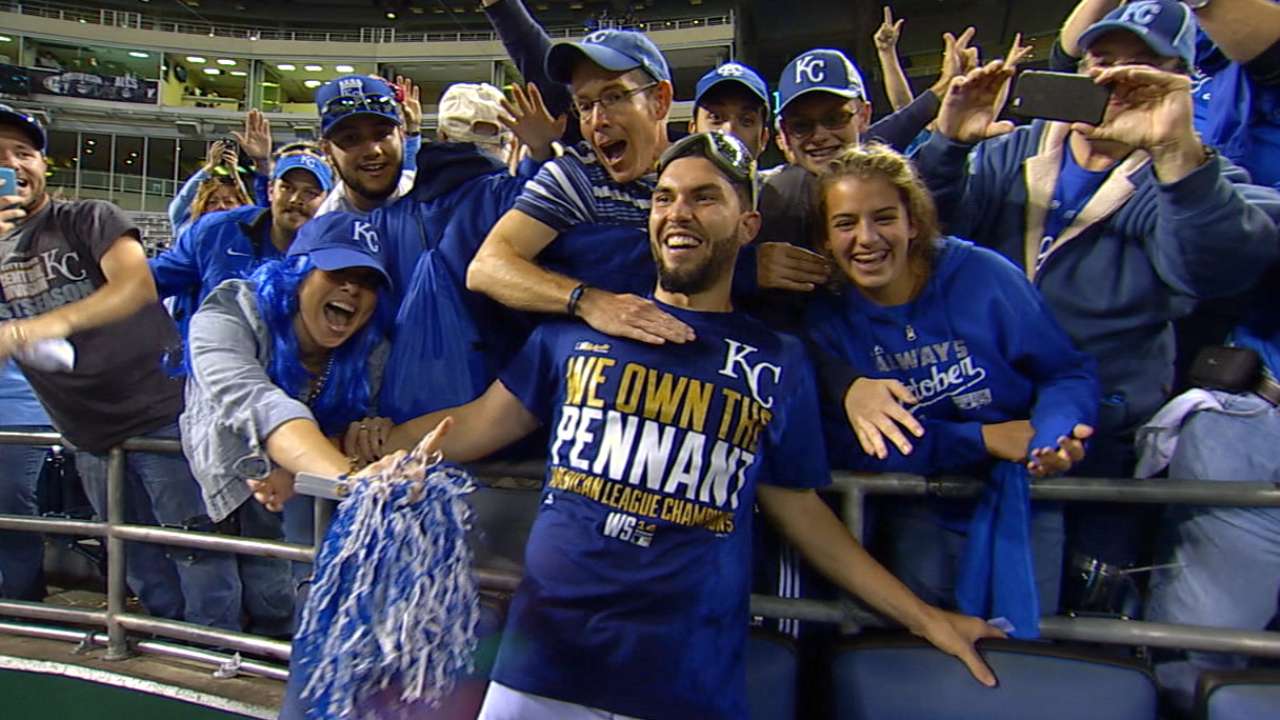 In the nightcap of what was the last double dip of baseball drama of the postseason, the Giants carved out a Game 4 victory that showed their resiliency and their relief prowess in a 6-4 outcome that sends the NL Championship Series to a possible clincher in Game 5. That one will be played in San Francisco at 8 ET tonight on FOX Sports 1, with lefty ace Madison Bumgarner taking the mound against Cards right-hander Adam Wainwright. The Giants will be seeking a third World Series berth in the past five seasons, while the Cardinals will be trying to keep the possibility of a reprise of the 1985 I-70 Series alive.
For now, it's about the KC crown, the blue wave of love spreading through the heartland and the long wait. Riding a remarkable run of momentum, the Royals have made this October party their personal playground. In the first game of this amazing postseason session, they won the AL Wild Card Game in 12 innings over the A's to set a tone that has built higher and higher since. Now, they'll be on the field when the final pitch of 2014 is thrown. What the Royals have done since that four-run comeback on the final day of September is make October history, winning game after game right on through their sweep of the Orioles.
"Every game in this series could have been changed by one swing of the bat by either team," Royals manager Ned Yost said, perhaps putting the entire 2014 postseason in a nutshell. "It just happened that we were the team that got that one swing of the bat. They were all tight games. They were all close games. They were all nip-and-tuck games. We just found ways to win baseball games."
The Royals' way of winning games was on display in a full, beautiful blue hue before a thunderous crowd at The K on this particular Wednesday on October. There were just a couple of runs -- the rally starting with an infield single that ricocheted off second base, the two runs scoring when a throw home wound up going awry. Oh, and some great defense -- that thud you heard was Gold Glove left fielder Alex Gordon smashing headlong into the fence to make a brilliant catch. And, of course, it came down to the best bullpen in baseball -- Kelvin Herrera to Wade Davis to Greg Holland with 3 2/3 scoreless, and on to the World Series.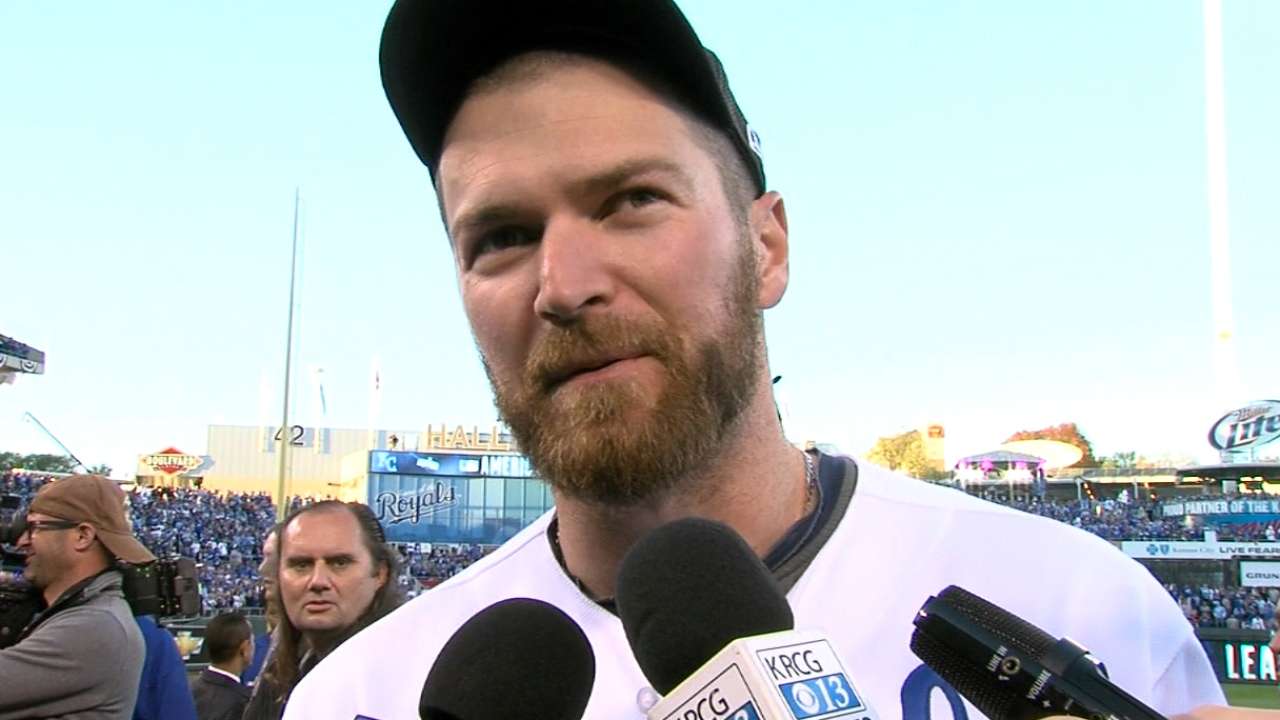 • Bullpen breaks down ALCS win
That Royals' rhapsody came before an exchange of postseason punches at AT&T Park. The Cardinals got off to the early lead, and Kolten Wong kept his October coming-out party rolling with a homer during a two-run third to put the Cards up, 4-1. But the Giants just kept finding a way to get back into the game and took the lead with a three-run sixth inning, another close win in a postseason full of them. But being up, 3-1, doesn't mean San Franicsco has things sewn up -- after all, it was the Giants who were down by that margin before rallying to start what became a 10-game postseason winning streak that continued through a 2012 World Series title and into this year's NL Division Series.
"I think that a lot of guys were on this team in 2012, when we were in the same boat that the Cardinals are in and were able to win three in a row," said Giants star Buster Posey, who had three RBIs in Game 4. "We're definitely not taking anything for granted. We know we're going to have a tough game on our hands tomorrow."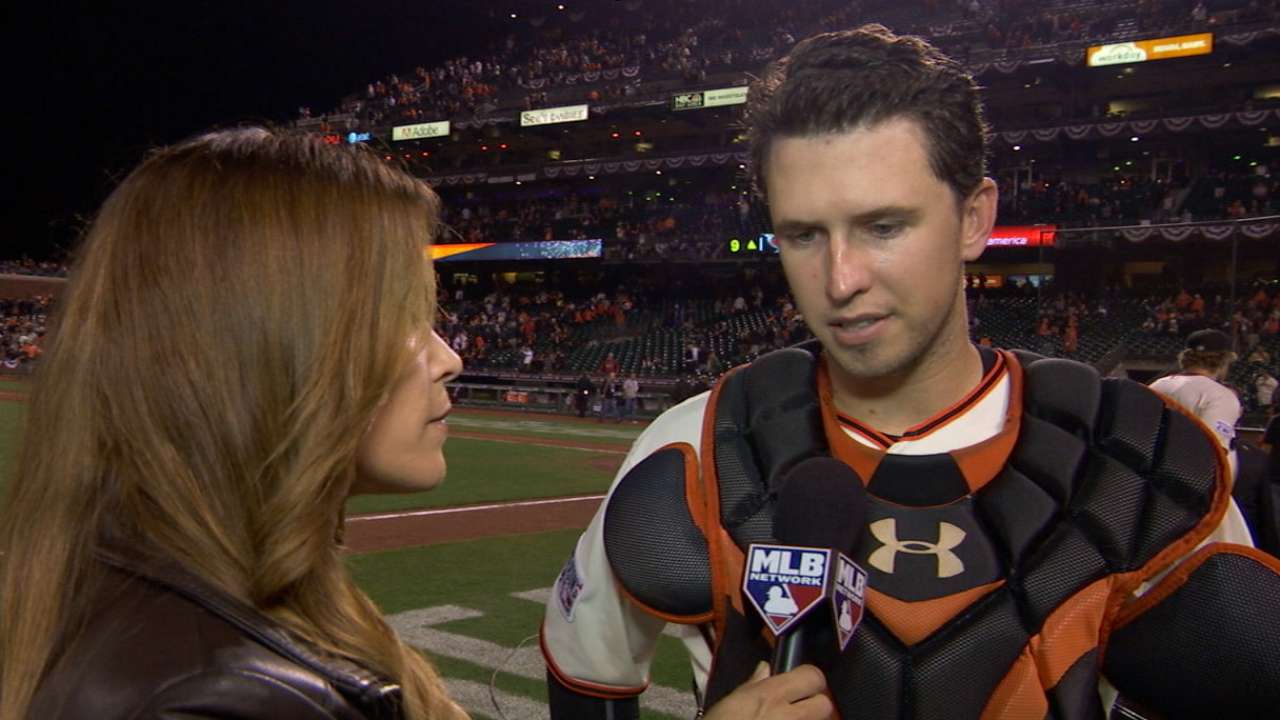 Whatever happens as the NLCS winds its way toward a date with Kansas City, this offseason already has been one for the books.
The Royals' eighth straight victory eclipsed seven-game streaks by the 1976 Reds and 2007 Rockies as the greatest starts to a postseason run. Their 11 consecutive victories dating back to the '85 World Series team ranks behind only two Yankees teams at 12. Those top streaks:
12 - Yankees, 1927-32
12 - Yankees, 1998-99
11 - Royals, 1985-2014
10 - Giants, 2012-14
10 - A's, 1989-90
10 - Yankees, 1937-41
While the Royals certainly have had something to do with it with four of them during their eight-game run, the record for one-run games has been a collective effort of teams fighting down to the last out for postseason victories. The rundown of the top postseasons in history in terms of one-run games:
2014 - 14
2011 - 13
2013 - 13
1995 - 12
1997 - 12
2003 - 12
Let's not forget, the 2014 postseason is just 24 games old. It took 38 postseason games to get to 13 one-run affairs in both '11 and '13.
This postseason has been about winning close games, and winning them late. The Royals began their journey with a 12-inning miracle, and the Giants have an 18-inning marathon on their resume. Whether they meet in the World Series remains up in the air, as the Cardinals are still in position to take the NLCS back to St. Louis with a win tonight in Game 5.
But this already has been a wild ride, with records flying about like confetti at a World Series parade. Just who rides that route toward a meeting with the trophy circled with pennants, well, there's still plenty left in this remarkable October ride to find out.
John Schlegel is a national reporter for MLB.com. You can follow him on Twitter @JohnSchlegelMLB. This story was not subject to the approval of Major League Baseball or its clubs.