Five things we learned from Game 4 of the NLCS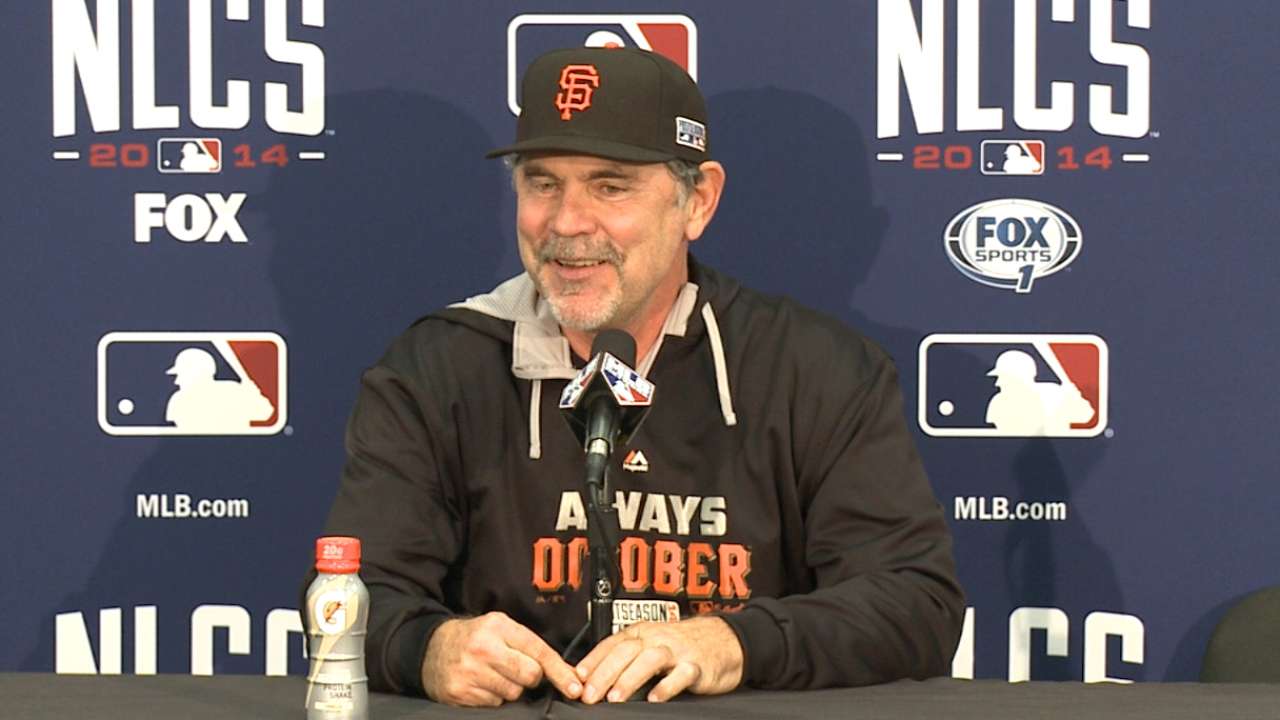 SAN FRANCISCO -- They did it again, these mystifying, amazing, convention-defying Giants. They have the Cardinals on the brink of elimination with an offense seemingly comprised of smoke, mirrors and Muhammad Ali's old act. They float like butterflies and sting like bees.
The Giants' 6-4 verdict in Game 4 of the National League Championship Series for a 3-1 lead was baffling on the face of it. San Francisco had one extra-base hit -- Gregor Blanco's leadoff double in the first off the glove of center fielder Jon Jay -- when it overcame a one-run deficit with three sixth-inning runs. Another double would come from Brandon Crawford in the seventh. The Cards' defense caved, but that's what can happen when pressure is applied.
Small ball is unpopular in some quarters. The Giants are perfecting an unconventional brand, making it work without blinding speed. Hunter Pence's theft of second in the fifth inning was just the club's third of the postseason. San Francisco's opportunistic attack resembles St. Louis' 1980s model shaped by manager Whitey Herzog -- only without Vince Coleman's wheels.
Here are five things we learned from Game 4:
1. The long ball can be overrated
Reggie Jackson became Mr. October by going deep and deeper, but there are other ways to win postseason games. The Giants stand as Exhibit A, one win away from the World Series despite being outhomered 10-2 in the postseason, 6-0 in the NLCS. That power advantage will be of small consolation to the Cardinals if they don't rally from a 3-1 series deficit to avenge what the Giants did to them in 2012.
San Francisco was dead last in the Majors in home runs in 2012 with 103. Those World Series champs came alive in the postseason with 14 homers. What this latest edition is doing is without mashers or sprinters is stunning.
2. Santiago Casilla is pure gold in the ninth
When Jay poked a single to center with two outs in the ninth, it ended a stretch of 11 2/3 hitless innings by Casilla, who has worked six scoreless frames in the postseason. The hitless streak stretched back to Sept. 11 against the D-backs for manager Bruce Bochy's third closer in three postseason runs.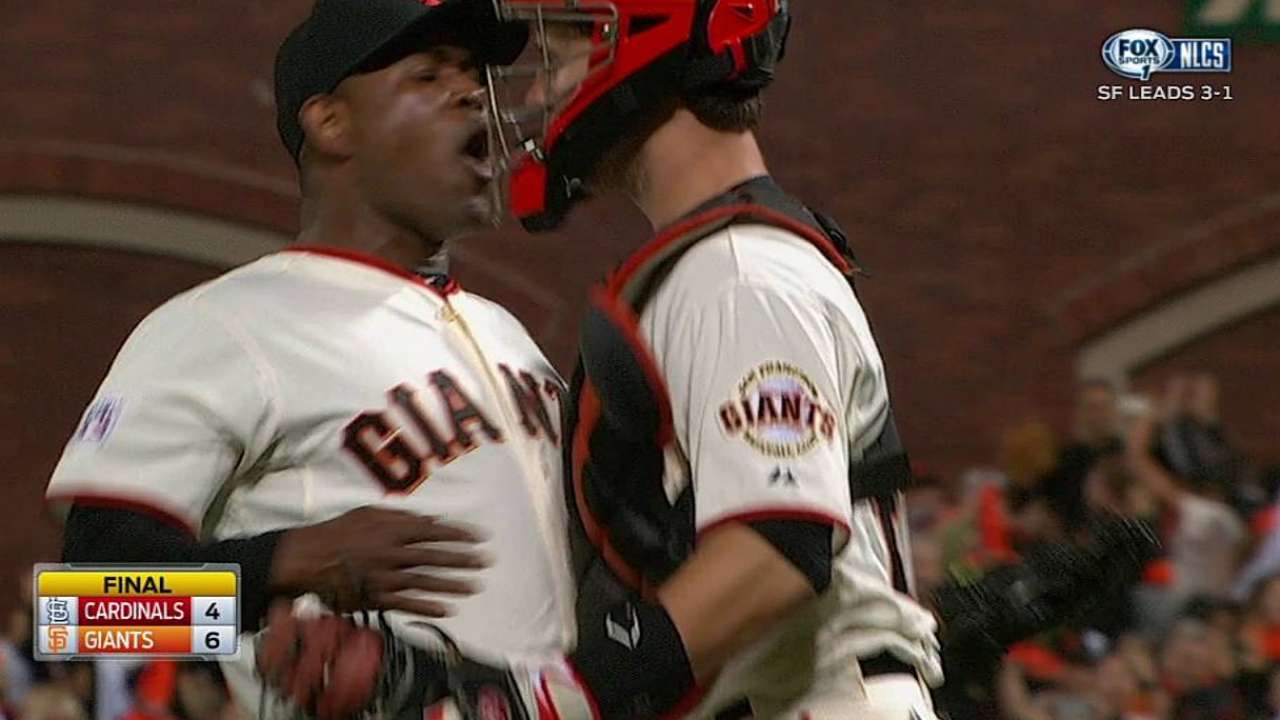 • Video: Casilla gets the save
This became a case of all hands and arms on deck when both starters -- the Giants' Ryan Vogelsong and the Cards' Shelby Miller -- were unable to get through the fourth inning. San Francisco always likes its chances in a duel of bullpens, with Casilla as the anchor.
Sergio Romo, the 2012 closer, avenged his Game 2 defeat, retiring sizzling Kolten Wong in the eighth. Wong had unloaded a walk-off homer against Romo at Busch Stadium.
3. Wong has the look of a rising star
Vogelsong didn't last long largely because of the Cardinals' second baseman and his lethal bat. Wong doubled and scored in the second and homered to right -- his second dinger of the series -- in the third to hand his team a 4-1 lead it could not hold.
All seven of Wong's postseason hits have been for extra bases -- three doubles and a triple to go with three blasts. His 15 total bases in the NLCS are more than any two Giants hitters have produced.
"My confidence level has blown up to where I honestly feel I'm a big leaguer now," Wong, the pride of Hawaii, said. "It's kind of hard to believe I haven't hit any singles, but I'm comfortable with my swing now and it's just a matter of maintaining it.
"It was a season of ups and downs, of getting hurt and trying to establish myself. The feeling I have now is I belong here. At this level, if you don't thrive on pressure, you're not going to last too long. This is what you dream about, when you can hit a ball and hear the crowd go silent."
Wong's home run brought the decibel down for a while, but the Giants have a way of restoring the faith of their fans. Any normal team might have buckled under the weight of Wong's assault, but these Giants don't back down.
4. There's nothing small about Petit's role
As the Cardinals reconstructed the unlikely events of Game 4, they kept coming back to Yusmeiro Petit, the versatile right-hander who took over for Vogelsong in the fourth inning and held them scoreless with one hit through the sixth, turning the tide.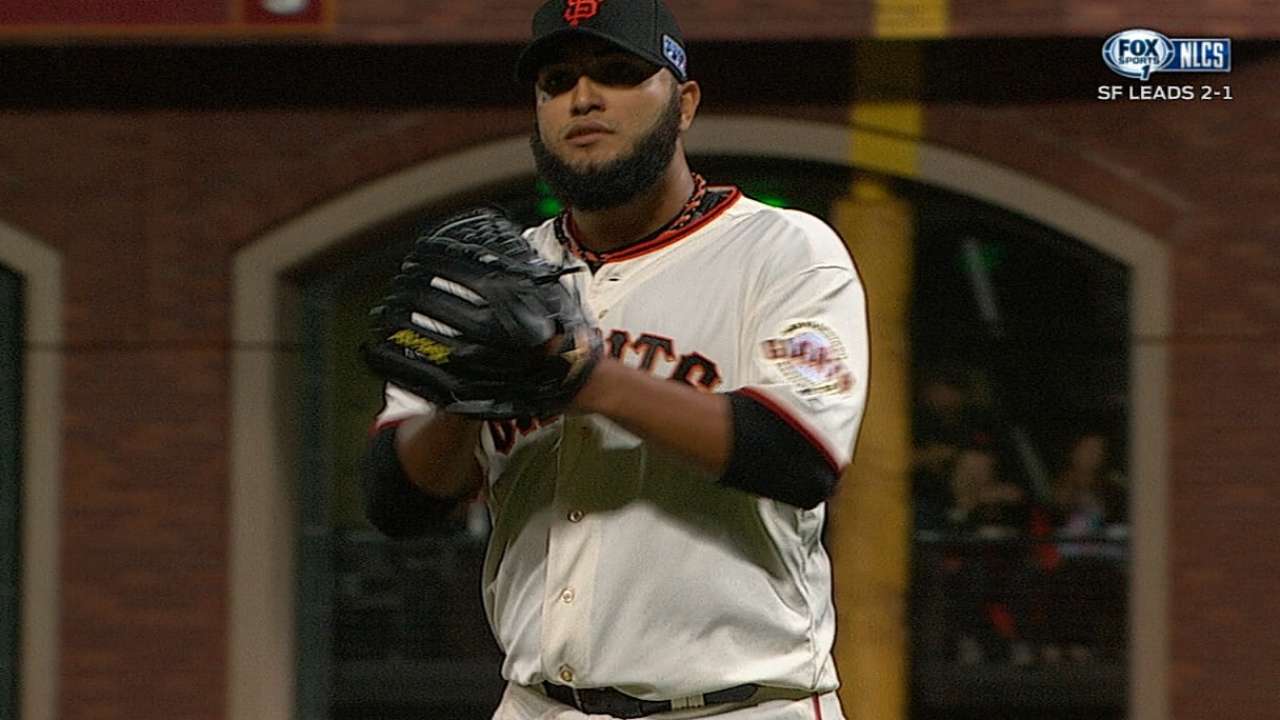 • Video: Petit's three scoreless
"The key for them was Petit coming in and shutting us down," Cards leadoff catalyst Matt Carpenter said. "It was like Game 3 when they got off to a four-run lead and we were able to shut them down and come back. They were able to chip away tonight. He knows how to pitch. He's not overpowering, but he's deceptive. He was executing his pitches. That's what he had going."
Petit, a Venezuelan who carries about 250 pounds on his 6-foot-1 frame, was 5-5 with a 3.69 ERA in 39 appearances, 12 as a starter, in the regular season. In Game 4 of the NLCS, he was the difference.
5. Hunter Pence is the most interesting man in baseball
He lifts his uniform pants higher than the shorts worn by the "Fab Five" of Michigan fame. He throws the ball and swings the bat in never-before-seen ways. And he continues to make good things happen for San Francisco.
Pence had a pair of singles, a walk and an RBI in Game 4. He stole a base. He bounded about like a kid at a carnival. Pence has come to represent everything the Giants are about, a totally unique presence on a completely unique team.
Lyle Spencer is a national reporter for MLB.com. This story was not subject to the approval of Major League Baseball or its clubs.