Coulter leads Desert Dogs' homer spree in AFL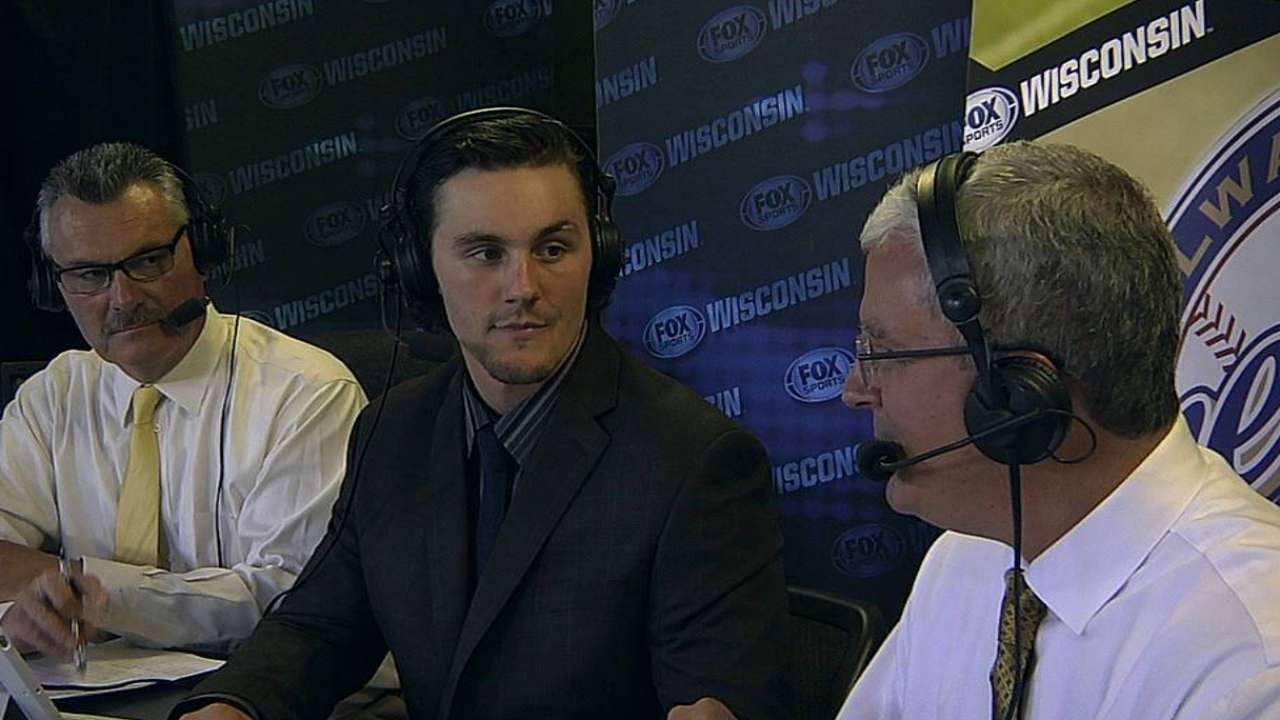 GLENDALE -- The Glendale Desert Dogs improved to .500 with a 7-5 win against the Salt River Rafters on Wednesday night.
The victory, which halted the Rafters win streak at six, can be credited to the long ball as Glendale hit three balls out of the park en route to the win.
Clint Coulter, the No. 7 prospect in the Brewers organization according to MLBpipeline.com, began the scoring with a two-run homer in the second.
"First pitch he busted me inside, then I got three sliders after that and a couple of other pitches," Coulter said. "So, when it came back to full count, I thought he might come in again. I was looking in and luckily he didn't throw another slider -- I would have been in trouble."
Coulter, the 27th overall pick in the 2012 Draft and the Brewers' Minor League Player of the Year this season, hit .287 with 22 homers in Class-A Wisconsin in 2014.
Offense has always been Coulter's strength, but the prospect has spent the bulk of his career catching and, due to some defensive struggles, the Brewers opted to move him to right field during the AFL.
"It's good," Coulter said of the transition thus far. "[I've just been] working in BP, getting my breaks and jumps, staying back on balls and [on] my territory with the center fielder. It's been fun."
Coulter couldn't remember playing anywhere besides catcher for an extended period of time since his high school days, but he's open to the move and looking forward to it for a number of reasons.
"It's definitely going to free up my legs a bit as far as the grind of the whole season so I can focus on hitting, but that being said, you're expected to produce once you're out there," Coulter said. "I enjoy the pressure and am looking forward to next year."
An inning after Coulter's homer, fellow Milwaukee prospect Hector Gomez added to the lead with a three-run shot of his own.
Gomez hit .282 with 15 homers in 121 games with Triple-A Nashville this season, but was off to a slow start in the AFL as he entered Wednesday's game with just one hit in 12 at-bats.
However, that may have changed when Gomez lined an 0-2 pitch over the left field wall for a three-run homer in the third.
The long balls from Coulter and Gomez were backed by a solid start from White Sox No. 3 prospect Francellis Montas. Despite allowing four hits and two walks in three innings, Montas kept the Rafters off the scorebard, earning a win and fanning three in the process.
Montas, who went 5-0 with a 1.44 ERA and 80 strikeouts in 81 innings across three levels this season, has allowed one earned run while striking out six over 6 1/3 innings in his first two AFL starts.
The Chicago hurler is pitching in the Fall League to make up for the time he lost while sidelined with injury in the regular season. Montas missed April following meniscus surgery on his left knee, and then missed another month when he needed the same operation on his right knee in late June.
The Rafters fought back into the game with a three-run seventh inning -- highlighted by Rockies prospect Taylor Featherston's solo homer.
But, in the bottom of the frame, Tim Anderson, the No. 82 prospect on MLBpipeline.com, continued the home run barrage with a two-run blast of his own in the seventh, that ultimately proved to be the decisive blow.
William Boor is a reporter for MLB.com. Follow him on Twitter at @wboor. This story was not subject to the approval of Major League Baseball or its clubs.