MLB.com Columnist
Mike Bauman
Yadi's absence not what's ailing Cardinals
Club's struggles against Giants have been due to supbar defense, ineffective pitching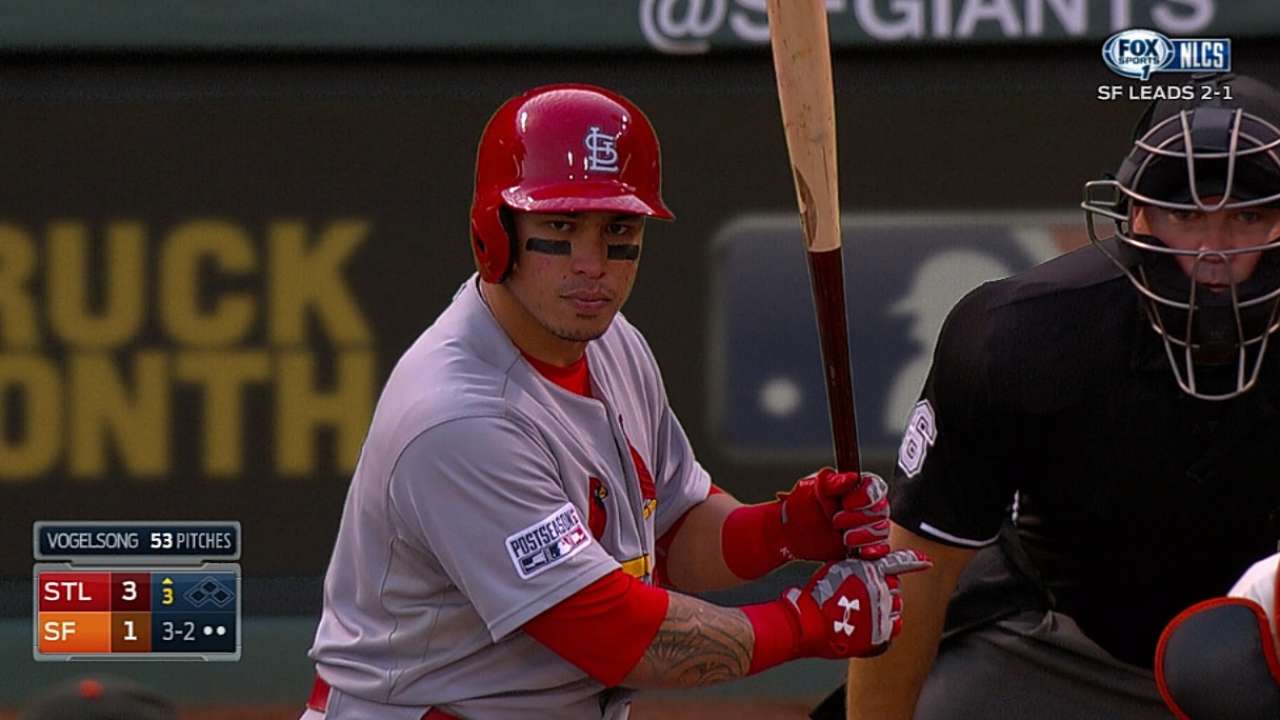 SAN FRANCISCO -- The St. Louis Cardinals cannot possibly be the same team without the services of catcher Yadier Molina. And yet, in the exalted realm of October baseball, this cannot be an all-purpose excuse.
In fact, the Cardinals are 0-2 in the National League Championship Series games in which Molina has been absent since he sustained a left oblique strain. But the way the Cardinals lost these two games did not point to Molina's absence as the chief culprit.
The San Francisco Giants are probably the chief culprit, but there were some self-inflicted wounds by the St. Louis club.
The Cardinals lost Tuesday in the 10th inning of Game 3 when reliever Randy Choate made an errant throw to first base on a sacrifice bunt. On Wednesday night in Game 4, the Cardinals grabbed an early 4-1 lead at AT&T Park, but starter Shelby Miller could not hold the Giants. Later, defensive lapses contributed to the Giants winning the game, 6-4.
The Giants present serious problems for any postseason opponent. They are 7-0 in postseason series with Bruce Bochy as their manager. With World Series championships in 2010 and '12, Bochy has a 29-11 postseason record as San Francisco's manager.
The Cardinals are the only Major League team to appear in a League Championship Series the last four years in a row. But this isn't like playing the Dodgers anymore. The Giants have more game than names on their roster. They are good enough that they remind the Cardinals of themselves on their good days.
"That's a very fair statement," Cardinals manager Mike Matheny said. "I see a team that takes a lot of pride in trying to do the little things right and capitalizing and manufacturing and takes pride in the pitching.
"And that's just kind of playing itself out through this series. I don't think anybody's been surprised or let down. It's been a very hard-fought series so far, and I imagine it's going to be the same way all the way through."
So when the pitching isn't sharp and the defense isn't air-tight, you don't win in the postseason against a team with both poise and a record of October success. Miller, handed the early lead, didn't finish the fourth.
"Walks, you play a team like this and it's not just Shelby, you go through our pitching as a whole," Matheny said. "We give free bases and we give extra outs, non-plays. It's going to come back and it's going to bite you when we're in a close series with a team that's playing well and doing things fundamentally right. Those will, and they did, cost us."
The Giants scored twice in the pivotal sixth inning on grounders to first baseman Matt Adams. On the first, Adams' throw to the plate was both tardy and inaccurate. On the second, Adams stepped on first for an out, then attempted to get an out at second, even though the force was off after the out at first. His throw to second was late, but meanwhile, the runner at third, who had held up when Adams first fielded the ball, broke for home with the throw to second and scored.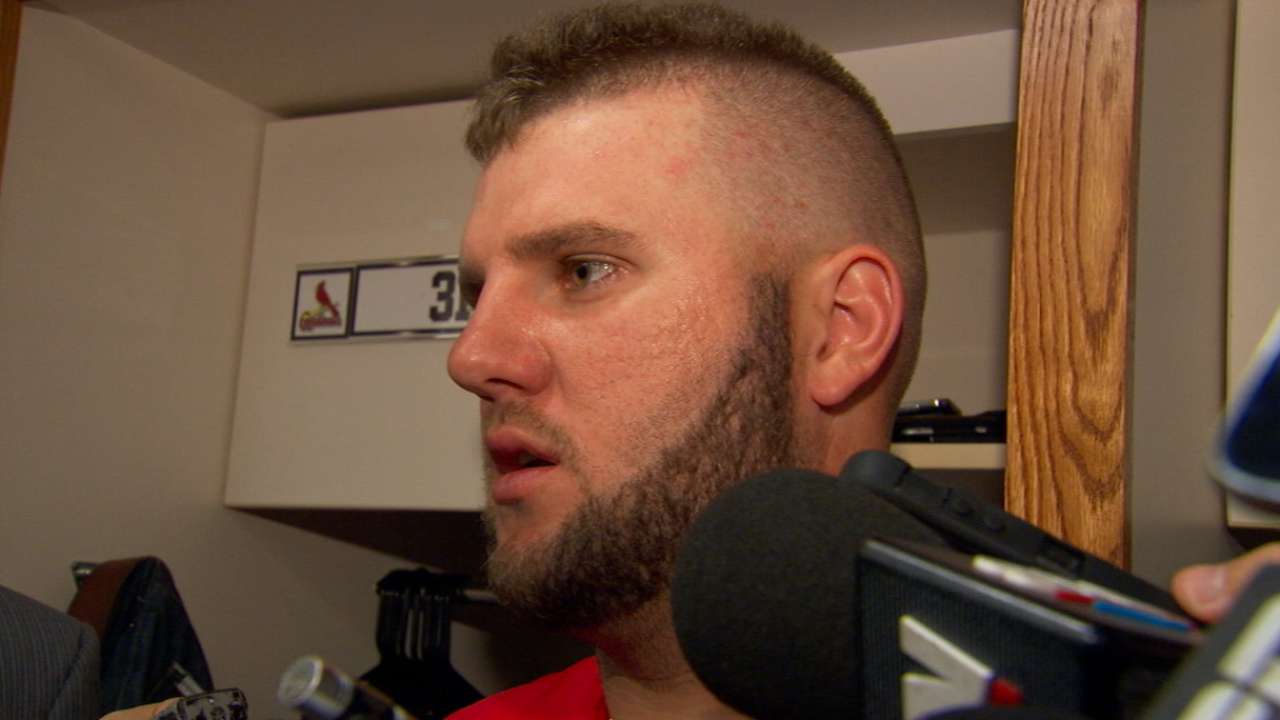 • Video: Adams on troublesome sixth inning
"The second one, I should have just touched first and checked home," Adams said.
"Yeah, it's the right play by touching the base," Matheny said. "He's just got to check home at that point. And the runner wasn't going. We eat the ball, and we've got a lot of different options we can go to at that point.
"But you know, they took off once he released the ball to second base. That's not really the play we want."
Maybe the argument could be made that all of the Cardinals' pitchers would have felt more comfortable with Molina catching. But based on the way this game went, that feels more like a cheap rationalization, rather than a good, solid reason.
The Cardinals simply have to play better than this to beat the Giants. And at this point, they would have to do this in three straight games to prevail in this series. In Game 5 on Thursday, the Giants will go with their ace, Madison Bumgarner. The Redbirds will counter with their ace, Adam Wainwright, who has been ineffective in two starts during this postseason.
"Nobody else we'd rather have on the mound," said Matheny. "We don't look at it in series. We haven't done that all season. We look at it as a game. They are letting us play again tomorrow. We can control tomorrow, and Adam Wainwright is going to set the tone for us."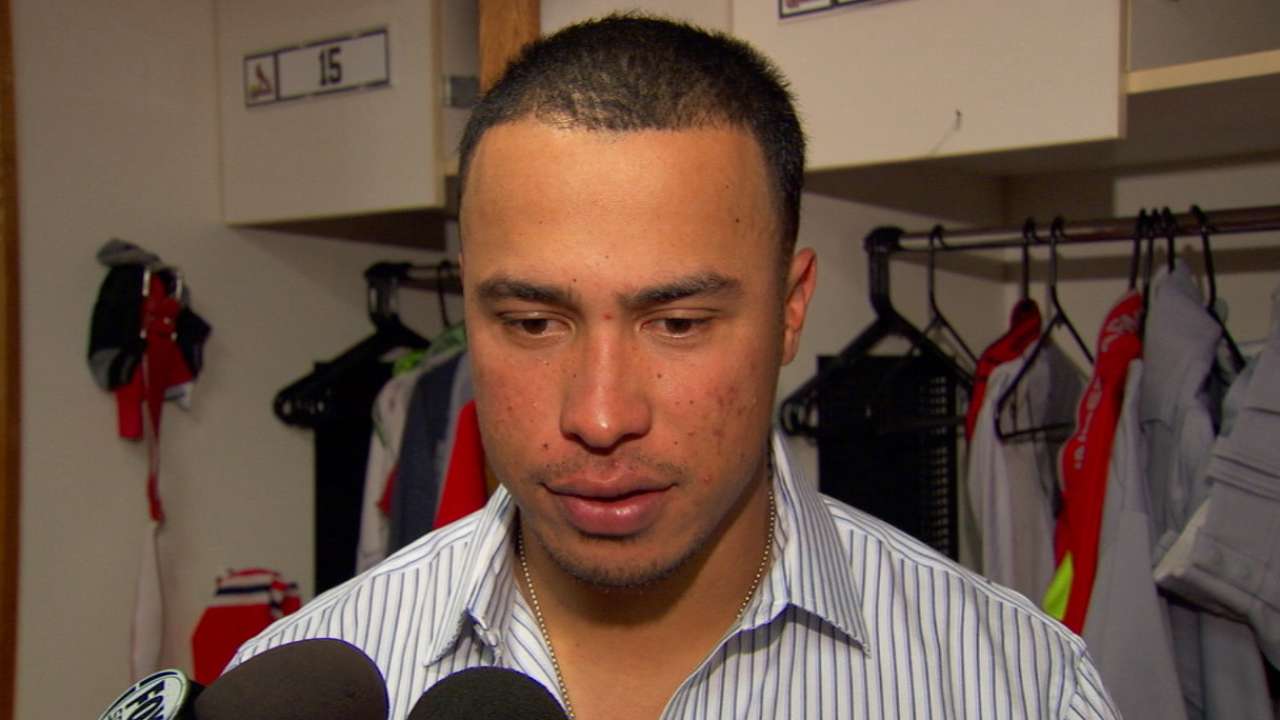 • Video: Wong on team's faith in Wainwright
That tone had better include excellent pitching and solid defense, otherwise the Giants won't be beaten. Will the Game 5 Cardinals include an appearance by Molina? As of Wednesday, he could throw and catch with minimal pain, but there was pain when he attempted to swing a bat.
Had the Cardinals tied this game in the ninth, Matheny indicated that Molina would have entered the game to catch. Even if Molina can do spot duty in Game 5, this one might be on the other 24 guys to play like the St. Louis Cardinals are supposed to play.
Mike Bauman is a national columnist for MLB.com. This story was not subject to the approval of Major League Baseball or its clubs.