Wong making a name for himself this postseason
All seven of Cardinals second baseman's hits have gone for extra bases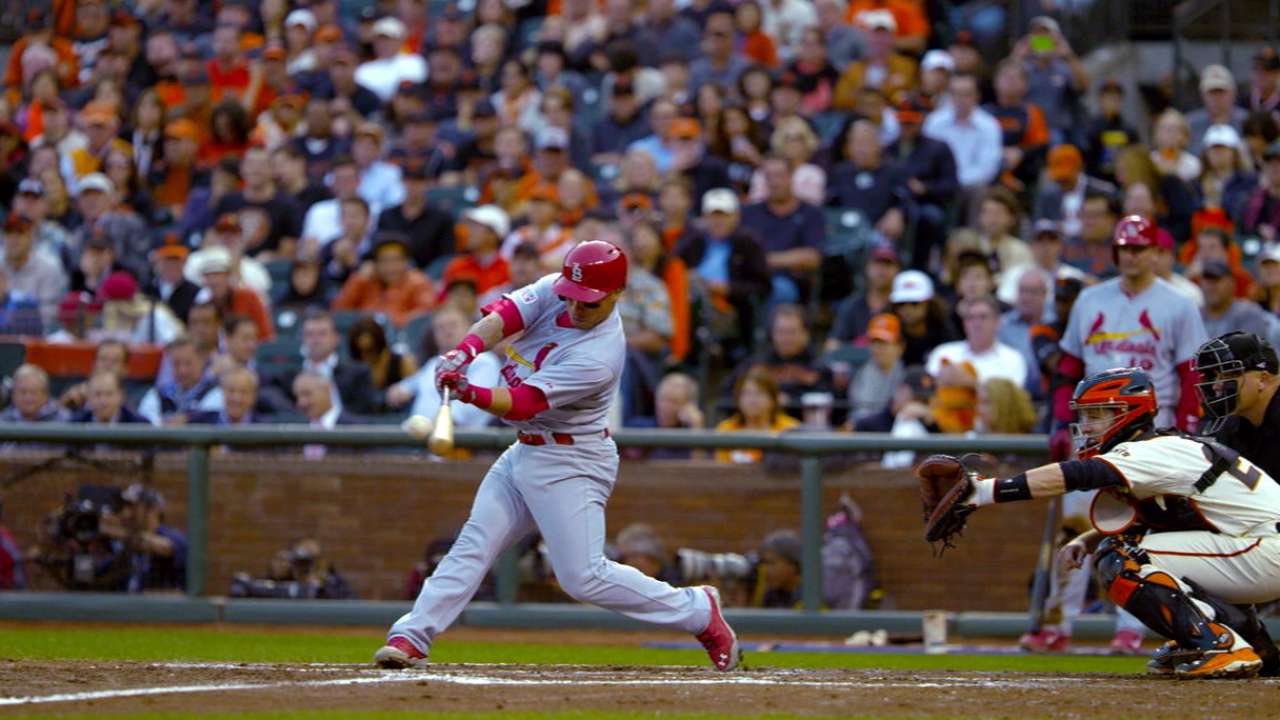 SAN FRANCISCO -- That short and compact swing that Kolten Wong keeps trying to replicate continues to produce big things for the Cardinals during this postseason.
The Cardinals' second baseman, small in stature but large on results, drilled two more extra-base hits in Game 4 of the National League Championship Series on Wednesday against the Giants, including his second home run of the series. It wasn't enough, however, as the Giants scored three runs in the decisive sixth inning, sending the Cardinals to a 6-4 loss and a 3-1 deficit in the best-of-seven series, with Game 5 set for Thursday at 7:07 p.m. CT at AT&T Park.
That the Cardinals find themselves in a do-or-die game isn't due to a lack of effort on Wong's part, as he raised his average in this series to .357.
Better still, he has seven hits in the postseason, all of which have gone for extra bases -- three doubles, one triple and three home runs.
Wong has now tied Shane Victorino for the most homers in a single postseason by a Hawaiian-born player.
Yes, all from a middle infielder who is generously listed at 5-foot-9.
"It's kind of crazy to think I don't have a single," Wong said.
It's certainly been a stunning change of roles for Wong, who a year ago this month was stinging from his baserunning gaffe in Game 4 of the World Series when he was picked off first base to end a 4-2 loss to the Red Sox.
Today, he's nearly carrying the Cardinals' offense on his not-so-bulky shoulders.
"I'm driving the ball to all parts of the field," Wong said.
The Cardinals are hitting .242 as a team in the first four games of this series and have 12 RBIs -- Wong has four of them. He had a double to start the second inning off Giants pitcher Ryan Vogelsong and scored the second run of the game as A.J. Pierzynski singled him in for a 2-1 lead.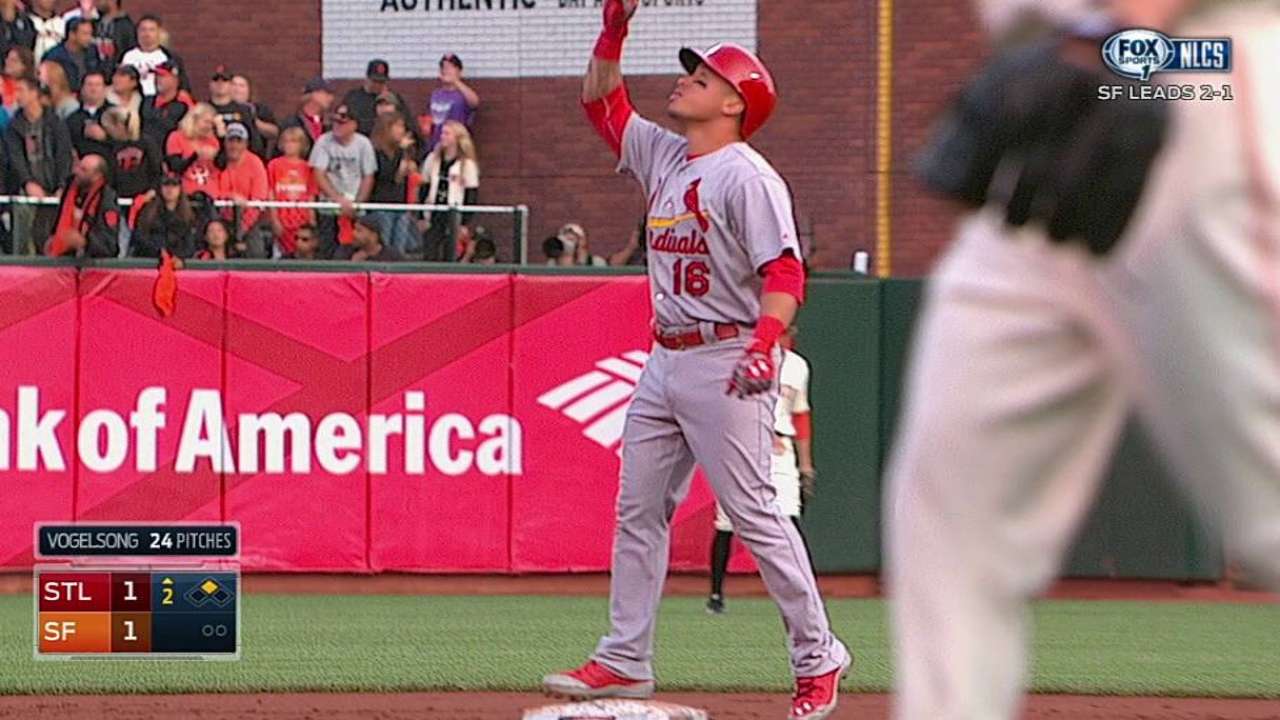 • Video: Wong reaches with double
Then in the third inning with Vogelsong reeling, Wong jumped on a changeup and knocked it over the fence in right field for a 4-1 lead.
"I think we all kind of had the right approach against him," Wong said of Vogelsong. "He's one of those seasoned veterans who knows how to pitch, he knows how to make you chase pitches, so if you kind of stick to your plan of basically making him throw the ball down the middle, most of the time it'll work. But he's a good pitcher and I think our plan kind of worked."
Wong was hitless in his final two at-bats of the game, as the Cardinals, after scoring four runs over the first three innings, didn't score again.
"My first two at-bats, I felt great," said Wong, who also made a nice diving stop at second base. "Then I sort of lost my approach."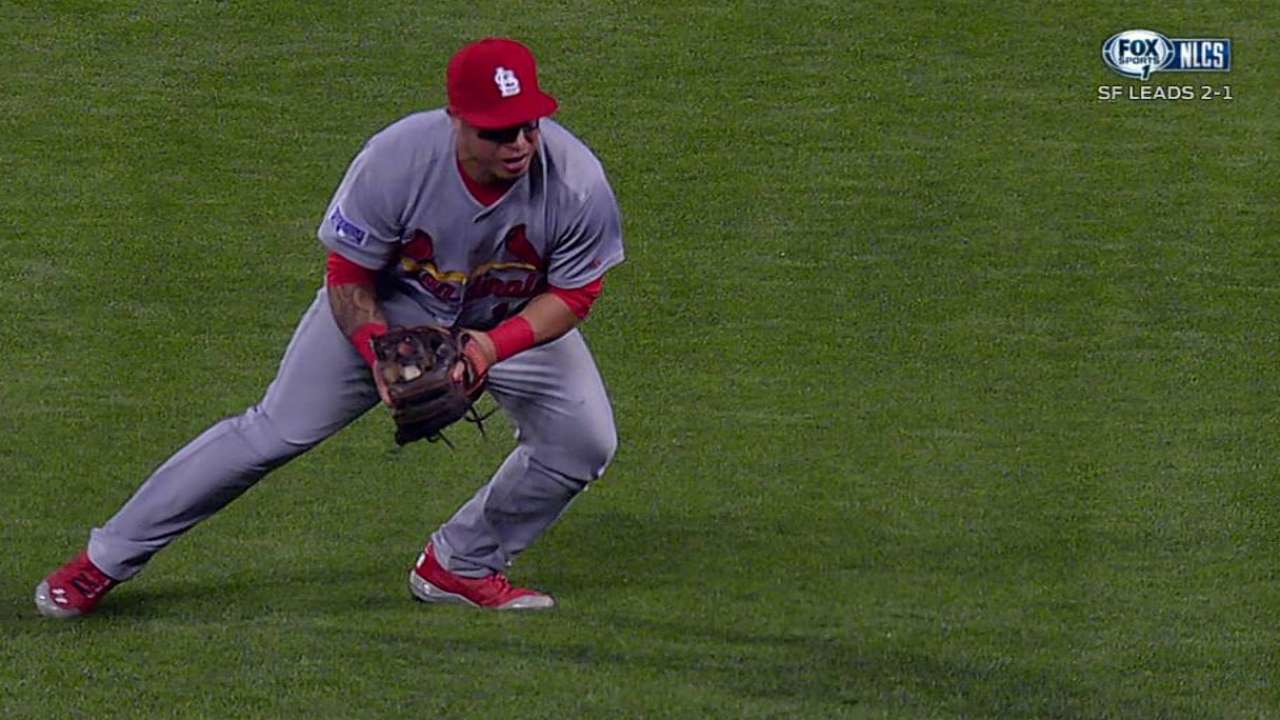 He wasn't the only one, as the Cardinals had four hits over the final six innings of the game. That the Cardinals bounced into three doubles plays certainly didn't help matters.
"[We] had a couple of opportunities where we had some pressure on them, but they made the plays when they needed to and we couldn't get that big hit," said Cardinals manager Mike Matheny.
Corey Brock is a reporter for MLB.com. Keep track of @FollowThePadres on Twitter. This story was not subject to the approval of Major League Baseball or its clubs.