Oct. 15 Posey, Blanco postgame interviews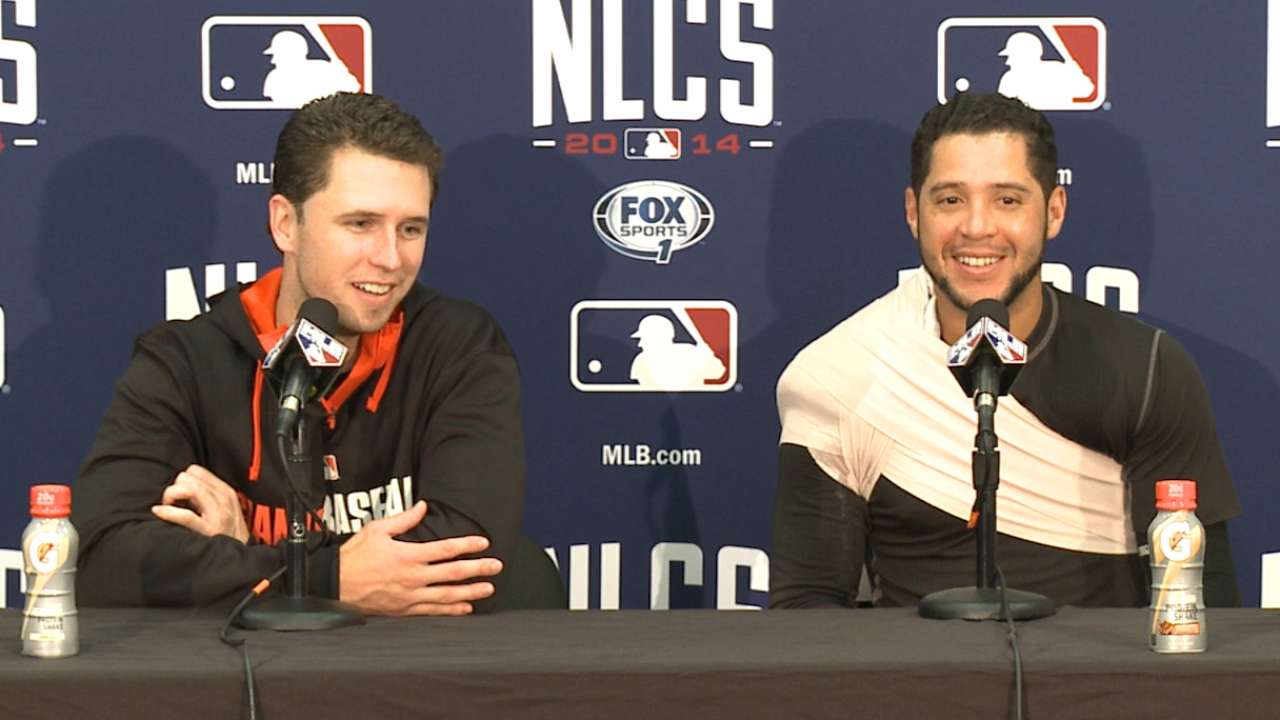 Q. Buster, for you, what is the difference in your mind between regular season and postseason? I think you were touching on it the other day, but for you personally, what's the difference?
BUSTER POSEY: I mean, I think it's just the intensity from pitch one. The crowd has a lot to do with that, but also each at‑bat can be so important. Not that it's not during the regular season, but it's magnified this time of the year.
Q. Can you tell us something about today's game, three RBIs, big part of this team coming back. Take us through your part of the lineup playing that key role in helping this team come back and pick up a huge win.
BUSTER POSEY: I thought the inning, I think it was bottom of the fourth when we scored two. That was a really big inning; Arias getting on there to start with and being able to drive him in there with two outs and Pablo getting the hit and Pence picking up another two‑out RBI, kind of getting us right back in it was nice.
And having Petit come back in and strikeout the side and get back in the dugout and really gave us another solid couple innings.
Yeah, it was a big part of the game, right around there, that fourth, fifth, sixth part.
Q. You mentioned Petit briefly. Is it possible to overstate what he's meant to the Giants in the playoffs?
BUSTER POSEY: No, I don't think you could overstate it. We know how important he's been to our team the whole year. I think some people are starting to get to see it a little bit more now that he's on this stage. But the job he's done out of the bullpen in the DS and now the LCS, he's been a difference‑maker.
Q. The importance of clinching at home tomorrow?
BUSTER POSEY: Yeah, I mean, I'll start and then you can ‑‑ it's our goal. That's what we want to do. I think that a lot of guys were on this team in 2012, when we were in the same boat that the Cardinals are in and were able to win three in a row. We're definitely not taking anything for granted. We know we're going to have a tough game on our hands tomorrow.
GREGOR BLANCO: Well, I guess we just see it as a game that we just need to go out there and play one game, one game in a series, and take care of it and hopefully we can win the ballgame tomorrow.
Q. A lot has been made of the runs you've scored without getting hits, but today you had a couple two‑out hits and Pence had one. How big is it and how much of a lift is it that you were getting two‑out hits today and combining that with some of the weird runs you guys have been finding ways to score?
BUSTER POSEY: Yeah, we still found a way to score a couple of weird ones there, too. Yeah, we were on the other side of it yesterday. I think they had three two‑out RBIs, and those can really change the momentum in games at times.
I can speak as a catcher, you are really wanting to bear down there and get out of that inning. Sometimes, like I said, those two‑out RBIs can be big in shifting the momentum.
Q. The way you guys are hitting home runs in April and May, could you have foreseen a point in the season where you needed to play ball like this to win?
GREGOR BLANCO: Well, I think as long as we win, that's what matters. As long as we play a smart game and good defense and good pitching and timely hitting, that's all we need to do. We're not worried about hitting homers. We're just worried about trying to win a game no matter what, and that's how we've been doing it.
BUSTER POSEY: Yeah, I mean, I think we were probably hitting homers in April and May at a higher rate than was the norm for us.
I think I read something where Boch said he's fine with homers. We're fine with homers, too. We'll take them (laughing).
But like Gregor said, as long as we come out on top, that's the goal.
Q. Over the years, you seem to be more comfortable with the attention you get. Do you feel more comfortable with being more of a spokesman for the team?
BUSTER POSEY: I don't know, just being myself. I don't think I've made a conscious effort one way or another.
Q. When you came up against Choate, were you looking to bunt on the first pitch or were you just more timing him up and what did you think when you got buzzed by the next one?
GREGOR BLANCO: I was just trying to get in his head, because yesterday I bunt the ball, and it made all the things happen.
So I was just trying to make him feel like I was going to bunt it again, and I think the crowd was on him, and I was just trying to make him feel uncomfortable.
Q. Buster, you scored from second on a single and I think you took another extra base in there. Are you moving faster right now than you have in a while, and is that just adrenaline or something else going on here?
BUSTER POSEY: Yeah, I got tired of getting thrown out at home in the Division Series (Laughter). So I've been ‑‑ no, I haven't been doing any speed work.
GREGOR BLANCO: I think it's adrenaline (Laughter).
BUSTER POSEY: I'm probably not any faster. Just trying to get good jumps. That's the main thing.
Q. Can you take us a little bit through your approach, the three RBIs, your approach at the plate and trying to contribute to this ballclub?
BUSTER POSEY: Yeah, I just really tried to slow things down today. I felt like I was jumping at the ball a little bit yesterday. Usually when that's the case, I really just try to simplify things. That's kind of the approach I took each at‑bat.
Q. For a guy who gets a lot of extra‑base hits during the season and previous postseasons, you don't have any this postseason. Are you aware of that? Does it matter? Do you care?
BUSTER POSEY: Yeah, I'm aware of it. I mentioned I like homers, just like Bochy.
Again, you know what, if we keep winning, it will all be fine.