MLB.com Columnist
Tracy Ringolsby
Posey, face of Giants, does what big-time players do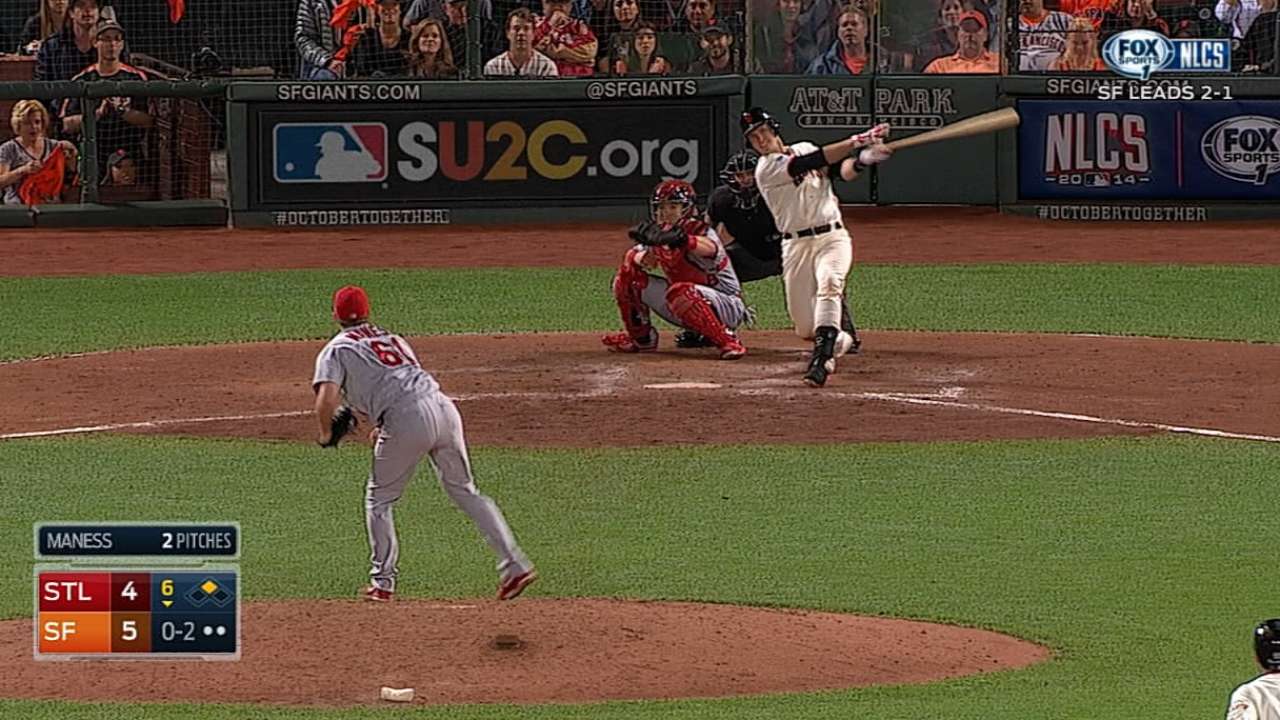 SAN FRANCISCO -- Giants catcher Buster Posey has made the transition. The shy kid in the corner as a rookie in 2010 has stepped onto center stage. He may not relish the spotlight, but he has learned to accept it.
It is a good thing. Posey has evolved into the face of the franchise. He can't hide anymore.
"[Attention is] not something he wants or cares to get," manager Bruce Bochy said, "but he understands it goes with the territory."
In a postseason where there has been so much focus on how the Giants do the little things, there is a time for the star to step forward. Posey took that step in the Giants' 6-4 victory over the Cardinals on Wednesday night at AT&T Park, giving them a 3-1 edge in the best-of-seven National League Championship Series, which they can close out at home on Thursday (5 p.m. PT, FOX Sports 1).
"It's our goal," said Posey. "That's what we want to do. I think there a lot of guys who were on [the Giants] in 2012, when we were in the same boat [in the postseason] the Cardinals are in, and we were able to win three in a row.
"We're definitely not taking anything for granted."
Posey made his statement earlier on the field in what was arguably the most impactful game of his 40-game postseason career. There was that that grand slam off Mat Latos of the Reds in the fifth inning of Game 5 of the 2012 NL Division Series, but that capped off a six-run inning, giving the Giants a 6-0 lead.
Posey did hit a two-run home run off Max Scherzer of the Tigers to give the Giants a 3-2 lead in Game 4 of the 2012 World Series that the Giants swept.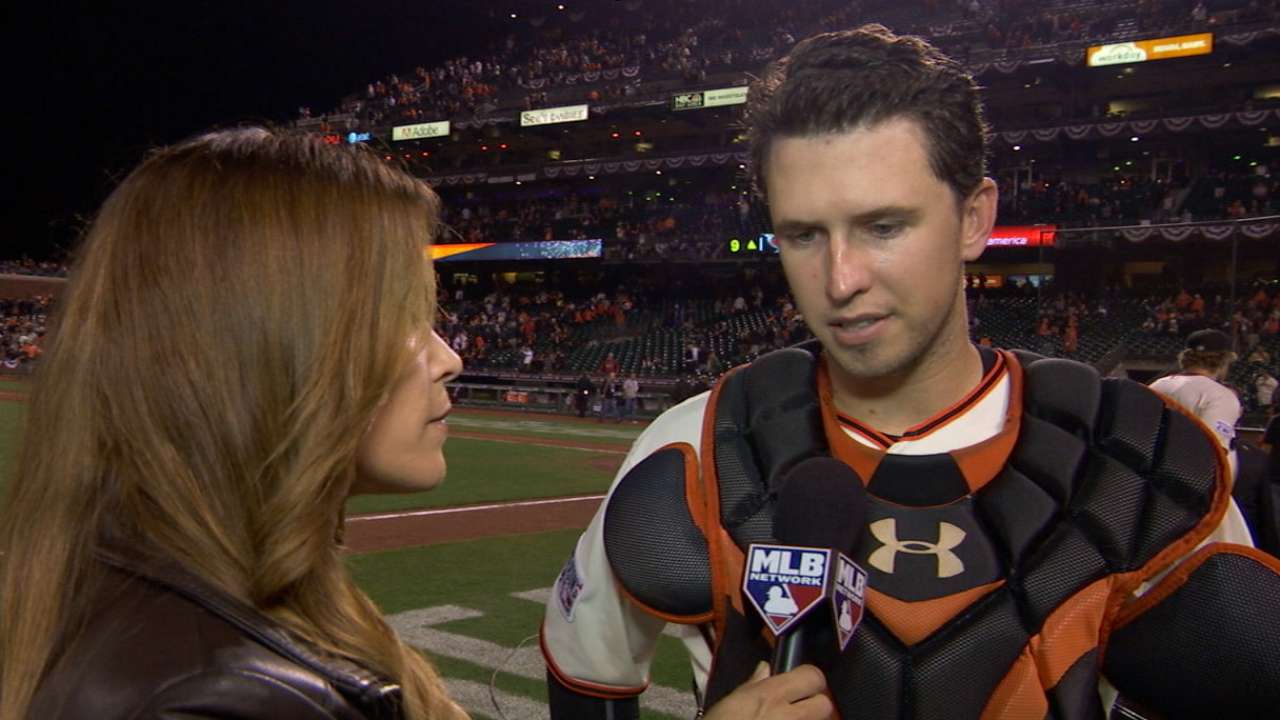 • Video: Posey on applying pressure
This night, though, Posey kept chipping in, helping the Giants overcome two deficits.
Posey answered that top-of-the-first run the Cardinals scored by delivering a sacrifice fly in the bottom of the inning. He singled home one run and scored the other in a two-run third in which the Giants cut their deficit to 4-3. And Posey capped off a three-run sixth that put the Giants on top, 6-4, with another RBI single.
Oh, and Posey continues to be a top-flight catcher, handling a pitching staff that is the foundation for the Giants' success.
It is no coincidence that the Giants are in search of their third World Series championship in Posey's five seasons. He's critical to the Giants' plans, offensively and defensively.
"I don't know if appreciation is the right word," Cardinals manager Mike Matheny, a former catcher himself, said of Posey's display on Wednesday. "It's hard to watch. We trust our guys to go out and get anybody out.
"But you have a great deal of respect for the caliber of player he is. We know, in big situations, he doesn't care and he's going to answer the bell. We tried to put ourselves in spots where we don't necessarily need to see him in a big situation, but they do seem to keep coming up, and he's making the most of it. That's what big-time players do."
Posey is a big-time player. He won the NL Rookie of the Year Award in 2010, despite spending the first two months in the Minor Leagues. Posey won the NL MVP Award in 2012. He was an NL All-Star in 2012 and '13.
Posey is no longer the 23-year-old former first-round Draft choice in a clubhouse featuring a 30-something crowd in which the lineup features the likes of Aaron Rowand (32), Aubrey Huff (33), Freddy Sanchez (32), Juan Uribe (31) and Pat Burrell (33), and he replaced the popular 35-year-old Bengie Molina, who was dealt in July 2010 to the Rangers.
Posey is now the guy the media crowds around after a game -- win or lose -- and he handles the inquiries without losing his boyish smile.
"Just being myself," he said. "I don't think I've made a conscious effort one way or the other."
It comes with the territory. Posey does like the territory the Giants are in -- the postseason.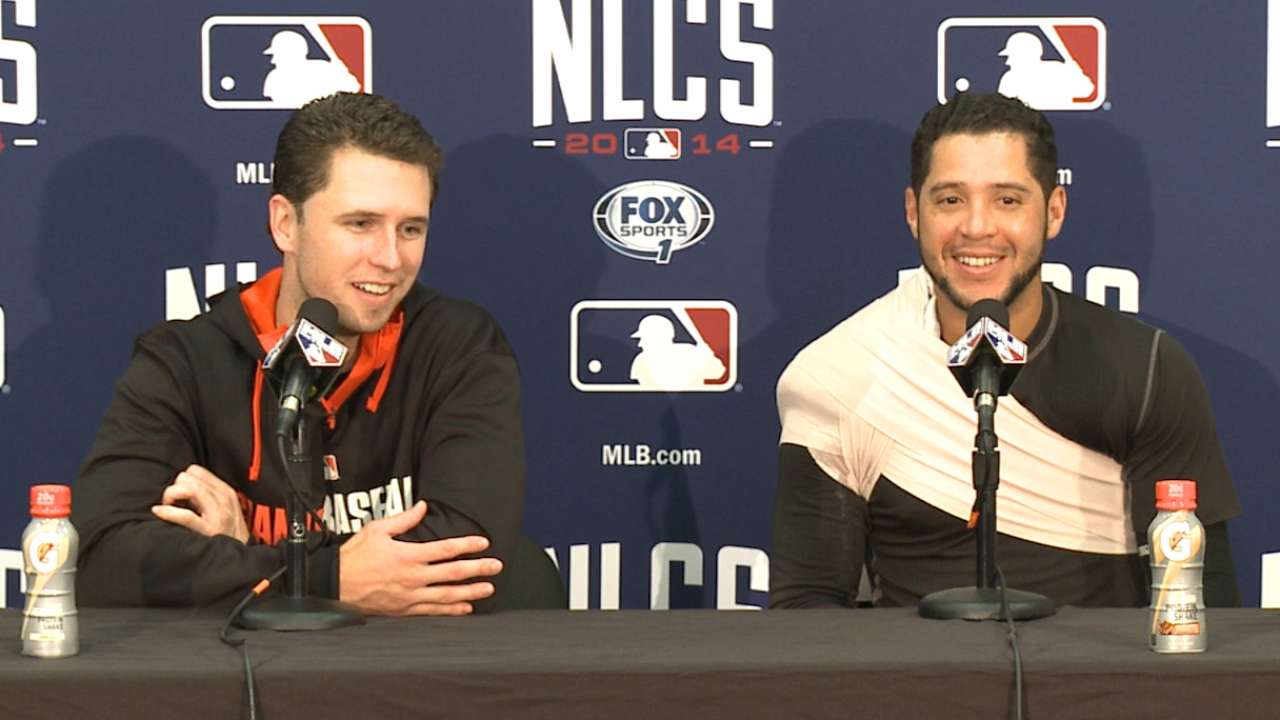 • Video: Posey, Blanco on Game 4 win
"Each at-bat can be so important," Posey said. "Not that it's not during the regular season, but it's magnified this time of year."
And they seem even bigger on a Giants team that has hit only two home runs in nine postseason games, having scored eight runs in the first four games of the NLCS without a hit, and 12 of 22 runs in the last six postseason games without a hit. Posey, himself, is hitting .333 this postseason, but all 13 hits have been singles, and he had only two RBIs before the three on Wednesday.
"I think I read something where [Bochy] said he's fine with home runs, and I'm fine with home runs, too," Posey said.
Then he paused. He flashed his smile.
"If we keep winning, it will all be fine," Posey said.
Even a shy rookie understands that, much less the face of the franchise.
Tracy Ringolsby is a columnist for MLB.com. Read his blog, Write 'em Cowboy. This story was not subject to the approval of Major League Baseball or its clubs.