Petit quiets Cards after Vogelsong's early exit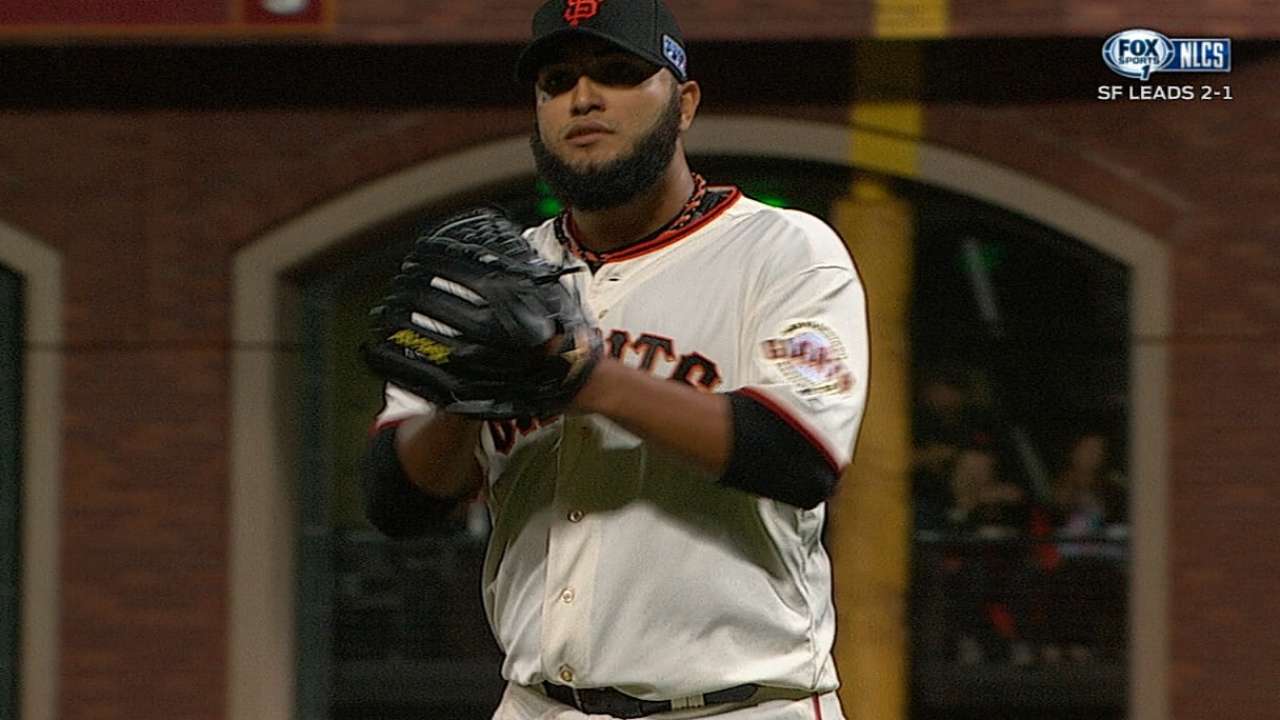 SAN FRANCISCO -- It had been 11 days since Yusmeiro Petit last pitched, that outing covering six relief innings in the Giants' 18-inning win in Game 2 of the National League Division Series against the Nationals in Washington.
"Every day, I'm staying ready," Petit said. "I have to throw a little bit every two days. I'm a long reliever and I have to be ready for anything. You never know when you're needed to throw."
Petit's number was called on Wednesday in Game 4 of the NL Championship Series, after
Ryan Vogelsong
struggled over his three innings in an eventual 6-4 Giants win over the Cardinals that moved San Francisco one game away from the World Series. Game 5 is Thursday night (5 p.m. PT, FOX Sports 1) at AT&T Park.
Petit was certainly ready to go as Vogelsong faltered. Giants manager Bruce Bochy had Petit up and warming in the bullpen as early as the second inning, and upon entering in the fourth, Petit threw three innings of one-hit ball, walking one and striking out four to bridge the gap from Vogelsong to the rest of the 'pen.
"I knew I was going to be used early, so I had to be ready for that," Petit said. "I'm watching the game out in the bullpen, and I was sure [Bochy] was going to call for me. I just hit my spots tonight."
Long after he had been removed from the game, Vogelsong sat in the chair by his locker in an empty clubhouse at AT&T Park, hoping his teammates would bail him out of the worst postseason start of his career.
How bad was the start? Vogelsong had allowed four earned runs in 30 1/3 postseason innings coming into the game, and he allowed four more in three innings against the Cards before he was removed for Petit. Vogelsong said he didn't remove his uniform until San Francisco came back to win.
"I sat here with my uniform on the whole game," Vogelsong said. "No, I never went back down to the dugout. I was told a long time ago by one of my first big league coaches that you should stay up here and let the guys do their jobs without you getting in the way. So I stayed up here and watched the game on TV, every pitch."
Asked why he remained in full uniform, Vogelsong responded: "I've told you that I love this time of year. It was disappointing for me not to be able to be out there and feel the energy more than I was able to. I guess I wasn't ready to let it go yet."
Once Vogelsong exited, the Cardinals didn't score another run against six Giants relievers, starting with Petit, who has now pitched nine innings of shutout ball this postseason, allowing only four hits.
"He won the game for us, because he gave us a chance to come back," Bochy said about Petit, who earned the win. "And now, he gets us to the point of the game where we can use the guys we want to get the matchups we want."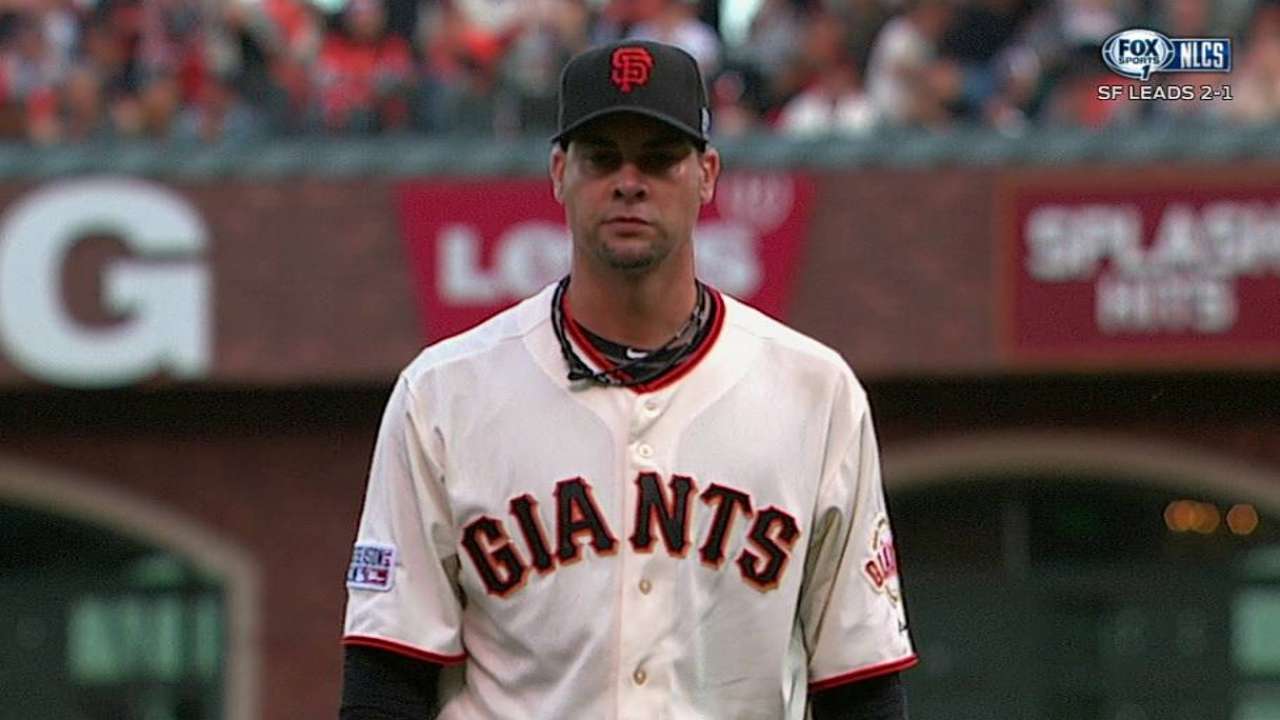 • Video: Vogelsong strands two runners
By that point, Vogelsong was wringing his hands. He wormed his way out of much greater damage in the first and third innings when Jhonny Peralta grounded into twin double plays started by third baseman Pablo Sandoval. In the third, just as Bochy thought Vogelsong had righted the situation with the double play, the right-hander let up a booming homer to Cards second baseman Kolten Wong. Bochy left Vogelsong -- due to lead off the bottom of the inning -- stay in for one more batter, and A.J. Pierzynski flied out to end the inning.
"Vogey obviously wasn't on," Bochy said. "If he doesn't get the double play, that's probably his last hitter, so he gets the double play and now there's nobody on. I figured he'd get me out of the inning. But he makes a mistake and gives up a homer to Wong. If he loses [Pierzynski], then I have to go get him, but I have to double-switch. That was a huge out. Now I'm able to pinch-hit [Joaquin] Arias to lead off, and he gets a big hit that winds up getting us a run."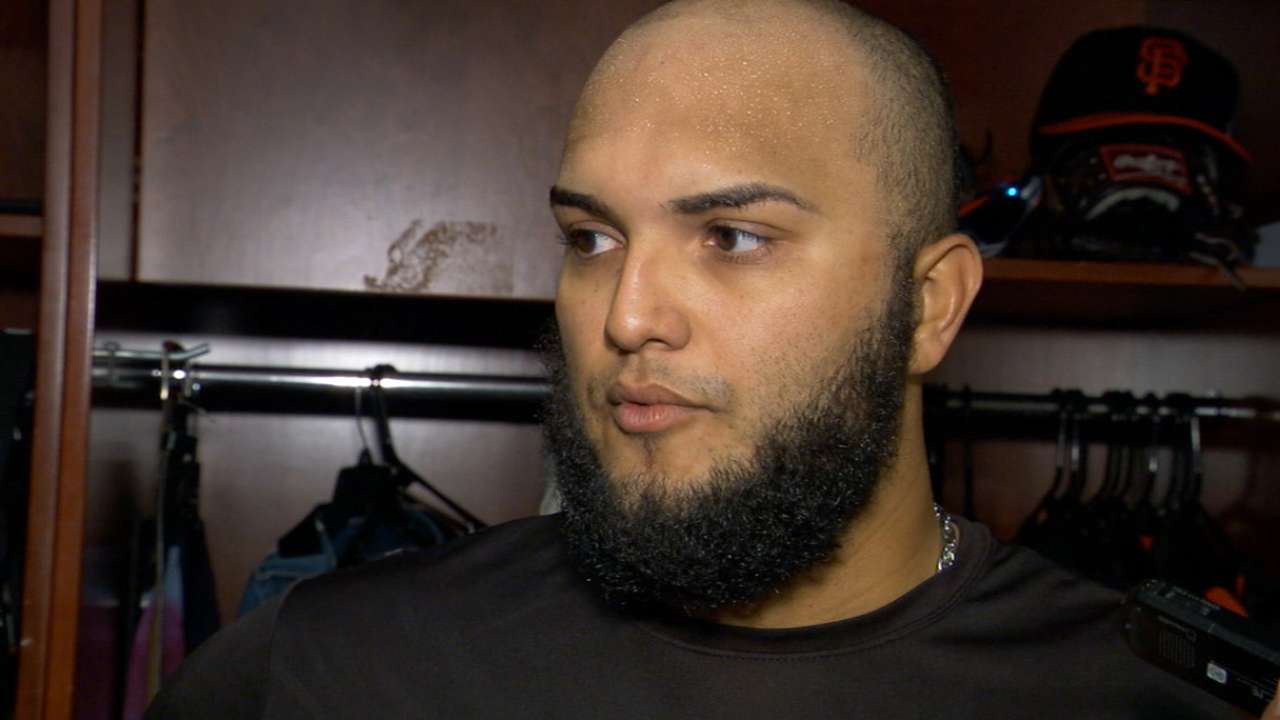 • Video: Petit on team's dominant bullpen
Meanwhile, Vogelsong had retired to the clubhouse, trying to not to beat himself up for wasting the opportunity. He was certain Petit would stop the deluge.
"It's expected," Vogelsong said. "We've seen that from Petey all year. He's done it numerous times. It might be a shock to the people who don't get to see him all the time, but not to us. Like I said, he's been doing it all year. He's been great all year. It doesn't surprise me, whatsoever, that he came in there and shut it down."
Barry M. Bloom is a national reporter for MLB.com and writes an MLBlog, Boomskie on Baseball. This story was not subject to the approval of Major League Baseball or its clubs.